Mike Trout's Ridiculous Encore Performance
Last year, Mike Trout was the best player in baseball (even if voters and players disagreed). His was one of the best rookie seasons of all time, ranking with Dwight Gooden's off-the-charts '85 campaign as one of the best efforts ever for a player in his age-20 season.
All of that is yesterday's news. In many ways, Trout's even better in 2013 than he was in his ludicrous 2012 season. On this, his 22nd birthday, he's on the verge of making history. Again.
Trout made his 2012 debut on April 28. In his 139 games played, he hit .326 with a .399 on-base percentage and a .564 slugging average. He led the majors in runs scored (129), stolen bases (49, caught stealing just five times), and Baserunning Runs. On a park-adjusted and rate-stat basis, he was the best hitter in baseball, tying with Miguel Cabrera in creating 66 percent more runs than the average hitter.
He's been even more productive offensively this year. Trout has improved his batting average, OBP, and slugging percentage, hitting .331/.424/.574. He leads the American League in hits and walks, and he's tied for first in triples and runs scored. Again adjusting for park effects, he's been the third-best hitter in the majors, creating 77 percent more runs than the average hitter, trailing only Cabrera and Chris Davis. Though he's on pace to hit fewer homers this year than last, he has still shown slightly more overall extra-base power, already surpassing last year's doubles total and matching his triples total. He's also walking more often than he did last year (13.1 percent walk rate vs. 10.5 percent in 2012) and striking out far less often (16.6 percent strikeout rate vs. 21.8 percent in 2012). Last night, facing one of the most dominant pitchers on earth in Yu Darvish, Trout went 2-for-4 with an opposite-field home run, becoming the first hitter to hit three career homers off the Rangers ace; only a miraculous Jurickson Profar diving catch prevented a three-hit game. That raised Trout's numbers over the past 12 games to even more incomprehensible levels: .444/.636/.778, with 18 walks against six strikeouts.
There's more. According to Elias Sports Bureau, Trout is the first player in modern MLB history with 50-plus home runs and 70-plus steals before turning 22. Trout's 89.5 percent stolen-base success rate is the highest among any player in history with at least 75 attempts. Of course he has an advantage, having been in the big leagues for less than two seasons, thus counting only the days when his speed figures to be at its highest level. But the thing is, if you compare Trout to the two best base stealers of the past 35 years through the same point in their careers, Trout still comes out on top. Rickey Henderson, who holds the records for most steals in a season and most in a career, posted a 78.2 success rate through his age-21 season (81 percent for his career). His contemporary Tim Raines, the highest-percentage base stealer of all time for anyone with anywhere near as many attempts, put up an 87.6 percent success rate through his age-21 season and an 84.4 percent rate for his career.
Now here's the kicker. Per FanGraphs, Trout has amassed 7.3 Wins Above Replacement, leading baseball for the second straight year. We'll spare you the Trout vs. Cabrera MVP chatter (Trout has no chance in hell given last year's results, especially with the Angels being terrible this year and Cabrera being an even bigger beast than he was last year, when he won the freaking Triple Crown) and just say this: Trout's on pace to rack up his second consecutive 10-win season. If he succeeds, he'll become just the second player since Willie Mays to pull that off. The other player to do it? Barry Bonds (h/t D.J. Short).
That's the what. But we're big fans of learning about the hows and whys. For a little help with that, we turned to our friends at ESPN Stats & Info.
Trout is seeing fewer pitches in the zone this year (49 percent going into Tuesday's game, down from 51.1 percent last year), which is likely contributing to the spike in his walk rate. But he has also been far more selective, chasing just 24.6 percent of the pitches he's seen below the strike zone this year, well below his rate of 30.6 percent last year.
Few hitters have fewer holes in their swing than Trout. Still, he struggled a bit with pitches above the belt last year, hitting a modest .257 on pitches in the upper half of the zone — ranking him 108th out of 144 qualified players. He has made huge strides this year, both making more contact and hitting for more power.
If you're a visual person, you can see that improvement clearly in these 2012 vs. 2013 heat maps.
Here is Trout in 2012: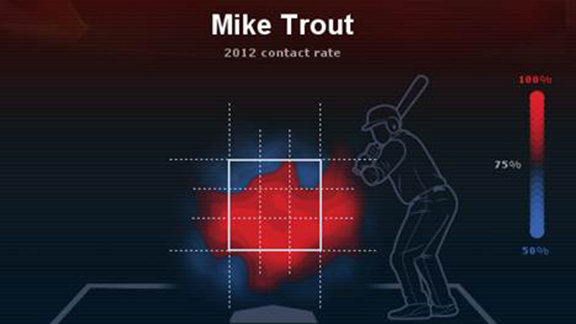 And here he is in 2013: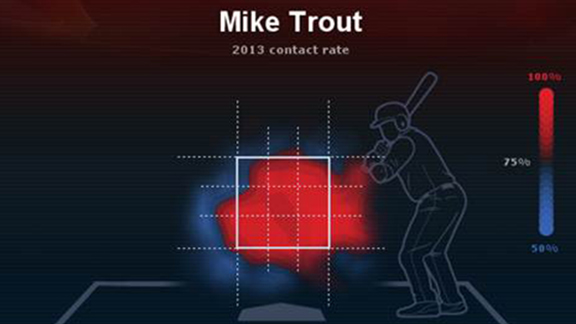 At this point, there's pretty much nothing you can throw at Trout that he can't hit. He's been the second-best hitter in the majors against fastballs, trailing only Shin-Soo Choo, with positive run values against every type of off-speed and breaking pitch too.
If you want to poke holes in Trout's nearly perfect game, there's really only one option: his defense. This might seem ridiculous, given the nonstop highlight reel he put together last year. His famous catch against J.J. Hardy in Baltimore remains one of the best by anybody in years, and was one of four home run–robbing grabs Trout made in 2012. Going from four such catches to zero this year is one of several reasons Trout's defensive numbers are way down. Even advanced metrics like Defensive Runs Saved and Ultimate Zone Rating can be fickle and somewhat unreliable, especially in smaller samples; the best way to look at any player's defense using stats like those is to eyeball about three years' worth of data, which we don't even have yet for Trout. Still, whether we're using higher-level stats or even the eyeball test, Trout doesn't seem to be nearly as dominant defensively this year as he was last season. He's probably still a solidly above-average defender in the long run, just maybe not quite the Garry Maddox clone he appeared to be in his rookie year.
The vagaries of defensive stats aside, there's one mystery that has always seemed impossible to explain, one oddity that doesn't fit with a player who developed so quickly that he became a world-beater before he could legally drink a beer: How the hell did Trout last until the 25th pick in the 2009 draft? For the answer to that question, I called up the man who drafted him four years ago for the Angels.
"It was the fact, unfortunately, that he played in the Northeast," said Eddie Bane, now a scout and player personnel assistant for the Red Sox. "Billy Rowell had come out of there, got drafted by the Orioles, and failed. A couple others too. Scouts tend to do things in packs, kind of assume things. Trout had played on some East Coast showcase teams, but not the U.S. [national] team. He got a scholarship to East Carolina, but not to Clemson, Miami, or Georgia Tech. It was a group mistake."
The Angels weren't the only team that saw Trout as a future star. The New Jersey native worked out for the Yankees and blew everyone away, including scouting director Damon Oppenheimer, who was set to pounce if Trout slid all the way to their 29th overall pick. Oakland scouting director Eric Kubota also loved Trout, and thought long and hard before opting for Grant Green at no. 13 overall. But the Angels ranked Trout as their second-favorite high school player that year, and ended up getting their man.
"It seems crazy for everybody [to miss]," Bane said. "Mike didn't just wake up with those tools. As a group we just didn't do a great job of seeing him, really seeing him. Mike would hit, but New Jersey pitchers might throw 65 [mph], so you had to wonder. It was hard to see him play, he maybe played 15 games in his senior year; they'd get snowed out, and if a game got snowed out in April you might not get it back. Pitchers would pitch around him so you wouldn't get many chances to get a good look. You really had to have him on your radar to get the right read. You had to give Mike at least three days, two games with a practice. Very few teams got that."
OK, but did you think he'd be this good, this fast?
"We didn't think the power would come this quickly, for sure. We thought it would be over time, rather than doing the kind of stuff he'd do immediately. But then you consider his physique. You look back at reports, and you'd always see something like 'Looks like a safety in the SEC.' That grabs you, that and the intensity. Then after we drafted and signed him, we worked him out at Angel Stadium. And he was just blasting balls into the seats in right-center. We all looked at each other and said, 'We didn't know he could do that!'
"His other tools, we believed in them all the way. The average major league runner will run a 4.3 to first on a real major league swing — 4.1 was a jailbreak. You never get a right-handed hitter under 4.0. Mike runs 3.7, 3.8 all the time."
So wait, you've got a kid big and strong enough to hold his own on the football field, with better speed to first than any right-handed hitter … maybe ever. Even forgetting the workout Trout had after the Angels signed him, the power looked like it would come before too long. And though few teams reached this stage, Bane spoke glowingly of his interactions with Trout's parents, the feel he got for Trout's makeup and competitiveness. A five-tool player, physical specimen, high marks for all intangibles, and teams pass because he's not from Florida, Texas, or California? How? How does this happen?
"It's just those preconceived notions. If you got that time to first base in high school, you'd question the distance of the bases rather than believe your eyes. You'd wonder if he was getting a jailbreak, instead of following through properly on his swing. In baseball what we time is the 60-yard dash, which is strange. He was fast in high school, but not the best we'd ever seen. We just didn't realize what we'd seen. We had him run a 60 since that's supposed to be reliable. But down the line he was different. We just … many of us just weren't ready to believe."
There's a funny thing about scouting, Bane said. In the back of any good scout's mind, he thinks, This could be the day I find the next superstar. He's hidden somewhere and I'm going to find him. But the other side of a scout's brain remains ever skeptical. In the same way that some statistically oriented analysts will expect regression after a season like Trout's 2012, even the most romantic scout will wonder how an 18-year-old kid from New Jersey can weigh 220 pounds and run faster than anyone he's ever seen. A scout that goes way out on a limb and nails his bold prediction can cement his reputation forever with that one call. But as Bane explained, it's really tough to trust your eyes when you're looking at the equivalent of a once-in-100-years eclipse.
"You always look at player comps in this business," Bane said. "None of our guys wanted to put down the comp that you'd expect in this case, because it's just too much pressure. We should have done it, though. We should have put down the comp that a lot of people have put down since then. You look at Trout, you see Mickey Mantle."
Filed Under: MLB, Los Angeles Angels