My Top 10 Best (Favorite) Albums of 2013
Getty/NBC
Three caveats before I share my top 10 albums list:
1. I don't care for the word "best" in this context. Not only is declaring a record "best" ridiculous, it's also dishonest. It implies that you've heard every single piece of music released in a given year, and I haven't come close to doing that. (Nobody has.) I guarantee I'll hear something next week I missed from earlier in the year that will blow my mind. Also, like anybody else, I'm limited by my own taste — I enjoy a pretty broad range of music, sure, but certainly there are records I won't be able to fully appreciate until I've evolved a bit more. (I hope this is true, anyway.) So, let's understand that this isn't really intended to be a "best of" list, but rather an inventory of personal favorites out of all the music I happened to hear in 2013. (The upside of "best": punchiness.)

2. If I included something you don't like, or left off something you do like, please don't interpret this as a personal insult. My message is "Let's celebrate great music!" not "Fuck you!" Also, if you are a person who dismisses artists you haven't heard of as "hipster" music, I advise that you stop reading. Instead, get into your car, head to the nearest bridge, and drive off of it.
3. If you notice that the explanations for the entries on my list skew personal, this is wholly intentional. Music is nothing if not intensely personal. (See caveat no. 2.) For a record to make my top 10, it had to be a fixture in my life for at least a week or two this year. I'm getting older, and listening to records is the only way I remember anything anymore. It's how I mark time.
The Opening Acts
Top 10 best (favorite) songs of 2013, presented without comment:
10. Eric Church, "The Outsiders"
9. Queens of the Stone Age, "I Sat by the Ocean"
8. Drake, "Hold On, We're Going Home"
7. The Dangerous Summer, "Catholic Girls"
6. Kanye West, "Black Skinhead"
5. One Direction, "Little Black Dress"
4. The National, "Pink Rabbits"
3. A$AP Rocky feat. Skrillex, "Wild for the Night"
2. Palma Violets, "Best of Friends"
1. Daft Punk feat. Pharrell Williams and Nile Rodgers, "Get Lucky"
Top 15 runners-up for the albums list, presented without comment:
25. Futurebirds, Baba Yaga
24. Boogarins, As Plantas Que Curam
23. Bosnian Rainbows, Bosnian Rainbows
22. The Wonder Years, The Greatest Generation
21. Mikal Cronin, MCII
20. In Solitude, Sister
19. Danny Brown, Old
18. Nine Inch Nails, Hesitation Marks
17. Steve Gunn, Time Off
16. Drake, Nothing Was the Same
15. Bill Callahan, Dream River
14. Thundercat, Apocalypse
13. Mount Moriah, Miracle Temple
12. The Mavericks, In Time
11. ASG, Blood Drive
The Headliner
Without further ado, my top 10 best (favorite) albums of 2013, presented with (some) comments:
10. Haim, Days Are Gone
An extremely well-crafted widget disguised as a giggle, Days Are Gone is the defining record of pop's current "all pleasure, all the time" era. Whip-smart but anti-intellectual, musically adventurous but stridently accessible, and blessedly unaware of the chasm that once existed between the mainstream and the underground, it's an album I love unconditionally, even the parts signifying current musical trends I'm ambivalent about. My time capsule record of 2013.
9. The National, Trouble Will Find Me
A time capsule record of a different sort. If Haim represents a future where the "indie" label is finally put to rest, the National is like the old movie house in The Last Picture Show, a stoic reminder of culture in the process of fading into memory. An album this good in this specific sort of way, made by this type of indie-rock band this deep into its career, should be appreciated for the increasingly rare specimen it is. This is my "what it felt like to turn 36 this year" record.
8. Ashley Monroe, Like a Rose
The best traditionalist country singer-songwriter currently in the game, period. If this were a list of "favorite three-song runs on an album in 2013," Like a Rose would be no. 1 with a bullet. The stretch from the elegiac album-opening title track (which is maybe the finest Kris Kristofferson song ever not written by Kris Kristofferson) up through the stunning ballad "Used" (which murders Macklemore in the "songs about thrift stores" department) is so great that I often don't need to hear the rest. Not to say the rest isn't good — except for the one about mixing weed with S&M, which is just poor life advice.
7. Palms, Palms
My favorite musical trend this year was the (soft) explosion of wussy-ass metal records. The self-titled debut by sorta supergroup Palms was among my most treasured examples of this phenomenon. Featuring Chino Moreno of Deftones backed by three members of the defunct ambient-metal outfit Isis, Palms drift from one languid, reverbed-out soundscape to the next like Slayer after a weekend of mainlining Klonopin and Explosions in the Sky records. My favorite "drink beer and look at sunsets" record of the year.
6. Fuck Buttons, Slow Focus
In the future, all the best hard-rock records will be made by two-man electronic combos from Bristol. But for now, an album like Slow Focus is still noteworthy. Without question, this was my favorite record to write to this year, because I like to imagine I'm the guy in the "Owner of a Lonely Heart" video when I'm working.
5. Kurt Vile, Wakin on a Pretty Daze
Vile is commonly described as a pothead, but Wakin on a Pretty Daze doesn't sound like a stoner record to me. Rather, it's attuned to the rhythms of a person who has to wake up at an ungodly hour to tend to young children. As a person who has aged out of his stoner phase to commence his parent phase, I feel I'm qualified to tell the difference. (Also, Wakin on a Pretty Daze seems expressly designed for ex-stoner dads.) Stoner records start out high and then lull you to sleep; Wakin on a Pretty Daze starts sleepy and is gradually energized by life's possibilities. For further guidance, please consult the final three minutes of the nine-minute title track.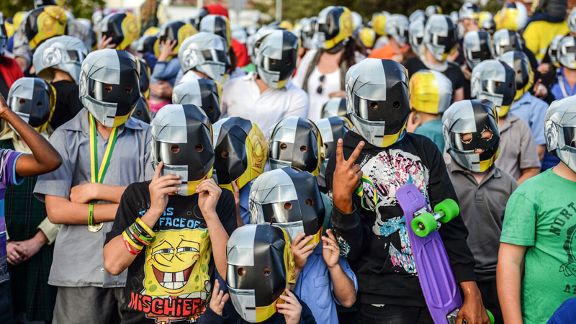 4. Daft Punk, Random Access Memories
Was it just me, or did this album get way better as the year went on? Miscast as a summer record, RAM is chilly and depressing and therefore much better suited for winter. Over time, RAM reveals itself as a concept album about missed connections and confused identities. Robots want to be human so they can feel, humans want to lose themselves so they can feel like robots, and love is a game of instant crushes and hardwired regret. "Get Lucky" is situated in the middle of the record like a mirage — it's the only time the loneliness dissipates and kinship with other life-forms seems possible, which makes what surrounds it all the more crushing. My favorite "What if the next Brian Wilson is an iPad?" record of the year.
3. Bombino, Nomad
Omara "Bombino" Moctar is presently my favorite guitarist on the planet. His second solo album, Nomad, is the heaviest he's made — its fusion of blues, folk, psych-rock, '70s metal, and the Grateful Dead is as expansive as the Nigerien desert. (Credit also goes to producer Dan Auerbach for adding muscle to Moctor's Mark Knopfler–inspired guitar lines.) But the real reason I ranked Nomad so high is that it was the first album my infant son ever danced to. Rule no. 119: Any record a cynical rock critic and a baby can agree on must be great.
2. Kanye West, Yeezus
There's no middle ground with Kanye — you're either obsessed with him or you can't stand the guy. For me, Yeezus was easily the most enjoyable record to think, argue, and theorize about in 2013. A lot of people believed Yeezus was the sound of Kanye going off the rails, a take I would not necessarily dispute. But I also heard a prospective father purging the sickest parts of his psyche and candidly spewing every unseemly, funny, annoying, and insightful thought rattling around his brain. If you don't buy that interpretation, no problem, because Yeezus happens to be musically amazing, too, and in a completely different way from every other Kanye West record. While many of his superstar peers opted to pile on the excess this year on expensively promoted, opulent albums, Kanye zigged to their zag, paring down to abrasive synths and punishing drum machines that echoed the primacy of the lyrics.
1. Deafheaven, Sunbather
Out of all the records on this list, this is probably the one I listened to least. Sunbather is not the kind of album you just pop on while jogging or doing the dishes. You have to block out an hour, find a darkened room, put on a pair of headphones, and let it shred your nervous system. Then, once the record is over, you need another hour to decompress. Because Sunbather will make you think about all the things you normally try to block out in the course of a day. You will ponder your own mortality. You will ruminate over all the ways you've failed your loved ones. You will be reminded of your own insignificance in the scope of the universe, and feel the weight of that insignificance. (Also, your ears will hurt, because this is a black-metal record, and even though it's extremely pretty much of the time, there's also a lot of screaming.)
Look, if you haven't heard Sunbather, you probably think I'm being hyperbolic. If I were to tell you this record juxtaposes beauty and ugliness in a way that evokes the creation and destruction of entire worlds, you would probably laugh. I understand this. You haven't heard Sunbather. None of this makes sense yet. If you don't want it to make sense, I understand this, too. I'm not describing a picnic here. Sunbather hurts.
If you have heard this record: You want to talk about it? How about a hug?
I can't "prove" that Sunbather will make you feel both profoundly unsettled and deeply sedated. I can't say for certain what the songs mean exactly, because I have no idea what the fuck the singer is singing about. I'm confident in declaring that the guitars on Sunbather are immaculate and awe-inspiring, and that the drums will pulverize you. But that's just putting words on something that can't really be described. All I know is that this was my "feelings" record of the year. It leveled me emotionally more completely than anything else I heard. And there isn't a more important criterion for a best (favorite) albums list than that.
Filed Under: Daft Punk, Music, One Direction, The National