Your Tuesday Olympic Viewing Guide
Graham Stuart/AFP/Getty Images
Let's get right to the good stuff: The Sino-American Medal Count Showdown
China: 64 medals, 31 golds
United States: 63 medals, 29 golds
Reader Daniel G. e-mailed me today detailing a new system he invented, which I'm calling Saber-Medal-trics, at least until he comes up with a better name. Saber-Medal-trics uses Sports Illustrated's overall medal predictions, calculates how each country is performing in events held to date, and projects an adjusted overall result. It's practically science! Here's Daniel's Saber-Medal-trics report after Monday's action:
The U.S. was expected to win 42 gold medals and 99 overall. So far, they have one fewer gold medal than expected, and three more overall medals than expected. China was expected to win 42 gold medals and 97 overall, and they have three more gold medals than expected, and eight fewer medals overall. Today's projections:
U.S. – 102 overall, 41 golds
China – 91 overall, 45 golds

Below is the Tuesday viewing schedule. As you hopefully know by now, my aim is to keep you privy to every event for which gold is at stake or an American team is playing. We do it live, free from the bonds of tape delay. All times below are Eastern Standard Time, and this spreadsheet can serve as an additional guide for later in the week.
Tuesday
5 a.m. — Equestrian — Team Dressage Grand Prix Special — Computer
As I've mentioned before, this is where they make the horses dance like an unfortunate child with showy parents at a dinner party. To help you conceive of the indignity of such glorious beasts being forced to prance, imagine that you are a big, strong, healthy person with good genes and good looks, and then a bunch of aliens conquer earth, see that you're an elite member of the species, and make you dress up in bonnets and bows and carry a tray of teacups around a ring without spilling them while other aliens judge you. That would be human dressage. And China would win.
6:30 a.m. — Men's Triathlon — NBCSN
Yoda: Do or do not. There is no try.
Triathlete: No, no, it's actually called a "tri-athlon." That's part of the word.
Yoda: Do or do not. There is no —
Triathlete: OH JUST FORGET IT, YODA. FORGET IT.
8 a.m. — Sailing — Men's RS-X Final — Computer
Today's educational moment comes courtesy of RS:X Class, a type of windsurfing vessel that was designed in 2004 and was first included in the Beijing Games. It looks like this, and apparently only 3,000 of the models have even been sold. There are no Americans in this event.
9 a.m. — Sailing — Women's RS-X Final — Computer
Also no Americans. If I were a controversial columnist at a small newspaper, I would now insist that sailing is mainly about the way the wind blows and involves no individual skill, despite never having sailed before. Now, canoeing, that's a real sport.
9 a.m. — Women's Basketball — U.S. vs. Canada, Quarterfinal — NBCSN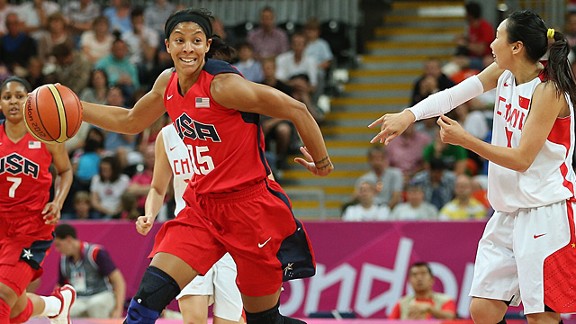 Oh man, I can't even begin to process that U.S.-Canada soccer semifinal I just watched. I hate to be all American on this one, but the match did have that big sister/little sister vibe, where I never really believed we'd lose. Does it get much more heartbreaking for Canada than Morgan's 123rd-minute header, though? That's almost too perfect. It was another inspiring win for a team that only plays exciting matches, but don't expect a similar situation in the basketball version of the North American rivalry. The U.S. will move into the medal round easily, and our Canadian friends will be more familiar with the beat down that ensues.
9 a.m. — Gymnastics — Men's Parallel Bars Final — Computer
By this time in every Olympics, men's gymnastics is starting to wear on me. We get it, you guys are still around doing the event finals, but it's hard to maintain any interest. Especially, as is the case with parallel bars, when the Americans are boycotting the event because it discriminates against perpendicular bars. (That's the way I'm choosing to explain our absence, and I don't care to debate the matter.)
9:47 a.m. — Gymnastics — Women's Balance Beam Final — Computer
Women's gymnastics, on the other hand, stays compelling right through the very last event final. Gabby Douglas laid an egg on the uneven bars, finishing last in the final, but she has another chance to add to her gold collection on beam, where she'll be joined by Aly Raisman. By the way, since I didn't see this at the time, let's talk about McKayla Maroney and the Russian gymnast who tried to hug her after the vault disaster. I mean, that was a brush-off. Ten thousand passive-aggressive wives in the wealthy parts of Connecticut and California watched that live and said, "My God … she's a natural!" You can see the video here if you haven't already. Even though I knew what was coming, all I could think was, "Don't do it, Russia! Don't do it!" I was legitimately scared for the girl when I pressed play. Would you hug an ice statue? Would you? Also, for those hoping for one last installment of the famous haughty stare, I give you this incredible shot from the medal podium. I'm already excited for the devastating Maroney Revenge Tour in Rio 2016.
10 a.m. — Synchronized Swimming — Duet Free Routine Final — Computer or 4 p.m. on MSNBC
I saw a bit of this by accident yesterday, and you know what? Some of this synchronized swimming is getting real suggestive. I don't recommend letting your children watch it. What happened to the good old-fashioned routines of my childhood, where they would just smile from the water and try to wave at the same time? Now there's all kinds of intense sexuality, and I just don't think I'm ready for it. Also, I'm a very poor swimmer and these women intimidate me.
10:30 a.m. — Women's Water Polo — U.S. vs. Australia, Semifinal — NBC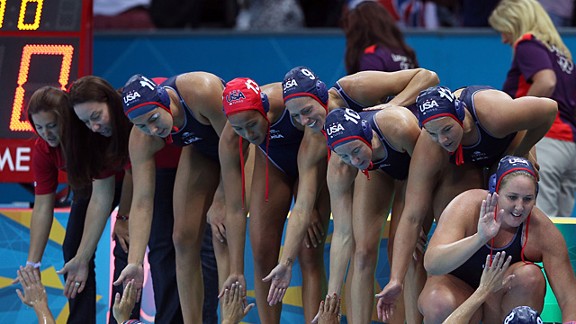 Now we're talking! The U.S. dodged a bullet in the last group-stage match, beating China 7-6, and Australia beat the Chinese in the quarters, 20-18. Neither side has lost yet, but it's looking like the Americans had a much tougher group; aside from Australia, who played the worst team in Group B, no other Group A sides remain. If the U.S. wins, we could easily see a rematch of the classic 9-9 group stages draw against Spain. I'll be camped out for this one.
10:30 a.m. — Table Tennis — Women's Team Gold-Medal Match — Computer or 2pm on MSNBC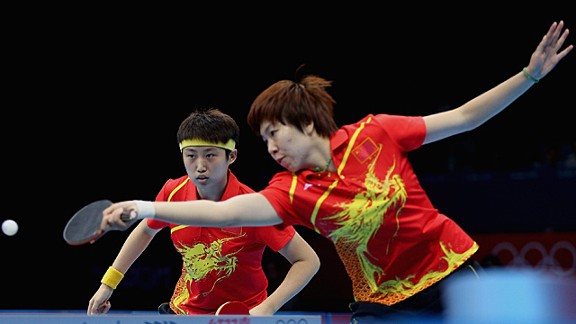 China vs. Japan. I'm going to go way out on a limb here and predict a Chinese victory.
10:37 a.m. Gymnastics — Men's Horizontal Bar — Computer
Danell Leyva and Jonathan Horton are repping the States here. I'm still annoyed at the men's team for so thoroughly choking in the team final, but I suppose I'll be rooting for these guys to medal.
11:23 a.m. — Gymnastics — Women's Floor Final — Computer
Featuring Aly Raisman and the last hurrah of the star-crossed Jordyn Wieber. A medal would be a perfect ending for poor Wieber, but with the glory and redemptive power of the Olympics comes the dark flip side, where cold mathematics dictate that some have to be left with nothing. Sadly, I think that's Wieber's fate in London, but there's something to be said for the fact that she bore it well.
11:53 a.m. — Cycling (Track) — Women's Omnium 500m Final — NBC
The Omnium format has six events, including the flying lap, time trials, points race, elimination, individual pursuit, and the scratch race. Other events that were considered for the format and eventually rejected include the wheelie trot, backing, the French crash, reverse backing, newspaper delivery toss, and dog-in-basket.
Noon — Men's Soccer — Mexico vs. Japan, Semifinal — NBC Specialty Soccer Channel
It's not quite the gold-medal round, and these teams are distinctly not America, but I'm putting this in here because hey, soccer's big, and the semifinals probably deserve inclusion. But I ask you to read these next five words in the snobbiest voice imaginable: I will not be watching.
12:26 p.m. — Cycling (Track) — Women's Sprint Final — NBC
The most embarrassing moment of the Olympic guides came yesterday, when I made a typo and wrote "Spring" instead of "Sprint" for the men's final, and then spent a whole blurb wondering and joking about what "spring" might mean in a cycling context. The takeaway here is that I'm essentially a stupid man, and if you see me on the streets it would be kind to give me a piece of bread.
12:50 p.m. — Cycling (Track) — Men's Keirin Final — Computer, NBC at 1pm
Last week I defined "Keirin" in one of the guides, but I honestly can't remember what it was. The fact that I'm not looking it up is a good sign that my Olympic brain has shifted very much into the team-sport portion of the Games. I watched the finals of the men's trap shooting yesterday and loved it, but even as I was tensing myself during the gold-medal shoot-off, I had a moment of clarity in which I realized that two weeks is plenty of time to feature the minor individual sports, and I'm ready to get back into my comfort zone.
1 p.m. — Women's Beach Volleyball — Misty May-Treanor/Kerri Walsh vs. China, Semifinal — Computer
The Chinese team is ranked no. 1 in the world, and won the bronze medal in Beijing. Unlike Misty-May and Kerri, though, they've actually lost in London. Matches like these are the battleground on which the medal count war is waged, and while it may not be a must-win, it's pretty darn close. Plus, who doesn't love the two-time defending champs? There's a lot of heartbreak potential here, but that's what makes the Olympics so damn addicting. Please, please, please don't lose, gals.
2 p.m. — Weight Lifting — Men's 231+ lbs. Final — Computer
The last weight lifting event, showcasing the biggest, strongest men we have to offer. I can't be the only one who thinks the winner of this event should become king of everything.
2 p.m. — Diving — Men's 3m Springboard Final — Computer
It seems like everywhere I look, Team China will be racking up the medals. Where are our medals, Olympics? Where are our weird sports? America would excel in the following events: Football, Modified Pad Rugby, Helmeted Hands Soccer, Pigskin Block 'N Run, and the Distance Tee Kick. Isn't it a little odd that none of these events — not even one — are in the Olympics?
2 p.m. — Field — Men's High Jump Final — Computer
I noticed a lot of what I like to call "idiots" wondering whether an NFL player could beat Usain Bolt in a 100-meter dash after his latest gold, so let me be the first to insist that the winner of the high jump event could beat LeBron James at basketball. Three 'Mairkins in this event, including medal hopeful Jesse Williams.
2 p.m. — Women's Volleyball — U.S. vs. Dominican Republic, Quarterfinal — NBC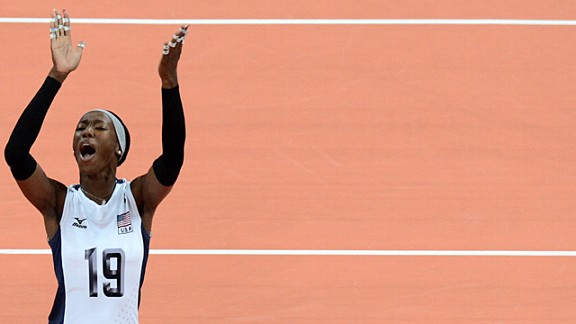 OK, this is starting to get good. The Dominicans should be a mere formality for Destinee and the Lady Gang, but a potential rematch with Korea or a showdown with the very strong Italians awaits in the semifinals. Elimination Olympics are the best.
2:03 p.m. — Wrestling — Greco-Roman 66kg Final — computer
Son of a … this is still happening? I maintain that Greco-Roman wrestling hasn't been interesting since Rulon Gardner just sort of laid on the floor and refused to be picked up by Aleksandr Karelin. Sure, America rejoiced, but we were literally watching the end of a great legend and the death of a sport.
2:45 p.m. — Field — Men's Discus Final — Computer
I'm a little dismayed by America's lack of big men who can throw objects a great distance. We had no medalists in the hammer throw, a measly bronze in shot put, and we don't even have a damn qualifier in the discus. I don't want to say Americans invented throwing, or anything like that, but didn't we basically invent throwing? Wasn't throwing considered impossible before football, like the four-minute mile? What happened to our proud tradition of angry giants with a predilection for tossing round and flat items? This is a national disgrace.
2:45 p.m. — Men's Soccer — Korea vs. Brazil, Semifinal — NBC Soccer Specialty Channel
Your other soccer match. Neymar is apparently a good player for Brazil. I was hoping I might be the first person to ever make the "Neymar Republic" pun, but I just learned that his name is pronounced Nay-mar, not Nye-mar, so it wouldn't even work. God, the world of language can be pun-ishing, am I right?
2:48 p.m. — Wrestling — Greco-Roman 96kg Final — Computer
The final Greco-Roman event, but don't worry, freestyle will take its place to terrorize us tomorrow. Maybe there'll be some actual Americans in freestyle. Or, as we should call it, freedom-style. Unless we lose, and then we should call it "French Fries."
4 p.m. — Women's Beach Volleyball — Jen Kessy/April Ross vs. Brazil, Semifinal — Computer
"EVERY GRAIN OF SAND CONTAINS THE WOUNDED, BEAUTIFUL HISTORY OF THE UNIVERSE." — Gandhi. That's a fake Gandhi quote, but I wanted to let you know how I feel about beach volleyball so far. Yesterday, the second American pair dropped out in the quarterfinals — sorry, Gibb and Rosenthal, but that was a third-set choke job — and I felt sad. But the fact that both women's semis are happening today, with the potential for an all-American gold-medal final, has me giddy. The downside is that the Americans will technically be underdogs in both matches, as the Brazilians and later the Chinese are ranked above them. But maybe that's not a downside … maybe that's a challenge. Maybe it's flag rally time, guys. Maybe it's motherf—ing FLAG RALLY TIME!
(Quick bitter side note: Now that we're in the playoffs, NBC wants to show the beach volleyball matches in prime time, which means that you and I no longer get it on TV during the day. Fantastic. Things just keep getting better. But hey, at least we know they'll show the complete, uncut matches at night, and not some watered-down version.
4 p.m. — Track — Women's 100m Hurdles Final — Computer
OK, let's get serious about some hardware. I know people don't love Lolo Jones, but we need her to take gold, and Dawn Harper needs to capture silver. Or vice versa. But this is looking like a sure thing, or as close to a sure thing as the Olympics provide, and we can't let any sure things go by the wayside.
4:15 p.m. — Track — Men's 1500m Final — Computer
Exactly three of the finalists in this event have personal bests under the 3:30 mark, and all of them are Kenyan. I think it's time to start asking whether being born in Kenya is a form of PED.
6 p.m. — Hit the sack. I've got a 40,000 word piece coming out tomorrow about the 600 greatest Greco-Roman wrestlers of all time, and if you're a true fan, you'll read every word.
Filed Under: Olympic Games, Olympics, Shane Ryan