What's Wrong With Tim Lincecum?
Thearon W. Henderson/Getty Images
It's April 12, so you know what that means: Time to freak out over the demise of Tim Lincecum!
It was a year ago to the day that I filed a dispatch from Coors Field on Lincecum's terrible outing against the Rockies. Lincecum got shelled for six runs on eight hits that night, failing to make it out of the third inning. But that was only his second start of the season, at mile-high altitude, no less. We had years of evidence that Lincecum was not only a terrific pitcher, but also an oft-doubted one, his small build and explosive, catapult-like delivery prompting many predictions that his success would be short-lived. Yet time after time, whenever a couple of bad games would trigger headlines that read, "What's Wrong with Tim Lincecum?" the answer was always the same: Nothing, dummy.
We can't say that anymore. Lincecum's slow start last year finally did mean something, as the lanky righty put up the worst numbers of his career. By the time the Giants reached the 2012 playoffs, they elected to send their two-time Cy Young Award winner to the bullpen, figuring he — like virtually any other starting pitcher — would perform better if able to let loose for short spurts rather than trying to negotiate seven or eight innings a start. Turns out they were right: Lincecum plowed through opposing lineups throughout the postseason, including 4⅔ hitless innings during the World Series, which helped propel the Giants to a four-game sweep over Detroit. Lacking the luxury afforded by the postseason's four-man rotations, the organizational depth to move someone else into Lincecum's slot, and the dissonance to relegate a $22 million pitcher to the bullpen, the Giants plopped him right back into the rotation to start this season … and he's been lousy again. You can't trust the numbers after two starts; you can after an entire season, plus two starts.
So now we can ask the question earnestly: What's wrong with Tim Lincecum?
To find an answer, it's instructive to examine exactly which numbers have gone south on the pitcher who, for a couple of years, had a strong case as the best on Earth. We can start by throwing out a few: Lincecum's 10-15 record and 5.18 ERA were both by far the worst of his career. But those are both largely team- and context-dependent stats that don't tell us much. Lincecum's FIP (4.18) and xFIP (3.82) also spiked to their highest levels ever, but that just tells us that he pitched worse, not how that diminished performance came to be.
Here are a couple of stats that didn't change: Lincecum's strikeout percentage did dip to a career low, but at 23 percent, it wasn't too far off his career rate, around 26 percent, and also ranked a solid 19th among qualified starting pitchers. Meanwhile, his 11.3 percent swinging strike rate was nearly a career best, and ranked 10th among qualified starters, just behind the likes of CC Sabathia and Justin Verlander. So we know that Lincecum's been pitching a lot worse for over a year now, but that he's still making batters swing and miss frequently, as he had in the past. What are we missing?
Going beyond the numbers, two factors stick out. The first is Lincecum's velocity. Check out the chart below, from BrooksBaseball.net: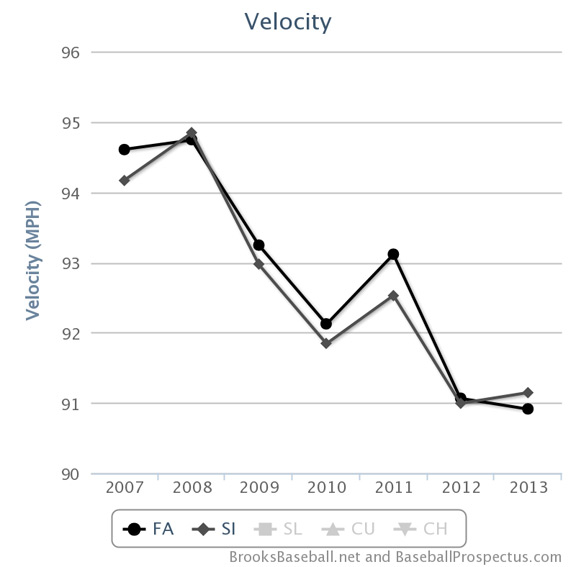 When your fastball velocity drops from about 95 mph to 91 in a span of four years, that's not good. When a pitcher loses nearly 2 mph from one season to the next, as Lincecum did when 2011 turned to 2012, that's a potential red flag. Still, even the velo loss doesn't really tell the whole story. For one thing, it's not uncommon for pitchers Lincecum's age (he turns 29 in June) to lose a couple of ticks off their fastball. For another, we know that he's still getting plenty of swings and misses, and strikeouts.
Lincecum's bigger problems are command, and control. In baseball terms, command is usually used to describe a pitcher's ability to spot pitches where he wants, including where in the strike zone he'd want a pitch to land. Control usually refers to a pitcher's ability to simply throw strikes. Lincecum has failed at both over the past year-plus. From a command standpoint, Lincecum has suffered from a case of meatballitis. As I wrote in the recap of his Coors Field misadventure last year:
Check out this first-inning triple by Carlos Gonzalez, for example. Sanchez sets up inside, calling for a fastball. Lincecum does throw a heater, a 92-mph one at that. But it misses his catcher's target by a mile: Instead of down and in, it's up and out over the plate. Gonzalez went with the pitch, creaming it to left-center just out of Melky Cabrera's reach, cashing Colorado's first run of the night. This happened multiple times. Though Lincecum didn't surrender any homers in his brief 2⅓ innings of work, he did yield two triples (both to Gonzalez), a double to Michael Cuddyer (his first of three on the night) and several hard-hit singles. This wasn't a case of getting beaten by seeing-eye singles or slow-footed fielders; the Rockies got a bunch of fat pitches from Lincecum, and they whacked 'em.
Lincecum's suffered from similar location problems this year. Check out Dexter Fowler's two-run double from Lincecum's ugly start on Tuesday: The target's low and a couple of inches off the plate, beyond the outside corner, only the pitch ends up down and in, and gets whacked. On the control front, we've got the far less subtle walks. Lincecum's walk rate spiked to a career-high 10.9 percent last year. He's already walked 11 batters in 11 innings so far this year, including seven free passes in his first start of the year, which somehow resulted in a win.
So we know what Lincecum's doing wrong. The question now is, why's he doing it?
Baseball Prospectus writer and pitching mechanics expert Doug Thorburn addressed this in a pair of articles last year: Lincecum's delivery depends on perfect mechanics, and that trademark gigantic stride. As he wrote in an e-mail:
He was able to generate ridiculous momentum early in his career (a huge advantage), and he found a timing pattern with it that he could repeat, which was critical for commanding the fastball and keeping that split-change buried under the zone. That stride and momentum required excellent lower body strength, and when his delivery fell out of whack back in 2010, the solution was rooted in conditioning — he had lost his timing because he could not consistently generate his usual stride pattern. Last season, his momentum was noticeably down when compared to his peak, and he struggled to find his timing for most of the season — I thought it was telling that he did so well out of the 'pen, where he could go all out rather than conserve stamina.
Thorburn expressed some mild optimism that Lincecum could bounce back a bit if he can fix his mechanics, which could in turn allow him to better control where his pitches are going. But the beast of four years ago, the guy with the fastball that hit the high-90s and the split-change that was one of the most unhittable pitches in the game? That guy's almost certainly not coming back. Research on pitcher aging curves by Mike Fast and Jeremy Greenhouse suggests that a pitcher this young shouldn't be suffering from this steep of a performance decline, and that it can be very tough to improve once that decline starts.
If Lincecum can't fix his mechanical and performance problems, the Giants might need to yank him from the rotation. Problem is, they have few, and possibly zero, decent alternatives. For all the (deserved) praise the Giants get every year for their starting pitching, their failure to produce even a passable starter prospect since Madison Bumgarner broke in four years ago has left the team hurting for depth. Bumgarner, Lincecum, Matt Cain, the revitalized Ryan Vogelsong, and Barry Zito have stayed remarkably healthy over the past couple of seasons. But the Giants were always at risk of an injury or collapse in effectiveness by one of their starters creating a big void on the roster. Right now, the two most likely in-house options to replace Lincecum (or any other Giants starter who might need replacing) are journeyman swingman and current Giants long reliever Chad Gaudin (career 4.59 ERA and 4.57 FIP) and maybe Michael Kickham, a 24-year-old lefty rated the no. 5 prospect in the system by Baseball America who also walked 75 batters in 150⅔ innings last year at Double-A.
The most likely scenario for a Lincecum replacement would be a trade. But we're not nearly at that point yet, not two starts into Timmy's season, and certainly not in the second week of April, where there's a 0 percent chance that even the dreggiest teams would offer any kind of actually good starting pitcher in a deal. If Zito can keep smoke-and-mirrors-ing his way through starts (dating back to last season, the Giants have won each of Zito's past 13 starts), there's less urgency, both for the regular season and for a potential playoff rotation that would only need four starters, and may well benefit from Lincecum in the pen once again.
So for now, we sit and wait. The Giants probably won't ever again get the Cy Young version of Lincecum back, and Lincecum's expected free-agent payday at the end of this season might struggle to match Kyle Lohse's deal if things keep going the way they have. At this point, given how far their former ace has fallen, they'd probably settle for a functional fifth starter.
Filed Under: MLB, San Francisco Giants