We Found It on Craigslist: Life-Size Shaq Art
BREAKING NEWS FROM CRAIGSLIST: Hard times have hit Newport Beach, where a famous Polish artist, who also happens to be famous in Eastern Europe (non-Poland parts) and Russia (non-Polish parts) has been forced to sell off a $2 million collection of "sport art." For $100,000 each (not including a $3,000 frame), prospective buyers can take home one of three Shaquille O'Neal paintings, a Magic Johnson painting, or any one of three Michael Schumachers.
The paintings have been appraised for their life-sizeness. Because a near-life-size painting of Ali and Liston by another artist — not famous in Poland — once sold for $100,000, it stands to reason that a life-size painting of Shaq, who is roughly 18–20 percent taller and about 80 percent heavier, should sell for somewhere around $190,000–$220,000. But because the market for fine art has fallen so precipitously in recent years, this famous Polish artist has been forced to liquidate his collection.
Click here for the Craigslist ad. All purchases come with a coffee-table book dedicated to Shaq. (Check out the ad after the jump).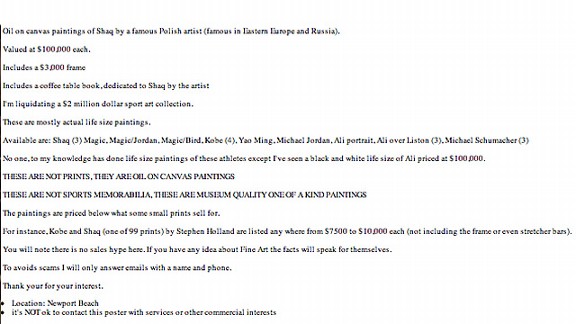 Filed Under: Jay Caspian Kang