The David Stern Dialogues
Of all the possible moments that could be miked up, David Stern welcoming newly drafted first-round picks into the NBA never is. So I was forced to imagine. (Shout out to Jose3030 for help with the pics)

Moe Harkless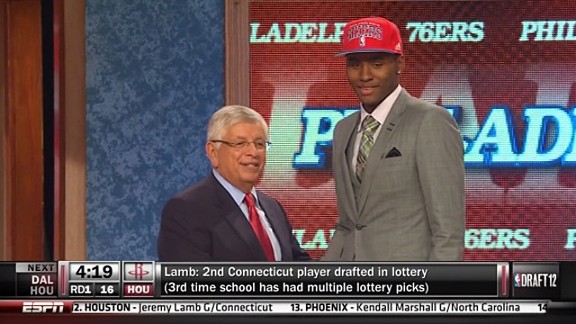 David Stern: Oh, what's up, Moe. Welcome to the L.
Moe Harkless: Thank you, Mr. Stern. I'm actually going by "Maurice" now.
Stern: Oh really, that's a lovely story. I've got one of my own. Me, Lou Carnesecca, and Mario Cuomo are in St. Thomas. Don't ask me the year — it was whenever Billy Joel's Innocent Man came out because every bar had "Uptown Girl" playing and every girl was trying to look like Christie Brinkley. Anyway, long story short, because I can tell "attention span" wasn't one of the things Chad Ford put in your "plus" column, me and Carnesecca get into a pretty heavy game of Uno; the rum starts flowing, one thing leads to another, I light his ass up with a Wild Draw Four, and the next thing you know I have a contract, written on the back of an Iggies Bar cocktail napkin, promising me the right to call any St. Johns player — present, past, or future — whatever I want. So you can either be Moe or Pip Pippity Pip Pop. Call it in the air.
Harkless: Moe works.
Stern: Say "hi" to Thad Young for me when you're getting him chicken tenders before the game.
Tyler Zeller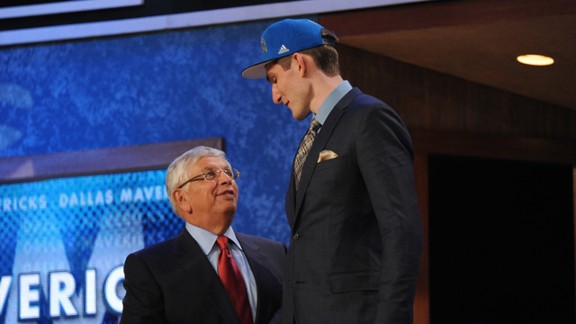 David Stern: Jesus Christ, which one are you? Are you Brian? Cody? Are you Brody? Is there a Brody?
Tyler Zeller: I'm Tyler, Commissioner.
Stern: Oh sure. You're the cute one.
Royce White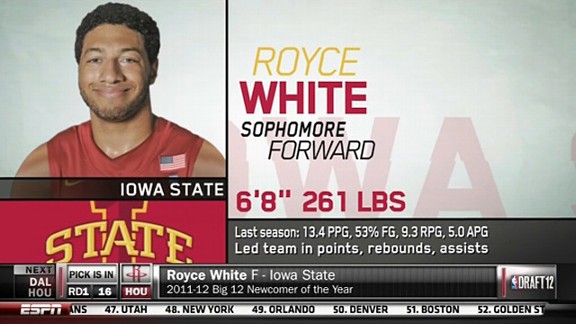 David Stern [Fishes phone out of inside coat pocket, brings up Twitter. Fires off: "@Highway_30 Sry u cldnt b here. Mayb c u at the premier of this? #wingspan #isityou #sugarweregoingdown #lols #jk #butnotreally"]
Jared Sullinger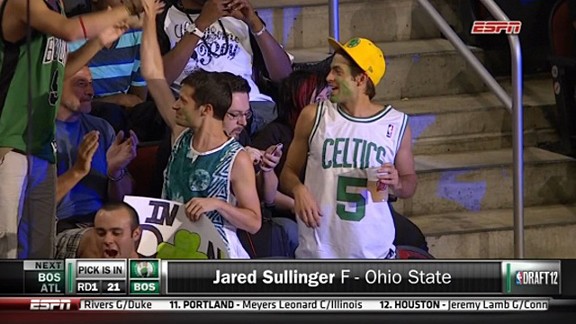 David Stern: [Fishes phone out of inside pocket …]
Austin Rivers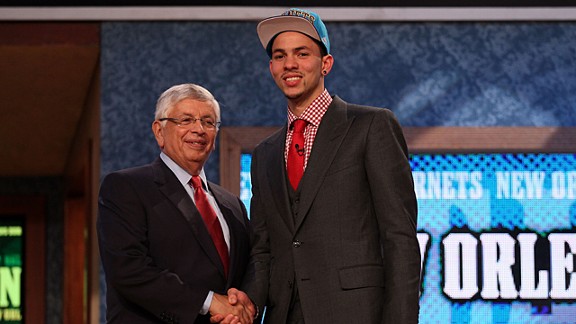 Austin Rivers: Commissioner, I am seriously having a panic attack. Damian Lillard told me my shirt and tie didn't match and I either need you tell me he's wrong or break me off with some Klonopin, because I'm tweaking, bro. I spent weeks on the J.Crew Liquor Store site …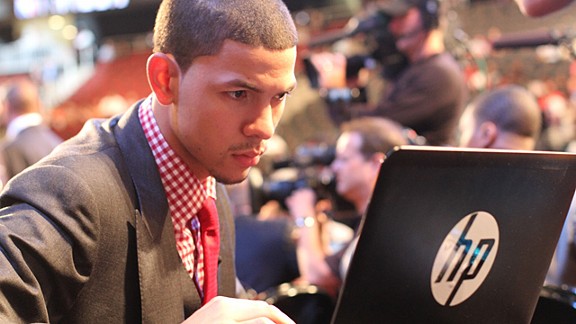 They know me over at Jack Knows Best! This is Secret Wash Gingham, man! Now I'm all backwards and forwards. I knew I should have gone all Chambray everything. That's what Fab Melo suggested!
Stern: Sorry, kid. I was totally gone for about 97 percent of what you were saying. As soon as they announced your name I had a pretty intense flashback to one night in Atlanta with your father, Tree Rollins, Anita Baker's incense dealer, and American figure skating legend Brian Boitano. We went and saw Force MDs at some after-hours club in Atlanta after the Hawks played. By the way, Fab Melo was fucking with you.
Filed Under: Chris Ryan, David Stern, NBA Draft