The BQBL Gets a Little Too Dark (Thanks to John Skelton)
Kevin Casey/Getty Images
The BQBL got dark this week. Pointing and laughing at the Jets and Cardinals last week was a hoot. Their mutual ineptitude gave the game a humorous, whimsical vibe — like watching tee-ball infielders turn a ground ball to second base into an inside-the-park home run. This week against Seattle, watching the Cardinals was not like watching a tee-ball game. It was like driving behind a car that runs over an adorable bunny rabbit — that you're then forced to watch die. Slowly.

Cardinals (Skelton, Lindley), 174 points
I'm not kidding — when I went back and watched this game, I felt legitimately bad. Instead of pointing and laughing at John Skelton after he threw his fourth interception, I found myself concerned. What is this dude going to do for a living now? Can he even get a job in football after this? Because we probably won't get to bask in another Skelton performance, I decided to watch this one back for you and distill the Skeltonocity of it all for your enjoyment.
PREGAME
Jon Kitna is Seattle's honorary 12th Man. It's like they knew this was going to be a legendary BQBL performance and wanted to pick a man worthy of the failure that was about to take place. They did.
Color guy Tim Ryan — "Larry Fitzgerald told us that the optimism of having John Skelton back has put a good vibe over this football team." (Good thing Fitzgerald caught Skelton's vibe. It would be the only thing he caught from Skelton all day.)
FIRST QUARTER
14:53 — Chris Myers and Tim Ryan mention that, at one time, Skelton was 6-0 as a starter. I did not fact-check this. Were they talking about high school or something?
14:53 — Skelton starts his day of with a great throw on an out pattern to Andre Roberts for nine yards. Things are looking up.
14:20 — Skelton follows that with a play-action pass again to Roberts for 24 yards. Skelton feels great about himself. He has no idea that with less than a minute of football played in the first quarter, he's already thrown for 43 percent of the yards he'll have on the day.
12:53 — Screen to LaRod Stephens-Howling. Skelton is now a perfect three-for-three. He's going to the Hall of Fame.
12:12 — Skelton throws behind Fitzgerald, who kind of catches it before getting clobbered. The ball then gets batted around and Seahawks linebacker Bobby Wagner comes up with it. On the runback, Skelton is penalized for tripping. To be fair, if I were tasked with bringing Bobby Wagner to the ground, I would definitely opt for the "trip" over the "tackle."
(Seattle kicks a field goal: 3-0)
9:53 — Cardinals cornerback Patrick Peterson lines up at receiver and catches a pass to the outside for seven yards. I'm sure that when Patrick Peterson was asked to join the offense this week in practice, he was shocked when they lined him up at wide receiver and not at quarterback. I have no evidence that he's not the best quarterback on the roster. None.
9:25 — (Game break shows us Eli's TAINT.)
8:32 — Skelton gets blitzed and hit, and the Cards are forced to punt. Bright side? No turnover.
(Seattle scores TD: 10-0)
2:04, play-by-play man Chris Myers — "Skelton needs to rally the visiting Cards or else it is going to get ugly … throws … an ugly pass." I swear he said this. I know it reads like one of my dumb jokes but those words really came out of his mouth in real life.
1:17 — Skelton underthrows Fitzgerald by 10 yards — a legit 10 yards short of where he could've caught it. It's like somebody offered to pay Skelton $100,000 if he could get Fitzgerald to punch him in the face during the broadcast.
SECOND QUARTER
(Seattle scores a touchdown: 17-0)
14:11 — Skelton tries to hand off, but the running back runs away from him like the ball's going to detonate. Skelton still gets two yards and the first down. Myers explains: "Awkward-looking play that produces for the Cardinals, who have been looking awkward for the last eight games." This broken play is the first third-down conversion for the Cardinals in 19 tries.
11:43 — Skelton gets the ball knocked out of his hands by Chris Clemons. Clemons recovers the fumble, but Skelton rips it out of his hands while they're on the ground. Ripping the ball out of Chris Clemons's hands after the whistle was easily Skelton's most athletic play of the day.
10:20 — Skelton throws from his own end zone to Larry Fitzgerald. Well, really "in Larry Fitzgerald's direction," because Richard Sherman is sitting there waiting for it and TAINTs it up with ease.
(24-0, Seattle)
10:12 — Not only did they botch this snap and almost lose the ball, they show footage of Skelton and the center botching the practice snaps on the sideline before this series. I'm honestly wondering why they don't put Patrick Peterson in at quarterback. Or Patrick Ewing. Or Neil Patrick Harris. I really hope Neil Patrick Harris starts for the Cards next week.
(Cardinals punt, Seattle scores touchdown: 31-0)
5:06 — They mention that Larry Fitzgerald has five catches in the last three games. Then, on cue, Skelton throws it to him on an out pattern and Fitzgerald doesn't even bother trying to catch it because it is too high not only for him, but also for the dudes on the sideline. Myers with the call: "And in the area of Fitzgerald, but not catchable. That seems to be the problem." Yes, Chris, that seems to be the problem.
(The Cardinals punt, but Seattle throws an interception on first down, forcing Skelton back onto the field. He doesn't seem happy about it. "On the field" is not John Skelton's happy place.)
2:40 — Skelton throws deep to Fitzgerald, or, sorry, around Fitzgerald, because there were two Seahawks defenders who had just as good a chance to come down with the ball. Richard Sherman was the one who did. The Cardinals targeted Larry Fitzgerald 11 times. He caught one pass; the Seahawks caught three. I think the Suns should call Fitzgerald and see if he can play shooting guard.
(Seattle scores touchdown: 38-0)
THIRD QUARTER
(Seattle scores touchdown: 45-0)
10:28 — Skelton throws a pass right to Bobby Wagner — like, right to Bobby Wagner — for his second pick of the game. Both Bobby Wagner and Richard Sherman ended up with more catches than Larry Fitzgerald did. John Skelton has a .4 QBR on the day. There's a good chance that 90 percent of Cardinals fans have a blood-alcohol level higher than Skelton's QBR.
Not only does Skelton get yanked, he has to wear this hat: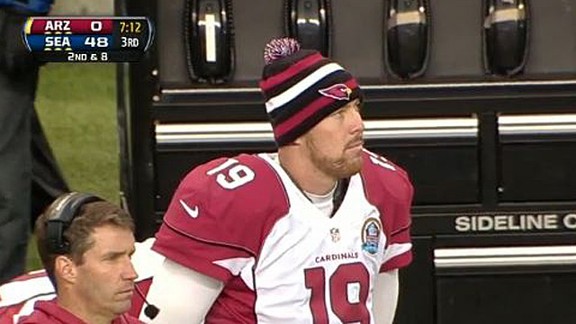 (Seattle kicks a field goal: 48-0)
7:35 — Ladies and gentlemen, RYAN LINDLEY!
7:03 — Lindley attempts to hand the ball off to Beanie Wells, who had no idea that was about to happen. Loss of two on the play. RYAN LINDLEY, EVERYONE!
Tim Ryan — "Just a prime example of the dysfunction of this offense. They are just not on the same page in terms of what the play call is and how to execute it. I know for Ken Whisenhunt, who is so bright and such a grinder, it is those mental errors that have just crushed him in terms of his competitive spirit all year long. He is ornery. You could get that feeling just talking to him yesterday. I think Kenny Whisenhunt is ready to fight everybody(!)." The color guy just described the head coach as "READY TO FIGHT EVERYBODY." I love the 2012 Cardinals.
5:44 — Fitzgerald gets open; Lindley throws the ball 15 feet over his head.
5:00 — Pete Carroll is dialing up safety blitzes against a rookie quarterback and causing fumbles up 48-0. Not very nice.
(Seattle kicks a field goal: 51-0)
1:57 — Lindley bounces a ball to Fitzgerald, who still doesn't have a catch on the night.
FOURTH QUARTER
7:13 — Lindley hits Fitzgerald for two yards on an out. Fitzgerald may or may not have given the ball to the equipment guy and said, "Hey man, keep this, I want to make sure I have the balls from my first and last NFL receptions."
(Cardinals punt, Seattle scores touchdown: 58-0)
2:00 — On the Cardinals' sideline, this happens: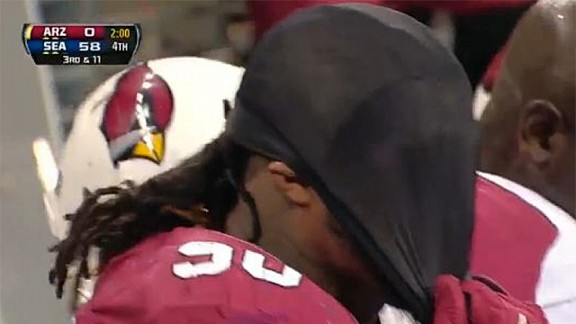 1:00 — Lindley throws it 10 yards past Fitzgerald on a go route. You know when a dog is begging you to throw a tennis ball and you throw it as far as you can to get rid of him for a while? That's what the Cardinals quarterbacks are doing to Fitzgerald. They think if they throw it far enough, they won't have to look him in the eye in the huddle.
Next week, the Cards take on the Lions. I really think there's a chance they'll start Neil Patrick Harris at quarterback.
Quick Slants
Vikings (Christian Ponder), 50 points: Christian Ponder has now thrown for fewer yards than Adrian Peterson has run for in three of his team's past five games. If they replaced the quarterback in Minnesota with a pedestal from which Adrian Peterson grabbed the ball on every down, I don't think any opposing defensive coordinators would change their game plan.
Colts (Andrew Luck), 43 points: Andrew Luck, everyone had me convinced that you were so smart because you went to Stanford and were coachable and blah blah blah. Well, you must have been coached that when a gigantic man is holding both of your legs together and you can't move your feet, you throw the ball right into the chest of the nearest defender. If that's how you were coached, then, yes, you are very coachable.
Jets (Sanchize), 37 points: I've already said this, but I really think the Jets need to trade up in the draft this year and pick RG4.
Clairvoyant Jacoby's picks for next week's leader board:
(For the record, last week I wrote, "Whoever is at quarterback for the Cardinals will be eaten alive by the Seahawks defense. I expect triple digits." Also for the record, that's the first time I've ever been remotely accurate in any sort of prediction.)
1. I just feel like Jay Cutler is going to play, which will make Bears fans happy. Then Jay Cutler is going to throw seven picks, which will make Bears fans sad. It's just kinda what Jay Cutler does.
2. Ryan Pickspatrick will live up to his name against Seattle.
3. I want terrible things to happen to Carson Palmer … so terrible things can happen to Terrelle Pryor.
Filed Under: Andrew Luck, Bqbl, David Jacoby, Mark Sanchez, NFL