The BestCoolest Players I've Ever Seen: Hitters
Focus on Sport/Getty Images
After writing about pitchers yesterday, a refresher on the rules:
• "Best" remains the most important criterion here. We'll lean on objective metrics as we always do. But there'll be some subjectivity too. I'm not above giving bonus points for flair. Roughly speaking, we're counting a player's accomplishments as 70 percent of the equation, cool factor as about 30 percent.
• To be eligible, players had to have played at a time when I was old enough to watch and appreciate baseball. I was born in 1974. Ed Delahanty just misses the cut.
• Players are ranked by both peak and career achievements. This is similar to the concept behind Jay Jaffe's excellent JAWS system of player evaluation, and the same way I'd vote for Hall of Famers, if I had a vote.
• All-time greats who did their best work before my time don't count. I only got to see players like Tom Seaver, Steve Carlton, and Pete Rose when they were near the end of their amazing careers, so they don't make the cut. My first vivid baseball memory is from 1981 (it was very painful, let us never speak of it again). So the players likely to get the most consideration either broke in around or after 1981 (or not much earlier), or were so great that even if a decent chunk of their career happened beforehand, they still warranted consideration.
• Finally, we expanded the list to 20 for position players because, well, baseball teams carry more position players than pitchers (or they used to, before managers lost their damn minds). There are already enough omissions on this list to fill multiple All-Star teams. Had we restricted this list to just 10, there might've been a riot (or whatever it is you call it when people on the Internet register their disgust throughout the world).
Honorable Mention: The Bo Jackson Division
I have no idea where to rank the guy. He's the only player on this list (or ever) who Spider-Man'd up a wall because he was running too fast to stop. He's the only one who got his own 30 for 30. He's the only one who broke a bat over his helmet like it was a toothpick. He's the only one who, in the first at-bat of his first (and only) All-Star Game, blasted a home run that traveled 850 miles, earning raves from Vin Scully and Ronald Reagan, thus becoming the most '80s moment of all time.
Let's just settle for the next 20 entries being the true BestCoolest list and Jackson being an alien, someone who was so cool that ranking him among actual human beings would be an insult to everyone involved.
20. Sammy Sosa
You can be a zero-tolerance PEDs person and still recall the joy that Sosa brought to the game and to fans. The home run hop. The huge smile. The two-finger kiss-and-salute.
I saw a Cubs-Cardinals game at Busch Stadium in the summer of 1999 in which 48,392 people all flashed camera bulbs for every single Sosa and Mark McGwire at-bat. Sosa blasted two homers, and the Cards won on a walk-off hit. It was the most fun I've ever had at a ballgame not involving my favorite team. That was Sosa. At his best, he was a bottomless well of fun.
19. Cal Ripken Jr.
The Savior of Baseball meme always bugged me. Breaking Lou Gehrig's consecutive games record was a terrific accomplishment, of course. But I believe baseball would have bounced back resoundingly even if Ripken's heroics in 1995 never happened, and even if McGwire and Sosa hadn't shattered Roger Maris's single-season home run record three years later (another event cited by some as being responsible for rejuvenating baseball after the 1994 work stoppage that canceled the last few weeks of the season, plus the playoffs). Media exposure for sports was about to explode in the '90s and into the early '00s, and I suspect fan support would've increased one way or another.
Let's not take this too far, though. Some have argued that Ripken became overrated because of the streak. He wasn't. Ripken was a terrific fielder and prolific power hitter at short, with a far different build and skill set than the banjo-hitting 160-pounders who'd come before him. He won MVPs eight years apart and was arguably underrated defensively, bagging just two Gold Gloves. He'd be an easy Hall of Famer and an Orioles all-timer even if he never became a baseball icon.
18. Larry Walker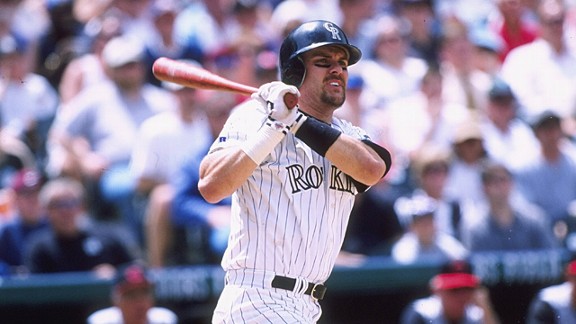 Don't fall into the Coors Field trap — Walker was a beast, with or without mile-high aid. As I wrote about him last year:
Walker also hit .314/.410/.592 away from Coors during his peak 1997-99 years, making up for a career delayed by injuries with video game numbers when he was at his best. He continued to mash all the way to the end as a Cardinal. He was an excellent fielder with a terrifying arm, stole 230 bases at a 75 percent success rate, and his top statistical comp at Baseball-Reference.com is Duke Snider. He also scores better than average among existing Hall of Fame right fielders in JAWS …
Honestly, though? Blah blah blah. The man they called "Booger" was one of the goofiest SOBs of his generation. Growing up as a hockey player, Walker played baseball as something of an afterthought. He was naturally talented enough to draw the attention of the Expos, who signed him for just $1,500. Still, Walker had perspective and a sense of humor that some baseball lifers don't. And yes, he could be a bit of a space cadet. There was the time he caught a fly ball and handed a ball to a fan … with a man on base, and only two outs in the inning. There was the All-Star Game moment, which we cited for Randy Johnson. Walker also had a wide array of jokester gear: red clown shoes in his locker, plus diapers and a ballerina outfit that he'd foist on teammates and make them wear, even when it wasn't officially hazing time. That's how you transcend mere greatness and rise to baseball immortality.
17. Jeff Bagwell & Frank Thomas
Born on the same day (May 27, 1968), Bagwell and Thomas also lived parallel careers.
Bagwell was one of the most prodigious power hitters in the league, peaking with his '94 MVP season in which he smashed 39 homers in just 110 games, hitting an absurd .368/.451/.750. He was no one-dimensional slugger, though, swiping 30 or more bases twice, stealing 202 for his career, and playing excellent defense at first base. Thomas didn't bring any baserunning or defensive skills, playing more than half of his games at DH. But he won two MVPs and also peaked in his fourth full season; in that same '94 campaign, he put up a ridiculous line of his own: .353/.487/.729. For his career, Thomas played 2,322 games, while Bagwell played 2,150. Thomas hit .301/.419/.555, vs. Bagwell's .297/.408/.540.
Even by the sky-high standards of first basemen and DHs in the '90s and early aughts, they were titans, baseball pulverizers who put up monster numbers. If there's any justice in the baseball world, they'll ride into Cooperstown on the same ballot.
16. Derek Jeter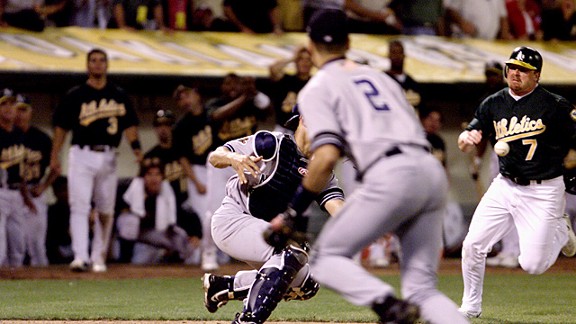 I mean … he's Derek Jeter.
15. Eric Davis and Darryl Strawberry
If you're a baseball fan younger than 25 and your dad's not from Cincinnati, it's entirely possible you've never heard the name Eric Davis. This is really too bad. Injuries may have cut his career short, but in his prime, Davis would put up numbers in 130 games that most couldn't manage in 230. In his first season as a full-time player, Davis cracked 27 homers and stole 80 bases … despite missing 30 games. The next year he cranked 37 bombs, swiped 50 bases … and missed 33 games. He became something of a medical marvel later in his career, sitting out the entire 1995 season because of injuries and coming back to slug 26 homers the following season, then receiving a colon cancer diagnosis in 1997, only to return and slam 28 more in 1998. But for those of us who remember baseball in the '80s, it was young Eric Davis who stood out, a player blessed with a better combination of power and speed than all but a few players ever. You couldn't find anyone cooler either. Just look at this.
Born two months before Davis, Darryl Strawberry grew up in the same neighborhood of South-Central L.A. Like Davis, Strawberry's star burned bright from an early age. He slammed 26 homers and won the Rookie of the Year award as a 21-year-old with the Mets in '83, then teamed with Doc Gooden to form the dynamic duo of young talent in baseball. Tall and rangy like Davis, Strawberry used lightning-quick hands and wrists, not bodybuilder brawn, to launch tape-measure home runs. On Opening Day 1988, Strawberry pulled off the most indelible moment I ever witnessed from an opposing player. Having already hit one home run earlier in the game, Straw faced Expos reliever Randy St. Claire in the seventh inning. On the first pitch of the at-bat, St. Claire tried to sneak a fastball by him … and failed miserably. Strawberry did something no one else ever did at Olympic Stadium, crushing a ball all the way up to the concrete ring around the roof; it might still be flying today if it hadn't bounced back down to the turf. And hey, any player who inspires classic taunts in every stadium, and, totally hypothetically, a bunch of Canadian teenagers to chuck strawberries at him in the middle of a game, is a big winner.
14. Chipper Jones and Andruw Jones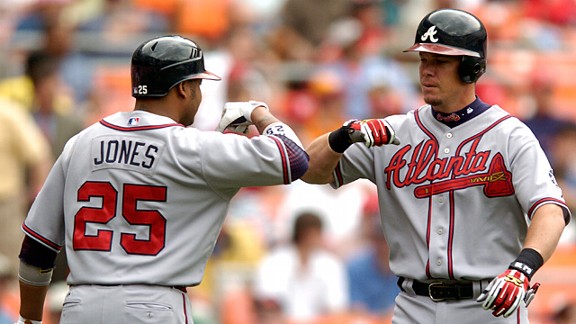 Chipper's one of the five or six best third basemen of all time. He played 19 years with the same team and was still one of the best hitters in the league into his mid-30s. With apologies to Greg Maddux, Tom Glavine, Dale Murphy, and everyone else, he's the signature Atlanta Brave. And if two decades of kicking ass weren't enough, Chipper cemented his status as the biggest troll in the game by naming his son Shea (he denies naming his progeny after the ballpark in which he used to torture the rival Mets, but … come on). Andruw Jones was his partner in crime for 12 seasons, and there was no one else quite like him. As a 19-year-old playing in his first World Series game in 1996, he bashed two home runs against the Yankees. Any fly ball within a $10 cab ride of his reach went to die at Turner Field, as Jones made spectacular catches look easy.
Though the entire Braves dynasty netted only one World Series title (the year before Andruw broke in), we might not see another team win 14 division crowns in 15 years for a long, long time. The Braves' rotation for the ages eventually faded. But the Jones boys remained the backbone of the team throughout that incredible run.
13. Roberto Alomar
Second basemen, more often than not, are shortstops who couldn't hack it at the highest level. They don't have the arm to handle the more demanding position, nor the range. You live with a lesser athlete at second, and hope he can hit enough and look respectable enough afield compared to his similarly less agile peers to make an impact.
Alomar could've been a shortstop, and would've been a very good one. Instead, he spent his career smashing the image of the second baseman as lesser half of the double-play combination. His highlight reels are legendary, the kind that make you wonder how he could've possibly played the same position as lumberers like Jeff Kent and Dan Uggla. Alomar was an excellent hitter (.300/.371/443) and base stealer (474), too, producing big numbers throughout his career. But when Cooperstown came calling, the Hall could've kept its plaque for him short and sweet: At the height of his powers, no one in baseball was more graceful than Robbie Alomar.
12. Wade Boggs and Tony Gwynn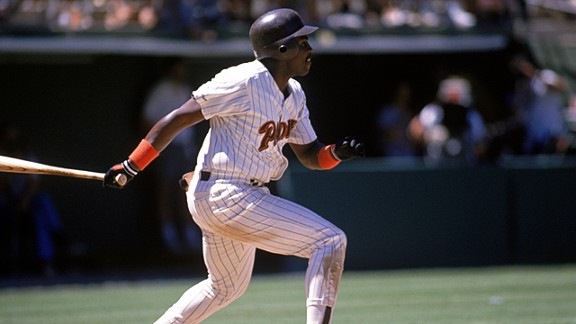 Slapping singles all over the ballpark isn't inherently cool, not compared to the speed burners and upper-deck home run launchers populating the rest of this list. But there comes a point at which a player is so good at a certain skill that attention must be paid. At a time when Rickey Henderson and Tim Raines were the prototypical leadoff men, Boggs was so gifted at getting on base (.415 career OBP, 25th-best in baseball history) that the perennially speed-deprived Red Sox smartly made him their leadoff man. Gwynn did bring more than singles-slapping to the table early in his career, swiping 30 or more bases four times, including 56 steals in his MVP-caliber 1987 season. He was a fine, rangy outfielder for a while, too, until he went from this to this.
Batting average might be overrated. And in Gwynn's case, his sailing into the Hall of Fame while equally deserving candidates with lower batting averages sit and wait still irks and perplexes. But Boggs and Gwynn both had a real talent, reaching out and flipping the ball over the shortstop's head, year over year, nonstop, for an entire career. That's a rare skill … especially when you lose your pants.
11. Albert Pujols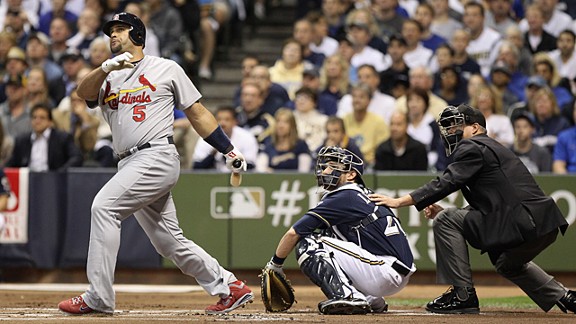 Pujols is now the $240 million man, the broken-down husk of his former self who's become a punch line for his gigantic contract, plunging numbers, and questionable health. That's unfortunate. Because for the first 10 years of his career, Pujols was a force of nature, better than all but a few players in baseball history during their own first decades. At his absolute peak, he walloped 40 or more homers in six of eight seasons, and struck out more than 10 percent of the time just once during that stretch. That blend of skill sets doesn't really exist in today's game — we're basically talking Pujols and Joe DiMaggio.
You have to figure Pujols will recover from his latest round of injuries and start smacking homers sometime soon, hopefully next year. But if the plummet to the bottom really has begun, history should remember Pujols as the best hitter this side of Barry Bonds, not the guy with bum wheels who buried the Angels' payroll.
10. Tim Raines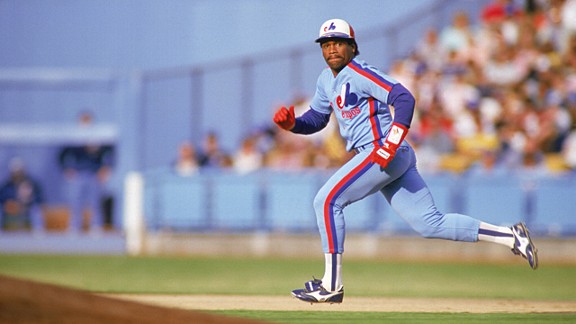 It's tough enough writing about Pedro Martinez or Larry Walker while maintaining a thin veneer of objectivity. But Raines was my favorite player of all time. So we'll skate through the stats (808 stolen bases with the highest success rate of anyone with anywhere near that many attempts; more times on base in his career than Gwynn; considered Henderson's peer when both were in their prime) and just offer two anecdotes:
• Baseball's owners actively colluded against players in the mid-'80s. It got so bad that in the winter of 1986-87, several elite players couldn't get even a single offer from other teams, leaving them to decide if they wanted to go back to their old teams for no raise or even a pay cut, or just not play baseball. Andre Dawson was so pissed off by the intransigence of the Expos and the rest of the league that he showed up to Cubs spring training, told them to put any number they want on a contract, and he'd sign it; the Hawk hit 49 home runs the next season and won the NL MVP. Raines and the Expos couldn't come to terms for months, so thanks to an arcane contract rule, he couldn't come back to play until May. On May 2, 1987, Raines made his return, figuring to be well behind the pitchers and other players who'd already played a month's worth of regular-season games. In that first game back, he faced the Mets, on NBC's Game of the Week. All Raines did that day was bang out a homer, a triple, two singles, a walk, a steal, three runs scored, and four knocked in, capping the performance with a game-winning grand slam in the 10th inning.
• Reposting one of my favorite Raines stories:
Of all the kooky traditions the perpetually weird Montreal Expos had, none topped the scoreboard chickens. Every time a pitcher threw over to first, a supremely low-tech image of a chicken — possibly an actual cardboard cutout — would flash on the screen, "Bawk-Bawk-BAWWWWWK" echoing through the stadium. We lost our minds the day Tim Raines goaded an opposing pitcher into 13 chickens during one turn on first. Decades later, I finally got to interview Rock. "Did you ever notice the scoreboard chickens?" I asked. "Sure! We'd all compete to see who could get the most. I always won."
9. The Bash Brothers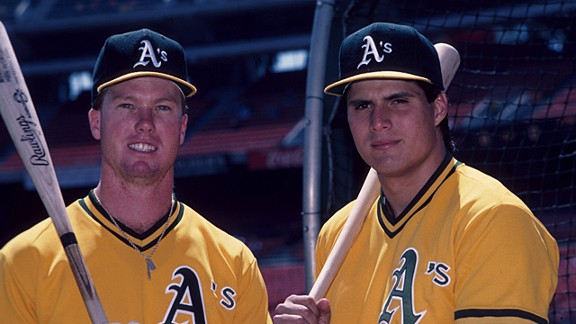 You can either freak out about steroids, or just accept that they were part of the game. You can either retroactively wipe your memory, or accept that what you were watching was cool as hell. The Bash Brothers, in all their syringe-y glory, were cool as hell. No one hit the ball farther than Mark McGwire and Jose Canseco did during their salad days in Oakland. McGwire of course went on to far greater fame and record-breaking in St. Louis. Canseco … well, a lot happened to Canseco. But we're going to invoke the vintage poster test again. Look at this and try not to smile.
8. Ozzie Smith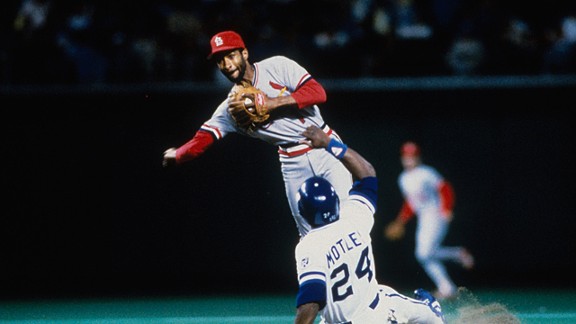 He did things with his glove that no one has done before or since. He's the only player who did a full-on backflip when running onto the field, and the only one who could get away with it without being knocked on his ass. Damn shame about that tumble into the well, though.
7. Vladimir Guerrero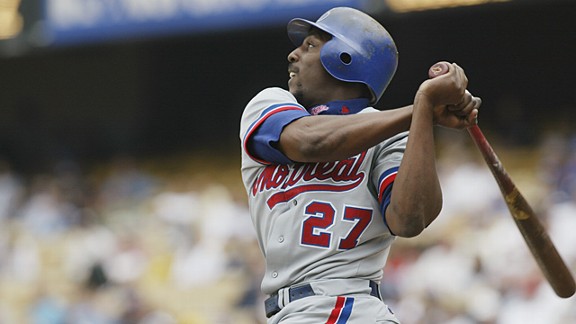 One of the greatest things about baseball is its ability to evoke memories of players from the past. That way, if you're too young to remember a superstar from a prior era, you can at least see the 2.0 version.
Watch young Vlad gallop around the bases, his long arms and legs pumping as he streaks in for a triple. Watch him gun down runners on preposterous throws. Watch his violent swing, the one that could pick balls off the turf for doubles and send other balls 500 feet, driving announcers to have heart attacks. In my mind, that's what I imagine Roberto Clemente was like. And there were few players who better, or cooler, than Roberto Clemente.
6. Ichiro!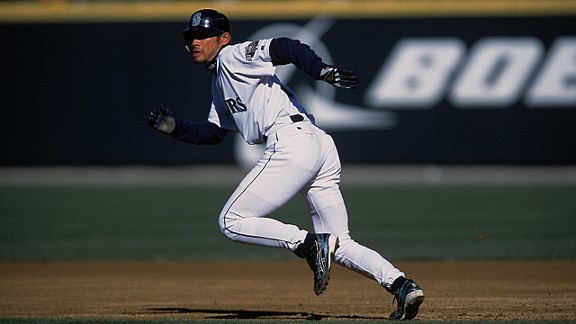 A supremely unique talent, Ichiro broke the single-season record by racking up an unfathomable 262 hits. He ran on anyone and everyone. And he fired laser beams from his right arm — poor Terrence Long probably needed a year of therapy after this one.
All of that's just a small part of what makes Ichiro Ichiro. The truly legendary stuff is what comes out of mouth.
"If I'm in a slump, I ask myself for advice."
"I hope he arouses the fire that's dormant in the innermost recesses of my soul. I plan to face him with the zeal of a challenger."
"Chicks who dig home runs aren't the ones who appeal to me. I think there's sexiness in infield hits because they require technique. I'd rather impress the chicks with my technique than with my brute strength. Then, every now and then, just to show I can do that, too, I might flirt a little by hitting one out."
"To tell the truth, I'm not excited to go to Cleveland, but we have to. If I ever saw myself saying I'm excited going to Cleveland, I'd punch myself in the face, because I'm lying."
5. The 1995 Cleveland Indians
A few years ago, I got a tour of the MLB Productions offices in Chelsea Market in New York City. It was an amazing place, with all kinds of cool baseball-related decor. But the highlight, by far, was the wall of editing bays. Strolling through, I saw technician after technician cutting video for soon-to-be-released MLB documentaries and other specials. I passed one reel of classic Yankees highlights, another showing footage of Willie Mays. Only one made me stop and watch: a special on the 1995 Cleveland Indians.
Flip through this roster and consider how so many killers could've played on the same team. Kenny Lofton hit .310 and stole 54 bases. Jim Thome was a relatively skinny 24-year-old third baseman already flirting with a 1.000 OPS. A 23-year-old Manny Ramirez posted a .402 OBP and hit 31 home runs. Thirty-nine-year-old Eddie Murray hit .323/.375/.516. Albert Belle crushed 50 homers and 52 doubles, all in a strike-shortened season. You could rank any of these guys individually and they'd be high on the list. Lofton was one of the master table-setters of the '90s, following in the footsteps of Henderson and Raines. JI-JIM THOME became the Internet sensation of our time. Ramirez was one of the best right-handed hitters of the past 50 years, plus, you know … Manny. Murray was already a Hall of Famer with Baltimore who found a second wind long past the point at which many of his contemporaries retired. And Belle was a certified BAMFer.
Maybe one day we'll do one of these again, but with teams. The '95 Indians will be really, really tough to beat.
4. Alex Rodriguez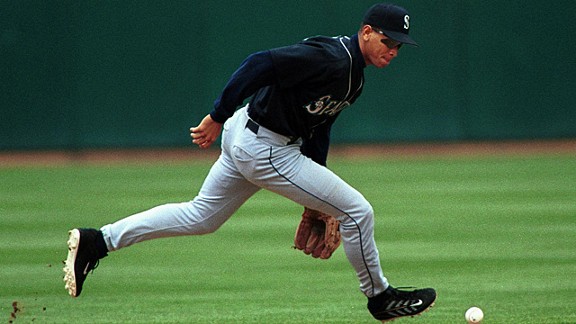 What I wrote four days ago when everything hit the fan still stands today:
He won three MVP awards and probably deserved at least three more, having led the American League in Wins Above Replacement six times. He was a five-tool player manning the toughest non-catcher position in the game, coming up with fellow shortstop stars Derek Jeter and Nomar Garciaparra and putting up numbers that dwarfed both of theirs.

Beyond the numbers and awards, A-Rod in his prime played with an unparalleled combination of power and grace. He cracked the big leagues at age 18. His first career home run, a monster blast on a hanging Tom Gordon curve, came at 19. He was a superstar by age 20, making spectacular plays at short, running like a deer, and swatting the ball into the stratosphere on a regular basis. Contrary to his reputation as a player who folded under pressure, he overcame tense situations such as wearing a Turn Ahead The Clock uniform, and also hoisted the Yankees on his shoulders throughout the 2009 playoffs, carrying them to a World Series title.

Alex Rodriguez and Barry Bonds were the two best and most electrifying position players of the past quarter-century. Bonds never played again after 2007, despite posting a gigantic .480 on-base percentage that year, slugging .565, and launching 28 home runs. Unlike Bonds, A-Rod is under contract with a major league team, so he can't be swept under the rug for PED suspicion — at least not yet. Rodriguez might have cheated and he might have lied. But we will get to see one of the best baseball players to ever walk the earth, at least for a little while longer.
3. Ken Griffey Jr.
It was really tough not to rank Junior no. 1 — really, really tough. The case for Griffey is basically identical to the case for Pedro Martinez on the pitcher front: He's a transcendent player who was so extraordinary during his prime, and exuded so much cool, that you overlooked later-career injuries and stats that didn't quite stack up to the best of the best. He had the sweetest swing any of us had ever seen. He robbed home runs with his glove, seemingly every other game. He ran pitchers to distraction. He charmed Hilary Banks before ever opening his mouth. His highlight reels … oh, man. Sure, there were those injuries, plus the trade, and the decline in Cincinnati. But Junior would've made it to the top anyway, if not for the undeniable BestCoolest qualities of our top two.
2. Rickey Henderson
One of the best Bill James quotes was aimed at one of the best players he or any of us have ever seen. "If you could split him in two," James said, "you'd have two Hall of Famers."
Henderson scored more runs than anyone in baseball history. He holds both the single-season and all-time records for stolen bases. He's hit more leadoff home runs than anyone else. He ranks second all time in walks, and posted a stellar .401 career on-base percentage.
And no one, ever, had more swagger than Henderson. Though people forget the more gracious parts of his record-setting speech, only Rickey would declare himself the greatest of all time in the first place, much less own it the way he did. The capper is his way with words. Though Ichiro might be the current reigning champ of great quotes, the entire Internet is basically a smorgasbord for Rickeyisms, many of those featuring Henderson's untoppable use of the third person in describing his own exploits.
You might live another 100 years and never again see another Rickey Henderson. Which is pretty damn sad to think about, honestly.
1. Barry Bonds
Debate how he got there all you want. On numbers — actual tangible evidence of what happened — Bonds is the second-best player of all time, trailing only Babe Ruth. It was only 12 years ago, and we were all there when it happened, but 73 home runs in a season still seems hard to imagine. A player hitting .362/.609/.812 (with 232 walks against just 41 strikeouts) like Bonds did three years later seems downright impossible, or maybe the result of some cheat code in R.B.I. Baseball.
Thing is, Bonds was a bad, bad man long before he swelled to massive proportions. Young Bonds was young Griffey, a player with big power, blazing speed, and the range of a Gold Glove center fielder, only in left. And all the stuff that made him seem arrogant or unlikable only made him more of a badass. The earring. The dismissive bat drop after every home run. His attitude toward the media (as if the content of a person's character should be measured on how polite and forthcoming he is with reporters).
Barry Bonds was the greatest player baseball we had seen in more than half a century. He gave absolutely zero Fs. Some of us just like rooting for the bad guy.
Filed Under: Cleveland Indians, Derek Jeter, Jonah Keri, MLB