Second Round, First Priority: Ricky Ledo and Exploiting the CBA's Inefficiencies
Brian Babineau/NBAE via Getty Images
Ricky Ledo's contract negotiations were going badly. Which sounds a little ridiculous. The Mavs selected Ledo with the 43rd pick in the draft, meaning he was a second-rounder with very little leverage and almost certainly no place else to go if he wished to play in the NBA anytime soon. His track record to that point was spotty. He played for several high schools and logged zero minutes in college after being ruled academically ineligible. He looked so disinterested in some pre-draft workouts that officials from two teams told me they'd concluded that Ledo was "undraftable."
And yet Ledo and his agent, Seth Cohen, were locked in fairly contentious negotiations with Dallas officials during much of the NBA's Summer League in Las Vegas. Those negotiations, and several others, shined a light on the NBA subculture of second-round picks — an asset type teams have found increasingly valuable under the restrictive new CBA, and one that brings a bit more negotiating wiggle room than a first-round pick with a set salary slot, according to several team executives and player agents. Want to know how smart your favorite team is with the cap, or how much it values a particular second-round pick? Pay attention to the nuances of that player's contract and salary.

The handsome personage of Chandler Parsons hovered around the Ledo talks and many other second-round negotiations. The Rockets drafted Parsons with the 38th pick in 2011 and signed him to a four-year that guaranteed Houston could keep him with a salary under $1 million in each of those four seasons. It wasn't the first four-year deal for a second-round pick, but as Parsons emerged into a well-rounded NBA starter, it quickly became the most famous-slash-infamous of such deals. Cap experts and union officials estimate that about a half-dozen second-round picks have received four-year deals in the last half-decade, and Houston helped pioneer the process before Parsons in deals for Chase Budinger, Joey Dorsey, and Jermaine Taylor. (The Spurs also did this with DeJuan Blair, as did the Kings with Hassan Whiteside.)
Those contracts give teams control over cheap second-rounders for an unusually long time. (Teams can control first-round picks for four seasons, but those players carry larger salaries that increase at set annual rates.) Most of the players upon whom Houston used the Parsons Plan did not really work out, but Parsons has, rather spectacularly, and the league has taken notice in pursuit of copycat deals, officials say. "With players we think have a big upside, we will only do three- or four-year deals," Mark Cuban, the Mavs owner, tells Grantland. "If their agents don't like it, we let them go overseas."
Very few second-round picks amount to anything in the NBA, and it's tempting for front offices, short-staffed and busy with a thousand other things in early July, to make second-rounders their last priority. And teams that are over the salary cap have fewer options in dealing with second-rounders. Such teams can sign an unlimited number of players, including second-rounders, to the league's minimum salary, but only to one- or two-year deals. If they want to extend into three- or four-year contracts, they must dip into the midlevel exception — a key building block they might want to keep open for a veteran free agent.
But if a team really likes its second-round pick, the lure of that cheapo four-year deal is strong. And the cost of missing a chance at a longer deal can be enormous. The Bulls signed Omer Asik to only a two-year deal in the summer of 2010, when they had cap room, and as a result, they lost him to free agency a year earlier (to the Rockets, naturally) than they might have — sort of an important thing for a title contender. The Knicks did the same with Landry Fields, as Mark Deeks explains here. The Sixers inexplicably signed Lavoy Allen, the 50th pick in the 2011 draft, to a one-year deal, forcing them to dip into their midlevel exception to re-sign Allen to a two-year, $6 million deal after only one season — a mistake that triggered their entire disastrous 2012 offseason, as John Hollinger outlined here.
The needlessly short contracts don't really matter for some teams. Most of these players will flame out fast, and if you're as rich as the Lakers, who cares about oversights like signing Robert Sacre (and other recent second-rounders) to one-year contracts and then bidding against yourselves after that one season to re-sign them to new, fully guaranteed three-year deals? And some teams choose the two-year route even when they don't use their midlevel exception at all, a sign they either don't love their second-rounders or had other potential plans for the midlevel; the Pelicans, for instance, have done this with Darius Miller and Jeff Withey over the last two summers despite not using their full midlevel in either one.
Agents have tried to push back against these four-year deals, since most of them are either partially guaranteed or carry exactly $0 of guaranteed money in Years 3 and 4 — making them effectively one- or two-year contracts with very favorable team options at the end. The most common tactic: demanding significantly more than the rookie minimum salary in at least the first season, securing two fully guaranteed seasons, and limiting the contract to three seasons instead of four.
"To sign a four-year deal with no out can be problematic," says Austin Walton, an agent who represents second-round picks and undrafted players, including Andrew Goudelock and Kent Bazemore. "A lot of teams now are saying, 'Hey, other teams are doing that, and that's what we want to do.'" In those cases, agents are pushing for more cash.
Ledo, for instance, will earn $60,000 more than the minimum in his rookie season, and the Mavericks agreed to guarantee his full $816,000 second-year salary, per both Cuban and Cohen. That amounts to nearly $1.4 million in guaranteed cashola for a guy who played zero minutes of organized basketball last year. Other 2013 second-rounders who got three-year deals include Jamaal Franklin of Memphis and Isaiah Canaan of Houston, though Canaan's is much more player-friendly, since 80 percent of his third-year salary is guaranteed. The general three-year structure with varying guarantees has become typical around the league over the last three seasons, according to contract data.
"Mark Cuban was not going to back down on that fourth year," says Cohen, Ledo's agent. "It wasn't up for discussion. And if I gave up on anything, I gave up on that. But what I got in exchange was that $60,000 bump and security. And that's important for Ricky, someone who didn't play any college basketball."
The three-year structure cuts off the contract a year earlier than the Parsons Plan, but it also carries a benefit for teams: players can become restricted free agents after Year 3, but if they play through Year 4 under the terms of their original contracts, they become unrestricted free agents — unfettered in the marketplace, their incumbent teams left without matching rights. This is one reason the Rockets traded Budinger before the fourth season of his Parsons Plan deal; they knew he was headed to unrestricted free agency after Year 4, and decided to flip him for a first-round pick rather than dealing with that.
But here's the trick: Houston could have made Budinger a restricted free agent after that third season by declining their team option on Budinger's fourth season, per Daryl Morey, the Houston GM, and several cap experts. But Houston was set to be well under the cap that offseason, and concluded there was more value in picking up Budinger's $885,000 option and using him as a trade chip. With Houston likely set to be over the cap going forward, look for them to decline Parsons's fourth-year option and morph Parsons into a restricted free agent next summer. (If they take the opposite route, it may be a sign of their interest in trading Parsons at some point.)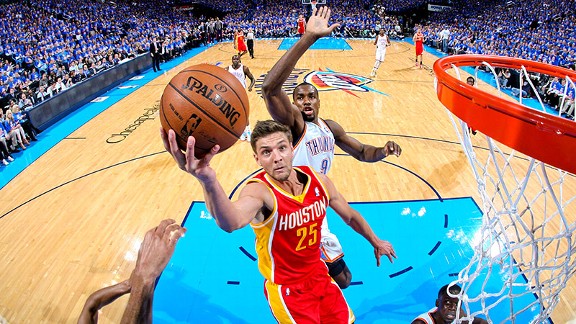 Parsons's deal won't look so "bad," from the player perspective, if he gets paid after his third season. Everyone says Parsons has the best contract in the league right now, and Morey has told me that Parsons has actually asked for a raise over the last year. (Parsons also changed agents in the spring.)
But look again at the Parsons deal: He made $850,000 as a rookie, nearly $400,000 more than the minimum salary most second-rounders get, about equal to what the last three picks in the first round typically earn in their first seasons. He also made about $30,000 more in 2012-13, his second season, than the minimum salary for a second-year players. Parsons has outperformed his contract, making it a "bad" deal from his perspective, but the same is essentially true of any late first-rounder who hits it big; Rajon Rondo, for one, was a giant bargain at $1.3 million in 2008-09 and $2 million the year after.
In any case, the international threat Cuban mentioned above is real. The whole draft-and-stash thing used to be reserved almost exclusively for foreigners already playing abroad for money, and thus with less urgent interest in coming to the NBA. But over the last few years, NBA teams have started pushing the international option more on U.S.-born players with no experience abroad. It's an easy way to save money while keeping the rights to the player indefinitely, and teams increasingly consider a player's willingness to go abroad before even drafting him. (This kind of flexibility is why, as many others have noted, teams might value the 31st or 32nd pick more highly than a late first-rounder — and it's also why some guys selected around that spot, including Allen Crabbe of the Blazers this summer, end up with deals paying them at just about the level of late first-round picks.)
The Rockets, for instance, were interested in using a second-round pick on Goudelock in 2011 and called his agent, Walton, to see if Goudelock would be willing to sign internationally, according to Walton and Morey. Goudelock made it clear he wanted to stay in the U.S., and the Rockets passed on drafting him. (Walton estimates Goudelock would have earned about $180,000 for his first season on an international deal, less than half the NBA's rookie minimum.)
This is why some power agents with large client bases prefer, in some cases, for one of their players to go undrafted rather than fall into the middle of the second round. Undrafted guys play wherever they want, for the most money, and they continue to negotiate with any NBA team that shows interest in them. Second-round picks remain tied to whichever team picks them, provided that team tenders them a piddling one-year minimum contract by September 6.
Second-round picks who are absolutely determined to play in the NBA, or at least sign an NBA contract, can show up at training camp before that September 6 deadline and force the team that picked them into a choice: Tender me that offer, or lose my draft rights completely and watch me go into free agency.
But that September 6 date is very late in both the NBA and European roster-building calendars, meaning that going this route carries some risk. Even if a team decides to cut a second-rounder rather than tendering him that offer, making him a free agent, there may not be another team with an open roster spot and high-level interest in that particular player. It's safer to sign a deal with a European team, guarantee some cash flow, and hope for an NBA job the next time around. (The Chinese league, with a later calendar, presents an interesting option more agents are seriously exploring.)
All of this gets at issues that are going to be up for serious discussion over the next year or two — issues the NBA and the players' union tabled during the lockout. Those surround the age limit, and the potential expansion of NBA rosters to include more than 15 players and hybrid spots a team can use on players they send to and from the D-League several times per year. That also touches upon the continued growth of the D-League, and the importance of someday having a true minor league system in which each team has a single D-League affiliate.
As Tom Ziller outlined at SB Nation this week, 14 NBA teams have single affiliates in the D-League. There are only 17 D-League franchises, meaning a full 16 NBA teams have to split access to the last three D-League teams — an untenable situation that will require expansion and other changes very soon.
Again, the league and union punted on this stuff as they rushed to end the lockout. That procrastination will end soon. Adam Silver will succeed David Stern as the league's commissioner, and the players' union will pick a new executive director to move on from the Billy Hunter gift-giving festival of the last decade. John Calipari, the most powerful coach in college (some NBA executives jokingly call Kentucky "the NBA's 31st franchise"), recently joined the board of the National Association of Basketball Coaches, signaling his intention to take a large role in the discussion of all these issues.
There will be a lot of momentum behind all these proposals and others, including a baseball-style age limit in which players can either declare for the draft right out of high school or go to college for at least two seasons. All of this will impact how teams deal with second-round picks, a fun little space in which teams have found creative wiggle room — or not — within the collective bargaining agreement. Some team will find the next little inefficiency there, and it will be fun to monitor who it is.
Filed Under: Dallas Mavericks, Houston Rockets, NBA, NBA Draft, Zach Lowe