Second Chances and Second Choices: How Charlie Strong Assembled the Nation's Least-Likely BCS Contender
AP Photo/Timothy D. Easley
A few months after he was hired to repair the devastation caused by Hurricane Kragthorpe, University of Louisville football coach Charlie Strong delivered a recruiting update to a small flock of Cardinals faithful at a private tailgating bar near Papa John's Cardinal Stadium. This kind of thing would be insignificant in most Southern football towns, but Louisville isn't really Southern, it isn't really a football town, and in early 2010, it was still smarting from the pain inflicted by a coach whose name became a verb.
This meeting was significant. Looking back on it, so was what Strong said. "When Kelly left … we just picked up their list and started calling names. I'm sorry, but that's what I did," Strong told the fans at Parrish House. He was referring to coach Brian Kelly, who departed Cincinnati for Notre Dame in December 2009, leaving a handful of recruits suddenly unsure of their commitment to the Bearcats. "I was able to get a hold of Dominique [Brown] … And then I called Preston Brown."
Today Brown and Brown are big-time contributors. Preston is the Cardinals' tackle-mad defensive leader and Dominique is part of the three-headed monster in Louisville's backfield. Turns out, Strong was just getting started. Over the next three seasons, as he's taken Louisville from POS to BCS, Strong used the skills and connections forged as Florida's recruiting coordinator to snatch up players in need of second choices and second chances. It's a strategy born more out of necessity than choice, as Louisville fights to compete with the members of college football's old boys club. So far, it seems to be working. Along with its invite to the ACC, resounding victory in last year's Sugar Bowl against Florida, and strong start to the 2013 season, the Cardinals are a top-10 team that's in the national title hunt.
Dominique and Preston Brown may have been the first players Strong scooped up on the rebound, but they aren't the most important. That honor belongs to a player who had braces until four months ago and is now the favorite to win the Heisman. A Miami native, Teddy Bridgewater originally committed to The U, an easy decision given his relationship with head coach Randy Shannon, who went to high school with Bridgewater's mom and uncle. It was also an easy decision to decommit when Miami fired Shannon in 2010.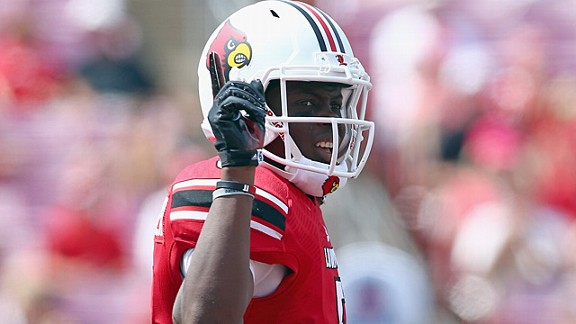 LSU came calling. But Louisville beat out the SEC behemoth in part because it offered something that powerhouse program wouldn't: immediate playing time. Sure, Bridgewater would have to compete for the starting job, but it was against a walk-on best known for his sunny disposition. For its part, Louisville got a program-changing quarterback, its first five-star recruit, and the kind of player others follow. Louisville's roster currently has four other players from Miami's Northwestern High School, where Bridgewater started for three years.
Several others followed a similar path, decommitting from other schools before settling on Louisville. Sophomore linebacker Keith Brown bounced from Illinois when Ron Zook was fired; senior fullback B.J. Butler parted ways from Georgia after the school "dropped him"; junior defensive end Lorenzo Mauldin was edged out of South Carolina due to over-signing; sophomore linebacker James Burgess was supposed to attend Miami until the program's booster debacle; and freshman defensive end De'Asian Richardson flipped from WVU after getting kicked off his high school team.
But even with all that BCS conference talent, none of those players, with the exception of Bridgewater, rose to five-star status. To attract those chosen few, Strong has relied on his reputation as a coach who can rehabilitate men (he once suspended a player indefinitely after two DUIs but allowed him to remain on scholarship so he could get his degree). He has tried to attract players who squandered their first chance and needed a second one.
That's how Michael Dyer came to wear the red and black. The former five-star Auburn running back and BCS title game MVP spent last year at Arkansas Baptist College rehabilitating his brand. Last month he enrolled at Louisville, and in the Cardinals' opening 49-7 demolition of Ohio, he flashed that old SEC speed on a 46-yard touchdown run.
"I was looking for something other than a great football program," Dyer said in a statement after enrolling at Louisville. "I wanted a support system that would continue help me develop socially, emotionally and spiritually."
It was a similar sentiment that brought former Florida corner and current NFL hopeful Adrian Bushell to the Cardinals. "[I was] an off-the-field problem guy, not making it to study sessions on time or to class on time, a little mouthy with the coaches at times," Bushell said before facing his old team in last year's Sugar Bowl. "Coach Strong was there to give me the opportunity to come redo my image, repair my image."
Strong also gave second chances to one-time Auburn quarterback Zeke Pike, who was arrested for public intoxication last summer; highly touted Tennessee receiver Matt Milton, who saw little playing time in Knoxville and left the Vols after coach Derek Dooley suspended him; and former Ohio State linebacker Jordan Whiting, who was mixed up in Tattoogate. Pike and Milton remain with the Cardinals, while Whiting, in a sign that Strong's generosity isn't unlimited, was booted from the team after failing a drug test.
The irony of Strong's strategy to make Louisville the nation's first second choice is that the more it works, the less necessary it becomes. With a BCS bowl victory last season, a Heisman contender this season, and a spot in the ACC next season, Louisville is starting to get a look from top recruits the first time around. Case in point: In January, five-star receiver and Louisville native James Quick chose the Cardinals over Ohio State, becoming the highest-ranked commit in school history. That Louisville was Quick's first choice shows just how far Charlie Strong has brought the program. That there was any chance Quick might go somewhere else, despite growing up a Cardinals fan with a father who played football at Louisville, shows how far it still has to go.
Adam K. Raymond (@adamkraymond) writes about sports, pop culture, and politics from his apartment in Oakland.
Filed Under: College Football