NBA Short-Attention-Span Power Rankings: #GETOFFME
Mike Ehrmann/Getty Images
A survey of the players and teams making moves in last night's NBA action.
1. LeBron James
And that was just pregame. Man, this was a real #getoffme kind of night. Everybody was like, "GET. OFF. ME. #GETOFFME." Either on the court or off, a few of the games had an almost playoff-type feel, even if not all the teams involved were playoff-bound. And in those games, a few players did things that screamed, "get off me, sir."
First, there was the colossus that doth strode (strideth?) the earth, LeBron James, whose 40 points, eight boards, and 16 assists led the Heat to a double-overtime win over Sacramento.


Before the game, Kings coach Keith Smart commented that "great teams get a little bored with the regular season and they need something to get them going." He wasn't talking about the Kings, by the way. Maybe there was a little bit of boredom on the part of the Heat, but to be fair to Smart's guys, Sacramento hung with Miami for a game and a half. In the end — and you've been seeing this all season, all February (he's the first since '83 Kareem to shoot 60 percent from the field for a calendar month), and throughout his 11-point second overtime against the Kings — one team had LeBron James, and the other did not. There came a point where he'd simply had enough and decided it was straight Tooken, starring Liam Neesons time. It happens right here: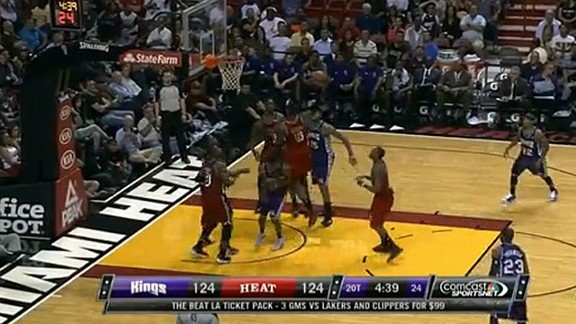 And that was that. When LeBron James says, "Get off me," like he did last night, then you should just find some peace with your maker and duck.
2. Marcus Thornton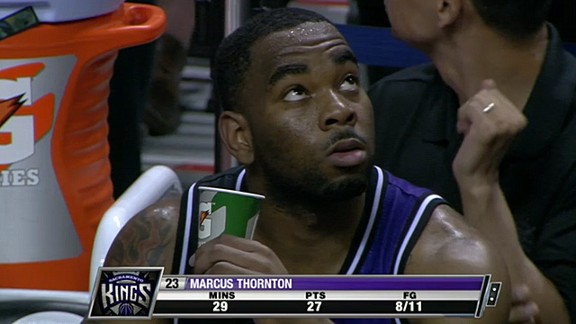 (image via @oakleyandallen)
The primary reason the Kings were even in this game to begin with? Marcus Thornton. Keith Smart moved Thornton to the bench a few days ago. Thornton's reaction game was an in-the-red #GETOFFME performance. The Bayou Bomber just really explored the limits of his own abilities, dropping 36 points on 11-of-18 shooting, with eight 3's. And he did it all with the facial expression of someone who just found out his cat had used his all-white AF1's as a litter box.
3. Roy Hibbert
#GETOFFME
4. Steph Curry
#GETOFFME
5. Doug Collins
I haven't seen a public appearance this unhinged since Denzel Washington's NTSB hearing at the end of Flight. (Yo, Flight spoiler: There's a plane crash.) This is 10 minutes of vulnerable, digressive, Pat Summitt-citing, Henry Iba-invoking, emotional CAT-scanning, trade-regretting, Hawes-hating #GETOFFME talk. Or #FIREME talk. I can't even tell with Doug anymore.
Filed Under: Chris Ryan, Golden State Warriors, Indiana Pacers, LeBron James, Miami Heat, NBA, Roy Hibbert, Sacramento Kings, Stephen Curry