Meet the Timmy Chang All-Stars: College Football's Lovable Folk Heroes
Marco Garcia/Getty Images
The 2012 college football season was something else, right? Remember all those killer pancake blocks from Eric Fisher? Ryan Nassib leading Syracuse to glory in a series of fearless two-minute drills? Cordarrelle Patterson making an impossible leap to secure a touchdown during a thrilling Tennessee comeback?
See, this is what happens when college football spends more time being viewed as an NFL feeder program than its own glorious ecosystem — you tend to forget that week after week, countless players warm our hearts by piling up untenable, system-abetted statistics, taking advantage of the tactical breakdowns made by 20-year-olds whose physical development far outstrips their mental one, and simply being in the right place at the right time. What became of Matt McGloin? God, remember Sam McGuffie?

By now, you've already seen the list of biggest draft snubs based on measurables, potential, and projected draft status. In the meantime, let's give a little love to the outgoing seniors who carry on in the tradition of Timmy Chang, Troy Davis, and Chris Doering: dudes who will live on in the hearts of alcoholic college football bloggers even if they never get a chance at backing up Charlie Batch.
Colby Cameron, QB, Louisiana Tech
Here are Colby Cameron's numbers through Louisiana Tech's first 10 games last season: 286-403 (70.9 completion percentage), 27 TDs, zero INTs, and a 9-1 record that included wins over Illinois, Virginia, and Houston, and a two-point overtime loss to Texas A&M. Unfortunately, the Bulldogs ended the season with losses to Utah State and San Jose State, in which Cameron threw a combined five picks (still resulting in an impressive 31-5 ratio on the year). Then the 9-3 Bulldogs declined a bowl bid, or their Independence Bowl invite got lost in the mail, or something and people forgot it ever happened. As such, we were robbed of Cameron being the next Jared Zabransky and baffling future generations by gracing the cover of EA's NCAA Football series.
Tino Sunseri, QB, Pittsburgh
The old wisdom goes that most offensive linemen are doing their job if they remain anonymous and that casual fans won't know them by name unless they're repeatedly screwing up. Unless you were Nassib or Teddy Bridgewater, that adage applied to Big East quarterbacks in 2012. It was even more pronounced for Sunseri, distinguishable from Rutgers's proprietary turnover machine, Gary Nova, by name and age alone. Sunseri was the ridiculously inconsistent, hard-luck, low-ceiling quarterback the Panthers deserved while they cycled through something like five head coaches in two years. But what he lacks in measurables, statistics, or any laudable metric of quarterback evaluation is made up for by a short memory and a willingness to lead in lieu of better options. In other words, he's exactly the kind of guy who will demand to be quarterback in intramural flag football games.
Conner Vernon, WR, Duke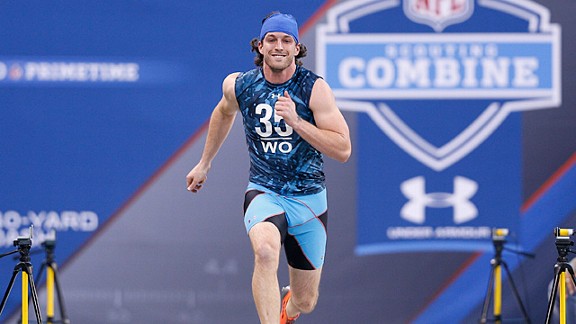 Look, if I was the ACC's all-time leading receiver, you'd know it within five seconds of meeting me, if not sooner. That said, it sorta is an accomplishment that invites backhanded praise: In order to set the receptions record, it certainly helps to (a) be good enough to start as a freshman, (b) but not that good where you have the chance to declare early, and (c) play for a team with a pass-happy offense because they're behind 85 percent of the time. Hence, that's why the ACC's all-time receptions leaders tend to go heavy on pre–Jim Grobe Wake Forest dudes. And Duke. The thing about Vernon is that he's not just the ACC's all-time receptions leader, beating out the immortal likes of Aaron Kelly and Desmond Clark, but the leader in reception yards as well, which puts him in the class of Peter Warrick, Torry Holt, and Herman Moore. So, allow indulgence when he says "I'm not like Eric Decker or Wes Welker," but don't get mad when that just means you're smaller than Decker and slower than Welker. As of press time, Vernon also wanted to state he is not like Wayne Chrebet, Ed McCaffrey, Lance Alworth, Phil McConkey, or Don Hutson.
Montel Harris, RB, Temple
I think it speaks to the total anonymity of the Frank Spaziani era at Boston College that the Eagles can produce their all-time leading rusher only to watch him suit up for Temple the very next year and have absolutely nobody notice. Of course, that cuts both ways, as Harris put up another fine season and was unable to continue Temple's "one hot halfback every 10 years" trend that produced Bernard Pierce and Paul Palmer.
Chad Bumphis, WR, Mississippi State
Noteworthy on account of being a Mississippi State receiver named Chad Bumphis.
Philip Lutzenkirchen, TE, Auburn
Let's get one thing straight. The most entertaining thing about Auburn this year was the revelations of their "Spring Breakers, only with dudes, in Alabama, and it's real" escapades. But prior to that, the only consistently heartwarming aspect of this cratered program was the butchered pronunciation of Lutzenkirchen's name — and we were even robbed of that when he went down with an injury midway through the season. He's caught on with the Rams, so maybe the most famed Lutzenkirchen won't be a dude who had the 60th-best-selling single in Germany during 2008. That said, you wonder in light of Auburn whether the lyrics of "3 Tage wach" about "how it feels to party for three days without sleep, ingesting lots of alcohol and drugs" hits a little too close to home for the American Lutzenkirchen.
Vincent Smith, RB, Michigan
Sure, he's an undersize and unproductive running back from a school that's got a notorious reputation for plodders, but you don't think his mere presence would liven up an offseason practice? This guy's the human version of the "Stay Schemin'" beat or the football equivalent of Frederic Weis — everyone wants to see if they could top the last guy who destroyed it.
Brad Wing, P, LSU
Wing was a semifinalist for the Ray Guy Award in 2011, but you don't become the most Internet-famous punter of all time simply for boasting a 44.0-yard average. The walking embodiment of Les Miles's LSU program, despite being from Australia, Wing combined extreme physical gifts with alternately baffling and amazing decision-making. In a crucial game against Florida, he was the first player to have a touchdown nullified because of excessive celebration, and mind you — he's a punter.
He's also been arrested for simple battery and was suspended for the 2012 Chick-fil-A Bowl for the always fun "violation of team rules," and mind you — he's a punter. And also Australian. Because God is looking out for us sometimes, he's been signed by the Philadelphia Eagles, which means that the city has finally got the new Barkley it's been dying for, and I'm not talking about Matt. And because God loves a good joke as well, Wing's competition for the starting gig will be none other than Donnie Jones, another certifiably insane LSU punter, who is a published author, is nicknamed "Thunder Foot," and, judging from that last tidbit, probably edits his own Wikipedia page.
Filed Under: College Football, LSU, NFL