Letting the Wookiee Win: A Journey Through All-Star Weekend
Johnny Nunez/WireImage
I did not attend the East Coast Invasion at the Roxy. I didn't crash the 2 Kings dinner thrown by LeBron James and Jay-Z. I didn't wind up in a secret basement humidor club with World Wide Wes, Phil Knight, and J. Prince. I'm sure at some point I was sweating, but it probably had more to do with a room service quesadilla than with molly, and it did not happen at Empire Night Club with Trinidad James and DJ Khaled. I went to Charles Barkley's surprise party, but the closest I got to all of the lights was nodding appreciatively at Dodgers play-by-play man Charlie Steiner when he said to me, "I don't know about Flo-Rida. I'm more of a New Ride-as of the Purple Sage man myself." It probably says more about me that I got the joke than it does about Steiner that he made it.

All-Star Weekend, which was really an All-Star Week (but felt like it went by in a blur of hours), was set in Houston. One of my running mates over the course of the weekend, Zach Lowe, commented at one point that it was a place with "five skylines." From my hotel window it looked expansive. Somewhere out there was an all-gold-everything party and a Mark Rothko museum, some heartburn-inducing BBQ and some soul-warming pho. I did not experience any of these things. I was too busy ferrying from floor to floor in the Hilton, to the George R. Brown convention center, back to the Hilton, back to The Grove, back to the Hilton, to the bar in the Four Seasons. Back to the Hilton. It was aimless, it wasn't all that fruitful, I saw Dion Waiters 29 times. It was a lot of fun.
Thursday
Nothing particularly spectacular happened to me on Thursday, outside of awkwardly introducing the @_FloridaMan Twitter feed to Chandler Parsons and discussing Batman power rankings with Brook Lopez. I got in Wednesday night, walked for what seemed like a solid mile to get out of the George Bush Airport, did not do a stellar job navigating a Chrysler to the Hilton (despite the helpful mantra of "recalculating" being chanted by the Garmin Witch), had a couple of drinks, saw Luol Deng, and went to bed.
There is something strange about the dimensions of this event, especially in Houston. Everything is "next door" to everything else. But those doors can be miles away. At one point, inside the Convention Center, on my way to pick up my credentials — after walking about six city blocks to get from one entrance to the one I had been instructed to use, and up three escalator flights — I found myself walking with David Jacoby down what, in retrospect, is the biggest hallway I have ever seen in my life. And it was just hallway. All hallway everything. It was a hallway that was like an homage to the idea of hallway. I'm sure in some bar, somewhere, wherever guys who are really into hallways drink, they talk about the hallway in the George R. Brown the way some people talk about the '96 Bulls or others talk about Exile on Main Street. All I could muster was the comment that "this hallway could be about 100 yards shorter."
For the most part, I spent Thursday skulking around the third floor of the Hilton, where the media conveyor belt was set up. Current and ex-players, coaches, and other big names who have a little bit of a relationship to the game (like Secretary of Education Arne Duncan) are all shepherded along the hallway to talk to ESPN, TNT, NBATV, etc. They do 10 minutes here, 45 seconds there. It was interesting to see how the wattage turned up over the course of the day. In the morning I saw Tyler Zeller. By happy hour, Tyson Chandler and Kevin Garnett were patrolling the halls.
I became aware that All-Star Weekend has its own economy and the players are the currency. They give value to every event, every meeting, every interview, and every interaction. But there's also a black market, and the alternative currency is information. Assistant GMs, front office people of vague designation and power, guys who are marketing apps and gifting Skullcandy swag: Everybody is telling you something. Information is everywhere: whispered and shouted, placed on business cards and texted with contact info. Trades, injuries, rumors, innuendo, bar addresses, strip club locations. This stuff is shared openly enough that someone like me, without any real connection or power in the league, can pick up on it. Some of this sharing is done to show off, some of it shared to get something back in return. The NBA is a big tent and All-Star is the circus.
Friday
At about 4 p.m. I found myself at the Majestic Metro for the Bigg City Bourre tournament. Organized by Bobby Heyward and Rick de Oliveira, the charity tournament was geared toward legitimizing what is one of the most popular and controversial pastimes among NBA players. I say controversial because Bourre — which is not unlike playing Spades but adding unrelenting shit talk — was allegedly the source behind Gilbert Arenas and Javaris Crittendon's infamous bust-up. It also spawned a fight between then Grizzlies teammates Tony Allen and O.J. Mayo. It's easy to see why: The game is addictive, brings out the competitive nature in even the most shrinking violet of a gambler (hi there), and you can lose a lot of money really quickly.
The Bigg City event in Houston brought out athletes past and present, like Shaun Phillips, Antoine Walker, and Travis Johnson. I met Heyward and de Oliveira a couple weeks ago, and they showed me the basics of how to play. After that I practiced on and off with an iPhone app (developed by Bernard Pollard, because of course it was developed by Bernard Pollard). I played a few hands with Johnson and, despite the training montage I just described, Travis crushed me. I really didn't belong at the same table as him, but even if I had found myself able to compete with him in cards, I had nothing on him in the competitive-fire department. Let's just say that a couple of times, during our game, I thought of the old Han SoloC-3PO saying: "Let the Wookiee win."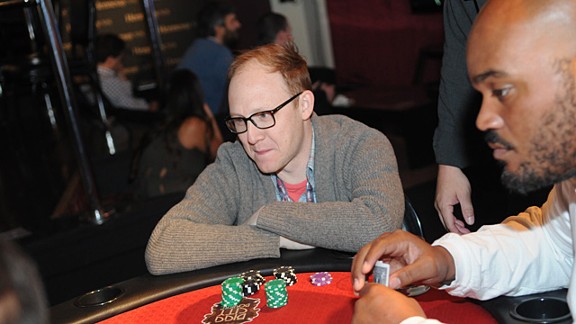 Shortly after this picture was taken, I lost all my fake money and was asking one of the very nice hostesses where I could get a cab.
The rest of Friday was spent in what I would argue is actually the epicenter of All-Star Weekend: the bar at the Four Seasons. This was the playground of the rich and famous and infamous; at various times I witnessed a 15-minute monologue from legendary kingmaker World Wide Wes (I think I can die a fairly happy person after this), Denver Nuggets GM Masai Ujiri, Charles Oakley being Charles Oakley (in a good way, not in a throwing-people-through-a-plate-glass-window way), saw Warriors owner Joe Lacob, Timberwolves GM David "KHAAAAAAAAAAAN" Khan, and heard great stories about marathon Michael Jordan poker games taking place years before in the very same bar.
Saturday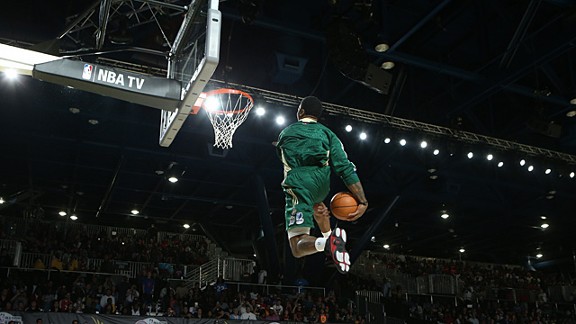 When you've got nothing, you've got nothing to lose. I think Drake said that once, to himself, on line at Sonic. Or maybe it was Bob Dylan. Either way, this was my thinking behind attending the D-League All-Star game and dunk contest. My theory was this: In the "real" All-Star Game, and BBVA Rising Stars Game, and the Sprite Let's Watch Gerald Green Cut Down a Net for 10 Minutes Dunk Contest, there is nothing ventured, nothing gained. Nobody wants to do any damage, either to their reputations or to their bodies. The avoidance of injury and embarrassment even permeates actual NBA games leading up to All-Star. One player admitted to me and a few other Grantland staffers that his team was checked out in their last game before the break. You could tell by the final score that he wasn't kidding.
With this in mind, I thought the D-League All-Star event would be the exact opposite. This was a situation in which these players had everything to gain by showing out. I attended the game with SB Nation's Andrew Sharp, and I think by the time we made the walk from the Hilton across the sensory-overloading branding and basketball bazaar that is Jam Session, we had aged two years, agreed to raise each other's unborn children if we didn't make it out alive, and talked each other into the idea that we were about to see the greatest display of basketball prowess we had ever seen, as well as a next evolutionary step in competitive dunking. Instead we got Glen Rice Jr. not understanding the concept of the countdown clock.
The whole D-League event was called "The Dream Factory," but the only dream it resembled was the one where you show up to a pop quiz in high school and you haven't read the book you're being tested on, or, for that matter, remembered to wear pants. The D-League All-Star game itself featured five members of the Maine Red Claws, who all frequently played in the game as a unit. When I mentioned this to a Brooklyn Nets front-office guy later on Saturday night, he chuckled and said, "Why not, I guess." Sure. It was like any All-Star game: zero defense, big-man-trying-to-run-point hilarity, and lots of alley-oops. Except instead of Chris Paul, LeBron James, and Kobe Bryant, you had "that guy who you thought went to UA-B, but actually went to Arkansas" (a.k.a. Courtney Fortson), and "that guy who looks better than Spencer Hawes ever does" (a.k.a. Jerome Jordan), and, of course, "Shelvin Mack" (a.k.a. Shelvin Mack).
The dunk contest was like watching Kieran Culkin put his socks on in Margaret for about 45 minutes. Nobody will really get that reference, but we're talking about a contest won by 30-year-old Tony Mitchell, so if you're still reading, why not live a little, right? I will say this about Rice Jr.: He should not be let in the same building as a dunk contest for the next five years. Seriously, he did not have a single thing planned, and took the entire time allotted on almost every attempt. In truth, the best dunker in the building that day was Travis Leslie, who I hope winds up on an NBA roster soon.
With the bad taste of the D-League event and some hotel dinner lingering, I was hoping the NBA 3-point shootout and dunk contest that evening would act as a kind of real and figurative Listerine. I got to the arena at around 7 p.m., just in time for Ellie Goulding to lip-synch and for me to accidentally walk into a Toyota Center women's room (my bad, ladies). The night was really starting to drag. I sat through the skills competition, got overly excited about people hitting half-court shots during the Shooting Stars showcase (after the event, I heard Dominique Wilkins telling Clyde Drexler he felt more comfortable at the half-court line than the top of the key, which was actually pretty awesome to witness), and saw literally zero NBA players pay any attention to Phillip Phillips. Some other notes on the night:
• Drake has a little bit of Little League dad in him. During 2 Chainz's cameo with Fall Out Boy, Drake was so animated he was practically dancing at mid-court. You know when you're sitting next to legendary ham Irv Gotti and you're the over-exuberant one, you really need to check yourself.
• That being said, Drizzy's adoption, cheering for, and chaining of Terrence Ross was pretty serendipitous. It was a very Toronto moment. I'm sure Ross and Drake totally go ice fishing, but there was a moment when the "Started From the Bottom" rapper ran across the court to present Ross with a diamond chain after the Raptors guard had successfully paid homage to Vince Carter, and Ross seemed to have a genuine "who the fuck is this guy?!" look on his face.
• If I were a Heat fan and I saw how LeBron James was reacting to Kyrie Irving's 3-Point Shootout performance, I would be a little nervous. I know that's some mayor–of–Troll City garbage right there, but there was something incredibly fraternal and close about those two. James definitely has a pretty significant investment in Irving. It's hard to imagine he wouldn't want to play with him before his career is over.
• Another Ross note: He seemed pretty annoyed about Gerald Green's net-cutting act. You could see why, too: It totally sucked the life out of the arena to wait all that time only for Green to miss all his attempts. For what it's worth, Lance Stephenson told me after the competition that Green has made that double-dunk in practice.
• Speaking of Stephenson, he and LeBron James did not chat on the sideline. Imagine that.
• I mentioned this in the Shootaround, but James White's cleared-for-takeoff dunk was perhaps the greatest bit of theater of the weekend. It speaks to what a slog it was otherwise that the emergence of the flight attendants completely electrified the audience and the players watching on the sidelines.
• Kenneth Faried kind of got robbed.
As the event drew to a close, I made my way down a flight of stairs toward the court, past commissioner-to-be Adam Silver. Somewhere, in the middle distance, I saw 2 Chainz. I thought, there's the guy who will lead me into the night. By the time I got to the court and was herded away from the lingering few players and the Bryant family, it was too late. Tauheed was gone, off into a night of humidors and kings. Maybe it was just as well. My night had its highlights anyway (not least of which was flatlining with Irina Pavlova, who shockingly did not want to talk about Russian soccer with me). And besides, sometimes you have to let the Wookiee win.
Filed Under: Chris Ryan, LeBron James, NBA