James Shields, the Silent Ace
In 2012, the Kansas City Royals stunk. This was not at all surprising. They had stunk for eight years in a row before that, with 2012's lousy showing making it 18 out of 19 years of baseball that emitted a foul odor.
Understandably, this did not sit well with the people who run the Royals. In an effort to stink less, general manager Dayton Moore made some bold moves over the winter. The boldest was a blockbuster trade that sent one of the best prospects in the game, Wil Myers, plus three more prospects, to Tampa Bay in exchange for one of the best right-handed starters in the game, James Shields (and another pitcher). The deal slammed a wedge through the middle of the baseball community, its defenders hailing it as the big move the Royals needed to make, its detractors wondering if there might've been better ways to improve the pitching staff than trading away a potential impact player who had six-plus years of team control to offer and played a position where the Royals badly needed the help.
Seven months later, the Royals … still stink. They stink a little less than they have in recent years, sitting six games under .500 but with just eight more runs allowed than scored. Still, 92 games into what was supposed to be a renaissance year for the franchise, KC's grand plan to return to relevance has produced nothing more than another losing team. Here's Dayton Moore in today's K.C. Star being completely delusional (or at least posturing). That lack of progress has led Moore critics to fire away at the architect of this losing team. Which is fine, in general; when a team disappoints, the person most responsible for building it deserves his share of blame.
But there's always a risk that others will get blamed for the Royals' failures, that the pitcher some looked to as a potential savior will now get singled out as an avatar for what's likely to be yet another lost season. That would be horribly, spectacularly wrong. Because as bad as the Royals have been (again), none of it is the fault of Shields — the best player on the team, and one of the best pitchers in the game.
If you're a fan of traditional stats, you might think that Shields should bear a lot of the blame for the Royals' poor first half. In 20 starts, Shields has amassed a 4-6 record, tying Cole Hamels for the lowest win total in baseball for any pitcher with that many starts. Considering Shields had racked up double-digit wins in each of the past six seasons, averaging 13.5 wins a year, four wins at the All-Star break would seem a colossal disappointment.
But dig a little deeper and you'll find that his disappointing record has occurred thanks mostly to factors beyond his control. As our friends at ESPN Stats & Info point out, Shields posted a quality start (six innings pitched or more, three earned runs or fewer) in five of his six losses, and in seven of his 10 no-decisions. In his six losses, the Royals averaged 1.5 runs per game and didn't score more than three runs in any of them (1-0, 3-2, 3-2, 2-1, 3-1, 6-3). Then there are those 10 no-decisions. Three times, the Royals led the game when Shields departed, only to blow that lead and lose. Four other times, Shields got pulled in tie games, only to have the Royals tack on runs and have someone else record the win.
Setting aside the incredibly context-dependent (and thus misleading) stat that is wins, it turns out that Shields is producing what might be the best season of his career, all things considered. His 20.9 percent strikeout rate and 7.2 percent walk rate are both off a bit from his career-best levels seen over the past two seasons. But Shields is also suppressing home runs better than he has at any other point in his career, allowing just 0.80 homers per nine innings. And while Kansas City has a reputation as a pitchers' park, it has played as remarkably neutral over the past few years.
Compare that to past results at Tropicana Field, one of the friendliest parks in the game for pitchers, and something interesting happens. Shields's 3.48 Fielding Independent Pitching this year is nearly identical to the 3.47 FIP he put up in 2012 and his 3.42 mark in 2011. Adjust for both park effects and leaguewide offensive totals, and Shields has put up the best numbers of his career on a rate basis. If Shields starts every fifth day for the rest of the season, averaging 6⅔ innings a start as he has to this point, he'd finish with 229 innings pitched, and register just slightly fewer than five Wins Above Replacement, which would be a career high.
What's been the secret to Shields's success this year? He's done a lot of the same things we saw in his excellent 2011 and 2012, while also pulling a few new tricks out of his bag.
Shields has always been a four-pitch pitcher, throwing a fastball, cutter, curve, and changeup. Known for years as an above-average innings-eater rather than an ace (or near-ace), Shields's performance took a step forward once he started using his curveball more often.
Per ESPN Stats & Info, Shields has allowed opponents to hit just .193 on pitches in the lower third of the strike zone, versus .266 on higher pitches. His ability to keep the ball down since the start of the 2011 season has helped him maximize that effectiveness: Forty-nine percent of his pitches since Opening Day 2011 have been in the lower third or below the zone, compared to 41 percent for all other major league pitchers.
Shields mixes his pitches so thoroughly that only four pitchers have been less reliant on their fastball over the past two and a half seasons: Roy Halladay, Shaun Marcum, Freddy Garcia, and, of course, knuckleballer R.A. Dickey.
But Shields has changed his approach this season, throwing more hard stuff than he has in the recent past. In 2013, he's throwing fastballs and cutters 60 percent of the time, compared to just 45 percent of the time in 2011 and 2012 (again, according to ESPN Stats & Info). The frequency with which he's thrown his cutter has dovetailed well with a big jump in the effectiveness of that pitch: Only Travis Wood and Adam Wainwright have squeezed more value out of their cutters this season than Shields.
For an even more granular look at what Shields has changed, let's turn to the excellent analysis site BrooksBaseball.net.
For starters, Shields is throwing his traditional four-seam fastball far more often to left-handed hitters early in counts, in an attempt to get ahead early …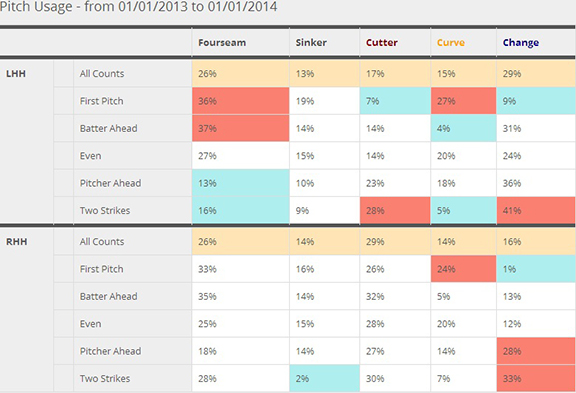 … especially when compared with last year: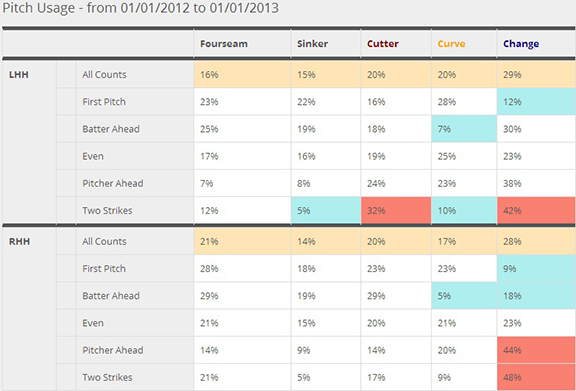 Shields is also throwing his cutter much slower than he did last year, to the point that it acts a bit like a different kind of changeup.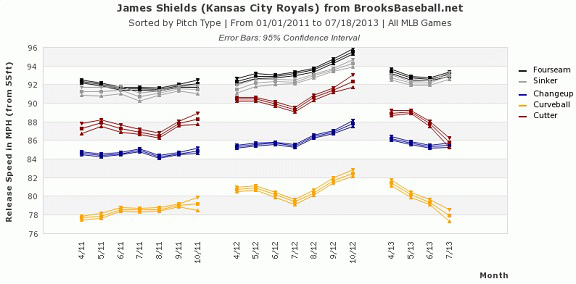 Finally, you can spot the significant difference between how he's attacked right-handed hitters in 2013 …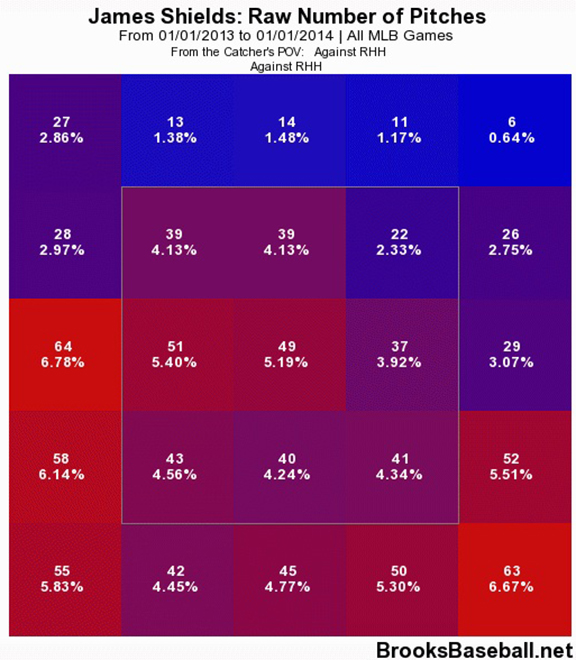 … versus 2012: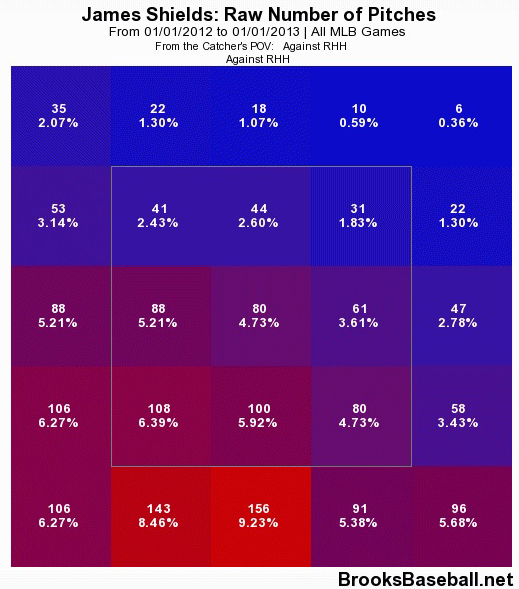 It all adds up to a pitcher at the height of his powers, even though he's not a power pitcher.
---
Whether Moore felt pressure to try to win now in the name of job security, or just fervently believed that at some point you need to surround young players with winning veteran players like Shields, the Royals came about as close to an all-in push this year as you'll see on any team this revenue-challenged, with an owner this miserly. Barring a gigantic second-half run, Kansas City will miss the playoffs anyway, same as they have every year since 1986. Blame this year's woes on an offense that has produced fewer runs than any AL team except the White Sox and Astros. Lament the team's hideous second-base situation, wasting too many at-bats on Jeff Francoeur, the horrific signing of Jeremy Guthrie, and Mike Moustakas's terrible season. Myers getting called up and starting to produce for a very good Rays team hurts, as does the thought of Tampa Bay controlling Myers's services for six more seasons after this one … with Shields offering just one more year until he can test the free-agent waters.
Just don't put this on the guy around whom the Royals tailored that go-for-it approach. Shields's excellent command, combined with his ability and willingness to tweak, tinker, and improve his offerings — throwing different pitches in counts you wouldn't expect, changing how he approaches certain hitters year to year, month to month, and sometimes inning to inning — have made him a top-10 starter in the American League.
Moore didn't mess up by acquiring Shields. He just needed a roster full of other Shieldses to make the deal worthwhile in the first place.
Filed Under: MLB, Kansas City Royals, Tampa Bay Rays