How the Orioles Can Buck the Odds and Make a Playoff Run
AP Photo/Tony Gutierrez
The pennant race isn't heating up anymore. It's here, it's hot and it's wonderful. Now we can start really picking apart the chances of teams that are, as of now, on the outside looking in. One of the more interesting cases belongs to the Baltimore Orioles. Last year's Orioles were the physical manifestation of "You Can't Predict Baseball," as a collection of youngsters, castoffs and reclamation projects beat their Pythagorean record by 11 games, ticking just about every "unsustainable luck" box—from a 29-9 record in one-run games to Nate McLouth's 111 OPS+—en route to a Wild Card berth and a five-game ALDS loss to the Yankees.
This year, the Orioles are hanging onto the contender label for dear life, with about one chance in three of making the play-in game. Their four-game deficit to Oakland and 5 1/2 games to division-leading Boston and Tampa Bay are significant, though not insurmountable, gaps to consolidate with 37 games to play.
So if Baltimore's going to follow up a miracle season with a not-so-miraculous return appearance, here's what they're going to need:

A Healthy Brian Roberts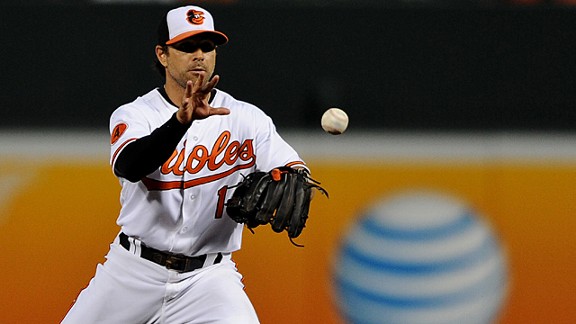 I know. I know. I know. It's not that easy. For a decade now, Roberts has been one of the best second basemen in the game when he's been able to play. Three times in his career he's hit 50 doubles in a season, and his career .351 OBP (to say nothing of his 276 career stolen bases) make him the perfect guy to hit in front of Machado, Jones and Davis, though he's mostly been at the end of the lineup this season.
But Roberts played more games in 2009 than he has in the four years since, which is a particular problem for Baltimore because the alternatives, Ryan Flaherty and Alexi Casilla, are grim. In a single game, the 100 or so points of OPS between Roberts and the Weasley Twins is negligible, but when you're fighting for every advantage over six weeks, those extra times on base start to add up.
Anything From Nick Markakis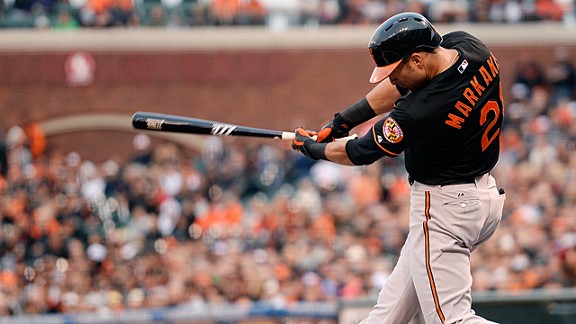 I've always liked Markakis. Power is underrated when it manifests itself in doubles rather than home runs, and 40 doubles a year, plus a .360 OBP is good enough for a corner outfielder any day. The problem is that since June 4 (a date cherry-picked for maximum effect) Markakis is slugging around .300. He had 14 extra-base hits in May, but only eight since then.
This is problematic for two reasons: first, the Orioles have a pretty deep lineup. With a healthy Roberts, they can put out at least eight guys who are league-average hitters or close to it. But after those eight guys, it gets scary quickly. If Markakis is (as is currently the case) cooler than being cool, there is no credible backup.
The second reason Markakis' struggles are so important is Buck Showalter's insistence on hitting him high in the order. Monday night was his first start in a position lower than fifth. Markakis has led off 30 times and batted third 87 more. EIGHTY-SEVEN. That means Markakis is making a lot of outs between Machado and Jones. Batting Markakis third and Davis fifth also means that the Orioles' best hitter gets fewer at-bats than Markakis, and while Baltimore's 3-4-5 hitters have all had about the same number of opportunities with runners in scoring position, the outcomes have been different. In those situations, Jones beats Markakis' OPS by more than 300 points. Davis almost exactly doubles it.
No More Slumps From Davis and Machado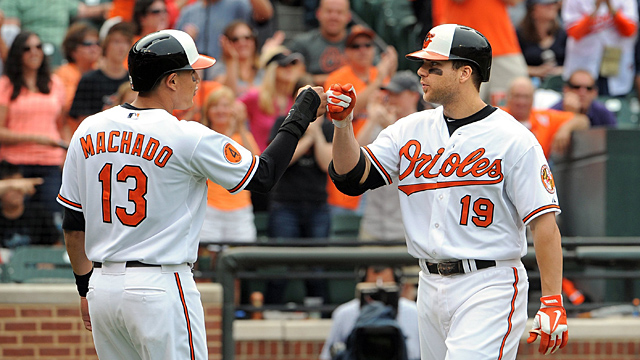 Two of the bright spots for last year's Orioles were their corner infield duo of Chris Davis and Manny Machado, both of whom are playing more and better than they did in 2012. But July was a rough month for both of them. Machado, who'd hit over .300 in every other month of the season, hit .196 in July. Davis's slugging percentage in July was an even .500, which illustrates how astounding a season he's having, because it's almost 200 points lower than his slugging percentage in any other month. Perhaps not coincidentally, July was Baltimore's worst month of the season—the only full month in which they failed to score 130 runs or more (they only scored 94) and the only full month in which they had a losing record. Baltimore's got a lot of good position players, but Davis and Mini-Keg are the team's offensive engine.
Take Advantage of the Schedule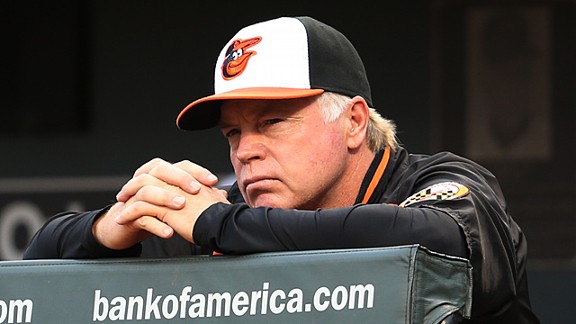 In order to make the playoffs, the Orioles have to finish ahead of two of these four teams: the Rays, Red Sox, Indians and Athletics (or Rangers, depending on how the AL West race shakes out). Making up four games in 37 can be a tall order if there's a lot of scoreboard-watching involved, but the Orioles are still practically in control of their own destiny. Of the 37 games the Orioles have left to play, 20 are against one of those four teams, including nine against Boston.
This is the kind of schedule that's conducive to large gains (or losses) in the standings in a very short period of time, as evidenced by their first two games against the Rays—if they'd won both, they'd be two games out of a playoff spot right now, able to make up that entire gap in one weekend series. Now, obviously, Baltimore wants to win no matter who they play, but a win against Boston or Tampa Bay is an automatic gain in the standings.
The Orioles are still likely to miss the playoffs, but if they do, it won't be for lack of opportunity
Filed Under: Baltimore Orioles, Baseball, MLB