Fantasy Fantasy Football: THE SUPER BOWL
Patrick McDermott/Getty Images
It's time again for the most important weekly feature on the Internet: Fantasy Fantasy Football. Throughout the NFL season, we'll be evaluating five fantasy football gurus as they tell us who to start and sit each week. Using a highly flawed method based loosely on mathematical principles, we'll attempt to reveal the one true football prophet. (Here's how it works: A pick counts in their favor if he ends up in the top half of the weekly scoring leaders. There are four categories — QBs, RBs, WRs, Defense/Special Teams — and points are awarded on a 5-1 scale in each.) The experts are:

1. Matthew Berry
2. Michael Fabiano
3. Mike Harmon*
4. Eric Mack*
5. Jamey Eisenberg
Weekly Results and Winners
Week 1 — (tie) Matthew Berry and Jamey Eisenberg
Week 2 — Eric Mack
Week 3 — Mike Harmon
Week 4 — Michael Fabiano
Week 5 — Eric Mack
Week 6 — Eric Mack
Week 7 — Eric Mack
Week 8 — Eric Mack
Week 9 — Michael Fabiano
Week 10 — Eric Mack
Week 11 — Matthew Berry
Week 12 – Matthew Berry
Week 13 – Michael Fabiano
Three weeks ago, in the most dramatic installment of Fantasy Fantasy Football ever, Michael Fabiano came roaring from behind to stun Eric Mack and win the regular-season championship. It looked like Mack would run away with the title. But Fabiano made history — and made himself a legend — with the stirring comeback.
Final Standings:
1. Fabiano — 155
2. Mack — 151.5
3. Eisenberg — 128
4. Harmon — 124.5
5. Berry — 120.5
And then it was time for: THE PLAYOFFS!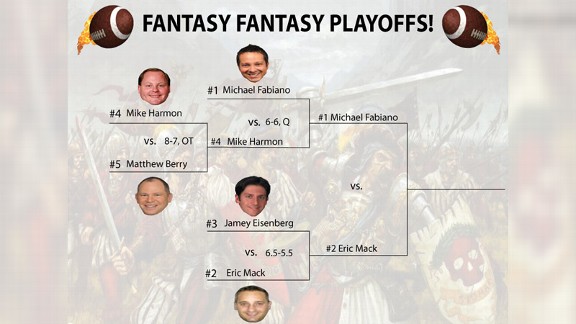 Week 14 — Mike Harmon won the play-in game, defeating Matthew Berry in OT.
Week 15 — Michael Fabiano took down Harmon to defend his 1-seed and make the title game.
Week 16 — Eric Mack knocks off Eisenberg, setting up a championship rematch with Fabiano.
And now … THE SUPER BOWL.
We'll be using the Week 16 stats again, mostly because Mack didn't write a Week 17 column, but also because Week 16 is the true title week anyway.
The rematch always seemed like destiny since the end of the regular season, and now the wait is over. Let's find out who will take home the first ever Fantasy Fantasy Lombardi Trophy!
No. 1 Michael Fabiano vs. no. 2 Eric Mack
The Super Bowl has begun.
Quarterbacks
2 points: Eric Mack
Yes: Mark Sanchez, Tim Tebow, Michael Vick, Rex Grossman = 3/4
No: Eli Manning, Joe Flacco, John Skelton, Carson Palmer = 3/4
Total: 6/8
1 point: Michael Fabiano

Yes: Matt Ryan, Tim Tebow, Mark Sanchez, Kyle Orton, Rex Grossman = 3/5
No: Eli Manning, Joe Flacco, Josh Freeman, Ryan Fitzpatrick, Matt Hasselbeck = 2/5
Total: 5/10
Interlude 1: Commentary
You have to wonder if the extra bye week upset Fabiano's rhythm. He came out just missing on several quarterback picks, leading to a mediocre opening round. Astute Fantasy Fantasy fans will notice we're using the same exact numbers for Mack as the semifinal round, which was also Week 16. He did a good job, and it won't be easy for Fabiano to top him. Onward.
Running Backs
1.5 points: Michael Fabiano

Yes: Rashard Mendenhall, Michael Bush, Willis McGahee, LeGarrette Blount, DeAngelo Williams = 2/5
No: Peyton Hillis, Kevin Smith, Ryan Grant, Toby Gerhart, BenJarvus Green-Ellis = 4/5
Total: 6/10
1.5 points: Eric Mack

Yes: Marshawn Lynch, DeAngelo Williams, LeGarrette Blount, Ben Tate, Michael Bush = 2/5
No: Steven Jackson, Donald Brown, Pierre Thomas, Peyton Hillis, BenJarvus Green-Ellis = 4/5
Total: 6/10
Interlude 2: Finding a Foothold
Fabiano couldn't afford to lose the running backs, and perhaps he gave himself a bit of traction with the draw. True, he still trails, but it kept him within one category of tying things up. He'll need to pull off a stunner in receivers, though, if he plans to win the title.
Receivers
1.5 points: Eric Mack

Yes: Brandon Marshall, Santonio Holmes, Plaxico Burress, Santana Moss, Dwayne Bowe = 2/5
No: Brandon Lloyd, Darrius Heyward-Bey, Mario Manningham, Michael Crabtree, Pierre Garcon = 5/5
Total: 7/10
1.5 points: Michael Fabiano

Yes: Brandon Marshall, Dwayne Bowe, Julio Jones, Santonio Holmes, Santana Moss = 3/5
No: Steve Johnson, DeSean Jackson, Percy Harvin, Michael Crabtree, Brandon Lloyd = 4/5
Total: 7/10
Interlude 3: The Super Bowl Hangs in the Balance!
Wow! Talk about hanging around. Fabiano refuses to go out without a fight. After a rough initial category, he's managed to salvage a draw twice, putting him within striking distance as we head into what may be the final category of the season. A brave effort, but let's see if Mack can finish him off.
Defense/Special Teams
2 points: Michael Fabiano

Yes: Steelers, Ravens, Titans = 2/3
No: Cowboys, Lions, Falcons = 2/3
Total: 4/6
1 point: Eric Mack

Yes: Broncos, Redskins, Titans, Packers, Panthers = 1/5
No: Bears, Eagles, Cowboys, Giants, Dolphins = 4/5
Total: 5/10
OH MY!
Fabiano comes back to tie it up! It's the regular season all over again! Mack can hardly believe his fate. Who is this man who keeps snatching his triumphs away? At the end of regulation, our score is:
Mack 6, Fabiano 6
A quick quality check reveals that Fabiano went 22/36 on the day, while Mack was 24/38. It's too close to call, which means that we're going to overtime!
You had a feeling this one might come down to the tight ends. It's only right. Now, then, for the whole kit and caboodle …
Overtime — Tight Ends
1.5 points: Michael Fabiano

Yes: Jermichael Finley, Dustin Keller, Brent Celek = 3/3
No: Greg Olsen, Jermaine Gresham, Kellen Winslow = 2/3
Total: 5/6
1.5 points: Eric Mack

Yes: Jermichael Finley, Dustin Keller, Brent Celek, Greg Olsen = 3/4
No: Heath Miller, Ben Watson, Dallas Clark, Anthony Fasano = 4/4
Total: 7/8
Incredible! Both men came one player away from a perfect round. We've never given categories purely based on percentage points here in Fantasy Fantasy Football, which means the Super Bowl is moving on to …
Second Overtime — Kickers!
You hate to see it come down to the kicker, folks, but at the same time, you love it. It's like penalties in soccer — it's by far the most dramatic aspect of the game, and perhaps the least representative. Let's see if the men of the foot can distinguish our two champions.
2 points: Eric Mack

Yes: Neil Rackers, Mike Nugent, Matt Prater, Rob Bironas = 3/4
No: Lawrence Tynes, Steven Hauschka, Alex Henery, Billy Cundiff = 3/4
Total: 6/8
1 point: Michael Fabiano

Yes: Mason Crosby, Mike Nugent, Nick Novak = 1/3
No: Sebastian Janikowski, Rob Bironas, Dan Carpenter = 2/3
Total: 3/6
He's done it! He's done it! Eric Mack has exorcised the ghosts of the regular season, shaken off a collapse in the Super Bowl, and come back in overtime to win the Fantasy Fantasy Football title!
Super Bowl: Eric Mack 9.5, Michael Fabiano 8.5, 2 OT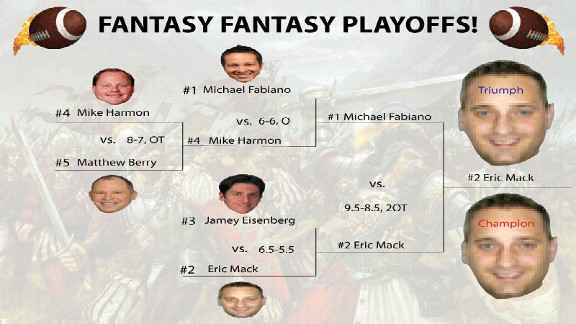 Thanks for following Fantasy Fantasy Football in 2011, and never forget the grit our two champions showed on the final day.
Previously by Shane Ryan:
Is Virginia the Long-Awaited 'Third Team' in ACC Basketball?
Fantasy Fantasy Football: The Semifinal(s)
---
Read more of The Triangle, Grantland's sports blog.
Contact us at triangle@grantland.com
Filed Under: Fantasy Football, NFL, Shane Ryan, Start Em Sit Em