'Enjoying the Spurs': The San Antonio Fan Manifesto
Ned Dishman/NBAE/Getty Images
Since the late 1990s, the San Antonio Spurs have built an army of obnoxious, elitist fans whose heads are filled with so much paranoia that most of the team's misfortunes can only be explained by conspiracy theories. It is probably the most complex fan identity in all of sports, without the strength in numbers to perpetually remind everyone else how obnoxious we are. Very few fans of any team get to experience such a sustained period with their team in serious contention for a championship. The process has resulted in a hyper-educated fan base that looks down upon the rest of the NBA. "Enjoying the Spurs" still remains a local experience that usually feels disconnected from the media context in which "the NBA as a series of topical narratives" is presented. Spurs fans are so crazy that they actually hate everything that most people like about the NBA: Kevin Durant, LeBron James, the rise of new teams, "interesting story lines" that the media pounds into the ground during the regular season, and any alleged "changing of the guard" are empty and fake.

An interesting set of forces has molded Spurs fans into a group that is empowered yet insecure. Our city's only major professional franchise is generally identified by the casual fan as slow, old, and boring. Our city is generally unidentifiable on a blank map of the United States. Our city's population is generally identified as overweight. Tim Duncan is generally considered a forgotten great. San Antonio Spurs fans are alone with their team, wrestling with their existence in a world where "general" ideas are endlessly perpetuated.
Besides having the perfect team that embodies everything you'd want in a hometown franchise, Spurs fans never feel adequately reinforced by the national media. We actually consume NBA coverage to witness new and innovative ways to ignore and disrespect the Spurs. Our fans firmly believe that the Spurs are entitled to all of the media recognition that we bestow upon the trend of the day, every day. However, the Spurs fan will also resentfully remind you why their team and their own fan existence is better than you in ways that transcend media coverage.
We no longer root for the Spurs as crusaders for the preservation of beautiful, selfless basketball. We root for the Spurs in order to ruin the NBA for everyone else who watches it for all the wrong reasons.
Spurs fans believe that the NBA and national media are perpetually conspiring against our small-market team. Every time the Spurs take the court, they are playing against not only the opposing team, but a storm of forces laid out to make our path more difficult. The national media always picks against us in favor of large markets and superstars, and the NBA front office always sends a refereeing crew to make sure that the media's prediction is realized. We are special because we can usually beat these forces, unlike the Indiana Pacers, Sacramento Kings, and Portland Trail Blazers before us. Spurs fans truly believe that we should have won every championship since 1999, but these mysterious forces have tarnished our dynasty.
We also believe that all of our players are the best in the league, but at the same time, play even better because of the team's synergistic model. All of our players are undervalued, now and historically. Tim Duncan is the greatest player of all time, but would only truly be considered the greatest player of all time if he played in a major market, gave a decent interview, and dressed more "on trend" instead of looking like he buys his clothes from a Bugle Boy catalog. If Manu Ginobili and Tony Parker played in major markets, they would have won MVP trophies by now. Our role players could be stars in other markets, and the Spurs could save the career of any journeyman. These thoughts might stem from the fact that the Spurs are everything to San Antonio, but it is more likely an overreaction to the lack of recognition.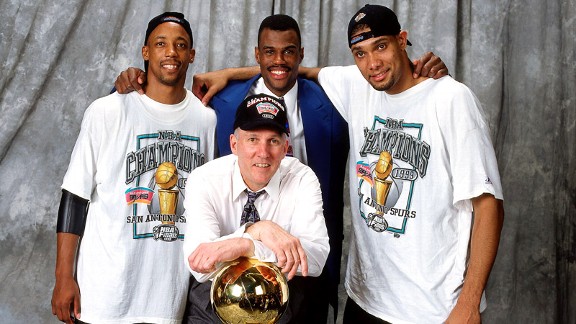 Operating in a league with a salary cap further elevates the self-consciousness of the Spurs fan. We believe that we are smarter than everyone else and "get" the NBA more than entry-level fans who don't remember anything about the pre–social media era. Spurs fans haven't been spoiled by an owner who is willing to spend more than any other team to stay competitive, nor are we fortunate enough to be a major media market to lure the best free agents. In fact, Duncan and Gregg Popovich have built a culture where removing the Spurs from consumption as an interesting media story line has become one of the team's distinct advantages. There never will be a team controversy or a media circus surrounding the team. But that also means there isn't actually a mechanism to praise the team.
Most of the Spurs' "great moments" happened long after the casual fan thought the NBA season was over. The four previous NBA Finals that the Spurs participated in were culturally insignificant and they were the clear favorites in just about all of them. So far, the Spurs haven't really had a moment that is historically recognized because the way they win typically eliminates drama; close games and close series present too much chaos to ensure victory. While every San Antonian remembers where they were during Sean Elliott's 1999 Memorial Day Miracle, it was more than likely just another Memorial Day to the majority of NBA fans.
Of course, the Spurs actually do get coverage.
Many beautiful pieces are written about the Spurs every year, usually because they are one of the final four teams left. Our front office is praised for its managerial prowess. Our assistants and front-office staff are lured to rebuild other franchises with our model. Role players "finally found their place" on our team. Our team's internationality is praised. The players that we draft eventually "make the leap." The mere fact that the Spurs are so old but remain so successful is eventually celebrated every year. But all of this happens within the context of a media cycle. Spurs fans then get angry when they witness their team marginalized into the same rubbish we consume every day.
The Spurs don't get any respect, and when they do, it still isn't good enough.
It gets easier when you accept that a media cycle is a lifeless charade where something topical is presented for people who otherwise wouldn't care. The media's job is to create content for a large quantity of people who won't actually care in about 15 minutes. The media cycle presents a topic in digestible form, processed in loud and predictable ways. It's immediately immersive, but attaining the status of the Lakers, Tim Tebow, or LeBron isn't rewarding. The drive for the Spurs' fifth championship is so important to Spurs fans because we finally learned not to obsess over the context in which we consume the NBA. We've reached a point where it is just about embracing a special opportunity for a group of people who have meant a lot to us for a long time.
Sports franchises market their team to a city to sell tickets, drive up television contracts, and exploit other monetary streams by marginalizing their team into a product. However, the most interesting fan bases transcend the power of marketing, establishing their team within a city or region's cultural identity. When it comes to national perception of a professional sports franchise, a team's identity usually comes down to a culture of winning or losing. Some teams allegedly embody their city's working-class identity, while other markets transform their players into celebrities. Some teams are the Grizzlies, some teams are the Lakers. Some teams are defined by one moment, while other teams are eternally dominant. The Spurs' fan base has been defined by resentment for their team's lack of acknowledgment by the media.
Spurs fans are mentally prepared for the moment when we beat the Heat, and we know things probably won't change. It will be remembered as LeBron's failure. The Miami Heat will have been too injured. Our role players "got lucky" and made lots of 3-pointers. The narrative never will be about the Spurs. However, our isolated experience as a Spurs fan has taught us not to stretch for recognition that we'll never get. Instead we will cherish the experience within our isolated fan utopia. Our reward has been the opportunity to watch the Spurs fight to stay in our lives for so long.
Filed Under: A Fan's Notes, Gregg Popovich, Manu Ginobili, NBA Playoffs, San Antonio Spurs, Tim Duncan, Tony Parker