Bryce Harper Gets All Biblical (Sort Of)
Thearon W. Henderson/Getty Images
It started with a friendly holiday greeting from our favorite reverse-Skulleted baseball phenom:
Happy Rosh Hashana to all my friends in the Jewish community! Have a happy and peaceful year!

— Bryce Harper (@Bharper3407) September 17, 2012
No snark here — this is a nice gesture by a professional athlete, and that's that. Doesn't mean we can't have a little fun, though. See, we Members of the Tribe can be a little insecure about the athletic prowess of our people, despite the success of fellow M-O-Ts such as Ian Kinsler, Kevin Youkilis, and Ryan Braun (he's half, but we're counting it!), Airplane pretty much nailed it.

We respect Harper's faith, and will avoid any attempts to proselytize him. What we can do is imagine what might have been. So with that in mind, we're pleased to present "Bryce Harper plays the biblical characters I learned from my Hebrew school upbringing."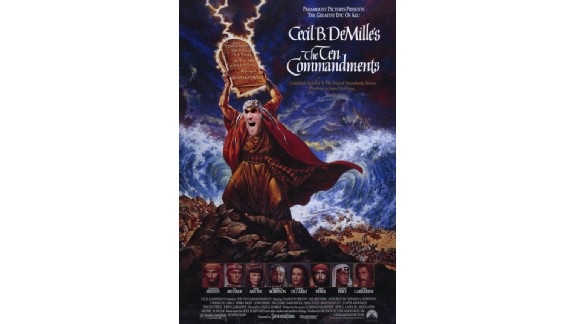 Moses
The gold standard for Old Testament archetypes. Harper certainly needs to work on his beard-and-white-robe game. But he's got the whole "leading his flock to the Promised Land" thing, too. And where Moses wandered the desert for 40 years, Harper's about to end 79 years of D.C. playoff baseball exile in only six months. No truth to the rumor that Harper also was set adrift on the Nile, only to emerge miles later in the hands of loving strangers. Verducci would've been all over that.
Judah Maccabee
One of the greatest warriors in Jewish history, Judah Maccabee led a revolt against King Antiochus IV Ephiphanes after Antiochus-led forces destroyed the Temple of Jerusalem. The success of the revolt helped reclaim the Temple and beat back Antiochus's Seleucid Empire. The heroics of Judah and the other Maccabees are celebrated annually with the festival of Hanukkah. All well and good. But did Judah ever charge into battle, then fling his headgear to the ground after smiting the enemy? Advantage, Harper.
Rashi
Though not actually a biblical character, Rashi did win acclaim as one the preeminent Jewish scholars in history. A famed commentator on religious scripts, Rashi gained notoriety for his writings on the Torah, as well as the Talmud. Likewise, Harper gained recognition for the way he disarmed one interviewer, introducing a bold, new phrase into our vernacular that shone bright for about a day, before the masses corrupted its meaning and wrecked it in the meme machine.
King Nebuchadnezzar
The highlight of my brief and tragic career as a thespian was playing the prestigious role of "King Nebuchadnezzar Number One" (there were three of us) in the Grade Three Purim play. The key to the role, I was told, was to play it big. Lots of affect to nail the big personality aspect, a fat suit and/or pillow under the robe to play literally big. Harper's got the personality part down. Loosen the ol' belt and we can truly make Bryce larger than life.
Filed Under: Bryce Harper, MLB, Washington Nationals