BQBL: Chad Henne Hits the Summer Jam Screen (Plus the 2012 Season Awards)
Frederick Breedon/Getty Images
Could there be a more fitting final play in the 2012 NFL season than Tony Romo clinching defeat with a horrific interception? No, there could not. That super Romo-ish floating Christmas gift to the football fans of the beltway not only marked the end of the Cowboys' season, but the ends of both the BQBL season and 2012. Each year, December 31 provides us a moment to look back at what has passed and pay tribute to those who passed to the wrong team. So this year, at the end of this column, I'll be handing out the first set of BQBL Awards for lack of achievement at the quarterback position. But before we get to that, there's plenty of carnage from Week 17 to address — namely, the work of Mr. Chad Steven Henne, who seemed eager on Sunday to secure the no. 2 overall pick for the Jags.
Three and Out
Jaguars (Chad Henne), 67 points: Chad Henne threw four touchdown passes against the Titans on Sunday: one to Justin Blackmon, one to Jordan Shipley and two to Zach Brown. The only problem is that Zach Brown is not on his football team. Details.

TAINTs aside, Henne did not have a terrible game. He started off with two long drives that led to touchdown passes, after which I'm sure head coach Mike Mularkey and offensive coordinator Bob Bratkowski had the following exchange:
Mularkey: "Great work, Bob. Those drives were really well designed. One thing, though — we get nothing out of winning this game, and if we lose, we're guaranteed a top-2 draft pick."
Bratkowski: "Mike, I'm doing everything I can here. Did you see all those pass plays I drew up? We have to trust the game plan. If there's one thing for certain in life, it's that if you give Chad Henne an opportunity, he will throw you a TAINT."
And TAINT he did. Both went to the aforementioned Mr. Brown, but Henne's third interception was the real gem of bad quarterbacking. Allow me to present exhibit A: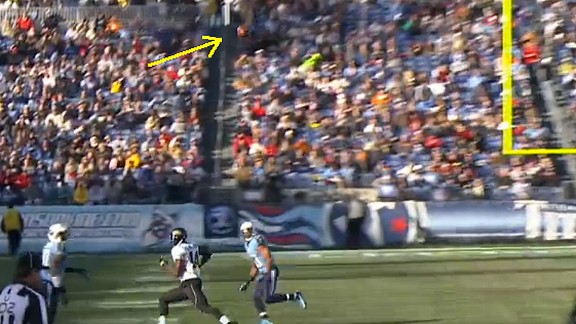 What you are looking at is the football flying, oh, I would say … 10 feet over the head of intended receiver Justin Blackmon and into the arms of a Titans defender. I would say that Blackmon ran the wrong route, but that could only be true if the route were "Be way faster and 4 feet taller." I don't think that one's in the Jags' playbook.
Zach Brown touchdown passes and atrocious punt/interceptions aside, Henne has been just good enough this season for the Jaguars to set up a dream scenario. Said scenario occurs around Week 4 next season, when, after throwing three picks and four passes through the uprights, a struggling Tim Tebow is benched in favor of Henne, leaves football forever, and replaces Stephen A. Smith on First Take, where he and Skip Bayless start every show revisiting highlights from their respective athletic primes. One can dream.
Chiefs (Brady Quinn), 50 points: The best way to encapsulate Brady Quinn's quarterbacking performance this Sunday is to compare it to yours. This Sunday, Brady Quinn only threw for 49 more yards than you did. He threw 16 more passes than you did. To be fair to Quinn, you most likely did not go home to a girlfriend who's a former Olympic gymnast that's also knocked out a dude with one punch on YouTube.
Jets (Sanchize), 47 points: The Jets' quarterbacking situation has been well covered this season, but allow me to sum it up for you: They all suck. This week, Sanchize was given the start, and the play-calling on the first drive tells you everything you need to know about how much faith the coaching staff has in Marky Mark's ability to throw the ball:
1st play: Run
2nd play: Run
3rd play: Run
4th play: Run
5th play: Defensive penalty
6th play: Run
7th play: Run
8th play: Run
9th play: Run
10th play: Incomplete pass
11th play: Incomplete pass
12th play: Field Goal
The only expertise Sanchez displayed on this scoring drive was calling the play correctly in the huddle. On the third play of the next drive, Sanchez learned that when you throw passes to receivers with defenders in front of them …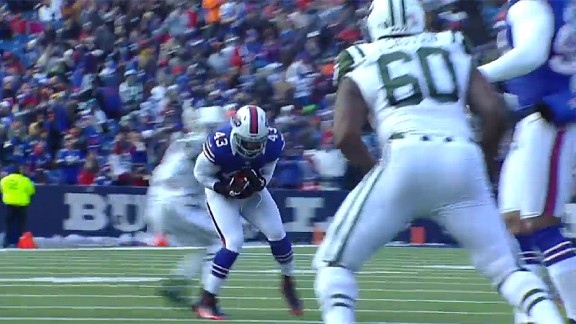 … those same defenders will soon be in front of you: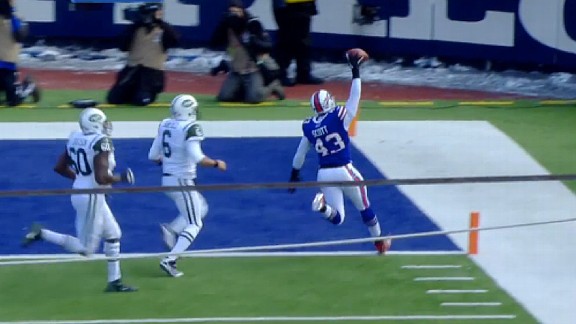 This offseason, it will be interesting to see where Sanchez lands. It's hard to imagine that his confidence is very high after a season of being abandoned by Rex Ryan, Jets fans, and Eva Longoria.
Quick Slants
Eagles (Michael Vick 42 points: This game was an audition, of sorts, for Vick to show what he's got for potential employers. In the first drive alone, he showed that he still has the ability to fumble the ball and throw interceptions with a flair all his own. Were you to tell an Eagles fan in August that in Week 17 they would see this …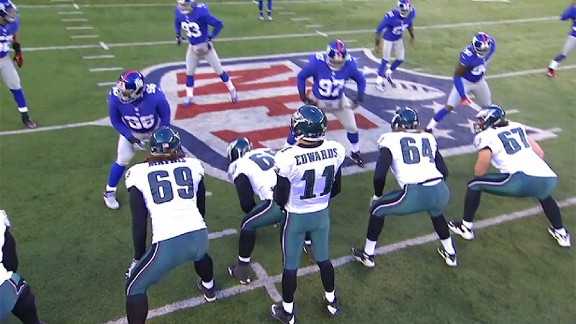 … he would have said, "Perfect, that must mean that we already clinched a first-round bye and are resting Vick and Foles." If you were to then tell him, "No, actually, you're 4-11, and your best bet at erasing a 35-point deficit is Trent Edwards," he would then punch you in the face. You deserved it, though. There was really no reason to travel back in time just to be a dick.
Ravens (Joe Flacco and Tyrod Taylor), 41 points: Waka Flacco Flame has somehow taken the Ravens from a Super Bowl favorite to 10-6 without showing up on the BQBL Summer Jam Screen. I think that deserves an award. You know what, screw it. I'm naming an award after him.
Panthers (Cam Newton), 35 points: Cam Netwon had a tough year. Not only did he pop up on the BQBL list a few times, his team went 7-9, and there were reports that he was an asshole at the Pro Bowl last year. Who disses Ray Lewis?
Dolphins (Tannehill), 30 points: Mr. Lauren Tannehill won one of the first-ever BQBL Awards, so let's just get to those.
2012 BQBL Awards
The Ryan Pickspatrick Award for inspiring the best nickname of the year goes to … Ryan TAINTehill. During Hard Knocks, I never thought that Mr. TAINTehill's poor on-field performance could ever outweigh the crush I have on his attractive wife. Boy, was I wrong.
Honorable mention: FART (fumble and returned touchdown)
The Andy Dalton Award for efficient quarterbacking from the least expected source goes to … Brandon Weeden. I really thought that we would see more from the Ginger Cringer this season. This marks the second straight year that a red-haired rookie has been the BQBL poster boy and gone on to have a decent season. If I'm Geno Smith, I'm going to my barber and demanding, "Look, just dye it all red. I know it will look ridiculous, but trust me …"
Honorable Mention: Russell Wilson
The Ryan Lindley Award for a professional athlete that plays like a civilian goes to … Ryan Lindley. When Ryan Lindley started for the Cardinals against the Jets it was like someone handed you the keys to a Lamborghini (mercy) and said, "Drive as fast as you possibly can up this mountain," but you didn't know how to drive a stick. OK, fine, it was more like someone handed you the keys to a scooter, but you get the metaphor.
Honorable Mention: John Skelton
The Matt Cassel Award for the least improvement from year to year goes to … Grantland's BQBL management. We debuted the Failure Machine, but unfortunately it lived up to its name for the first couple weeks of the season. Like a quarterback at the press podium after a four-pick game, we have to put that performance behind us and look forward to coming out next year with a new and improved game plan. Ask Cam Newton &#8212 your second year in the league can be bumpy at times. Next year will have some new tricks, more accurate scoring, and a better user experience for your BQBL leagues. Until then, it has honestly been a great pleasure highlighting the least amazing quarterbacking in the NFL. Enjoy the playoffs, and remember: It's never too early to start thinking about next year's draft. LONG LIVE LINDLEY!
Filed Under: Bqbl, Cam Newton, David Jacoby, Mark Sanchez, Michael Vick, Tony Romo