Bad Quarterback League, Week 11: Matt Ryan Hits Rock Bottom
Al Messerschmidt/Getty Images
Matt Ryan has had a horrible year. Everyone associated with the Falcons has had a horrible year. Tony Gonzalez never should have come back, Julio Jones is out for the season, the defense is a mess, and we can't even make fun of Mike Smith screwing up fourth downs because the Falcons haven't played a relevant game in six weeks.
If everyone associated with this team could just cut their losses and move on to next year, you gotta think they'd all go for it. But NOPE, that's not how this works.
It's just going to keep getting more miserable. This was obvious early on Sunday against the Bucs. Matt Ryan took the Falcons down to the Tampa 35 on the opening drive, and then got crunched by Gerald McCoy for a four-yard loss.
In an ordinary season that isn't a total fucking nightmare, this would be a minor setback. In Matt Ryan's season … the four-yard sack gave way to a 10-yard sack on the very next play, and the drive ended right there. Everything goes wrong, always. This is the law of the Falcons this year.
Later: After the Bucs scored a TD and got a bonus drive after a successful onside kick, Matty Ice took over midway through the second quarter and immediately threw an interception straight into the arms of a linebacker. Like he went through his progressions and checked down to the wide-open Bucs linebacker in the flat. Now, in a normal season that isn't a total fucking nightmare, this is where that play ends, because there are seven Falcons right there to tackle him, and what linebacker is going to run back a pick more than five yards?
In Matt Ryan's season … Mason Foster wove across the entire field like he was Reggie Bush and went into the end zone untouched (+25). This is how the whole day went, until finally Ryan got pulled. AND THEN IT GOT WORSE.
After he got benched out of sheer mercy (+35 points), Dominique Davis came in for a drive and a half and then got hurt. So not only was Matt Ryan down 41-21 to a team that didn't win a game until Week 10, but he had to unbench himself to come back onto the field and finish the game. And that's where this whole season is now. Just going through the motions playing out the end of a complete debacle.
Last year Matt Ryan was a gladiator, cloaked in glory, telling all the weaker men in his midst to get the fuck off his field:
This year he's stuck slinking back onto the field to finish blowouts, somehow adding more insult to all the injury of this Falcons season. There was a lot of bad quarterbacking Sunday, but nothing sadder than that.
There is no hope left now, only obligation and punishment. Playing for this Falcons team is worse than dating Taylor Swift. At least relationships end. Matt Ryan is married to the team that got embarrassed by Mike Glennon and Greg Schiano on Sunday. He and his teammates are stuck here until Week 17. For God's sake, somebody convince everyone on the Falcons to fake an injury.
Elsewhere …
THE NEW KING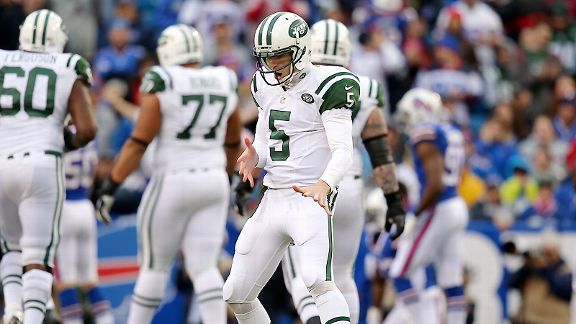 Hey now, Matt Simms is FIRED UP. Jets fans, not so much. Internet friend @CelebrityHotTub provides a nice synopsis of the Geno Smith Experience on Sunday:
Geno Smith completed his third pass with eight minutes left in the first quarter and the game still scoreless. He did not complete his fourth pass until five minutes into the third quarter, at which point the Bills had taken a 20 point lead. Between those two completions, Smith threw five incompletions, was sacked four times, fumbled once, and threw one pick.
Imagine how much Jets fans must hate Matt Simms.
Geno Smith has surprised people this year, and there are some weeks when he looks like the quarterback of the future in New York. But then are games when it all goes bad for Geno, the offense becomes a turnover machine, and the Jets become a complete punch line. It happened against the Bengals, it happened in Buffalo. And when that happens, Jets fans are stuck with Matt Simms. He's like the opposite of a human victory cigar.
If Matt Simms hits the field, it's been a verrrrrry bad day for anyone involved with the Jets not named Matt Simms. And it was! Dee Milliner and Antonio Cromartie both got burned for scores that helped break open the game and, of course, Geno:
• 8-for-23 for 103 yards.
• A fumble inside the 10-yard line that probably could've been returned for a score (FART). Instead, it turned into a Bills touchdown a few plays later.
• Two interceptions.
• Plus a third interception thrown right into a flock of Bills defenders on a bubble screen, which was immediately run back for a score.
• Benched for the fourth quarter.
Add it all up, and … 114 points! We didn't think anyone could ever possibly top Matt Schaub's 108 in Week 7, but here we are.
Bow down to Young King Geno. Just like that, the Jets take a commanding 55-point lead over Eli Manning and the Giants in the season BQBL standings. Six weeks left and the preseason BQBL favorites are right where we expected them all along.
(PS: I take full responsibility for jinxing them Sunday with this quick thing on Rex and Rob Ryan, and I apologize to the Wayne Chrebet of Grantland, Sean Fennessey. But don't worry — anarchy is the only true king of the parity era and nothing makes sense, so Rex and the Jets are still somehow the sixth seed in the AFC. Can't wait to see Geno in the AFC title game.)
VIKINGS
The combination of Ponder and Cassell put up 93 points in Seattle on Sunday, but of course they did. Forcing Vikings quarterbacks to spend 60 minutes with the Seahawks defense was always going to end in bloodshed and sadness. In the end, this was the first week all season we've had THREE benchings in one week, and they all threw pick-sixes, too.
Related: The imprisonment of Adrian Peterson is getting inhumane.

(Via BuzzFeed)
And the murderous Seahawks defense is still the absolute greatest.

(Via KSK)
And since nothing can possibly top Brandon Mebane's fat-man dance, that's it for this week. Godbody Danny Savitzky has all the stats.