Trailing Bill Murray at the Ryder Cup
Jamie Squire/Getty Images
"Bill, sign my ball!" the man behind the rope shouted. No, "shouted" is the wrong word — let's say "demanded." We were at the fourth green, and Bill Murray had just missed a birdie putt in the celebrity scramble on course no. 3 at the Medinah Country Club, the site of this year's Ryder Cup. He was playing with Tom Lehman, Dave Stockton, and a second celebrity. After the missed putt, he took some time to chat with the gallery. "I made a couple you guys didn't see," he said in response to a heckler, a drooping smile on his face.
The shout caught his attention. It was the tone, I think; all day we'd heard people shouting his name like desperate followers in the presence of a prophet, or fratty dudes wearing polos (long- and short-sleeved) and khakis (long- and short-legged) yelling movie titles, movie characters, and movie quotes at him in booming voices. But this was different. This particular fan came armed with a sense of entitlement.

Murray stared him down. His jaw dropped dumbly, his eyes glazed. The crowd laughed nervously. It might have stayed a stare-down, too, but the man — I remember an orange shirt, an earring, a shaved or bald head — wasn't done.
"Come on, Bill!" Same unpardonable tone.
Murray began slowly nodding, his eyes never leaving the fan. "OK, pal," he said. "Throw it here." He caught the ball in the air and took out a green marker. He signed his name. He put the marker away. He looked back at the fan. He gave a short wave.
"Thanks," he said.
Murray put the ball in his pocket and walked away.
---
Few are more suited to the strange task of entertaining celebrity golf than Murray. He's a strong golfer, for one; he wrote a book about his love of the sport, and he won the Pebble Beach Pro-Am in 2011. At age 62, he's still got a smooth, fluid stroke and a deft touch on the greens. And man, he loves the crowds. His energy ebbed and flowed on Tuesday based on the size of the gallery, and when he wasn't speaking directly to them, he was hamming it up with physical comedy; slouching dramatically as he addressed the ball, dancing little jigs or sparring with Lehman after good shots, and waving triumphantly after the awful ones.
The other celebrity in Murray's pairing, incidentally, was Justin Timberlake. And he brought Jessica Biel, the woman he'll marry next month, to watch him play. Aside from leopard-print slippers, she wore all black, down to the sunglasses and a tiny parasol. As far as I could tell, her day consisted mostly of trying to be polite while men screamed her name. One guy ogled her and said, "I love me some Jessica." She smirked. When I passed by, the guy sipped his beer, smirked, and said, "How's your notebook, bro?"
Timberlake has a beautiful swing, almost classic, and gets good distance with his woods. He's a miserable putter, but some of his tee shots were used in the best-ball scramble format, which is saying something when you're playing with professionals. But compared to Murray, he was practically low-profile. He took a few pictures, signed a few autographs, and tried to focus on golf. Meanwhile, a few steps away, Murray was conducting a performance-art sideshow. How many people can you think of that could overshadow Justin Timberlake?
It's never clear when Bill Murray will turn on you. He has a raw, masculine energy that he shares with that class of SNL stars like Dan Aykroyd and John Belushi, and you never get the sense that he's under anybody's control. His face can do aggression, desperation, and melancholy, but beneath it all is something wonderfully subversive. That was on display for the crowd and his fellow partners. On the second hole, a gorgeous par 3 with a tee shot over Lake Kadijah, he let Tom Lehman take his practice swings and approach the ball before shouting, "Tom Lehman, everyone!" in his most theatrical voice. "Come on, he's from Minnesota!" As the crowd laughed, Lehman quaked his knees.
"But we all hate the Packers, right?" Lehman asked, to cheers.
After that hole, when Murray walked up the path to no. 3, surrounded by screaming fans, he was seized by a sudden burst of energy. A kid thrust a basketball sneaker to be signed, and Murray ripped it from his hands and threw it to the back of the gallery. Another teenage boy held out a Ryder Cup kickball (I don't know either, guys) and Murray grabbed that and punted it away. Then he jogged down the gauntlet, darting from side to side and slapping five with the willing and unwilling both. He took a placard from a fan, signed it, and flung it in the opposite direction. He did the same with a hat, and then another placard. Up on the next tee, Dave Stockton didn't bother waiting to hit his drive.
It happened again later in the round, after Murray nailed a putt at no. 11. A pretty girl held out a hat for him to sign, and she caught Murray's eye. "We don't have time to sign everything," he said, "so you'll have to settle for a kiss." He sprinted up to the shocked girl, kissed her on the cheek, and sprang back like a wild animal. He spun, looking for his next victim, and kissed an unsuspecting older woman. Then he approached a teenage girl, leaned in, veered at the last moment, and kissed her father. Then he kissed a fat man, and then he spun again and looked straight at me.
That's right, folks. I looked into the wild eyes of Bill Murray, and I was pretty sure he was going to give me a kiss. But he turned away, rejecting me for reasons I'll never know, and it was off to another girl.
By the way, did I mention what he was wearing? No? OK. He was wearing a "Big Head Todd" hat, a purple vest over a check shirt, and pants that looked like camouflage fatigues from a distance, but actually had pictures of busty women in very short skirts playing golf. The soles of his shoes were neon green.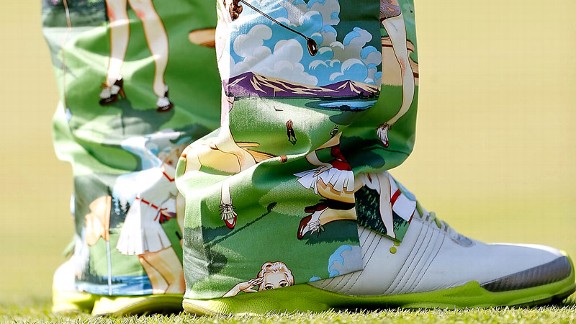 And what else happened? For a few holes, he kept up the bit of announcing Tom Lehman when he was about to take a tee shot. "Quiet please, Tom Lehman on the tee!" On the third green, as Timberlake stood over a putt, he broke the silence by yelling, "Oh man, Justin, if you make this, the crowd's going to go insane!" Timberlake missed. Murray nailed it. At no. 4 — and this was late in the round, because they skipped holes to avoid the real players practicing for Friday — he waited until Timberlake was ready to putt before shouting, "Justin Timberlake, ladies and gentlemen! He's a musician!" The crowd roared, and just as they quieted down and Timberlake started his routine, Murray was at it again: "The Mickey Mouse Club, ladies and gentlemen!" This time, Timberlake took a half swing at him with the putter.
And all day long, he listened to people shout "Carl!" and "Noonan!" and "Caddyshack!" and "Gunga galunga!" and, once, "Ghostbusters!" But instead of getting annoyed, he waved at them, smiled, signed autographs, posed for pictures, and, now and again, fucked with them. They pleaded for his attention, and some were always insulted when he had to leave, but they all loved him. And for some reason that I truly can't fathom, probably because my spirit is less generous, he loved them too.
We took carts from no. 7 to no. 18 for the final hole of the day. My cart arrived first, so I was there to watch Timberlake and Murray drive up. The place exploded. They hit their drives, and when they walked off the tee box, for the first time all day, the fans broke through the ropes. I'll admit it — the scene gave me a quick jolt of panic, like I was about to witness something horrible. They charged them both, but in a second it became clear that the offenders were mostly kids. Timberlake was taken aback. A girl who was old enough to know better rushed into his arms, and he consented to a picture while other children mobbed him. Seeing this, his bodyguard rushed up the fairway to chase them off. As he walked away, Timberlake seemed disturbed and annoyed at the mob scene. One last boy attempted to outflank the bodyguard. "Don't you ever try that," the big man yelled, and the terrified youngster dashed off to the other side of the fairway.
Then I turned back to Bill. There he was, surrounded by what must have been 15 to 20 kids. They wanted to be near him, to be part of the odd energy of this funny, deadpan, pock-marked old genius. One girl, when she got her signature, stared up at him with wide eyes. "Thank you so much!" she said, running off. "Nice pants!"
Filed Under: Bill Murray, Golf, Justin Timberlake, Shane Ryan