Why Sara Bareilles Can Win Album of the Year, and Two More Grammy Theories
Paul Morigi/WireImage
When attempting to predict the future winner of a Grammy award, it is vital that logic-logic be set aside in favor of Grammy-logic. Here are the tenets of Grammy-logic: Concepts such as "cultural relevance" and "youth music" do not exist. The most daring and progressive artists need not be recognized. The only reality is the existential nowhere that is the middlest of middlebrow. To get into this mind-set, you must dispatch your sense of right and wrong and adjust your perception to that of a faceless, middle-aged record-industry insider.
Some will insist this is impossible. Many more will argue it's pointless.
I will simply say that I have done it, and that in the process I have figured out who's winning the three top categories.
Album of the Year
The nominees:
Sara Bareilles's
The Blessed Unrest
, Daft Punk's
Random Access Memories
, Kendrick Lamar's
Good Kid, M.A.A.D. City
, Macklemore and Ryan Lewis's
The Heist
, and Taylor Swift's
Red
This one seems easy — Swift has been fashioned into something of a Grammy mascot, frequently appearing on the telecast as well as the "nominations night" dog and pony show. Red is one of the best-selling albums of the latest Grammy period, and this is an achievement that the Grammys were invented to reward. Recent Grammy history dictates that centrist hits by young artists (such as Adele's 21 and Mumford & Sons' Babel) have the clearest path to victory. And Swift is not facing strong competition — anyone that might have challenged her claim on the Album of the Year trophy has been cleared away.
That's not a slight to the other nominees. Lamar's album went platinum, and Daft Punk is close to that benchmark. (This nomination will almost certainly push RAM over the top.) Macklemore is a well-regarded indie success story in a crumbling industry, and Bareilles is the sort of respectable MOR grinder who ends up sticking around for decades. But Swift is clearly in a different superstar weight class. What's interesting is that there were worthy adversaries who would've made this category more exciting had they been nominated. Jay Z led all artists with nine nominations, but he was locked out of the major categories; Magna Carta … Holy Grail is hardly his best work, but it could've been an excuse to honor Jay with a garbage-time Scent of a Woman legacy Grammy. More surprising is that Justin Timberlake didn't get a nod for The 20/20 Experience Vol. 1, the best-selling album of 2013 and a display of serious musicianship and titanium ego that Grammy voters usually go for.
Notable factoid: If Swift wins in this category, she will be the first artist to win multiple Album of the Year awards in the same decade since Stevie Wonder in the '70s.
If there's any semblance of a dark horse here, it's Bareilles. I'll be honest: I had no clue that Sara Bareilles put out a record in 2013 until it was nominated for Album of the Year. Apparently the album (the name of which escapes me, even though I just typed it out a couple of paragraphs back) came out in July and debuted at no. 2 on the Billboard album chart behind Magna Carta … Holy Grail. Before this nomination, it had a fairly unexceptional run — the lead single, "Brave" (also nominated for Best Pop Solo Performance), peaked at no. 26 on the Hot 100 chart, though it did better on adult contemporary stations. The album wasn't especially loved by critics, either; Rolling Stone called it "too diplomatic" in a mediocre two-and-a-half-star review, which is an odd (though I suppose appropriately bland) criticism.
Looking at it logically, Bareilles's nomination doesn't make sense. But after applying Grammy-logic, she looks like a potential Swift usurper. Bareilles was nominated for Song of the Year in 2009 (for "Love Song," which I know I've heard but can't remember), so while she seems like a journeywoman, this isn't her first rodeo. She was a judge on NBC's The Sing-Off (a show whose viewership I suspect derives disproportionately from the Grammy voting pool), so she's more familiar to these people than Lamar, Macklemore, or those daffy, punky French weirdos. Logic-logic dictates that Bareilles is a non-actor because she's the only artist here whose nomination isn't driven by larger cultural forces. Grammy-logic suggests she was picked purely because the people who pick these things genuinely like her. That she was even nominated makes the possibility of an all-time WTF? Grammy moment alarmingly (delightfully?) plausible.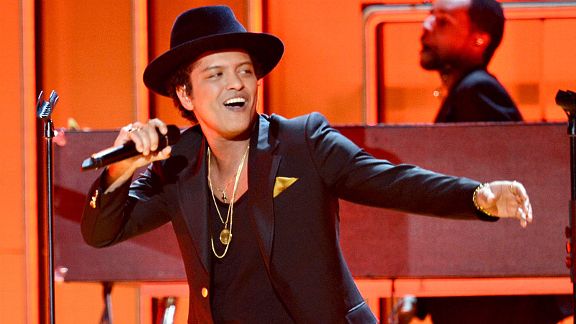 Record of the Year
The nominees: Daft Punk's "Get Lucky"; Imagine Dragons' "Radioactive"; Lorde's "Royals"; Bruno Mars's "Locked Out of Heaven"; Robin Thicke's "Blurred Lines"
Look, I know there have already been 142 best-of lists ranking the best songs of 2013, and there will be 419 more before the year ends. And in order to differentiate their list from all the other lists, many of these list-makers will attempt to argue that something not called "Get Lucky" is the best song of the year. While these people should be praised for their "eclectic" and "adventurous" tastes, they are wrong. Stop being contrary to the facts: "Get Lucky" is immortal. Get used to it.
Except Grammy voters. Go on being contrary, you adorable maniacs!
"Get Lucky" is not going to win Record of the Year. "Locked Out of Heaven" is going to win. "Locked Out of Heaven" is also a pretty great song, but more importantly, Mars is an artist (like Swift) who has been primed to win Grammys for the next several years. And he's overdue for some victories: Since 2011, he's been nominated 18 times, including three times for Record of the Year, three times for Song of the Year, and once for Album of the Year. So far, he has won only once.
The Grammys are first and foremost a promotional vehicle for (1) the record industry, and (2) the Grammy telecast. Like any TV show, it's in the Grammys' best interest to cultivate recurring characters who will keep viewers watching. And Mars is like Swift's third or fourth featured costar. (Adele also gets her name above the title, and Bono is the "aging leading man who's still a draw" Tom Selleck figure.) The fact that Mars's very likable and very popular Unorthodox Jukebox didn't get pitted against Red in the Album of the Year category (and that Swift wasn't conversely nominated for Record or Song of the Year) tells me that Mars has been set up to win here.
Song of the Year
The nominees: Pink's "Just Give Me a Reason"; Bruno Mars's "Locked Out of Heaven"; Katy Perry's "Roar"; Lorde's "Royals"; Macklemore's "Same Love"
Every year at every award show, there are examples of non-nominee nominees, which are nominees who are nominated out of a sense of obligation but have no real shot at winning because of the voting bloc's ingrained biases. The most obvious example of this at the 2014 Grammys is Lorde. The headline for the 17-year-old New Zealand pop sensation is impressive — four Grammy nominations, including Song and Record of the Year. But upon closer inspection, Lorde not getting nominated for Best New Artist makes me think those nominations are really for "Royals" rather than the person behind the song, perhaps because the Grammy voters see Lorde as a presumptive one-hit wonder.
Rather than forwarding an "Isn't Lorde amazing?" narrative, I think the Grammys would much rather make 2014 "The Year of Rap!" in the way 2012 was "The Year of EDM!" and 2013 was "The Year of Neo-Folk!" After the genre was locked out in '12 and '13, two rap records are nominated for Album of the Year in the same year for the first time since 2004. Since neither album is actually going to win, the onus falls on the Song of the Year category to go in favor of "Same Love," which also has the benefit of being an "important" and "socially conscious" gay-rights song. (I don't put those words in quotes to undermine the legitimacy of the song, but merely to underline how voters are likely to justify voting for it over the other tracks.)
If Macklemore were to win, yes, predictably, a white rapper would be the first hip-hop artist to win a Grammy for Song of the Year. If only a white artist would record an important and socially conscious anthem about the plight of African American rappers that the Grammys could nominate for Song of the Year, perhaps this issue might finally be addressed.
Filed Under: Adele, Bruno Mars, Daft Punk, Grammys, Jay Z, Kendrick Lamar, Taylor Swift