Revolution, Episode 112, the One-Image Recap: All Hail Governor Affleck of California!
NBC
OK, har har, in Revolution's intermittently power-deficient dystopia, an Affleck — presumably Ben, but don't discount Casey, he's always been the stealth-Affleck — is the governor of whatever California's become after it's been robbed of its life-defining solar panels, Priuses, and Vitamixed kale smoothies. Is that any crazier than a not-too-distant future when dudes with soap-opera-level acting chops are fighting with swords and crossbows? Probably not. And we get to imagine Governargo Affleck doffing his uniform shirt at the slightest provocation, mumbling something about how with all the washing machines taken offline by the worldwide Maytag outage he's just doing what he can to keep his clothes clean. Or that he's only gone into politics to re-revive his acting career, which went ice cold again in 2021 after he abused his directorial authority to disastrously cast himself as Luke Skywalker III in Star Wars: Episode IX. This wasn't the worst idea this show has had.
So good on you, Revolution, we guess. Why not have a laugh once in a while? There's time enough for helicopters to blow fresh holes in our plucky rebels.
Bonus Image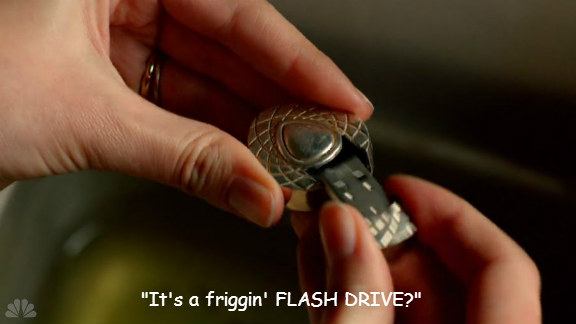 It's a friggin' FLASH DRIVE?
Fuck the future.
Next week: Governor Affleck is trampled to death by a hybrid horse.
Filed Under: Ben Affleck, Grantland Water and Power Department, Revolution