Point/Counterpoint: The Gabby Douglas Lifetime Biopic
Mark Sullivan/WireImage
Yesterday, Deadline reported Lifetime is making another biopic. About Gabby Douglas. And the network isn't doing it behind her back: Gabby's going to make an appearance in The Gabby Douglas Story (working title), the story about Gabby Douglas.
This is a lot to handle. The following is a point/counterpoint about this news between Grantland staff writer Rembert Browne and Grantland staff writer Rembert Browne.
---
Anti-biopic Rembert: This is so bad. And yes, I'm talking to you, Gabrielle. Normally, I'd take matters concerning your future to the people managing your career, but if you're old enough to be the star of a biopic, you're certainly old enough to take some criticism about what may be the most notable heat check in recent memory.
YOU'RE ALIVE. AND ONLY 17. ARE YOU KIDDING ME?
There have been a few worrisome signs, but I assumed they were all blanks and not actual bullets. The "Girl on Fire" VMAs performance, for example. Between your backflips and Nicki's lyric and Alicia's flying-squirrel-like shriek of a high note, it was very you-centric, but the end result was nice.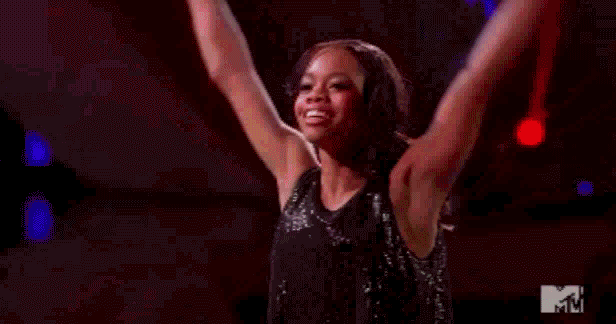 It's all been nice, up until this point, Gabby. A biopic? Do you know how hard it is to be a normal teenager when you're suddenly in the same category as Anna-Nicole Smith and Liz and Dick?
What were you —
Pro-biopic Rembert: Don't listen to him, Gabby. It's not that bad. Look, I know you're not trying to saturate the market, because you're nowhere near out of the limelight and aren't doing things simply for publicity.
You're an athlete. A champion. With an inspiring story. One that needs to be told.
You're like a cartwheeling American Girl doll in real life.
Anti-biopic Rembert: Did you really just compare Gabby Douglas to Addy, the fugitive slave doll?
Pro-biopic Rembert: Don't put words in my mouth. But maybe. I immediately regret that.
Whether you like it or not, Gabby, you're a role model. And cheers to you for taking that to heart at a young age, accepting the responsibility that comes with such privilege, and putting yourself out there.
Like with your Olympics run, tens of thousands of little girls are going to see this film and become inspired to lead positive lives. This will be unlike the majority of filth they see from teenage girls on television.
Anti-biopic Rembert: Good grief, Pro-biopic Rembert, you're like a robot programmed by the PTA and MADD. While your points are fine, you do know that this early biopic is setting us up for two more over the next 10 years. You know, Part 2 being Gabby at age 20, vowing to never look at a vault again, changing her Instagram name from gabbydoug2012 to baddiedoug420 and eloping with Jaden Smith over Vine.
And Part 3 … I don't even have the heart to say what Part 3 could be like.
But none of this would have to happen if you would just pull the plug on the biopic, Gabby. Bad things don't happen to people without biopics. I promise. Please, just give Lifetime the old "Thanks, but no thanks." Regina King and S. Epatha Merkeson will understand. I'm sure they can find roles as detectives in The Amanda Bynes Story in about six minutes.
Pro-biopic Rembert: Gabby, I'll say this. If you're going to go all in, which you should, you might want to try to get McKayla a biopic too. Or maybe make it about the entire team. Fight for some ownership over the direction of the script. Get all your girls cameos. I'm so serious about this.
Because, I don't know if you know this yet, but teenage ladies can be quite the terror.
Trust me, it's going to be hard enough returning to the 2016 Olympics as the "it" girl. But returning as the "it" girl with a biopic is an entirely different ballgame. I still think this is a fantastic idea, for your career and for American youth, but it's not going to be easy in some avenues of your life from here on out.
Anti-biopic Rembert: I've already written the E! True Hollywood Story/Behind the Music/Unsung on what happens with the 2016 U.S. women's gymnastics team if you do the biopic. Spoiler: It's not a pretty story. It's got some of everything — some "Lisa Done Burnt the House Down," a little "Alfalfa and Spanky are beefing because Darla went Yoko on the He-Man Woman Haters Club," and a ton of Mob Wives, all set to the soundtrack of "We Are Never Ever Getting Back Together" by Taylor Swift on loop.
Gabby, just go to college. Please. I'll proof your essays. Trust me, if they can make a biopic about you, there's enough material out there for your personal statement.
The Common App isn't even that daunting. And you can send it to so many schools. And, not to push this unnecessarily hard, but trust me, you'll get into all of them.
You're Gabby Douglas. Use that power for good. Not for biopic. That's all I have left to say.
Pro-biopic Rembert: Gabby, I don't know if you saw what your future suitor said a few days ago:
But he's right.
You're not going to uplift the people in a classroom learning about geography or whatever it is they do in college. You need to be out there, training and inspiring.
I know it's a lot for a girl not old enough to use the self-checkout at Walgreens to handle, but you're up for the challenge.
You're an American hero. A national treasure. The Matriarch of Black America.
We need you more than ever, Gabby. Do it for all of us.
Anti-biopic Rembert: If you do it, Sasha and Malia are going to clown you. That's your final warning.
Once Pro-, Now Also Anti-biopic Rembert: Oh man, that's a good point. Yeah, Gabby, you've got to get out now. Seriously. Run.
Filed Under: Lifetime