No New Friends: The Return of Arsenio Hall
Arsenio Hall Show
Last spring, former talk show host Arsenio Hall emerged victorious from the quasi-famous-person crab bucket of Celebrity Apprentice's fifth season, beating out Clay Aiken for the right to drink Donald Trump's pee and declare it to be the best-tasting pee ever micturated. Within days, the usual sources-close-to were stage-whispering that there might be another late-night gig in Hall's future. This past Monday night, that future finally arrived with the debut of Hall's new syndicated talk show, Arsenio.
And, wow.
It has been noted here and elsewhere that the new show resembles Hall's old show so closely it verges on historical reenactment; Hall's '90s-riffic guest list that first night included Snoop Dogg, Chris Tucker, and an alarmingly lockjawed Paula Abdul, who delivered a teary speech welcoming Arsenio back to late night while holding a pair of molded plastic buttocks. The whole episode felt like a time capsule, and then Arsenio actually wheeled out a motherfucking time capsule, which turned out to be full of silly prop-based gags about present-day celebrities whose existence Hall seemed only dimly aware of. (Ex: Arsenio pulls out a pacifier with a comically oversize joint attached to one end and says it once belonged to "Lil Weezy" [sic].) It felt like Late Night With a Guy Who's Been in That Oldboy Room for 20 Years. It felt like Arsenio had somehow unearthed 20-year-old jokes about George Zimmerman and Aaron Hernandez and Breaking Bad. It felt like time was broken.
The premiere outperformed every other late-night talk show on Monday. It took only 20 years and the near-total collapse of the monoculture, but Hall finally made good on his promise to kick Leno's ass, at least in certain desirable demographics. The ratings dipped a little on Tuesday, then stabilized on Wednesday. Buoyed by some combination of morbid curiosity and hive-minded RT-if-you're-a-'90s-baby goodwill and pure gobsmacked audience amazement, this thing is actually achieving liftoff. At least right this second, Arsenio Hall has a hit talk show, and that show is really, really weird.
Here's what you need to know: Some things are different. OK, one thing is different. Michael Wolff and the Posse have been replaced by a new band, Posse 2.0. Hall still cues them to make with the funk music by saying "Let's get busy," although on the first show he claimed he'd toyed with using some variation on "Turnt up" as a replacement catchphrase until his son talked him out of it. There is no Dog Pound at this time, and Arsenio seems to be keeping it pretty cool with the roof-roof-roof fist-pump thing, although he still can't quite resist delivering funky introductions for notably un-funky people, growling "Lisa Kudrow is in the house!" like he's introducing Rick James at the Long Beach Arena.
The Kudrow interview was pricelessly odd. Arsenio played a clip of Kudrow's Showtime series Web Therapy involving Kudrow talking to Lily Tomlin via webcam, did not laugh at the clip (in fact appeared sort of befuddled by the clip), brought out Kudrow, who seemed equally befuddled, and eventually said to her, "That's one of those clips I should have showed after you got out here so you could set it up." Great television. Later, after bugging Kudrow briefly about the possibility of a Friends reunion, he affected a grave, let's-get-serious-for-a-minute tone of voice and began talking to Kudrow about how so many kids today were into "tapping molly." Kudrow said "Uch" the minute the drug was mentioned, as if Arsenio had brought up soap scum or spiders. Arsenio then asked Kudrow to comment on this teen-drug scourge in the voice of her zany Web Therapy character, Fiona Wallice. All this, and not one Marci X question! Kudrow looked like she was having a nightmare about walking onto the set of The Comeback without a script.
This whole show is a comeback without a script, at least for now. Physically, Hall is eerily, almost hyperbarically well-preserved, but his skin is smoother than his transitions. My favorite gear-grinding moment so far came at the end of Wednesday night's show, when Hall announced that Thursday's guests would be Mark Harmon and Penn & Teller, and that he would be "remiss as an American if [he] did not say something about the 12th anniversary of Nine One One." A moment of silence followed, perhaps so that we could wonder if Arsenio also refers to the time America fought Germany and Japan as "World War Eye Eye." Also: Mark Harmon and Penn & Teller! On Day 4! Late last month, the National Enquirer's website alleged that Hall was scrambling to mend fences with celebrities he'd pissed off over the years, including Roseanne and La Toya Jackson, so that they'd appear on his new show. The idea that Hall would consider La Toya mission critical in 2013 seemed funny and implausible to me then; it doesn't anymore.
Sometimes the awkwardness is endearing, like when Hall makes open and humble reference to his "attempt to return to late night," acknowledging that these first shows are one long job interview. (And I would be remiss as an American if I didn't mention that that's exactly what they are, and that Conan and Jimmy Fallon were both horrendous in their debuts as late-night hosts, and that critics hated Letterman at first too.) But sometimes, during his monologues, Hall seems like Hank Kingsley subbing for Larry Sanders, stepping on his own punch lines with gratuitous ad-libs. "It's sad," he'll say after a joke, but he'll lisp it a little, so it comes out like "It's thad!" And sometimes he's Unfrozen Caveman Talk Show Host, frightened and confused by 21st-century developments he's had more than a decade to get used to. On Wednesday, introducing musical guest Nas, he held up a Life Is Good CD, referred to it as an "album," then checked himself: "We don't even say album no more, we say CD, or link, a lot of crazy things — but it look like this." Wait, who calls an album a "link"? What year is it? Who is watching this? How long can it possibly go on?
---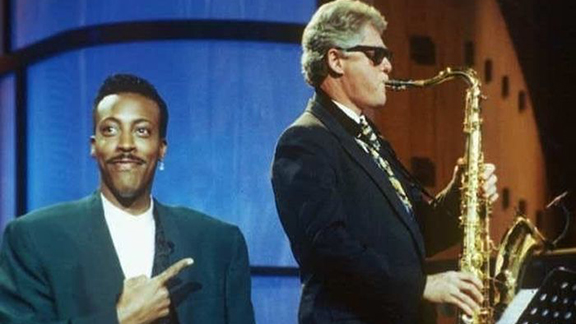 Hall grew up poor in Cleveland. At first he wanted to be a preacher, like his father; later, after his parents split up and he and his mother struck out on their own, he wanted to be Johnny Carson. He made his way to Chicago, got discovered doing stand-up in a nightclub by singer Nancy Wilson, was urged to relocate to Los Angeles by Wilson's manager, drove west in a Ford Pinto, lived in an $18-a-night hotel, and survived by eating food off supermarket shelves for a while. He opened for everyone from Tom Jones to Patti LaBelle, and struggled for years to win over industry types who kept telling him, in so many words, that he and his material were too black for mainstream bookings.
Once — he told this story to the L.A. Times, years later, during the first season of his first show — while taping a game-show guest spot on the NBC lot in Burbank, he snuck over to the darkened set of The Tonight Show, pulled the tarp off Johnny's desk, sat down, and conducted an imaginary interview with Cher. He would eventually land his first late-night job — a brief stint as Alan Thicke's sidekick on the soon-canceled Thicke of the Night — but wouldn't actually appear on The Tonight Show until 1986, thanks to the insistence of guest host Joan Rivers. When Fox gave Rivers her own late-night show the following year, Hall became a regular guest, and when Fox fired Rivers, they called Hall to replace her. It was a 13-week gig — Hall was there to fill air time while the network found something better to put there. But being on a doomed show turned out to be liberating in a way, and Hall was impressive enough in the job that Fox eventually offered him a show of his own. Instead, Hall went off and starred opposite Eddie Murphy in Coming to America and signed a TV deal with Paramount.
Today it's virtually impossible to watch footage of Hall swagging around in Playskool-colored leather jackets and silk suits with Stop Making Sense shoulder pads without seeing him as the lovably obsequious cheese ball he always was. During a mid-'90s tiff too dumb to summarize here, Roseanne called him a "black nerd," which was actually pretty perceptive; you could see it whenever he got to pal around in public with Murphy and Magic, whose presence made him visibly giddy. But in pre-postracial America, even a black nerd had to tread lightly. As the first-ever African American host of a late-night talk show, Hall was caught in a classically American racial double bind, simultaneously criticized for fawning over corny white celebrities and accused of willfully alienating white audiences by booking too many black guests. The first thing you notice if you scroll through an Arsenio Hall Show episode guide is how racially counterbalanced-to-the-point-of-absurdity each show was. Richard Grieco and Tupac! Ralph Fiennes and Freddie Jackson! Frank Zappa, Edie McClurg, and Jackée! Sam Elliott and Kool Moe Dee!
Hall was the perfect talk show host for the early '90s, a moment of transition in white America's relationship with black pop culture, because he seemed to like everything without liking any one thing too much. Peri Gilpin? Megadeth? Park Overall? Boogie Down Productions? Hugging guru Leo Buscaglia? Dope talents, one and all! We're all mud-colored people who like celebrities in the end! Every so often, he'd pick a battle — calling out Vanilla Ice as a big phony or, more problematically, shouting down Queer Nation protesters who heckled him from the audience about not booking gay guests — and give us a glimpse of a thornier human being with actual preferences and a sense of outrage and buttons that could be pushed. But his core temperature was always cool; he had a business to run.
Like a lot of transitional cultural figures, he was superseded almost immediately by hipper, less conciliatory successors. Hall's show had been on for a little over a year when Fox launched In Living Color, a gleefully profane sketch outfit that made Hall's naughty-boy bad host! shtick look silly. In a strangely gleeful 1992 story about a dip in Hall's ratings, the Los Angeles Daily News called him "a plastic prince, a shallow Hollywood glad-hander … [and] a publicist's dream, building his guests into demigods with his unfailingly lavish praise." The myth persists that when his show was finally canceled two years later, it was because Hall had given Louis Farrakhan almost a full hour to rant, more or less unchallenged, about Malcolm X's assassination and Michael Jackson's innocence. The real issue was the shifting late-night landscape: The launch of David Letterman's Late Show pushed Hall's show off most of the CBS affiliates that had carried it, just as the short-lived Chevy Chase Show had displaced him from Fox stations.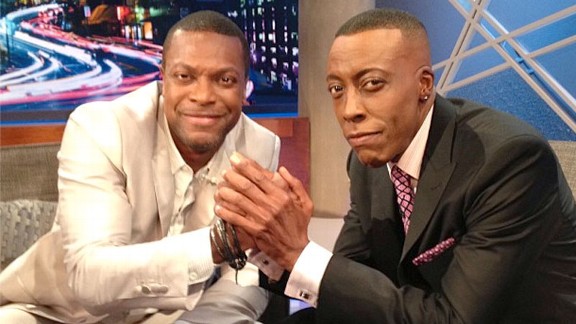 During the new show, Hall has dropped a few references to having walked away from the show to raise his son, but his son wasn't born until 1999, and Hall's 1994-to-present IMDb credits list look an awful lot like the résumé of a man determined to continue appearing on television by any means necessary. He has been a Hollywood Square. He has been the host of the Star Search revival and the YouTube clip show The World's Funniest Moments. He has made dozens of appearances on Leno's Tonight Show. He has starred as Hong Kong action star Sammo Hung's wisecracking partner on the cop show Martial Law, and as a pimp named Tasty Freeze in Scott Sanders's blaxplomedy Black Dynamite, and in a short-lived ABC sitcom that was called Arsenio even though Arsenio's character was an Atlanta sportscaster whose name was "Michael." Then came Trump, and Celebrity Apprentice, and the chapter we're in now, in which Hall returns to late night at 57, seemingly even more driven to ingratiate himself with the American public than he was at 30.
And sure, part of that is calculated — he's asking America politely if he can have the spotlight back. But he's also clearly desperate to nail it, to the point that he sacrifices the feeling of looseness and spontaneity that was the old show's best feature in favor of an oddly stilted professionalism. Hall knows from experience that the death of your career doesn't kill you in real life; imagine how much fun he'd be if he let that knowledge guide him and allowed these interviews to become relaxed, conversational, even loopy and digressive. He'd be the black Craig Ferguson — which I admit is probably an idea that appeals to me way more than it does to Hall or his advertisers. But at this point he's white-knuckling it, and opportunities are being missed.
Hall had Ice Cube on Tuesday's show. Ice Cube, who once rapped "You ask me did I like Arsenio? About as much as the Bicentennial" on a song called "The N—- You Love to Hate," because Hall had turned down N.W.A. for a booking on the old show. This should have been the show's first real moment — an authentic, funny rapprochement between two unlikely showbiz survivors. It almost got there; Hall said he did actually ask Paramount for permission to book the World's Most Dangerous Group. "They said no," he said, sheepishly, and Cube responded with a halfhearted crack about not knowing the extent to which the Man's thumb was on Arsenio's neck back then. But the exchange never became a conversation; Hall kept it moving, kept it light, prodded Cube to deliver an anecdote about John Singleton (Arsenio's former intern — what are the odds?) that probably really wowed the segment producer. Then he asked after Cube's wife and kids, like he's apparently going to with everyone, regardless of whether there's anything interesting to say about them.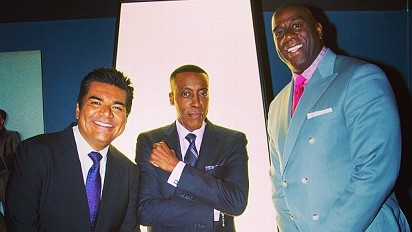 Then on Wednesday, Hall's first guest was Magic Johnson. Hall and Johnson have been friends for more than 20 years. Johnson came on Hall's show in 1991 to announce that he'd contracted HIV; Hall later became godfather to Johnson's son, Earvin "E.J." Johnson III. Two guys who've known each other forever, just talking — and yet somehow Hall managed to take it to a stilted, EPK-ish place. Here is an actual question Arsenio asked his good friend Magic on Wednesday: "Your wife! I love the way her business is flourishing!" (This was a reference to what Magic referred to as Cookie Johnson's "jeans effort," a line of denim that is available "in Nordstrom and all the big stores," and is designed to flatter — well, here Magic used his hands to describe the curvature of an ample rear end in the air, and Arsenio helpfully filled in the blank by saying "That onion!") And this is another question: "Did President Obama come to you and say he needed your help to further the cause of kids and education and stuff?" (Apparently he did.) And here is the entirety of what Magic had to say about the Announcement, about the experience of sitting alongside Arsenio and saying the most life-changing words he'd ever said in public life: "I came on your show 27 years ago, announced HIV. Remember that? That was a moment."
It sure was!
Again: It's still early, and if we judged all late-night hosts by their first three shows, nobody would make it past the Chevy Chase mark. Hall signs off every night by saying "I'll see you in 23 hours," and I don't doubt he spends most of those hours wide awake, staring at a dry-erase board, working as hard as he can to fill the next show and the next show and the next show with content that won't make us hate him. Or maybe he just sits around wondering how soon is too soon to reintroduce the world to Chunky A. Either way: At some point, once Hall has finished kicking it old-school with every celebrity friend he's ever made, once he has checked in with Donna Mills and Cree Summer and Ken Griffey Jr. and the Amazing Jonathan and Das EFX and Robert Englund and Bill Clinton and the ghost of Dennis Wolfberg, he's going to have to turn his attention to the same boring modern-day entertainers every other talk show fights over, at which time Arsenio will either fail by failing or fail by becoming competent and safe. Right now, though, the show's in a strange, magical free fall that I urge you to experience firsthand. It's as if Arsenio is dying, and all his old pals have built a set and gathered around him to let him do the thing he loved most one more time, exactly the way he used to do it, and for added realism they've convinced people like Mac Miller and Lisa Kudrow to drop by and pretend it's a real show. Except it is a real show! More or less.
Filed Under: Late Night, Nostalgia, Snoop Dogg, TV News