Judging The X Factor: The Power-Mad Demi Lovato Must Be Stopped
Ray Mickshaw / FOX
For reasons still not entirely clear to them, Grantland editors Jay Caspian Kang, Mark Lisanti, and Emily Yoshida have decided to track the second season of The X Factor. Yes, they get paid for this, but someone also pays the people who scrape skull fragments from the walls at murder scenes.
TEENS
Carly Rose Sonenclar

Kang: This might be the nicotine patch talking, but Carly Rose might have revealed too much about herself last night. In the pre-song clip that introduced her family, she referred to Westchester, New York, as a "small town," which is like calling Daniel Day-Lewis "this guy who does indie films." Then she tried to pull the heartstrings by having a Skype conversation with her brother, who is now a sophomore at college.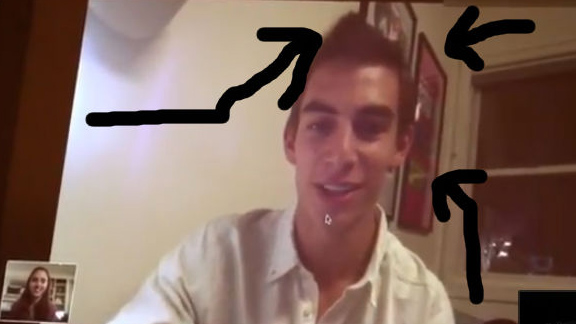 Take a look at this screenshot and follow where my beautifully drawn arrows go. Carly Rose's brother apparently FRAMES HIS DORM ROOM POSTERS?!?! This is unacceptable. Dorm room posters should be duct taped to the wall and should be encrusted in a minimum of two millimeters of bong resin and 13 flecks of vomit. How else do you get the "Two Paws Up" salute from Spuds McKenzie, party animal?
Carly Rose's "airs" were enough for me to finally pull the plug on my support for her X Factor campaign. Fine, she can sing. But as Nicole Scherzinger said last year, "the X factor is undescribable," and as good as Carly Rose might be, she just doesn't have that undescribable star quality. Also, how bad can your life really be if your SAD PIANO bit can only dredge up the "smallness of Westchester" (a good name either for a porno or a really boring MFA novel) and some brother who is away, not at war, but at some college where they apparently frame their dorm room posters and spit on the grave of Spuds McKenzie?
Lisanti: As someone from Westchester County (Yonkers, represent! [fist-pounds DMX through four inches of bulletproof glass during visiting hours]), these constant references to Westchester have confused me. It's a county, not a town. And so I just tumbled down the Wikipedia hole to determine which town she's actually from. (It's Mamaroneck, cool story.) Anyway: Carly Rose is not just a ringer, she is a GIANT ringer. Broadway. Movies. This:
Sonenclar has sung the National Anthem for the New York Knicks at Madison Square Garden, the Los Angeles Dodgers at Dodger Stadium and at the U.S. Open Tennis Tournament in New York City.[7] She has performed at numerous charity benefits including one at which she was accompanied by the ex-New York Yankee great, Bernie Williams, who is a world-class Puerto Rican-born guitarist and recording artist.
Bernie Fucking Williams! She is New York royalty. This is the biggest Grantland singing competition recap scandal since we discovered that Skylar Laine didn't just spend her days rinsing out tobacky spittoons in the back of her family's lunch counter, she occasionally locked up the gun-check closet and moonlighted as Annie in a national touring company. The world is spinning off its axis. I just vomited all over my Purchase Community House Summer Camp staff shirt. Who are we supposed to trust if all of our dearly held illusions can be dispelled by a simple Google search we should have done a month ago?
Yeah, Carly's the most talented singer on the show, but she should be. She's [get name of someone famous from Broadway from Andy Greenwald TKTK]! Betrayal, betrayal. Do you think she can get me Bernie's autograph?
Yoshida: The nice thing about finding out that someone was "big on Broadway" before coming to The X Factor is that that eliminates one of the very small number of dignified alternate career paths for a winner of a singing competition who can't record a hit. You can't spend two months moaning to America on national television about how you can't go back to where you came from, then expect all those makeup artists and wardrobe people to do you any favors when you finally deign to put on your Grizabella ears for a revival of Cats. Carly Rose is probably going to come in second or third, which means no contract and no $5 million, and all I'm saying is that she better hope Smash gets renewed for a third season. (Or Bunheads.)
The Sort-of Surprise Return of Diamond White

Lisanti: This will be the first and last time I ever type these words, but Kang was right: Once you go Whitney early, like Diamond did in the audition rounds, where is there to go? We're right back to Whitney. (I don't remember if Kang said this in reference to Diamond, but he brings it up with every "pipes-y" female singer on every singing competition show, so he was bound to hit on it eventually. When he plays roulette, he buys every number on the table. You can't really argue with the strategy. It keeps all those annoying highs and lows to a minimum. Haha, jk, Kang loses all his money in Vegas every other month. He's on the next episode of Pawn Stars haggling over signed Grantland Quarterlies with Chumlee.)
Anyway: Diamond White had nowhere to go, and she went there. They brought her back (after swearing they weren't bringing anyone back; you got us again, trickster Cowell!), and she was fine. If they really wanted this to feel like a twist, they would have turned her over to L.A. Reid and (1) alleviated some of his crushing depression at having to coach the Hopeless Olds, and (2) freed poor little Diamond from Britney's clueless stewardship. BTW, note to whatever wardrobe stylist decided to dress her all in white: Congratulations. Your sartorial literalism was so perfect even Mario Lopez, who is basically a Teddy Ruxpin playing an audiobook of Billy Bush's self-narrated memoir, remarked on it. I guess after the 14 hours deciding what random theatrical elements you're going to hot-glue all over Paige Thomas, there's not a lot of time left for Diamond.
Kang: [Drops mic, examines torso for a space to stick on yet another nicotine patch. Walks around office to ask fellow Grantlanders to sign copies of the quarterly. Calls Chumlee and asks, "Do you want Mark Lisanti's autograph?" Chumlee says, "Wait, that guy who played first base for the Binghamton Mets in 2006? Why would I want his autograph?"]
Yoshida OK, so we can't outlaw Whitney Houston songs on The X Factor, and we can't outlaw 13-year-olds on The X Factor, but can we, at the very least, outlaw 13-year-olds singing Whitney Houston on The X Factor?
I will say nothing more except I had been totally comfortable with last week's decision, and there better be at least two double-eliminations this season.
YOUNG ADULTS
CeCe Frey

Kang: She might be a new form of flash fiction, where the narrative arc of a story happens within the time it takes to bleach your hair and screech out "Eye of the Tiger." This season, we've seen CeCe go from "Arrogant brunette with crazy eyes and Audrina Patridge no-upper-lip thing" to "Relatable theater girl with big dreams and a big heart but no tact and Audrina Patridge no-upper-lip thing" to "Our favorite contestant" and now to "Maybe the most explosively bad performance since John Stevens did 'Crocodile Rock' on Idol." [Editor's note: See also Megan Joy's "Rockin' Robin."] Sadly, I think she goes home tonight or else there might have been some sort of outer-space birth on X Factor, where we would get to watch CeCe build a cocoon out of her saliva. After drooling and sculpting and spurtling "Her hair is hollow gold, her wips sweet surp-p-p-rise, her hands ahh nevuh cold … she's got Bette Davis eyes," CeCe would climb into the cocoon and curl up in the fetal position and expire. Then, in two weeks, the chrysalis would burst and out would come one of the girls from Dead or Alive Beach Volleyball.
Yoshida: Poor CeCe. I think it's pretty clear that she did not want to do this song. When Demi asked her twice (scarily!) if she liked the choice, first came a barely audible, shaky "Yes, I did," and then a vague "This week I wanted to show all of you at home that I can be that fierce girl that walked into the competition." In a competition where there are at least two other acts that I can actually imagine hearing on the radio, CeCe is really starting to look out of touch (with herself) and out of place. It's not entirely her fault — her production has been terrible ever since the Peroxide Takeover — but some of these performers take more kindly to bells and whistles and over-the-top staging than others (Hi, Arin Ray!). CeCe may have gotten attention for having "big personality," but it has proven far too easy to scare off.
Lisanti: As much as we appreciate the high-level seafoam ponytail game Demi Lovato's brought to the competition, we all seem to recognize what a disastrous coach she's been. It's not her fault; she's 19, she doesn't know how to do anything outside of her own career. Ostensibly, she's there to provide a window into What the Kids Want to See, but I'm going to step out on a limb and suggest that What the Kids Want to See is probably not mediocre Survivor covers. (Their parents are always trying to get them to watch Rocky III so they can explain in hyperventilated detail who Mr. T is; they've had enough of the song.) But Demi has accomplished the impossible: making me sympathize with CeCe. Every week since Lovato took over her life, she's had to walk out onto that stage, a soul-crushed shell of her former unbearable, cheetah-spackled — but authentic and lively! — self, and execute whatever C-minus Ke$sha/Gaga parody Demi's half-baked for her. And every week, she's had to face the reckoning of a disappointed judges' panel, trying to keep it together in the face of another grudging critical execution, when all she wants to do is break down in tears and sob, "Just tell me what to do, Skyscraper! I'll do anything! I'll kill Victoria Justice for you, anything! I can't go back to Decatur!"
Paige Thomas

Kang: You can't just hide her terrible personality and her mediocre pipes every week by dressing her up in bat-shit crazy costumes and lowering her from the ceiling or putting a bunch of nails in her head. I don't really know how people get booted off this show because my fast-forward button strangely gets stuck on Thursday nights when X Factor comes on, but I hope America or Jeebus or Britney saves CeCe Frey and lets Paige Thomas go back to passive-aggressively blaming her daughter for her failed dreams.
Yoshida: By Season 5 this show is just going to be called America's Next Top Production Designer: Celebrity Edition. Actually, can we just go ahead and rename it now so I feel more interested in having opinions on this Cirque-lite nonsense?
Lisanti: I still really like Paige, and I like the insane things they're doing with her every week. But please keep in mind that I'm very easily amused and that Paige is very attractive.
GROUPS
Lyric 145

Kang: I really don't know what they were thinking, except maybe Simon is bored and wants to relive his childhood love of Mary Poppins by dressing Lyric 145 up in acid-fantasy costumes and forcing them to scream their way through "Supercalifragilisticexpialidocious." (Haha, screw you, copy editors!)
More important, I want to take a moment to talk about Demi Lovato's eyebrows. Actually, I just wanted to bring them up and move quietly out of the way.
Yoshida: Audible embarrassed "ugh" when Lyric proudly pointed out that "those were all Mary Poppins lyrics." I don't know who to blame for this disaster. Simon said it was Lyric's idea, but isn't it his job to see a first rehearsal and go "You know, maybe you guys should add your own verses so it doesn't just sound like the end credits to a shelved 'streetwise' remake of Mary Poppins from 1992?" It shouldn't surprise me that Simon thinks you can just rhythmically shout the lyrics to a song and call it rapping, but I expected more from Lyric 145. (Also, they know that the Queen of Hearts and the Mad Hatter are from a different movie, right?)
Lisanti: All the best hip-hoppists are doing psychedelic Disney raps these days. Simon's just tapping into that. He knows what sells.
Emblem3

Yoshida: As someone who is simultaneously a music fan (as in, I am always rooting for music to not be awful) and a realist who knows that Emblem3 is going to win, every week I find myself both wanting to proclaim big ol' Finkeian "TOLDJA" to anyone who thought Emblem3 were "too cocky" or "not talented enough" to blow every other act on The X Factor out of the water, and then frantically looking for reasons why that might not actually be the case. Then I must evaluate which sentiment feels the most honest, and right now, the part of me that wants to think that Emblem3's high-energy teenage horndog act is going to wear thin, even if they execute it perfectly week after week, is quietly crossing her fingers behind her back. Because then I think, no, all they have to do is play the Plain White T's "Hey There Delilah" card and they'll have Demi and L.A. blubbering words like "versatile," "soulful," and "mature." And then I think, OK, maybe they'll hit a bachelorette party crossing Sunset after going thirdsies on a bottle of protein-infused vodka and have to drop out of the show? And then I think, actually, that's a far more likely turn of events.
Lisanti: I shall entertain no argument to the contrary: Emblem3 is the thrilling future of music I will never listen to.
Kang: Crown them. (Aaaand Kang fills his yearly "sports blogger" quota for "Crown them" Dennis Green references.)
OLDS
Jason Brock

Kang: I just can't.
Yoshida: Anyone who has ever been cast as a tree, forest fairy, or watchperson in a school play knows how there's always going to be some director or assistant director who waaaay overcompensates for what they perceive to be your crushing disappointment by high-fiving you and calling you their "Rock Star Tree" every time they pass you backstage. "Mr. Entertainment" is L.A. Reid's "Rock Star Tree."
Lisanti: Inside any of L.A. Reid's coaching sessions with Jason Brock:
[Jason steps out from behind a dressing screen, wearing some kind of "fun" jacket.]
Jason: What do you think?
L.A. Mr. Entertainment!
[Reid picks up a hammer and smashes the remaining pieces of the phone he destroyed when they called to tell him he was mentoring the Olds.]
Tate Stevens

Kang: Do you think they'll reconfigure the categories again next season? Because I still can't quite wrap my head around why they continually trot out the "Olds." Do they think that old people will root for old people and there will be some 50-year-old who will spark "Lipitor-sanity" around the country as old people flock to their television sets on Wednesday nights to watch one of their own dazzle the crowd of literally dozens at some sound stage in West Hollywood?
Yoshida: The only explanation I can think of for Demi saying that Tate Stevens "looks like a pop star" and Vino Alan does not (Shhh: neither do) is that Vino actually stands a good chance of making it to I'm gonna say the Top 8, and Demi wants to keep him on his toes. Either that, or "You look like a pop star" is Demi's "Rock Star Tree," which is going to get really confusing in the coming weeks.
Lisanti: The cutaway to L.A. Reid singing along to Tate's "Wanted Dead or Alive" might be my favorite moment of the season so far:
If these shows allowed any room for human emotion, I'd feel bad for Tate. In a week or two, he'll be back at his day job of eating forklifts, and his mind's going to drift back to that electric moment of connection between him and his mentor, not realizing L.A. was actually praying that Richie Sambora would appear to club him to death with a double-necked Ovation.
BRITNEYWATCH

"I have one word for you: Hot, hot, hot!"
Jay Caspian Kang always bets on black. Also red. And green. Just give him a color, he's betting on it; he has a system.
Mark Lisanti is soooo excited that Carly Rose knows Bernie Williams. Squee!
Emily Yoshida has already picked out names for each of her five children with Emblem3, and they all end in numbers. Brayton818 is her fave.
Filed Under: Britney Spears, Carly Rose Sonenclar, Demi Lovato, Simon Cowell, The X Factor