Escape From Pop Purgatory: Backstreet Boys Are Back With In a World Like This
Jo Hale/Getty Images
Welcome to Escape From Pop Purgatory, where we check out new music made by people who are more well known than 98 percent of the oppressively "cool" artists over whom the media obsesses, and yet are commonly perceived to be years past the point of their cultural relevance. (Pop Purgatory is fame plus time.) Because we're unwilling to let albums released by established if unfashionable pop culture institutions come and go without a proper listen, we're giving these damned souls a shot at redemption — or at least some much-needed publicity outside of their respective fan bubbles. In this installment, we look at the new LP from the most popular '90s boy band not named 'N Sync, the Backstreet Boys.
Period of Peak Fame: 1997-2000. In light of Justin Timberlake's solo success, people often forget that it was the Backstreet Boys (and not 'N Sync) that ruled the boy-band roost in the late '90s. In fact, when it comes to groups of absurdly well-manicured guys who sing and dance in unison, nobody has ever been more popular than BSB, which has sold a staggering 130 million albums worldwide. Most of those records moved at the height of the pre-Napster music industry boom, which was fueled by blockbusters like 1997's Backstreet Boys (10 million sold in the U.S. alone) and 1999's Millennium (12.2 million in the U.S.). Backstreet was so huge that 2000's Black & Blue was considered a relatively modest seller, notching "only" 5.4 million domestically and 24 million worldwide. Even music critics came around eventually: Only the grumpiest writers could deny the merits of "I Want It That Way" as impeccably sculpted cheese.
What's Happened Since: After touring in support of Black & Blue (and dealing with the fallout of A.J. McLean's highly publicized rehab stint), BSB went into hiatus mode for several years, emerging only to squabble publicly with their management and record companies. In 2005, the group returned with Never Gone, a "rock" record that ditched BSB's signature Euro-pop sound in favor of live instrumentation. Backstreet's days as mega-stars were behind them at this point, but they were still stars — Never Gone, 2007's Unbreakable, and 2009's This Is Us all sold respectably for an aging teen-idol act, with each debuting in the Billboard Top 10. (These albums will henceforth be known as the "defensively titled record" trilogy.) A Top 10 record doesn't mean as much as it did at the start of BSB's career, obviously, but these guys have deflated at roughly the same rate as the record business. So long as music is being sold somewhere on this planet, BSB will have new product to hawk and customers willing to buy it.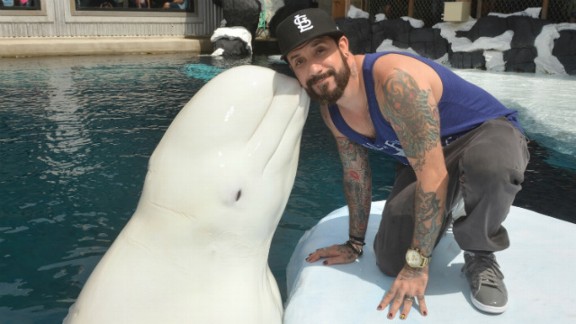 Where Are They Now: Which brings us to the new In a World Like This, which is timed with BSB's summer tour with 98 Degrees and Boyz II Men. [Correction— As a commenter points out, it's NKOTB on the tour, not BSB. We are sick to death about the error.] (The album also heralds the return of prodigal member Kevin Richardson, who departed after Never Gone.) Unlike the group's backward-looking, nostalgia-baiting live shows, In a World Like This is solidly fixed on the future, for better or worse. It continues BSB's flirtation with rock music — or rather an acoustic, narcotized, and consciously "mature" version of rock music that sounds like coming to grips with death feels.
Much of the record seems to have been in anticipation of being performed in large spaces — songs like "Show 'Em (What You're Made Of)," "Make Believe," and "One Phone Call" boast soaring arena-pop choruses that are reminiscent of blandly broseph-y rock act The Fray. Elsewhere, BSB attempts to go in the opposite direction, remaking itself as a quintet of Jason Mrazes on gently plucked folky numbers like the offensively inoffensive "Try." At least when Backstreet reteams with Swedish super-producer Max Martin — who masterminded "I Want it That Way," among other Clinton-era bubblegum smashes — on the title track, In A World Like This approaches the outer gates of sticky-sweet fun. It's the sort of song BSB once specialized in: It will get stuck in your head even if you despise it. But overall, it's hard to remember anything about World once the record ends.
Representative Track: "Permanent Stain" isn't really representative of In a World Like This, because it's a Giorgio Moroder–biting disco song and not pleasant late-thirtysomething person adult music. In the context of late-period BSB, though, it's kind of a jam.
Escape From Pop Purgatory: No. Save your money for a concert ticket, fans.
Filed Under: Escape From Pop Purgatory