The Beautiful Mind of Andrew Luck
Joe Robbins/Getty Images
Andrew Luck may be the future of the NFL, but on Sunday afternoon, he didn't look the part. He was a losing quarterback, with sweat-drenched hair glued to his forehead and a scraggly, mustache-less beard barely clinging to his chin. The Rams had just hammered the Colts 38-8. Luck was the worst he'd been all year. His three interceptions matched a career high, and overthrown passes sailed over receivers all afternoon. But even on a day when his right arm failed him, the other feature that has always set Luck apart — his mind — was sharp. "It's tough when you can't run the ball," he says, "but did I have a sense of foreboding when we couldn't? No."
The Colts have spent this season mixing staggering wins (San Francisco, Seattle, Denver) with confounding losses (Miami, San Diego, St. Louis), but before Sunday, the one certainty had been Luck, in just his second season. If an 11-win rookie year could be underwhelming, Luck's was. The Colts made the playoffs, thanks to a series of improbable fourth-quarter wins and a healthy dose of overachieving, but among the Big Four young quarterbacks, it's arguable that Luck's first season as a starter was the least impressive. This year, Russell Wilson's Seahawks sit at 9-1, but individually, Luck has begun to put some distance between himself and the rest of his class. His knack for late-game heroics has carried over from his rookie year, and in every other way, he has improved from the player he was a year ago — to the point that the Colts' insistence on sticking with their DOA running game has become maddening.
A degree from a top-flight school isn't the only factor in NFL success — just ask Ryan Fitzpatrick — and even while looking haggard in defeat, Luck, in a blue Nike undershirt, looked every bit the once-in-a-generation specimen he was at Stanford. Nothing about his athleticism is "sneaky" anymore, but his imposing stature still goes unmentioned too often. Luck gets hit more than any quarterback in football — one possible explanation for the Colts' dedication to that woeful running game. In the second half against St. Louis, while scrambling toward the end zone on fourth down, Luck took a shot from James Laurinaitis that echoed through Lucas Oil Stadium. He was off the turf a second later. Close up, his forearm looks like the barrel of a Louisville Slugger.
But what stands out about Luck, over and over, is the way he talks. Not how he sounds — the deep rumble of his voice has always been more Andre the Giant than Andrew the Genius — but the phrasing, which feels anything but forced. When arguing that the Colts don't want to fall behind only to catch up, he actually catches himself before finishing the phrase "modus operandi." These are just glimpses of Luck's intelligence; he has been a voracious reader since childhood. But the uniqueness of Luck's mind has more to do with how it works than with what he has learned. Ask those familiar with Luck's pursuits away from football, and you hear stories about a restless thinker bent on what's next. In the NFL, the answer to that is easy. He is.
---
John Barton first met Luck in late November 2009, just as he was becoming Andrew Luck. It was the eve of the Big Game, Stanford's annual rivalry with Cal, and Barton — Luck's academic adviser and the head of Stanford's architectural design program — was meeting with Luck about applying for his major. Stanford's standing within college football was the highest it had been in three decades. The Cardinal was 7-3, the 14th-ranked team in the nation, and bowl-bound after a 55-21 blowout of USC. The improbable run ended the next day against Cal, with a 34-28 loss sealed by a fourth-quarter interception from the team's redshirt freshman quarterback.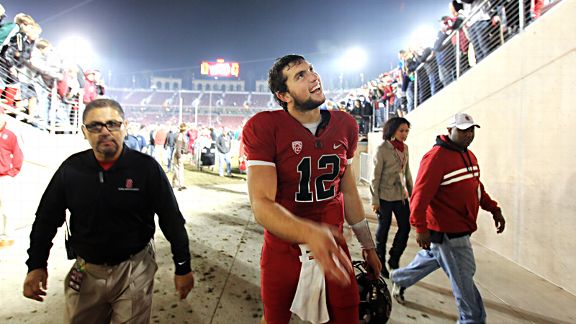 A few loose ends remained from the pair's Friday meeting, and Luck returned to Barton's office on Monday. The game never came up. "Here was the guy who was going to save Stanford football and had brought them to their first bowl game in god knows how many years," says Barton. "And two days after throwing an interception late in the game against their archrival, it was, 'OK, time to move on.' I thought that was pretty impressive."
Barton quickly noticed how adept Luck was at compartmentalizing his life. Most of his architecture instructors had no idea that Luck was the Stanford quarterback. Others didn't realize that Luck and his girlfriend — also an architecture student — were romantically involved. "When he was here, he was an architecture student," Barton says. "He wasn't a guy who played football and happened to be an architecture student."
Stanford is full of the best young academic minds in America, but many of them, Barton says, remain products of a rigid education system defined by finding the correct answer. Several of the exercises in Barton's lower-level courses are aimed at stretching those limitations, including one in which students are simply handed 20 blocks of differing sizes and instructed to assemble a structure. The test is to find how those blocks relate to one another, and also what rules can be manipulated to create those relationships.
"We tend to teach facts, but when you go to work, nobody acquires facts," Barton says. "You do something with them. You manipulate them. You order them. You create new things from them. Andrew seemed to have that ability more than most students his age."
Barton recalls one project from 2011, when Luck's class was working on plans for a new art history building on campus. Luck's plan involved a separation of the public and private parts of the structure, where the designation of those areas could also be seen in whether they were made of glass or stone. "He'd taken the program and divided it up in a way that he could order, and then chose materials based on that, and then structural systems that supported that as well — literally and figuratively. That's pretty sophisticated stuff for 21 years old."
There are two lessons Barton hopes students learn as part of Stanford's architecture program. The first he calls the "Ask for forgiveness, not permission" corollary, the ability to test the rules for reasons beyond the satisfaction of breaking them. The second, which relates to the first, is the development of confidence in their own ideas. "In particular, Andrew had confidence," Barton says. "He was good at thinking outside the box, but more importantly, he was confident in what he did and was able to present it very well.
"It takes courage to be outside the box, but there's a kind of audacity [in what Andrew has]. Here's what I'm doing, here's a very clear presentation of why, and it's done so confidently that you can't question it in the end."
---
Isaiah Kacyvenski is one of the few NFL alumni whose academic résumé leaves Luck's wanting. He graduated cum laude from Harvard in 2000 before spending seven years as a linebacker for the Seahawks, and when his football career ended, Kacyvenski returned to Harvard for his MBA.
Among the handful of offers waiting after graduation in 2011 was one from a company called MC10, a tech start-up based in Cambridge, not far from the Harvard campus. The company specializes in ultra-thin, stretchable computer chips that people can wear to gather biological data. It was the exact sort of grand ambition Kacyvenski was after.
Today, he's the head of MC10's sports division and the chair of its Sports Advisory Board, which also features Kacyvenski's former teammate — and current Colts backup quarterback — Matt Hasselbeck. It was that connection that brought Luck and Kacyvenski together.
Their first meeting happened this spring, in the back of Luck's favorite Indian restaurant in downtown Indianapolis. Even as he got on the plane, Kacyvenski wasn't sure what to expect. He knew what he'd heard about Luck — that he was bright, thoughtful — but as with most transcendent talents, there's often an inclination to overstate qualities that might seem unremarkable in anyone else. "I didn't know if [he would] look at this as a waste of his time," Kacyvenski says. He found it to be anything but.
"Andrew does not have 'big time' in him," Kacyvenski says. "He has an innate ability to make sure the person he's talking to, he has your total focus, and this is a meaningful conversation."
Kacyvenski made scattered trips to the Midwest over the next few months, and each time he returned, Luck was waiting with a new set of ideas. Along with the information provided on MC10 and its products, Luck did his own research, and by the next conversation, he would have a handful of different uses that extended to almost every branch of the company. "He's someone that's always thinking," Kacyvenski says. "He loves to challenge. He loves to question. He loves to understand why. I think that's really at the core of what Andrew is all about. He wants to know everything."
Shortly before Luck signed on with MC10, there was one more meeting with Kacyvenski and the company's CEO, Dave Icke. A delayed flight pushed the sit-down back almost three hours, but when Luck finally arrived at the hotel — on his bike — he initiated the conversation in a way Kacyvenski has never seen before.
"The first question he asked our CEO was 'Listen, I know a lot about your technology and what you guys have done. But I want to hear what you guys are going to do, and I want to hear it from the horse's mouth,'" Kacyvenski says. "That's how the meeting started."
The answer was enough for Luck, and early last month, the company announced that Luck had joined its Sports Advisory Board. As other star quarterbacks shill pizza and cold cuts, Luck will be heading to Cambridge in March to meet with the other members of the board and brainstorm new intersecting points between sports and technology. As Kacyvenski says, there's nothing wrong with the former. It's just not who Luck is: "He's a legit superstar, but he also has to feed this other part of him, this quest for knowledge."
---
Thanks to Hasselbeck, Luck's cell phone may be the most famous one in America. From what we seem to know about Luck, it fits. He's always been characterized as the no-frills nerd, and at this point, it's a characterization he's willing to embrace. "Now, I think he's just trying to prove a point," Colts left tackle Anthony Castonzo says of the phone.
Castonzo isn't your typical first-round draft pick, either. Luck's left tackle was a biochemistry major nominated for a Rhodes Scholarship by Boston College. Naturally, he and Luck hit it off. One of their pastimes, which recently came to light, is playing board games — namely Settlers of Catan. If the game's description — players try to be the dominant force on the island of Catan by building settlements, cities, and roads — isn't sufficient in describing its nerd appeal, the most well-known mention of it should be. On a Season 4 episode of Parks and Recreation, on which Luck actually made a cameo, über-geek Ben Wyatt elected a game of Settlers of Catan as his ideal bachelor-party activity. The show's writers were searching for the most uncool activity imaginable. Settlers of Catan won out.
In this way — and others — Luck is an uncommon fit for an NFL locker room, and considering the recent experiences of highly drafted, Stanford-educated players in that same setting, the question of exactly how uncommon seems more relevant than ever. Jonathan Martin was asked to fit in with a group of 53 men who spend Sunday afternoons running into people. Luck has been asked to lead them.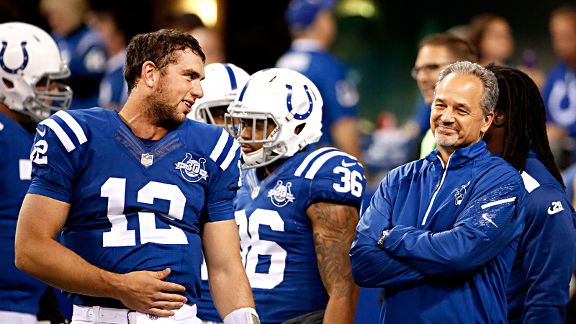 Hasselbeck has been with the Colts for less than a season, but he has already become familiar with the breadth of Luck's interests. Earlier this year, Luck invited Hasselbeck to a soccer game — in London. And recently, Luck told Hasselbeck that he was planning a trip to India to take in some of the architecture. Those are details, though, that don't much matter when it comes to relating to other players. "What people respect in the locker room, in my opinion, is two things: If you're really good at your job, or if you work really hard at your job," Hasselbeck says. "No one really cares too much about who you vote for in elections, where you go to church, what your hometown was, what the name of your high school was, whether you went to a big school or a small school, drafted high or a free agent. They don't care."
Luck's aptitude for and dedication to his job have never been in question, and when it comes to leading, he combines them with assuredness atypical of a 24-year-old quarterback. Before practices, he'll often follow Chuck Pagano's remarks with his own. "Even when I got to Green Bay as a young player, Brett Favre was not vocal," Hasselbeck says. "He would never address the team. He would never break down the team. He was just himself. He was a great player, but he kind of let other people handle that side of it."
What struck Hasselbeck even more was the confidence with which Luck spoke to the Colts' coaching staff. If a particular play seemed off, Luck would calmly, matter-of-factly ask for it to be removed from the game plan. "Even if it feels awkward at the time, he's very good at saying things like, 'Umm … Coach, would you mind if we never ran that play again? I don't feel comfortable with that play.' Just real frank." Hasselbeck says it took about seven years for him to get to that place.
The anecdote sounds familiar to Barton. "I can imagine the way Andrew said it," he says. "There was zero frustration in his voice." It's the same demeanor Barton found in the classroom, where Luck's command was a product of knowing exactly how the pieces fit. There is no panic and no doubt. Just the confidence of a man who knows how to build what he envisions.
Filed Under: Andrew Luck, Indianapolis Colts, NFL, Robert Mays, Stanford