The Growing Legend of Lance Stephenson
Ron Hoskins/NBAE/Getty Images
The Pacers are destroying the league behind a terrifying defense and two max-salary franchise cornerstones, proving, rather emphatically, that the crucial improvements they flashed in last year's playoffs were real — and indicative of more to come.
The bench is better, which is to say it now features players who can catch and dribble regulation basketballs. Frank Vogel continues to grow as a coach, managing minutes carefully and making subtle X's-and-O's adjustments as he learns more about his team and its enemies.
And, oh, hey, Lance Stephenson is suddenly playing like a point guard with killer 3-point range. Stephenson is averaging twice as many assists per game compared with last season, even though he's only logging about six more minutes on average. Numbers from the SportVU data-tracking cameras provided exclusively to Grantland bear this out. Stephenson is dribbling the ball about 125 times per game this season, up from a paltry 65.5 bounces last season, according to the data. His per-game time of possession has jumped from about 90 seconds to nearly three minutes, and he's touching the ball about twice as often. He has assisted on nearly 29 percent of Indiana's baskets while on the floor, roughly equivalent to last season's marks for a bunch of high-quality starting point guards with strong secondary distributors around them and/or score-first duties — Stephen Curry, Ty Lawson, Damian Lillard, Kyrie Irving, and others. Stephenson is also using up more possessions for his own shots, and yet his turnover rate hasn't budged at all.
Watch the Pacers' starting lineup, perhaps the best five-man unit in the league over the last two seasons, and you'll often catch Stephenson handling the ball up top, while the nominal point guard, George Hill, spots up on the wing. Ditto for the bench-heavy second units Stephenson is captaining; he has a much higher assist rate than C.J. Watson, the team's new backup point guard, and, like Hill, a solid shooter who is generally better off sharing point guard duties.
This is the on-court fulfillment of a goal Vogel gave Stephenson during the offseason. "During the summer, he told me to get ready to have the ball in my hands more," Stephenson says.
It also presents Indiana with an enormous dilemma: If Stephenson is a more versatile player than the league anticipated, how much will he be worth this summer? Can the Pacers still afford him?
It seems almost mean to talk about next summer when the Pacers are the feel-good story of the league today, and Stephenson won't do it. "The future holds itself," he says. "I'm not worrying about my contract. I'm worrying about winning." But this is how franchises have to think. This Indiana core has a championship window now, but the league's beefed-up luxury tax will make it very hard for Indiana to keep its fearsome starting lineup together beyond this season — assuming the Pacers will avoid paying the tax at all costs.
Indiana's salary situation is unusually fluid, because we won't know the actual value of Paul George's max-level contract extension until after this season. George is eligible for a rare pay bump that would kick in if he wins the MVP (unlikely) or makes the All-NBA team, as he did last season. I predicted George would not snag one of the four available All-NBA frontcourt spots (LeBron James and Kevin Durant get the first two), mostly because the competition would be so fierce this year. George is making that prediction look foolish early.
If he misses out, George will earn about $14.5 million next season, assuming the cap for that season falls around $62 million, as the league currently projects. If he makes the All-NBA team, he could earn up to $17.55 million, or any amount in between. (Russell Westbrook, for instance, passed on the raise even though he was eligible for it.) If George takes the full raise, the Pacers would be looking at a minimum of about $65.6 million in salary committed to just eight players, plus $1.5 million or so in charges for empty roster spots — about $67 million total. They'd have to fill those roster spots with actual players who might cost more than those temporary charges, and getting to this number also involves buying out Luis Scola's partially guaranteed contract. Scola's a useful player and another guy they'd have to replace.
Keep Scola on the books for his full $4.9 million, and you're up to just about $70 million with a couple of spots left to fill. (Both scenarios assume the Pacers keep Donald Sloan and Orlando Johnson on minimum-level deals.) In related news, the league expects the luxury tax line for 2014-15 to come in around $75.7 million. That would leave the Pacers only about $6 million under the threshold in this scenario. Stephenson, given his improved play and young age, is going to earn more than that on the open market. You can see how this might be a problem for a franchise that has lost money in recent years.
And Stephenson will hit the open market. Several media reports over the last few months have listed him as a restricted free agent, indicating the Pacers would be able to match any contract a rival team offers. This is wrong. Stephenson is an unrestricted free agent under the quirky rules that govern second-round picks.
There is wiggle room here. Perhaps George will fall short of All-NBA honors, or pass on the full raise. The Pacers could buy out Scola and seek a cheaper replacement. They could use the stretch provision on Ian Mahinmi or Chris Copeland, who has played eight minutes after signing a two-year, $6.1 million deal in the offseason.
But the Stephenson fit is going to be very tight. And Danny Granger, by the way, is a near 100 percent lock to play elsewhere next season. Stephenson's a higher priority. The Pacers have invested a ton of player development capital in him, and they'd like to continue reaping the benefits of that nurturing. Ditto for the question about which player should start once Granger returns this season. If Stephenson keeps playing like this, Vogel has no choice. You don't break up a lineup scoring nearly 115 points per 100 possessions and allowing just 80 out of loyalty to a rusty, aging player. And the notion that the bench unit could use Stephenson's ballhandling more than Granger's shooting is moot. Bench units already have Stephenson's ballhandling because of the way Vogel staggers minutes and mixes his starters and bench. As long as Hill, Stephenson, or George is on the floor to run the offense, the Pacers only need to slot Granger the minutes now going to Solomon Hill and Johnson.
Back to Stephenson's future. There's another alternative: swallow hard, let Stephenson walk, and use the midlevel exception (either the big one or the small one, depending in part on George's contract) to find one or even two decent cogs on the cheap. You can get solid wing players in the $3 million range under the new CBA, especially if you're a good team, though the competition gets fierce as more teams hoard cap room. The Bulls lured Mike Dunleavy Jr. at that price; the Blazers snagged Mo Willams and Dorell Wright for about $5.7 million combined. Could the Pacers go that route, chasing guys like Ray Allen, Rodney Stuckey, Jerryd Bayless, Nick Young, and Vince Carter in the veteran bargain bin? Indy fans might vomit at exchanging Stephenson for those names, but, I mean, why are you paying George, Roy Hibbert, and George Hill nearly $40 million combined if they're not good enough to compensate for a downgrade at shooting guard? George is versatile enough that the Pacers could sign whatever wings might be available, regardless of their traditional positions.
Remember: Stephenson has never even sniffed a league-average Player Efficiency Rating, and he barely played over the first two years of his career. This is not James Harden coming off his rookie contract.
But if Stephenson keeps playing like this, the bargain bin will indeed represent a steep downgrade. Stephenson has evolved as a playmaker in part because he's displaying a patience to his game that, frankly, not many people figured he'd ever show at the NBA level. His ferocious, borderline frightening end-to-end rushes have made Stephenson a League Pass favorite — everyone loves a little danger — but watch those bull rushes this season and you'll find they don't look quite the same. Stephenson is more calculating, more aware of where his teammates are and will be. He'll decelerate, veer into the middle of the floor, draw the defense there, and wait for the shooter behind him to fill the now-vacated corner. Hell, he has even slowed down to wait for trailers on a few possessions. That's right: Lance Stephenson has slowed down, on purpose, on some fast breaks this season.
"I know Scola and D-West can hit that little jump shot," Stephenson says. "So when I push it, and I don't see nothing, I just try to pass it back to them and set a pick on their guy at the same time."
The patience extends to the pick-and-roll. When defenses trap Stephenson a bit further from the hoop than usual, he doesn't panic or try to wildly split the defenders. He has calmly taken a dribble or two back toward midcourt, drawing the trap with him, and giving his screener a chance to slip into open space: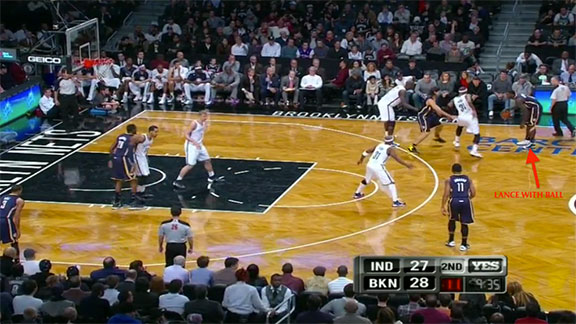 Both West and Scola are dynamite at making these kinds of cuts, catching the ball in space, and doing something productive with it. Stephenson has developed nice chemistry with each of them, and he looks to set them up for midrange jumpers.
He's even making some next-level point guard reads, improvising passes one step ahead of the defense. Here's Stephenson handling the ball on the right wing as Scola sets a cross screen near the rim for George: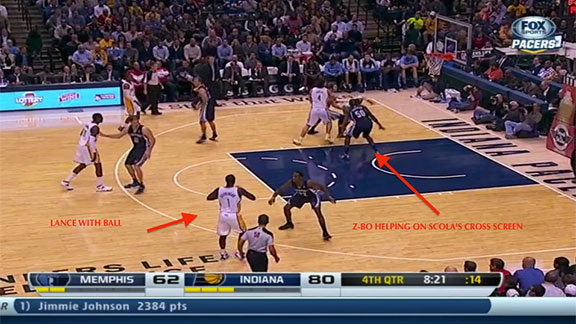 The intent is to spring George for a post-up. The Grizzlies know this, and so Zach Randolph, Scola's man, temporarily leaves Scola to muck up Stephenson's passing lane to George. And what does Stephenson do? He simply skips the middle man, bypassing the planned entry pass to George and firing a pass to Scola for an easy look: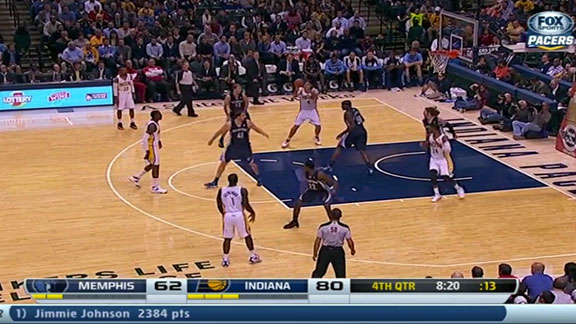 Vogel is now calling more plays, including a bunch of pick-and-roll variations, for a guy who used to get almost none. This kind of subtlety has seeped into Stephenson's defense, too. Stephenson used to be something of a jumpy mess on that end, though he could always compensate with elite speed, long arms, and balls-to-the-wall toughness. But he'd gamble in passing lanes, take circuitous routes around picks off the ball, space out and lose track of his guy, and generally do a few things each game that would make purists cringe.
Some of that still shows up. He likes to stand upright, even when a pick is coming, and that's often because he hasn't paid enough attention to realize a pick is coming. He'll get slammed with screens, making it hard for him to recover back into the play: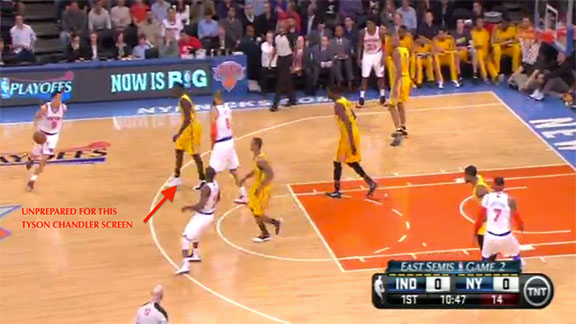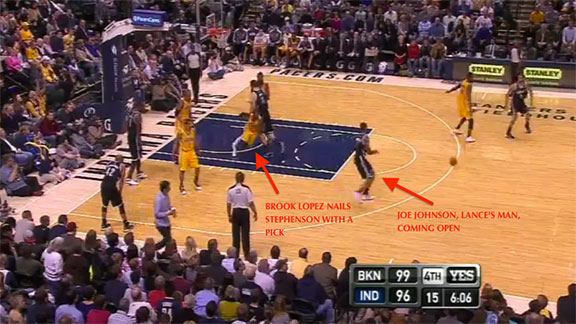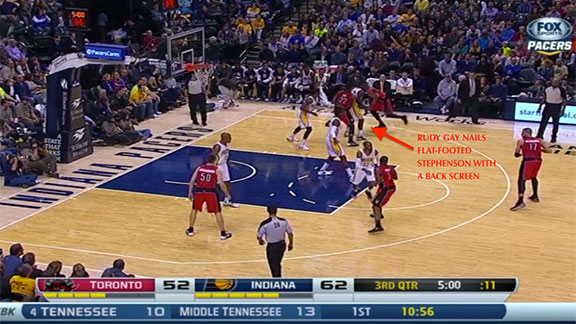 And that little lapse in attention against the Raptors results in: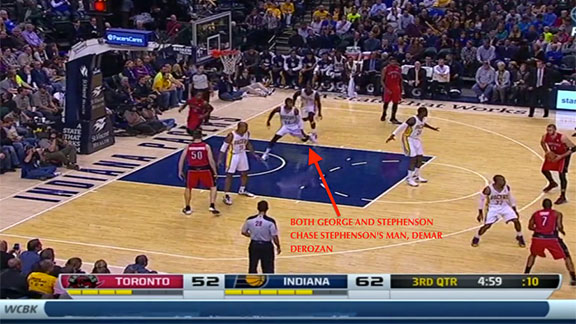 Being caught off guard like this on a pick-and-roll taking place on the wing is especially damaging, since it means the ball handler gets a hefty screen and a clean path toward the middle of the floor — where damage generally starts. "I just have to try to be more aware," Stephenson says. "I mean, I know all the other team's plays. We go over it all at shootaround. Sometimes, I'm just not aware."
But Stephenson is excising the bad habits. He has Vogel's scheme down pat, for one. He'll stick very close to a corner shooter if that shooter is Joe Johnson or Ray Allen, but he'll allow himself an extra step or two toward the paint if it's Tony Allen or Avery Bradley. And even then, Stephenson rarely overhelps from the wing, allowing the other members of Indy's human torture chamber to do their jobs.
He's a strong one-on-one defender, both in the post and in space. Attack him from those places, and you're likely to end up taking a contested jump shot or difficult floater with Stephenson's arms in your shooting window. He even managed well on LeBron in the conference finals last season after asking Vogel for the assignment during times George rested or dealt with foul trouble. Stephenson said he'd rather guard a bulky wing like LeBron than a waterbug point guard, anyway.
Stephenson just turned 23, and he looks to be making huge strides as a player. But he's never going to be a superstar. He's not going to be a no. 1 option on a good team, or a defensive wing stopper on the level of George, LeBron, Andre Iguodala, or Kawhi Leonard. He looks very much like a nice, above-average starting NBA wing. And that's really good! Not many people thought Stephenson would hit that mark after he logged just 557 minutes combined over his first two seasons, amid rumors of "attitude" issues.
But he's also starting to look pricey — like $7 million to $10 million pricey, especially since Stephenson will come with the sheen of having played under bright postseason lights. Do the Pacers really need a shooting guard at that price? The evidence is unclear. The George/Hill/West/Hibbert quartet is powerful, and it should be able to thrive with any useful shooting guard plugged in the remaining spot. The same lineup, with Granger in Stephenson's place, blitzed the league two seasons ago.
But in 326 minutes those four players logged together without Stephenson last season, the Pacers scored a shade under one point per possession while yielding about 1.020, according to NBAWowy.com. In other words: They lost those minutes. But that's a limited sample size, and with Granger injured and Indy capped-out, those minutes were going to guys like Gerald Green, Sam Young, and Orlando Johnson. The Pacers might be able to find better options on the free-agency market if they plan ahead.
But Stephenson brings an off-the-bounce punch that will be hard to find in the bargain bin — a dose of unpredictable, penetrating creativity Indiana otherwise lacks. George isn't quite a lead ball handler yet, and Hill is the absolute ideal of the caretaker point guard. Stephenson brings the oomph.
That has Indy in the running for the ring now. How much will it pay to keep it that way?
Filed Under: Indiana Pacers, NBA