Your Thursday Olympic Viewing Guide
Paul Gilham/Getty Images
It's easy for me to sit here, all smug and satisfied, outlining a rigorous Olympic schedule and demanding that you follow through. I get that. A lot of you might be wondering: Can this guy walk the walk? Or is he like the fat coach in an old tracksuit, riding a bicycle and screaming at the young boxer (you) to run faster while he reaches into a satchel for his seventh doughnut? It's a fair question. So for the doubters among you, I have a story of excellence, arrogance, and heartbreak. I have a story about going for … The Perfect Day.
Yesterday, in the midst of the hardest spectator schedule so far, jam-packed with 26 events, I suddenly realized I had been perfect. No joke. I was in an honest-to-god zone, watching sports on a level most people can only dream about. There was nothing I couldn't do. I knocked out the cycling time trials, the rowing events, the diving, and everything else London threw my way. My computer skills have never been more efficient — I was gliding back and forth between my Wednesday guide and NBC's Live Extra the way certain classical guitarists have been known to leap 15 frets without a single misplaced finger. Never once did I lose my rhythm. As for the TV? Don't make me laugh. Too late; I'm laughing. If you saw me in person, you would have thought the remote was an extension of my hand. The perfect day was becoming a reality.

I started to feel some pangs of hunger around noon, and without missing a beat I called my friend Andrew and told him to pick up some sandwiches on the way over. Chicken Parm. When he arrived, I think he could sense that something important, perhaps even historic, was happening. He sat on the far end of the couch and communicated in terse sentences as I manipulated our viewing experience. At one point, I swear I blacked out and pictured myself as a giant eyeball hovering over London, watching for any drama and swooping down upon it like a benevolent vulture. A vulture that was an eyeball. We saw Leyva's miracle bronze in the men's all-around, we saw Adrian's incredible gold in the 100-meter freestyle, we watched the heartbreaking Spanish comeback in women's water polo, and the thrilling U.S. victory over China in volleyball. I even flipped to Uruguay–Great Britain in soccer, just to show off. My friend applauded silently. Words like "virtuoso" and "wunderkind" must have been on the tip of his tongue.
The perfect Olympic day has been called an "impossible myth," but I tell you I was close. It all came down to the women's 4×200 freestyle relay. It was the last challenge of a day when the online streams had been working like a gem. I put it on full-screen, but then realized two audio streams were playing simultaneously. No big deal; I closed the second superfluous browser as one might flick a lazy mosquito. And then? And then, my friends, I got greedy. I thought, Why not close ALL the unnecessary browsers? Why not end in style? So I closed, and I closed … and I closed the swimming. I closed the swimming. But hell, it was a long race, right? There was still time. I went back to Live Extra. I hit play. Nothing. I hit play again. Blackness. I tried to find another stream. I frantically went to the TV, a stupid panic move that only a rookie would try. After four minutes of failure, I just stared at the black screen in shock, like Norv Turner on his worst day. The U.S. won gold, I later learned, but I didn't catch a single stroke.
"Don't worry about — " my friend began, but I had already stormed off to my room to cry in the arms of my coach (I call my pillow "coach"). In Olympic terms, this was the equivalent of a male gymnast nailing five events in the all-around, building a huge lead, and then pulling a full Richie Tenenbaum, taking off his uniform and just lying down on the floor exercise, staring at the ceiling and knowing the glory days were over.
I'm not sure I can recover, but I'm going to try. Today is another busy one, and you know by now how this works. With this guide, which can be followed with one computer and one TV with cable, we're aiming to see every gold-medal event and every team-sport game featuring Americans. Clearly, we ain't no prime-time turkeys — this is all live. For further assistance, use this complete timetable as a cheat sheet. All times below are Eastern Standard Time.
Thursday
4:50 a.m. — Rowing — Men's Double Sculls Finals — Computer
I caught all three rowing events yesterday, and even without an announcer on the Live Extra feed, I thoroughly enjoyed myself. It turns out, unfortunately, that America is really good at getting fourth place in rowing, often falling out of medal position in the last few meters. If we rowed on rivers of soda, I like to think we'd lap the field twice. Nobody's into water here.
5 a.m. — Rowing — Men's Light Four Finals — Computer
Have you noticed the people who ride their bikes on the shore path alongside the boats? I'd love that, because when I rode to the finish of the 2,000-meter course, I could pretend the people in the stands were cheering for me. I'm always down for thunderous applause, even if I have to tweak reality a bit.
5:45 a.m. — Field Hockey — U.S. vs. Australia — NBC Sports Network
I've got Olympic fever so bad that it's hard to find a team sport I don't get embarrassingly emotional about, but I'm not quite vibing on field hockey yet. One of the nice things about writing these guides is that advocates for each sport have won me over to their cause, but there aren't a ton of field hockey supporters out there.
7 a.m. — Tennis — Men's/Women's Singles Quarterfinals, Men's/Women's Doubles Semifinals, — Bravo
Federer-Isner, Djokovic-Tsonga, Serena-Wozniacki are almost compelling enough to watch to completion. Almost. Luckily, the schedule plays out in such a way that you have three hours to keep this on TV. But this is a BOGS event all the way (Background Occasional Glance Status).
7:30 a.m. — Rowing — Women's Eight — Computer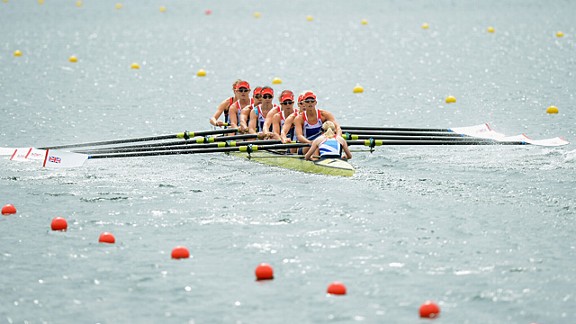 Peoples of the nation, DO NOT MISS THIS EVENT. The Canadians and Americans are bitter enemies, and one of them is going to win the gold. From what I understand, the Americans have had the better of the rivalry in recent years — just slightly — but the Canadians qualified ahead of them in preliminary heats by a second. We can talk about China and Russia and other rivals all we want, but there's one thing every American knows deep in their souls — there's nothing worse than losing to Canada. Admit it; regardless of the event, when you see that red maple leaf sneaking up on the Stars and Stripes, nausea and anger flood your body. And now they're out to steal our women's-eight gold. Our national pride! I do believe it's time for some Thursday-morning patriotic fury.
10 a.m. — Shooting — Men's Double Trap Finals — Computer
From what I can gather, the main difference between trap shooting and skeet shooting is that the targets fly out at unpredictable angles in trap shooting, whereas in skeet you have a basic idea of where they're going. I'm here to educate.
10:18 a.m. — Canoe/Kayak — Men's C-2 White-Water Finals — NBC
Speaking of education, C stands for canoe, 2 stands for the number of people inside. Americans are garbage at canoe and kayak, by the way. Apparently all those dudes who tell you about how life-changing it is to ride the rapids can't hack it with the big guns. So next time they start talking, just go, "Where's your gold medal, hot shot?"
10:21 a.m. — Women's Archery — Individual Finals — Computer
RED ALERT. I haven't been able to talk about this yet since the team archery finals finished up on Sunday, but holy hell, archery is a blast. No joke, it stole the show of the opening weekend. If you missed the team finals, the U.S. beat South Korea in the semis — the same South Korea who had won three golds in a row — and found themselves facing the Italians for gold. We made a nice run at the end, and a misstep from the Italians put everything on the final arrow. Michele Frangilli, whom I call "Lips Frangilli" because he sort of kisses the bow string before he shoots (but whose real nickname is so bad-ass you should be careful about saying it out loud) stepped up needing a 9 to extend the match into overtime. So what did that crazy son of a bow do? He hit a 10. He stepped up and hit a f—ing 10 right in our faces. Silver to the Americans, gold to Italy. And that is why they call him "The Heretic Archer."
I was hooked on archery for good. Needless to say, I'll be watching the women's quarterfinals. There's one American left, Khatuna Lorig, and if you're feeling really ambitious you can watch her round of 16 match at 4 a.m.
10:30 a.m. — Table Tennis — Men's Singles Finals — Computer
There's a politically charged China-Taiwan matchup in the second semifinal, and somehow a German sneaked into the first semi in an attempt to break up the Far East's dominance.
10:57 a.m. — Canoe/Kayak — Women's K-1 White-Water Finals — Computer
Why is there no awesome country song about white-water as a metaphor for living a wild life?
11 a.m. — Judo — Women's 78kg, Men's 100kg Finals
I almost didn't include this today, but I'm a completist. Still, let's put this one out to pasture soon, IOC. Make it a provisional sport in Rio, relegate it to the Pan American games for a decade or so, and then just quietly make it illegal on the back of some other mundane legislation. Judo is not fun.
11:30 a.m. — Gymnastics — Women's Individual All-Around — Computer
Man, I watched the men's all-around on the computer today, and it's hard to describe how much better it was than, ahem, any alternative mode of viewing. For one, they actually list the scores! It's incredible. And can I take a second here to say how awesome the female gymnasts are? In a lot of ways, the defining moment of any summer Olympics is the women's team finals, and our gals just killed it. Watching the Russians break down under our intense pressure was probably the most satisfying moment of the Games for me. And how about the haughty stare of McKayla Maroney? I'm convinced it was responsible for at least 10 falls Tuesday night. Obviously, we've got Gabby the Flying Squirrel and Aly Raisman going for gold today.
11:30 a.m. — Women's Beach Volleyball — Jennifer Kessy Ross / April Ross Kessy vs. Spain — NBC
Last match of the group stages, and our squad is undefeated. Barring a complete meltdown, they'll have a spot in the quarterfinals. I'm holding out hope for an all-U.S. gold-medal match.
1 p.m. — Cycling — Women's and Men's Team Sprint Finals — NBC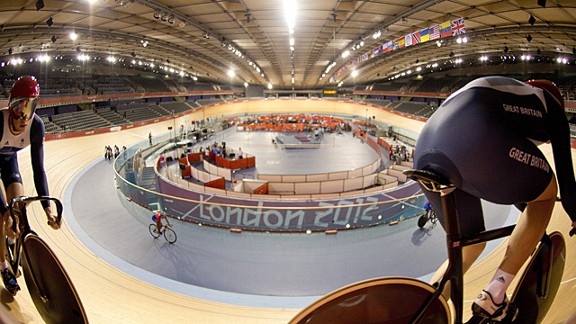 The incredible road races are over (how great was watching Bradley Wiggins take a victory lap around Hampton Court Palace while the Brits cheered him on?), and now it's time for the Velodrome. If you've never seen it before, it's worth a watch; this is the oval track with the steep banks where it looks like the riders are completely parallel to the earth at times. It's a fast, somewhat confusing event, but the finishes can be electrifying. Give it a shot.
1:20 p.m. — Men's Water Polo — U.S. vs. U.K. — NBC
Cakewalk for the Americans. What we learned from the U.S. women's 9-9 tie with Spain is that just like many other sports, a "prevent" strategy only prevents you from winning. Up 9-6 with 2:30 left and completely outclassing the Spanish in the second half, the U.S. coach opted to waste time on offense and run the clock. The result was a loss of momentum and a collapse. Come on, dude! (Sorry, I don't know your name.) If you're beating the hell out of a team, step on the gas pedal. This will probably be the one time in my life I second-guess a women's water polo coach. Bless you, Olympics.
2:15 p.m. — Fencing — Women's Team Foil Finals — Computer
Look, I see the name of the event, and I really want it to be a massive, chaotic sword fight between like 20 people. I know I'm going to be disappointed, but this is a time for dreaming.
2:39 p.m. — Swimming — Women's 200m Breaststroke — Computer
Rebecca Soni set a world record yesterday in the semifinal heat of this event. You think she's got this one? I think she's got this one.
2:46 p.m. — Swimming — Men's 200m Backstroke — Computer
This is the start of a very ambitious night for Ryan Lochte. He'll be facing his teammate Tyler Clary for gold, and challenging Phelps in the 200 IM less than a half hour later. Make no mistake — this is the defining night of the Olympics for Lochte. It's been mostly disappointment so far, but all will be forgotten if he pulls off double gold. If he can't? He'll find himself where he's been for the last eight years, squarely in Phelps's long-eared shadow.
3 p.m. — Men's Volleyball — U.S. vs. Brazil — NBC
Our teams are so, so good. It's been one fantastic victory after the next, highlighted by the women beating China in a tense third set on Wednesday. This is the best match of pool play, featuring the last two undefeated teams in Group B.
3:15 p.m. — Swimming — Men's 200m Individual Medley — Computer
Phelps vs. Lochte. Enough said.
3:31 p.m. — Swimming — Women's 100m Freestyle — Computer
What's the coolest individual race of the Olympics? My take is that it's the 100 free, which is why it was so amazing when America's Nathan Adrian outtouched James Magnussen by .01 seconds to take gold. You go balls-out for two lengths of the pool, no apologies, and the fastest swimmer wins. It's the 100-meter dash of the swimming program. Missy Franklin is our best hope here.
4 p.m. — Men's Beach Volleyball — Phil Dalhuasser/Todd Rogers vs. Czech Republic — Computer
I still can't believe how great the ending of the U.S.-Spain match was on Tuesday, highlighted by Rogers's double-touch that was never called. Make no mistake, the defending gold medalists are vulnerable, and yet they keep winning. This is the last match of the group stages, and despite their 2-0 record, a loss could easily put them out of the tournament.
5:15 p.m. — Men's Basketball — U.S. vs. Nigeria — NBC Sports Network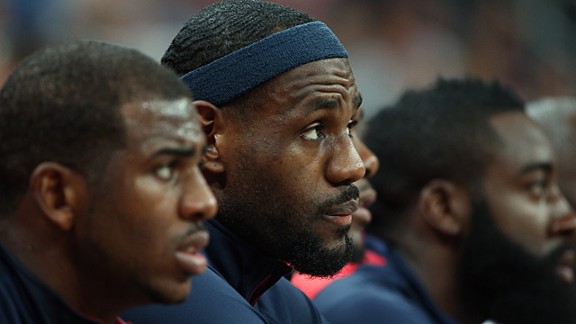 End your day with a Dream Team blowout, because you are an American and you deserve it.
7:15 p.m. — Rest up, my friends. Tomorrow is the beginning of track and field, plus the knockout stages in women's soccer and beach volleyball. To paraphrase U.S. naval hero John Paul Jones, when asked if he was going to surrender his ship, "We have not yet begun to fight!"
Filed Under: Olympic Games, Olympics, Shane Ryan, Team Usa