Olympic Basketball Contender or Pretender: Argentina
In this year's Olympic basketball competition, there are several teams that are a threat to medal, and maybe even contend with Team USA. As the Games ramp up, we'll be providing looks at the strengths, weaknesses, and medal chances of these possible contenders.
Argentina has been a force for years in international play, and their success has set up a rivalry with the U.S. that has a tendency to get a bit chippy (something we saw during their "friendly" in Spain). With both teams in the same group, they'll be facing off during seeding and could face each other again in the medal rounds, which could make for even more fun.

Offensive Style: Horns/Pick-and-Rolls
Argentina's strength on the offensive end is a combination of creative ball handlers and mobile bigs, making them a perfect team for the pick-and-roll. In their three games in preparation for the Olympics, 11.1 percent of their 262 possessions ended in pick-and-roll plays. One of my favorite pick-and-roll sets Argentina runs is a "horns" set that results in one or two ball screens, and it's a set that Team USA struggled to defend when the teams last played.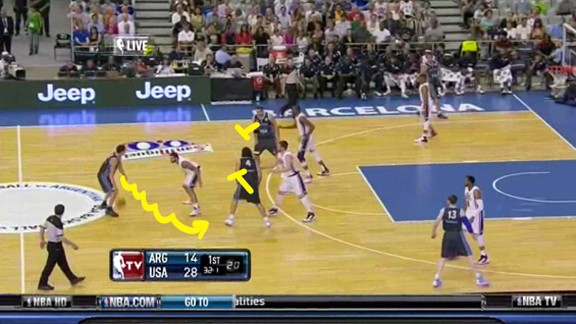 Most teams' horns sets start around the elbow or near the top of the key. Argentina is a little different in that their big men set their screens much higher, even extending out past the 3-point line at times. This could be a counter to Team USA's intense ball pressure because it allows the ball handler (in this case, Pablo Prigioni) to use the screen sooner and release the pressure a little easier. In this instance, Prigioni chooses to use Luis Scola's screen.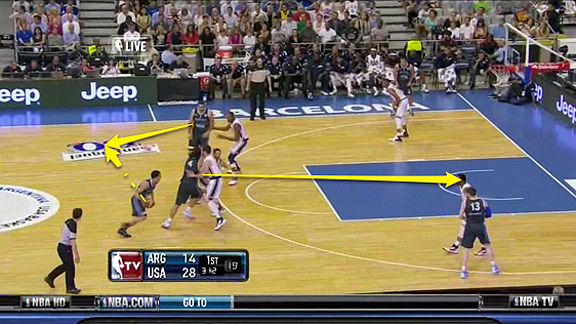 Right after Prigioni uses the screen, Scola rolls hard to the front of the rim and looks for the ball. That's the first option, but if Prigioni can't hit him, the big man not setting the screen flashes and the ball is swung to him.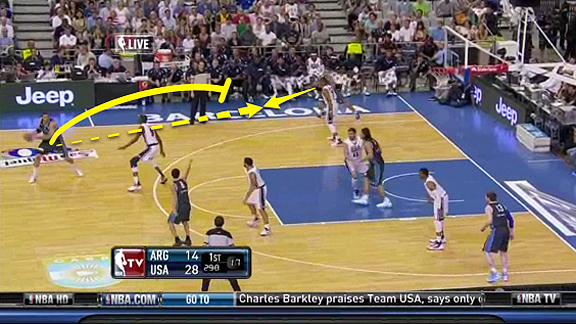 After receiving the basketball up at the top of the key, the big quickly swings it to Manu Ginobili at the opposite wing before setting a screen for Ginobili.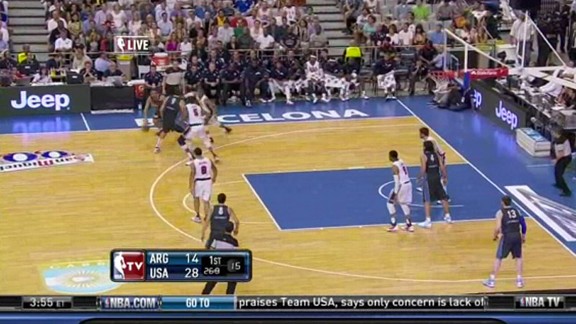 At this point, it's just pick-and-roll basketball with Ginobili running the offense. On this particular possession the end result is a Scola layup after a few nice passes. Here is the play in real time:
This set gets the basketball going from side to side without the action being too forced. There's a ball screen on one side, and if that option isn't there, two swing passes lead to another ball screen on the opposite side of the court. This set can work against Team USA mainly because of how they defend most pick-and-rolls. When they switch, it can lead to problems.
On the possession above, Argentina is running its set and gets to the second ball screen on the opposite side of the court. The ball reversal and quick ball screen following it forces Team USA to switch that screen. This leads to Kobe Bryant defending Scola.
Key Player: Emanuel Ginobili
Even though he's got a different name during international play, Ginobili's play remains the same. What makes him so important for Argentina is that he can create not only for himself, but also for others, especially out of pick-and-roll situations.
Ginobili is so talented and smart that he can always understand what the defense is giving him. The reason pick-and-rolls are so dangerous is that they always force defenses to give something up, and Ginobili often finds that weakness. If a player goes under the ball screen to prevent dribble penetration, he pulls up for the jumper. If they trap hard on the screen, he'll burn you with a pass or a dribble drive. All this makes him what makes Argentina go. As Ginobili goes, they go.
Contender or Pretender?
Pretender. Argentina is a really good basketball team, but the problem is they're aging and not getting much help from the team's younger players. I don't think that they have enough in them to keep up with the high-pressure/intense defensive style for 40 full minutes, and that's what will hurt them against Team USA.
Filed Under: Manu Ginobili, Team Usa, Total Breakdown