Your Thursday Olympic Viewing Guide
Stanley Chou/Getty Images
First, the good news: The U.S. is now leading China in the medal count, and it looks like a permanent margin. BOOM!
U.S.: 81 Medals, 34 Golds
China: 77 Medals, 36 Golds
My man Daniel G., inventor of Saber-Medal-Trics — a system that uses SI's comprehensive medal predictions to evaluate current results and project the final tally — e-mailed me with the good news that Tuesday was a watershed day for the Americans. We're now on pace to win one more gold medal than Sports Illustrated projected and seven more overall, while China is on pace to win one gold fewer than projected, and seven fewer overall. Here's the updated projection for the final tally:
U.S.: 43 Golds, 106 Total
China: 41 Golds, 90 Total
It's now looking like a certainty that the Americans will win the overall count, and the only drama left is the race for golds.

Speaking of potential golds, here are a few results from American sports over the past two weeks. As you read them, see if you notice a trend:
Men's Volleyball: U.S. starts 4-0, loses two straight including a choke job to Italy in the QFs. No medal.
Women's Volleyball: U.S. undefeated and currently in the semifinals.
Men's Water Polo: U.S. starts 3-0, loses three straight including their worst match of all to Croatia in the QFs. No medal.
Women's Water Polo: U.S. undefeated and will play Spain in the gold-medal match.
Men's Gymnastics: Choke job in the team finals, backdoor bronze in the all-around.
Women's Gymnastics: Gold in the team finals, Gabby Douglas gold in the all-around.
Men's Beach Volleyball: Both U.S. teams won their group, and both fell in the early elimination rounds with nervy performances.
Women's Beach Volleyball: Both U.S. teams raced undefeated to the finals, ensuring gold and silver for America.
Men's Soccer: Failed to qualify for the Olympics after conceding an extra-time goal to El Salvador.
Women's Soccer: Undefeated, will play in the gold-medal match against Japan.
Men's Track and Field: Nine total medals, one gold
Women's Track and Field: 11 total medals, four gold
My god, the women are carrying us! These are the Billie Jean King Olympics, and the men are Bobby Riggs-ing all over the place. On one hand, credit goes to America for Title IX and everything else that has made us the foremost women's athletic powerhouse in the world. On the other hand, what's up, fellas? The really unfortunate thing about the failure on the men's side is that in five of the six cases above, our guys were favored to win and just blew it. And in the case of volleyball and beach volleyball, at least, they looked defeated and lost while it was happening.
I don't know the solution, but I do find it strange that swimming is the only sport in which the men really outperformed the women (by a single medal, literally — they each had eight golds and three bronzes, but the women had three silver to the men's four). Are all the crazy old men right? Are American men growing weak? And does this trend give additional credence to my theory that Team USA basketball is going to lose after offending the karma gods in the Nigeria blowout? Everything's in play.
The schedule below can be followed with one computer and one TV, and will keep you up to date on the gold-medal finals in every event, and American matches in the team sports. All times are Eastern Standard Time, and all are LIVE, with no respect shown to the tyranny of tape delay. Use this spreadsheet as an additional guide.
Thursday
4:30 a.m. — Canoe — Men's C-2 1,000m Final — Computer or NBC at 10:45 p.m.
Since there are no Americans in any of the four canoeing finals today, I'll use each entry to play a game. I will list three titles of books about canoes. One title is an actual book, and the others are fictional nonsense conceived entirely in my brain. The links on the numbers are your answer key — the correct one goes to the Amazon page, the wrong ones go to a picture of an overturned canoe. If anybody gets all four, leave a comment below and my editor Chris Ryan will send you something nice from his home.
1. The Flatwater Chronicles, by Erik Miller
2. Paddling for My Life: A Mother's Redemption, by Artemis Hammond
3. Deliverance, by James Dickey
4:48 a.m. — Kayak — Men's K-4 1000m Final — Computer or NBC at 10:45 p.m.
1. Wooden Figments, by Antony Famille
2. Lonely Land, by Sigurd Olson
3. The Last Portage, by Colin Ladoceur
5:08 a.m. — Kayak — Women's K-1 500m Final — Computer or NBC at 10:45 pm
1. A Life on the Lakes, by Timothy St. Germain
2. The Birch Bark Wars, by Daniel Friedman
3. This Water Goes North, by Dennis Weidemann
5:35 a.m. — Kayak — Women's K-2 500m Final — Computer or NBC at 10:45 pm
1. Song of the Paddle, by Bill Mason
2. The Native Journey, by Craig Newman
3. Speed Thy Rapids, Still Thy Oar, by Sir Pompadour T.Q. Antilles, IV
7 a.m. — Swimming — Women's Open Water Swim — Computer or NBC at 11:15
Man, I really hope the sharks don't come into play here. No, no, come on. I'm just kidding. Of course I hope the sharks come into play.
7:30 a.m. — Equestrian — Individual Dressage Grand Prix Freestyle — Computer, MSNBC at 9 a.m.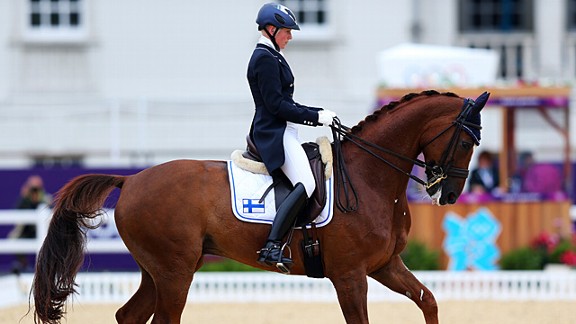 As we know, dressage is when the riders make the horses dance. But what's really interesting is that for the first time in any international competition, a horse in tomorrow's event will be doing hip-hop dance (the horse's name, confusingly, is "Willy Waltz"). [Don't joke, horse dancing is the lost element of hip-hop — Dressage Ed.]
As you would guess, this isn't going over well with the equestrian establishment, and the whole thing is being filmed for an upcoming documentary, which will be titled either Hoofloose or Save the Last Prance.
8 a.m. — Sailing — Men's 470 Final — Computer
Please let an interesting sport be next. I'm starting to have the first signs of an existential crisis. Why do I watch? Who am I?
10 a.m. — Women's Volleyball — U.S. vs. Korea, Semifinal — Computer
THANK YOU, YE GODS OF OLYMPUS. Three of the four teams that made it out of Group B have advanced to the semifinals, including these two. Here we have a rematch of an early round-robin game that the U.S. won 3-1, and Destinee's Children will once again be favored. We certainly need a win after the men's team blew three set points in the first set against Italy and then essentially gave up. We should get a much better effort, and a win, from the women. The bad news is NBC must want to show you roughly six of these points on prime time, because this one's not on TV.
11:30 a.m. — Boxing — Women's Flyweight Gold — Computer
It could be interesting to watch since the Chinese are sending Ren Cancan against Great Britain's Nicola Adams. I'll tune in hoping that the home team keep our rivals off the top step.
11:45 a.m. — Boxing — Women's Lightweight Gold — Computer
Hey, an Irish person! Katie Taylor will be fighting a Russian to bring glory and gold to Eire, and I will be cheering her on in an Irish accent the entire time. And by "Irish accent," I mean an accent that wavers between Irish, British, Australian, and Scottish.
Noon — Women's Basketball — U.S. vs. Australia, Semifinal — NBC Sports Network
Australia beat China by 15 in the quarterfinals, and the U.S. beat China by 48 in the group stages. I believe it's modus tollens that tells us that the U.S. will beat Australia by 33 to earn a berth in the gold-medal game.
12:15 p.m. — Boxing — Women's Middleweight Gold — Computer
AMERICA. You've probably heard by now that American male boxers have been completely shut out of the medals for the first time in Olympic history. Not so for the gals, providing yet another example of female supremacy (and one that I would've put up top if not for the fact that Olympic boxing is so f—ing stupid). Anyway, Claressa Shields fights for gold here against Nadezda Torlopova. I once worked with a girl named Nadezeda at a restaurant in upstate New York. She was a Russian native, and her name was pronounced like "Nadia." She was also extremely nice, but please don't let that humanize Russian athletes for you.
2 p.m. — Diving — Women's 10m Platform Final — Computer
I'm sick of all the diving events and the Chinese golds they provide. That's the real travesty of these Olympics; if China wins the medal count, it'll be because they were raking in the hardware in diving, trampoline, and table tennis, while the Americans were outrunning, outswimming, and winning (women's) team sports. There should be exactly one diving event, and it should be to see which competitor is better at diving into muddy water while catching fish with a spear.
2:03 p.m. — Wrestling — Women's 55kg Freestyle Final — Computer
Curiosity got the better of me, and I wanted to see which countries excelled at women's wrestling. Yesterday, both gold medalists were Japanese. That set me on a tangent: Wouldn't it be really interesting to see what event each country would choose to add to the Olympics if they were given a freebie? For Americans, it would obviously be football; easy gold. For Japan, I'm guessing it might be sumo wrestling, since nobody else really does that. It gets harder when you try to think of other countries, and I'd love to see a full list. Surely India and Pakistan would opt for cricket, and South Africa and New Zealand would be prime candidates for rugby. Ireland would pick hurling and dominate. The Brits? Maybe polo? Hooliganism? Very interesting stuff.
2:20 p.m. — Field — Men's Triple Jump Final — Computer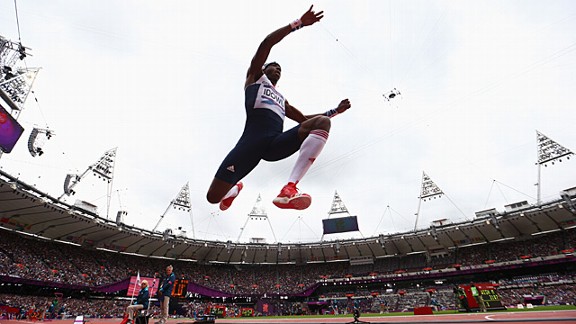 Americans Will Clay and Christian Taylor have the top seasonal bests, and should be favorites to win silver and gold. After a so-so start, the Americans are starting to rake in golds in and around the oval. That's how we put the stomp on the Chinese Wednesday.
2:45 p.m. — Women's Soccer — U.S. vs. Japan, Gold-Medal Match — NBC Sports Network
Oh baby, baby, baby. This is the big one, right here. I'm not sure if you guys caught this, but Canadians were absolutely infuriated that Abby Wambach was in the referee's ear all match, counting off the seconds as the Canadian keeper held the ball, and eventually earning the delay call that led to a match-tying goal.
Let me state for the record that I thought the call itself was bogus, and should never have been made at that stage. But Wambach's maneuvering? That's awesome. That's what the mental side of sports is all about. She wasn't breaking any rule and she was, in fact, encouraging the enforcement of an actual rule. I think it's brilliant and savvy, and I think the Americans wouldn't have won without it. I already respected the hell out of her, but that upped her even more in my esteem. Psychology matters, and Wambach pulled out a psychological gem. Anyone who thinks it was unsportsmanlike needs to seriously recalibrate their priorities; you'll notice the kvetching Canadians don't mention the fact that Melissa Tancredi viciously stomped on Carli Lloyd's head in the most disgusting display of the Olympics to date (yes, that includes Batum's sucker punch), and somehow avoided a red card.
Wambach is a genius, and that's that. Now for some bad news — I think Japan's going to win the gold. Our defense is porous as hell anyway, and it doesn't help that we play an attacking 3-4-3. But add in a stalwart defense and an unbelievably fast counterattacking team, and you have to think the odds are stacked against us. Japan can turn from defensive to dangerous in a heartbeat, and if the U.S. struggles to finish like they have all tournament, this could easily go 3-1 the wrong way. That being said, any team with Wambach, Alex Morgan, and the superlative Megan Rapinoe (did you see that goal against Canada???) always has a shot. I'll be rooting like mad, and praying for gold.
2:48 p.m. — Wrestling — Women's 72kg Freestyle Final — Computer
Hey, soccer's on! Focus!
3 p.m. — Track — Men's 800m Final — Computer
David Rudisha from Kenya is the big favorite, but Americans Duane Solomon and Nick Symmonds could easily medal.
3 p.m. — Women's Water Polo — U.S. vs. Spain, Gold-Medal Match — NBC
Ahhh, why does this have to be on at the same time as soccer??? Worst timing ever. I'll put it on my computer while the soccer is on TV, which means I'll miss all the track events and have to resort to NBC prime time. Oh well. I suppose I should be grateful for the American bounty.
Back on topic, this is a rematch of the 9-9 draw from the group stages, when the U.S. led 9-6 with three minutes left before Adam Krikorian went into an ill-advised stall too early and let the Spanish back into the mix. This is the same Krikorian, you'll recall, who called an illegal Chris Webber timeout when the U.S. had the semifinal against Australia wrapped up, prompting a penalty shot and a nervous overtime period. I'm not sure we're in the best hands, guys, and I'm afraid the Americans might have to survive the Spanish and their own coach. Then again, Krikorian has 14 national titles as a head coach at UCLA, so what do I know? Also, Maggie Steffens is awesome. I believe in gold.
3:55 p.m. — Track — Men's 200m Final — Computer
Anyone want to take the field and give me the Lightning Bolt? No? No takers? None at all? I'm not betting against Bolt, and I think his countryman Blake will take silver again. Wallace Spearmon of the U.S. has a decent shot at bronze.
4 p.m. — Men's Beach Volleyball — Brazil vs. Germany, Gold-Medal Match — NBC
Feels like it should be us. Very tough to take. Might as well take a moment here to recognize Misty May-Treanor and Kerri Walsh, who won their third straight gold by dominating April Ross and Jen Kessy. Will that ever happen again? Three golds spanning eight years in a sport like beach volleyball? I can't see it. What defined the pair Wednesday, and what has distinguished them in every close match in their Olympic history, is their flawless pressure play. They're technically great, yes, but skill alone doesn't win 22-20 sets against the best in the world. Nerve does that, and Treanor/Walsh have nerve to spare.
4 p.m. — Field — Women's Javelin Final — Computer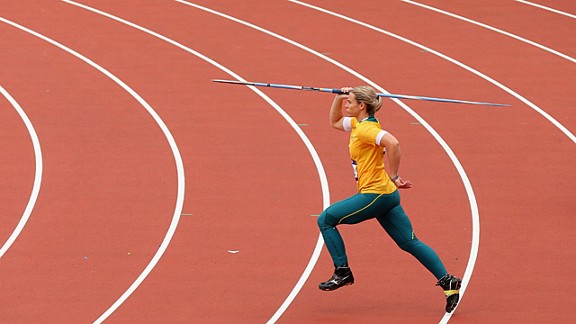 No Americans. Why does javelin get short shrift among the throwing events when it's the most applicable in real life? You can kill a wild creature with a javelin. Good luck getting it to sit still from 20 feet away while your shot put slowly arcs down.
4:20 p.m. — Track — Men's Decathlon Final — Computer
Ashton Eaton and Trey Hardee are at the top of the pecking order in the decathlon after five events, giving the U.S. a solid chance at more gold. I will admit that decathlon is not the most exciting event to watch from station to station, but I still think if you gave me an opportunity to be world champion in five summer Olympic sports, this would make the list. It's basically proof that you're the best athlete in the world. My order goes: 100m Dash, 100m Freestyle, Decathlon, Road Race, Pole Vault. (I know the last one is strange, but I really, really want to know what it feels like to do a pole vault.)
5:15 p.m. — Taekwondo — Women's 126 lbs and Men's 150 lbs Final — Computer
I'll watch this if the U.S. wins water polo and soccer. Otherwise, I'm going to be too miserable to sit still for karate. It's not helping my perception of the sport that China got another gold yesterday.
5:30 p.m. — A rare early finish. With a good day, the U.S. could overtake China in the gold-medal count for good. If that's the case, treat yourself to a glass of milk with one ice cube. Then go catch up on your mail for a few minutes, and be in bed by six. We're coming to the finish, and it's going to be a sprint.
Filed Under: Olympic Games, Shane Ryan, Soccer