We Went There: The Boos (Mostly) Subside for One Day at Madison Square Garden
Elsa/Getty Images
The Boston Celtics were met with boos as they jogged onto the court for pregame warm-ups Saturday, which seemed about right. It didn't matter that the Celtics were wearing commemorative shirts that would be auctioned off for The One Fund Boston or that they had scrawled messages of support on their sneakers. "Get outta here!" a Knicks fan in the not-exactly-cheap seats playfully hollered, over and over, and why hold back? The rivalry between New York's and Boston's teams is constant and occasionally vicious. It's not like Paul Pierce and Kevin Garnett were medics or detectives or firemen, they just happened to work there. Pray for Boston, etc. — but down with the afternoon's invaders.
I can't imagine anyone impartial rooted for the Knicks on Saturday, not with the game happening in such close proximity to last week's events in Boston. It feels good to witness magic and harmony and spontaneous proclamations of civic pride, even if these moments of coming together can't turn anything back. But someone had to lose, and it's not like Doc Rivers wanted New York's pity anyway. Shut off from the sentiments prevailing elsewhere, the atmosphere in and around the Garden was lively enough, though nowhere near as raucous as one would expect in this post–Honey Nut Cheerios world. After members of the New York and Boston fire departments presented the flag, Carmelo Anthony and Pierce strode to the center circle to offer statements on behalf of each team. Some fans started booing as soon as Pierce spoke, but everyone else aggressively hissed them quiet. You could resume hating him in a few minutes.

Fandom is its own kind of citizenship, one that's cosmically low stakes even if it feels like how you will forever view issues of justice or personal happiness are being determined as a ball arcs toward a rim. For some, it's the reason to watch: as a proxy or maybe even a replacement for other kinds of patriotism. You draw the circle however wide you want. Sports makes the world seem manageable and simple, a finite contest of good guys and bad guys, inheritance of your grandfather's zeal, etc. The world outside is never that simple, and whether you regard the game as a theater of dreams, a release valve, or pure escapism, that's part of the point. It doesn't always produce the most perfect union or anything. A couple of bros addressing an Asian guy wearing a Carmelo jersey as "Jeremy" reminded me that maybe we weren't all rooting for the same thing.
What made Saturday's game so unusual was the way the entire Garden seemed to be testing out the limits of taste and class on the fly. Was it gauche to root against the popular will? (Who cares?) The Celtics were booed, but rarely in that lusty, bullying, collectively nasty way, and KG's ineffectiveness meant there were few opportunities for him to play the taunting villain. There were moments of ecstasy (J.R. Smith!) and frustration (J.R. Smith!) but it wasn't until midway through the second half that the crowd seemed to find its voice. I never heard a full-throated "Boston sucks!" chant. The referees, no doubt aware of the afternoon's complicated dynamics, fell on that sword instead, conspiring to be awful and allowing for a different kind of consensus: chants of "These refs suck!" Pierce got dissed for his dramatic, "Hollywood" rearing, not his allegiance to Boston. Blue-seat conspiracy theorists griped about David Stern but stopped short of speculating about some weak-hearted plot to let the Celtics win. Near the end of the first half, Jets quarterback Mark Sanchez appeared on the JumboTron and finally there was something everyone could agree on. "Sucks to be Mark Sanchez!" a guy in a Garden hospitality jacket laughed as every cubic inch of the building resounded with deafening, only-kinda-joking boos. Sanchez smiled gamely, held up a Knicks cap, and then seemed to hide behind it. More violent boos this time. Release — at last.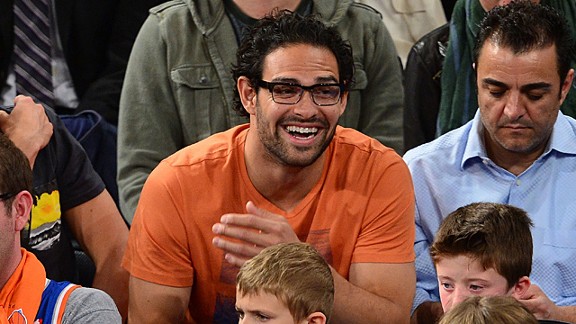 There are those wondrous moments when some sporting contest seems to alter our sense of things, if for a moment: Mike Piazza's homer after 9/11, the Knicks trouncing the Heat last November mere days after Sandy, or Daniel Nava's homer for the Sox earlier Saturday. It's not so much that things are set right, it's that they're made basic and simple again. These are welcome distractions that flatter our sense of narrative. But eventually we return to whatever it was like before, or maybe we get used to forgetting what that was like. What counts as "normal" anymore? It's not unusual to see people toting rifles in Penn Station, the transit hub essentially underneath the Garden, so it was hard to tell if there was a heavier-than-usual security presence. You grow accustomed to such things over time. But easing up on the rival Celtics in any sustained, overly sympathetic, potentially condescending way — this seemed unimaginable to the Knicks fans in the Garden. This would never be normal, for part of what makes spaces like these a refuge is the right to be weird and tribal and fixate on differences for a couple hours. It was the smallest of comforts.
Filed Under: Boston Celtics, Carmelo Anthony, Mark Sanchez, New York Knicks, Paul Pierce, We Went there