NBA Playoffs Shootaround: Are You Fired Up?
Jesse D. Garrabant/NBAE via Getty Images
So much amazing is happening, and the Shootaround crew is here to help you keep track of it all. You'll find takes on moments you might've missed from the previous night, along with ones you will remember forever.
He Ate the Bones
Bucks coach Jim Boylan on LeBron James: "I mean, what can you do?"

— Tom Haberstroh (@tomhaberstroh) April 22, 2013
Chris Ryan: Oh well. That was a fun playoffs. Thanks for coming, guys. Have a nice summer.

A Tale of Two Cities

(All GIFs by @HeyBelinda.)
netw3rk: The great thing about sports is that it doesn't matter. It's a venue for people who disagree about real stuff like, say, taxes or gun control, to agree upon the color of a team's uniform. It's a space for rancorous disagreements, rigorously researched arguments, and pure, mindless jingoism alike, all based on groups of human beings in matching clothes playing a game. And, at the end of the game or the series, there's closure; disagreements might continue, but there was a winner and a loser and the numbers are the numbers. There might be tears, beer spilled in jubilant celebration, programs torn in disgust, but, it's not important. Sometimes, a player gets injured or a coach loses his job, but the players are millionaires with a great health plan and the coaches will get hired, probably inexplicably, again. They'll be fine.

When a team from a city that's suffered the insensible real-world horror plays its next game, it's often said that the game is "more than a game." Is it? Maybe. I don't know, really. But, my sense is it's closer to the truth to say that a game — even when played so soon after tragedy — is precisely a game. Nothing more, nothing less. Its meaning, its value to us, is in its unimportance; it's an escape from things that really matter to a place where things really don't. Here's this thing — like a group daydream — that we can all take part in, that is completely trivial.
That being said, I thoroughly enjoyed the Knicks' Game 1 victory over the Celtics, in the way that you enjoy something really stressful that happened because it's over. Carmelo — nuclear-fission hot early, dead-of-space cold middle, and soup-on-30-seconds-in-the-microwave late — gunned his way to 36 points on 29 shots, earning MVP chants from the home crowd and apoplexy from the stat-heads. No player, except perhaps Kobe, better illuminates the dichotomy between how stat-centric analysts view the game and how fans of a team view it. Stat-heads will tell you Melo doesn't have the win-shares that LeBron James and Kevin Durant do, while Knicks fans only care about the win part. It's like putting a meal in front of a person who hasn't eaten in a week and complaining that they don't care about the ratio of ingredients. Neither side is wrong, they just might as well be on different planets. Irrational hopes have kept the Garden full all these years. If it's logical fans you're after, take it to Indiana and Atlanta.
The Lost Flying Wallenda
Old Man Miller
Robert Mays: The reasons this year's Nuggets quickly became a favorite among those who watch a lot of basketball are simple. Denver's up-and-down tempo, especially when the Nuggets have it clicking, makes it one of the most entertaining teams in the league. Used to the thin air at home, turning games into track meets has become the most decided advantage for George Karl's team, and when it has run teams out of the gym this year, it's usually because it has run them out of the gym.
That old cliché about the playoffs, though (one that's actually true), is that the game slows down in late April. Teams are forced to manufacture points in the half court in a way they didn't have to during the regular season, and normally, that means those teams that don't lean heavily on fast-break production are more prone to maintain success come playoff time. That concern about this year's Nuggets had been overstated for most of the season. No, Denver doesn't have a superstar to rely on late, but the Nuggets do have ways to grind out points when they need them.
Normally, that meant a lot of Ty Lawson–Danilo Gallinari pick-and-rolls down the stretch, but considering Gallo's spending the rest of this postseason showing off his suit game, that's no longer an option. The alternative was to put the ball in the hands of a guy who seems perfectly content playing slowly — something that might have to do with him turning 37 last month. Andre Miller was never an athletic marvel at any point in his career, and having to rely on the other parts of his game from the start is probably the reason he's been able to maintain a deserved spot on a contender.
His 28 points were impressive — mostly a product of midrange success that seemed literally unguardable in the second half — and the game-winning lay-in will be the lasting highlight, but the most "Andre Miller" of plays came midway through the third quarter. Isolated on Harrison Barnes on the right baseline, Miller went right, spun back left, pump faked, and instead of spinning back to his strong hand after getting Barnes in the air, stepped through under the basket to lay the ball in with his left. Draymond Green will be the goat because he happened to be guarding Miller on the final possession, but Barnes — 17 years Miller's junior and six inches taller — got it much worse. The Nuggets ran their way here, but if Denver really is going to make a run at the Western Conference finals, it's going to need plenty of old-man game to get there.
The Most Interesting Man in the World, Part I
Adjustments
Jay Caspian Kang: In the second half of the Warriors-Nuggets game, Denver sent at least two defenders flying at Klay Thompson or Stephen Curry every time they caught the ball beyond the arc. This strategy proved to be remarkably effective, especially after David Lee left the game with a season-ending hip injury. It'll be interesting to see how Mark Jackson and his staff adjust in Game 2 without Lee. Curry and Thompson are both going to have to be content to quickly pass the ball before the defense arrives, and the rest of the Warriors, especially Harrison Barnes and Jarrett Jack, will have to knock down some shots to keep the Nuggets honest.
On the other end of the court, the Nuggets seemed confused and out-of-sorts in the half court. Andre Miller's 18-point fourth quarter was easily the best performance of the opening weekend, but it's worth asking what the hell happened to the Nuggets that they needed Andre Miller to go out and score 18 points to win the game. I still believe this series is going to be highly entertaining, even with the injuries stacked up on either side, but both sides came out a bit one-dimensional and sluggish in Game 1. Nobody should have to watch Evan Fournier pound the ball 18 feet from the basket and then try to figure out how to jackknife up a terrible shot. At least not in this series.
The Most Interesting Man in the World, Part II
Promises, Promises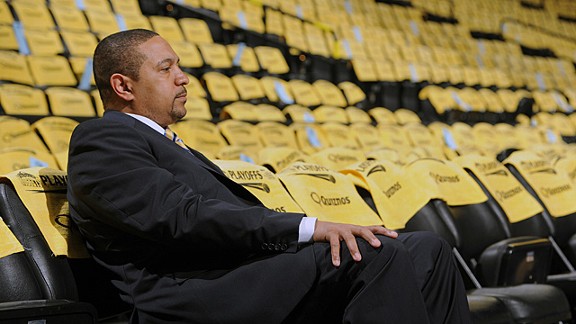 Danny Chau: At the start of last season, Mark Jackson made a bold assertion: The Warriors were going to make the playoffs in his first season as an NBA head coach. It was preposterous from the jump, but was even more laughable when they tanked themselves to the third-worst record in the West. What appeared to be a culture change was just another year, another false promise in Oakland. They had escaped the latter years of Don Nelson — whose lab rat experiments with the team roster showed an innovator who had lost touch with reality — but couldn't shake what he represented. They were still a team clinging to ideas without the means of bringing them to fruition.
It took Jackson's Warriors an extra season to deliver on the promise, but fans aren't complaining. Compared with failed eras in the past, a single season isn't much of a wait at all. These Warriors have clearly distanced themselves from the past with clear team defensive concepts and distinct roles on offense. It's a wonder how the team has bought into the new identity in such a short amount of time. It might be a product of Jackson's faith and sermons, which Doris Burke alluded to during Saturday's broadcast in Denver. But that faith will be challenged very soon. David Lee's torn hip flexor complicates things (to put it lightly), and will greatly impact the viability of Jackson's system. ESPN's Ethan Sherwood Strauss has already proposed a return to Nellieball against the Nuggets in Lee's absence, which is a thrilling and absolutely terrifying idea. There's never a good time for relapse, but rushing back to a chaotic brand of small ball on the fly against one of the two best counterattacking teams seems like the worst time.
As the Warriors know, playoff appearances aren't automatically granted to incumbents. The pressure to win now against the Nuggets may force the team to make radical adjustments, but this dire situation also seems like a perfect time to reinforce what has gotten them this far. To borrow a line from Erik Spoelstra, maybe the best option is to stay the course and trust that the remaining players understand where they need to step up. Besides, maybe this is the test of conviction the team needs. These Warriors already have ecclesiastical undertones. Wouldn't this be the perfect team for We Believe Pt. 2?
Brooklyn, We Go Whoops
The Master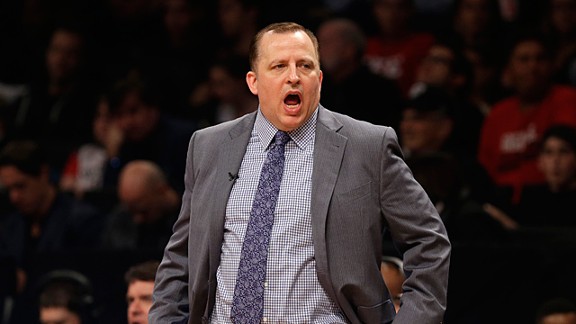 Brett Koremenos: The most memorable moment of the weekend, for me, was watching Tom Thibodeau lose his mind early in the second half of the Bulls' blowout loss to the Nets on Saturday afternoon. Not because the Chicago coach's brief spell of white-hot rage set some new standard in the category of awe-inspiring ass-chewings. It stuck with me because it exemplified the shortsighted view that Thibodeau has had all season when it comes to some of his core players' astronomical per-game minute totals.
I fully realize that in the absence of Derrick Rose and an owner willing to spend, the decision to rest players like Joakim Noah, Luol Deng, and even Jimmy Butler for long stretches isn't an easy one. After all, fans of the opposing team probably don't want to see Nazr Mohammed play meaningful minutes at the age of 35, much less his head coach. Thibs had to pick between two bad choices: let his underwhelming bench brigade eat up minutes at the expense of wins, or extend his starters at the expense of their health. One of those options produces a measurable result (Hint: It's the one where playing dudes like Mohammed and Daequan Cook more equals less victories), while the other has no baseline that we can measure.
Like I've said before in this space, Thibodeau's choice to push so many of his guys so hard could eventually be looked upon as an archaic, win-at-all-costs mind-set that elevates the risk of non-contact injuries and decreases optimal performance for the players involved. While that's just a hypothetical, the Bulls certainly looked like a team on their last legs. That's why Thibs's timeout hysterics jumped out at me. Those Bulls players in that timeout huddle — Kirk Hinrich, Carlos Boozer, Deng, Noah, and Butler — have played hard nearly every night during the regular season, vainly attempting to max out the team's win total.
The decision for Thibodeau to berate that group (especially someone like Noah, who was out there basically playing on one foot) seemed so pointless and over-the-top, part of the old-school "never say die" shtick that gets far more praise than it should. This wasn't some mid-February game against Charlotte where a wake-up call is sometimes clearly needed for even the most motivated of teams. This was a playoff game. Motivational speeches where a coach breathes new life into a team make for great stories, but big comebacks and big wins typically come from players simply being in the best position — both physically and tactically — to play at their best.
Let Me See Your Footwork
Smells Like Teen Spirit
Ryan: Zach Randolph is good at a lot of things, but there might be nothing he excels at more than pissing off Blake Griffin. Z-Bo has a cheat code. He pushes a couple of buttons and Griffin goes from high-flying basketball stuntman to head case. Watching Z-Bo play Griffin is like watching a teenage boy grab his younger brother's hand, slap him with it, and ask in a nasally voice, "Why are you hitting yourself?" Every time Griffin tried to get position on the block in Game 1, Randolph's gave him a forearm lock, or an extra-hard hip check. And god only knows what sweet nothings he's whispering in his ear.
Griffin fouled out of the game, logging less than 26 minutes, scoring 10 points. The Clippers were led by Chris Paul, Eric Bledsoe, and Jamal Crawford. Griffin was an afterthought. The Clippers might make this a short series with the Grizzlies, but Zach Randolph is going to make it a long one for Blake Griffin.
Your Loan Has Been Rejected by Paul George
BANDS A MAKE HIM LANCE
The Sad Reality of Being Happy to Be Here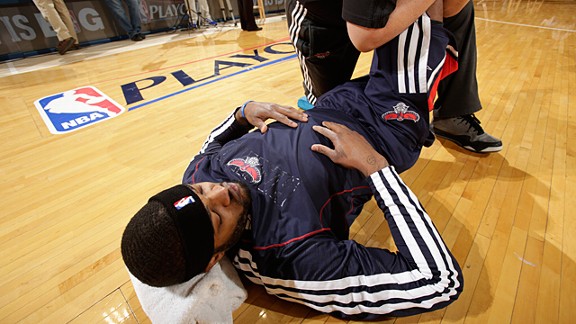 Rembert Browne: You would think the Atlanta Hawks were still the worst team in the NBA.
Any number of avenues could lead you to this assumption. Maybe it's the lack of urgency that the team appears to play with, night in and night out. Maybe it's the way the team is talked about, and dismissed, in the press. Maybe it's that a common joke about the Hawks-Pacers series is whether the games were even being televised. And maybe it's that home games have long been chronicled as feeling like away games, depending on the opponent and its city's corresponding transplant fan base.
They're not the worst team, but perception can often feel like reality.
But, again, they're just not the worst team. Not even close. Enter: this mind-boggling playoff graphic (via Wikipedia/Basketball-Reference.com).
And then the rest:
The Hawks have the fourth-longest playoff streak in the league, and are tied for the longest streak in the East with the Boston Celtics.
The Atlanta Hawks.
Learning this fact Sunday afternoon, as it became increasingly apparent that Paul George's ability to collect statistics coupled with Larry Drew's refusal to play Al Horford more than 29 minutes would lead to a Hawks loss, I began to feel oddly proud of the franchise.
This isn't a good thing.
A foundation of the competitive mind-set is the idea of "never settling." And shunning the notion of being "happy to be here." And never finding joy in simply "making it." This is something told to the smallest of children engaging in their first taste of real competition, and something that only increases as you head toward competition as a profession.
But knowing that, I was still proud.
Proud, and thrilled that I get to watch four to seven games of my hometown playoff team on television. And ecstatic that their games don't overlap with any other games, so if someone's in an NBA-viewing mood, they're forced to watch the Hawks play basketball. And, of course, proud that we were a team that makes the playoffs.
This isn't a good thing.
If anything, it's sad. A textbook case in grasping for anything salvageable.
When you don't know what real winning feels like, you'll often prop up anything you can. For now, six consecutive playoff seasons is all I've got.
Again, this isn't a good thing. But it's my thing. For now.
Manu Back!
Amos Barshad: Manu back! Manu back! There's all these [respectable ladies of San Antonio] screaming Manu back!
After missing nine of the last 10 games of the regular season with a hamstring injury, and kind of limping his way through the rest of it anyway, Old Man Manu Ginobili showed up in Game 1 with peak efficiency. He racked up 18 points (he'd only scored 18 or more 12 times this season) and needed just 19 minutes to do it. And it was vintage stuff, too: There were a couple of backbreaking 3s, plus this one play where he faked the jumper, dished off to DeJuan Blair in the air, demanded the ball back, dove to the basket, then almost broke his own ankles throwing it high off the backboard for two. Things got so exciting, preternaturally even-keeled broadcasting powerhouse Mike Breen got carried away enough to bless Manu as one of his favorite all-time players. A true honor if there ever was one.
After the game, the ever-humble Argentine said, "Now I know I'm not in my best shape, both physically and basketball-wise. I thought I had a little window there to try to risk, and it went good."
It reminded me of this one old on-air interview, from the prime years, during which Manu was told a local San Antonio couple had named their newborn baby after him (I tried to find it on YouTube for like 45 minutes just now — anyone got it on VHS?!). As I remember it, Ginobili seemed genuinely horrified, and started pointing out how maybe that seemed like a good idea now, but when he was all fat and old and nobody remembered his name — well, the happy parents would come to rue the day. As always, Manu can hear the clock ticking. For now, though, with all his twisting, squirrelly brilliance, he's doing a damn fine job of staving off obsolescence.
All eyes on Ginobili. Better picture him rollin'.
They're Very Pretty, Colonel. But Can They Fight?
Three Enduring Images From San Antonio
Kirk Goldsberry: 1. Tim Duncan sagging off of Pau Gasol. Duncan is going to the Hall of Fame for several reasons, but one of them is his insane consistency as a midrange shooter; Duncan and Kevin Garnett have stretched the defense for years by being able to knock down those 17-foot elbow jumpers. This is the exact shot that Duncan, as a defender, was daring Gasol to take in Game 1. Over and over, Timmy was sagging off Gasol, and over and over, Gasol couldn't sink that strategic shot. With Kobe out, the Lakers have issues scoring, especially from the midrange; going forward, Gasol's ability to make these midrange jumpers will be a key in this series.
2. Manu back to being Manu
The key stretch of Game 1 was arguably the end of the third quarter, when the Spurs reserves went on a run to extend their lead to 13. Manu led this run and closed the quarter with a dagger 3. He ended the game with 18 points in only 19 minutes, his highest point total in six weeks. It goes without saying how important the Manu spark is for the Spurs, and if this was any indication, the spark is back.
3. The Bonner-Howard affair
Matt Bonner has no business guarding Dwight Howard, but this strange matchup occurred several times yesterday. Howard scored a bit on Bonner, but failed to dominate him. Perhaps more importantly, on the other end, Bonner's ability to drain 3s and space the floor drew Howard away from the basket and kept him from establishing himself in the paint. This was the classic Popovich chess move of the game.
Filed Under: Atlanta Hawks, Blake Griffin, Brett Koremenos, Carmelo Anthony, Chris Paul, Chris Ryan, Danny Chau, Dwight Howard, Jay Caspian Kang, Kirk Goldsberry, LeBron James, Los Angeles Clippers, Los Angeles Lakers, Manu Ginobili, NBA, Rembert Browne, Robert Mays