Tigers Survive, Red Sox Advance on Another Wild October Night
AP Photo/Duane Burleson)
The Detroit Tigers forced a decisive Game 5 in Oakland on Thursday, while the Boston Red Sox advanced to the American League Championship Series, as both teams eked out tight victories Tuesday.
Though Anibal Sanchez did struggle in Game 3, Detroit found itself facing elimination because its best hitters had done very little over the first three games of the series. The lineup's top five — Austin Jackson, Torii Hunter, Miguel Cabrera, Prince Fielder, and Victor Martinez — had combined to hit just .211, with three extra-base hits and no home runs. This was an extremely small sample size, of course, and the Tigers owned the second-best offense in the league during the regular season. You'd figure the dry spell would end soon. But the Tigers aren't playing with the same lineup anymore. Not with injuries reducing Cabrera to a shadow of his recent self.
We covered Cabrera's decline in great detail as part of our quadrupleheader recap. In a nutshell, the AL's likely repeat MVP winner is now a singles hitter, with just one home run in 110 plate appearances coming into Game 4. That, too, could be construed as a small sample size fluke, but for groin, abdominal, and wrist injuries, which have affected Cabrera's swing, and in the case of those first two ailments, crushed his already limited mobility. We can't say definitely when the injuries might heal. But it's a pretty good bet that Cabrera won't be his planet-devouring self again until next season. So for the Tigers to generate offense and hang with an excellent A's team, they'd need other hitters to come through by boosting a diminished lineup.
They got their wish on Tuesday, with Jhonny Peralta leading the charge. After cracking a two-run, game-tying single Monday, Peralta delivered another game-tying hit, this one a three-run homer in the fifth. Peralta's return from a PED suspension provided more depth for a team that had a bit of a stars-and-scrubs offense. We'll have to see if any unintended consequences arise, though. Between Cabrera's injury-triggered, statue-like defense at third and Peralta's inexperience in left, the Tigers' already poor defense is now even worse. In Game 3, Cabrera botched a very fieldable grounder by not sliding over a foot to, at the very least, knock the ball down; in Game 4, the A's Josh Donaldson hit a chopper that virtually any third baseman charges and throws to first for an out … only Cabrera couldn't make the play, leading to an infield hit. An optimal lineup would move Peralta to third base, with Andy Dirks in left field, Cabrera DHing, and Martinez catching, an alignment that could boost the team's run prevention without giving up much on offense. Jim Leyland's likely to stick with the status quo, though, so we'll see if that weak defense costs the Tigers in Game 5.
Leyland stuck to the status quo with his pitching choices, too, at least at first. The League Division Series schedules give managers some options when it comes to slotting their rotation. A Game 2 starter, for instance, can start again in Game 5 on full rest, with his team having received two days off in the interim. That's how the Pirates can debate going with either A.J. Burnett or Gerrit Cole in today's NLDS Game 5, and how the A's can make their own veteran-or-rookie decision, with both Bartolo Colon and Sonny Gray fully rested. That flexibility, combined with bullpens that are better rested than they are during the regular season, can make it tempting to start Game 1 starters again in Game 4, on three days of rest. The Dodgers did so with Clayton Kershaw, the Cardinals at least elicited some outside debate about potentially going with Adam Wainwright, and the Tigers got the chattering class thinking about Max Scherzer taking the ball for Game 4 instead of Doug Fister.
Leyland was having none of it, though, and for good reason. Over the past three seasons, Justin Verlander has been the most valuable starting pitcher in the majors per Wins Above Replacement, with Scherzer ranking sixth, Sanchez seventh … and Fister ninth. Debate the merits of that stat all you like, but no matter which metric you like best, Fister's still the best no. 4 starter in the game. Starting him on full rest was the most logical course of action.
The move netted lousy results at first, though. Coco Crisp continued his hot hitting by smacking a leadoff triple, the 10th extra-base hit of the series at the time for the A's versus just four for the Tigers. Fister then threw a belt-high, 91 mph fastball that Donaldson lined hard to right field, but right at Hunter. Jed Lowrie then followed with a sharply hit single to left, breaking an 0-for-12 skid and putting Oakland up 1-0. All told, as MLB.com's Tigers beat reporter Jason Beck noted, Fister needed 26 pitches to get through the first inning, with A's hitters fouling off nine balls and swinging and missing just once. Fister got in trouble in the second too. Seth Smith led off with a well-struck single, then moved to second on another pitch much higher than Fister intended, so high that it sailed over catcher Alex Avila's head. Then with two on and two outs, Fister threw yet another high fastball, this one at Crisp's belt. Oakland's leadoff hitter crushed the pitch, sending a screaming liner all the way to the warning track, only for Hunter to snag that one too. It was enough to make you wonder if Fister's batted-ball luck might soon run out, if he might be out of the game soon, and if playoff-bound managers might want to consider getting their fourth starters a bit of low-leverage relief work on the last day of the season to avoid the kind of rust that can build up when a pitcher has to wait 14 days between starts, as Fister did.
Fortunately for the Tigers, Fister was able to make it through four more innings, leaving after six with the score tied 3-3. And that's when Leyland finally went out on a limb.
One of the luxuries of having four excellent starters is that you might not be losing much, or anything, by going with your no. 2 over your no. 1 in your elimination game. That in turn allows teams to go with their de facto ace as a high-leverage relief option if they so choose, especially when their bullpen corps is thin. That's how Scherzer entered a tie game to start the seventh. The move didn't go as well as the Tigers might've hoped, though. Stephen Vogt led off the seventh with a single, then got pushed to second on a sacrifice bunt by Eric Sogard — an actually reasonable move given Sogard ranks as one of the weakest hitters on any playoff team's roster while Crisp and his 2013 line of .286/.358/.498 versus right-handed pitchers stood on deck. Crisp worked the count to 2-2, then went after a changeup just off the outside corner, slashing it up the middle for an RBI single and putting Oakland up 4-3. In all, Crisp would finish the game 4-for-5 with three runs scored plus that RBI, his only recorded out coming on that ball smoked to Hunter in right.
The Tigers answered right back in the bottom of the seventh on the most controversial play of the game. Leading off the inning against lefty Sean Doolittle, Martinez smashed a 96 mph outside fastball deep to right. Josh Reddick retreated to the wall, measured the ball's flight, leaped … and had the ball get batted around by two fans in the front row of the bleachers, just out of his reach. Umpires reviewed the play before upholding the initial call of home run, arguing (correctly) that the ball flew over the yellow line that indicated a homer. Reddick had a beef in theory, since he might've had a chance to catch the ball had those fans not placed their hands on it. But by rule, there was nothing he could do. Peralta then bagged his second extra-base hit of the game, rapping a double down the left-field line. Dirks, as a pinch runner, came around to score four batters later on a broken-bat single by Jackson, giving Detroit its first lead of the game.
That brought on the biggest sequence of the game. Rather than go to any of the team's setup men, Leyland went back to Scherzer for the eighth. Again, the inning started poorly, this time with Oakland's first three batters reaching base on a walk, a double, and an intentional walk. Check out ESPN Stats & Info for the long-term version of what happened next. The short version? Scherzer set down the next three hitters in order, doing so in heart-attack fashion: a 3-2 slider a foot inside and near the dirt that prompted a wild swing and strike three from Reddick; a vicious 98 mph, knee-high fastball to whiff Vogt; and a terrifying matchup with Alberto Callaspo that included a line drive down the left-field line that landed a few feet foul of being a potential series-ending three-run double, ending with another well-struck line drive that landed in Jackson's glove to end the inning. We probably won't see another self-inflicted mess that bad, followed by an escape act that impressive, until 2014.
The Tigers tacked on three more runs in the bottom of the eighth, then overcame a shaky performance by Joaquin Benoit to escape with a victory. Which means on Thursday, we get the best October gift of all: a game of win or go home.
---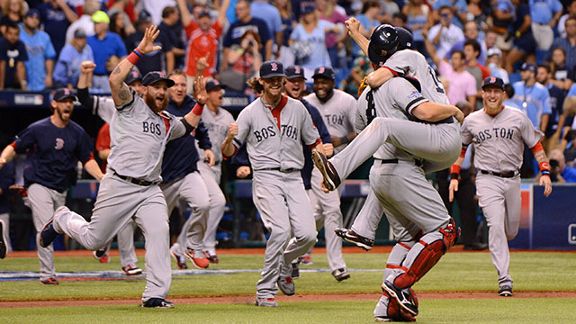 Boston's series-clinching 3-1 win is far easier to sum up: The Red Sox beat the Rays at their own game.
It began with the starting pitching matchup. The Rays were supposed to have one of if not the deepest starting rotations in the game this year, with David Price leading a group that included Alex Cobb, Matt Moore, Jeremy Hellickson, Jeff Niemann, and an army of rookies waiting in the wings. Those options eroded as the year wore on. Niemann never threw a pitch. A combination of diminished batted-ball results, fewer popups induced, and terrible numbers with runners on base staked Hellickson to a 5.17 ERA, third-worst among all qualified starters. And after a spectacular July, Chris Archer's performance began to slip, culminating in an erratic September that ended with a 4.78 ERA.
The Rays opted to start Hellickson, but with the understanding that he'd be on a short leash. A perfect first inning, followed by the first three batters reaching in the second, and Hellickson was gone, giving way to a game of Joe Maddon reliever bingo. Considering how things could've gone from that point, the Rays did brilliantly to allow only three runs over nine innings. They benefited from excellent performances by the majority of the nine pitchers used, some sound management from Maddon, and some crisp defense (including an inning-ending double play in the second in which James Loney snagged a line drive, fired to second, and got a great scoop by Yunel Escobar to end the inning). Critics slammed the Rays manager for overmanaging, but the game might've been over two hours earlier if Maddon hadn't pushed most of the right buttons.
The Red Sox simply did it better. Thanks to one of the most productive farm systems in the game, plus the means and the will to spend as needed, Boston landed one of the biggest prizes of the trade deadline in Jake Peavy. That addition, combined with Clay Buchholz's return, turned one of the thinnest rotations for any playoff contender into one of the deepest. Peavy was excellent on Tuesday, going 5⅔ innings and allowing just a single run on five hits, with three strikeouts and no walks.
If the Sox had one potential weakness in this series, it was what they would do to bridge the gap between performances like Peavy's and all-world closer Koji Uehara. Here again, Boston overcame a perceived weakness. With two outs in the sixth, lefty reliever Craig Breslow came in to face Loney with a runner on first. He promptly struck Loney out, then followed that whiff by fanning Evan Longoria, Ben Zobrist, and Desmond Jennings in order. A command specialist who had struck out just five batters per nine innings during the regular season, here was Breslow striking out the Rays' three through six hitters, all swinging, at a pivotal point in the game. For the game, Boston's relief combination of Breslow, Junichi Tazawa, and Uehara combined to toss 3⅓ scoreless innings, allowing no runs, just one hit, and striking out seven.
The capper came from Boston's opportunistic offense. The Sox combined to score seven runs in Games 3 and 4, with just one of those coming home on a base hit that left the infield; the rest were the result of errors, RBI groundouts and flyouts, and well-placed 14-hoppers that never reached the outfield grass. After falling behind 1-0 in the sixth Tuesday, the Sox tallied two runs to take the lead right back, using the following sequence: flyout, pinch-hit walk, strikeout, bloop single, wild pitch that scored the tying run and sent the go-ahead run to third when Jacoby Ellsbury took off with the pitch, RBI infield hit. The Sox added an insurance run in the ninth by stringing together two walks, a wild pitch, a hit-by-pitch, and a sacrifice fly. Uehara then set the Rays down 1-2-3 in the ninth, and that was that for Tampa Bay's season.
When a team falls short in a series, you ponder the what-ifs. But really, there weren't many hypotheticals to consider this time. The Rays, who used to be one of the most aggressive base-stealing teams in the league, got beaten on the basepaths by the Red Sox in this series. Boston pitched better, as the Rays got lousy performances from Price and Moore. The Sox fielded better, turning numerous rally-crushing double plays and avoiding the string of errors that plagued the Rays earlier in the series. They hit better, not by bashing long balls but by extending innings with a barrage of walks, singles, and doubles. The Red Sox also got a few more balls to drop into no-man's-land for good measure, not that there's anything wrong with a little good fortune.
All in all, the better team won. And now with the Red Sox moving on to the next round, they're the early favorites to make it to the World Series. Not bad for a team that was one of baseball's worst, and most dysfunctional, groups just a year ago.
Filed Under: Boston Red Sox, Detroit Tigers, MLB Playoffs, Oakland A's, Tampa Bay Rays