The Remarkable Evolution of Bruce Chen
Ed Zurga/Getty Images
For the first 10 years of his career, Bruce Chen was the quintessential baseball journeyman. He played for nine teams in those 10 seasons. He'd already played for four-fifths of the National League East by age 25, prompting a groundswell of support for a trade to the Marlins that would complete the set. He broke into the big leagues the year Mark McGwire and Sammy Sosa shattered the single-season home run record, then got shown the door by his ninth team the year the Mitchell Report came out.
That could have easily been the end. At that point in his career, Chen owned a 4.63 ERA. He'd rarely held down one role for long, much less excelled at one, his 32-start, 13-10, 3.83 ERA season with the Orioles in 2005 being the notable exception. On top of all that, he'd suffered an elbow injury that required Tommy John surgery. You don't sweat a year-plus of rehab on a 25-year-old phenom. For a pitcher who'd be pushing 32 by the time he got back, with a résumé that spotty, there were no guarantees he'd ever get another shot.
What's happened since then has been a minor miracle. Chen is winding down his fifth season with the Royals, by far his longest stint with any team. He's finishing up a two-year, $9 million contract, the first multiyear deal of his 15-year career. And for the first time since his rookie season, he's a full-fledged member of a starting rotation on a team with legitimate, down-to-the-wire playoff aspirations. As much as the 2013 Royals must rely on James Shields, Ervin Santana, and their young lineup in this year's home stretch, they probably won't go anywhere unless Chen also comes through.
The first 19 appearances of Chen's 2013 season all came in relief. He was serviceable at times, but also periodically terrible, giving up 36 hits and 13 walks in 33⅔ innings. Still, as good of a job as GM Dayton Moore had done in staffing the top of the rotation, the Royals needed a new fifth starter on the last weekend before the All-Star break. After a hot start to the season that had them in first place as late as May 1, they were 43-46 heading into a three-game series in Cleveland. Chen got the call in the series opener; given that it was his first start of the season and he'd been cuffed around by the A's five days earlier, nobody expected much. Instead, Chen turned in one of the best starts of his career. In six innings, the left-hander struck out four, walked one, allowed just one hit, and shut Cleveland out. The Royals went on to lose the game anyway, which happens when you give your starter exactly zero run support. But the team's fortunes have improved dramatically, with Kansas City going 37-25 since then, including a Chen-led win over the Tribe on Wednesday that pulled the Royals to within three games of the second wild-card spot.
Chen has been one of the quieter reasons for that success, yet also an important one. Out of 13 starts covering the past nine weeks, three have been disasters, with Chen allowing six runs or more. But the other 10 have been magnificent, with just 11 total runs allowed, including three starts in which he held his opponent scoreless. Add it all up and you get a 3.45 ERA for Chen's stint as a starter this year, with nearly three strikeouts for every one walk allowed, and opponents hitting just .214 with a .263 on-base percentage. With Chen now an important contributor to the Royals' wild-card chase, we have two questions to ask: How the hell has he been this good, and can it possibly continue?
The facile answer is that he has been lucky. The league-average batting average on balls in play this season sits at .297, yet Chen has limited opponents to a tiny .229 BABIP as a starter, despite batters posting a healthy 20.7 percent line-drive rate against him. Batters have hit nearly twice as many fly balls as ground balls against him in those 13 starts, yet thanks to a low 6.6 percent home run–to–fly ball rate, just eight balls have left the park during Chen's time as a starter.
Dig a little deeper, though, and you can see that Chen has improved his command, something that becomes evident not only in his low 5.7 percent walk rate but also in the way he's locating specific pitches. We can see this most clearly in his approach against right-handed hitters. From 2010 through 2012, Chen caught the fat part of the plate far too often against righties. He's located much better against right-handers this year, resulting in much better results. (All data and heat maps to follow are courtesy of ESPN Stats & Info.)
Drill down even more and we can see that Chen's off-speed pitches have been the difference-makers. Only R.A. Dickey, Barry Zito, and Mark Buehrle throw slower fastballs than does Chen. His two most frequently used non-fastballs are his 77 mph changeup and 73 mph curveball. Plot Chen's off-speed pitches against righties from 2010 through 2012, then compare those results to 2013, and the difference is staggering.
Finally, we can see how Chen has both changed his approach and improved the location of his pitches when ahead in the count against righties this year. In 2010-12, Chen used his off-speed pitches 26 percent of the time when ahead of right-handed hitters; this year, he's ticked that up to 30 percent.
As the heat maps below show, Chen too often caught the fat part of the plate with those pitches in his previous three seasons. This year he's pounded the bottom of the strike zone, the outside corner, and a big area off the outside corner. That way he's either getting called strikes on perfectly placed pitches, inducing swings and misses on pitches out of the zone, or simply tossing throwaway pitches that do little harm.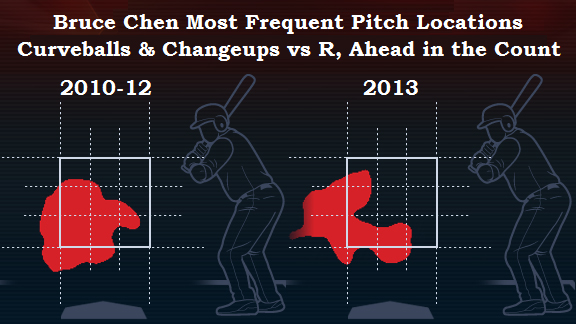 If you're looking for a potential deciding factor as the Royals reach the homestretch, watch out for that changeup in Chen's final starts. He's already made masterful adjustments to fuel one of the best seasons in a long and at times checkered career. For the Royals to stay in the hunt, they'll need even more craftiness from their ever-crafty lefty.
Filed Under: Kansas City Royals, MLB