The Nadeshiko Revolution: Japan's Women's Soccer Team Plays Tiki-Taka Without the Tedium
Julian Finney/Getty Images
There's a craze sweeping men's football at the moment. Its name is tiki-taka, a tactical system devised to help skillful teams cope with physically dominant opponents. There are those who will tell you that it is nothing less than an evolutionary step for football. These people have seen the tremendous success of the principal exponents of the style (the all-conquering Spanish national side, and Lionel Messi's Barcelona), and they've reached the conclusion that tiki-taka isn't just another tactical approach to the game; it's progress.
It's not progress. It's actually an old idea, for tiki-taka was invented in 1997 by Matt Groening (or one of his many scriptwriters) in the "Cartridge Family" episode of The Simpsons. In the episode, Mexico and Portugal play an exhibition match in Springfield that is so stultifyingly boring, a riot breaks out between supporters desperate to be the first to leave the stadium. Meanwhile, Kent Brockman calls the on-field action, in what always used to strike me as a wildly inaccurate parody of football, but now seems like an act of eerily prophetic soothsaying.

KENT BROCKMAN: [Bored.] Half-back passes to the center, back to the wing, back to the center. Center holds it. Holds it. Holds it …
That's tiki-taka in a nutshell. Behold, the evolution of football.
So much for the men's game. But I'm here to tell you that there's a tactical revolution happening in football that isn't stultifyingly boring to watch. Its inventor is Norio Sasaki, the coach of the Japanese women's team (known as Nadeshiko Japan), and under his guidance, Nadeshiko have enjoyed a two-year purple patch that's almost as good as Spain's, beginning with a gold medal at the Asian Games in 2010, followed by an extraordinary World Cup victory last year. Tomorrow, Nadeshiko will attempt to add an Olympic gold medal to their haul when they face off against the U.S.A. at Wembley Stadium, in front of the largest audience ever for a women's football match.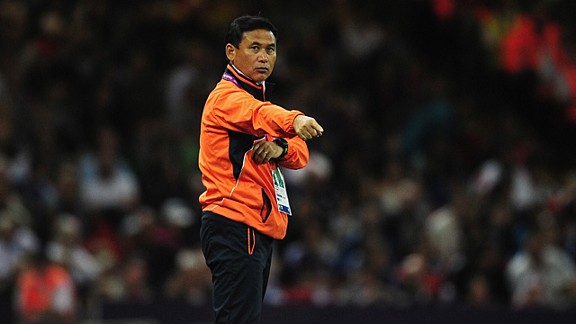 A huge amount of the credit for this success goes to Sasaki, who has had to generate results in the face of a substantial problem: namely, that all of Japan's opponents are substantially bigger than them. Take today's game, for example; Japan's starting 11 have an average height of just under 5-foot-4. This includes their goalkeeper, Miho Fukomoto, who (at 5-foot-4) is the shortest goalkeeper ever to participate in a major footballing tournament. Tomorrow, they face the USA, who average out at just over 5-foot-7. Star USA striker Abby Wambach (5-foot-11) doesn't just tower over Fukomoto; she's got at least seven inches on three of Japan's four defenders. Saki Kumagai is the only member of Japan's back line who can attempt to look Wambach in the eye, as she's only three inches shorter than her opposite number. Simply put, a team that gives up that much height, in almost every position on the pitch, should have no chance at all against vaguely competent opponents. And yet, in the last 14 months, Japan has won six knockout games against the other five highest-ranked teams in the world (Germany, USA, Brazil, France, and two wins against Sweden), overcoming an enormous height disadvantage in every game. How the hell do they do it?
Well, the Nadeshiko approach is an interesting one; they deploy a 5-4-3 formation. That's technically impossible, admittedly (only 11 players on the field, after all), but it's the best description of how the team functions, largely thanks to the extraordinary efforts of World Player of the Year, Homare Sawa. If you have Homare Sawa on your team, you can play 5-4-3. Technically, she's a central midfielder, but she's definitely a part of the Nadeshiko defensive formation; whenever the opposition have the ball in the final third of the pitch, Sawa will be there or thereabouts, using her remarkable positional awareness to close down space, prevent crosses, and help her teammates maintain their superb defensive record. That positional awareness also comes in handy at the other end of the pitch; Sawa has 80 international goals in 179 appearances, which is a substantially better international goals per game ratio than (to pick a name at random) Lionel Messi. In short, she performs the role of Frank Lampard and Claude Makelele at the same time, and I cannot think of one individual footballer who has combined both those roles in the way that Sawa does for Japan.
Incredible as Sawa is, it would be wrong to describe Japan as a one-woman outfit.Their main strength lies in their tactical flexibility, and Sawa's extraordinary work rate is just one of the reasons why the team is able to cover so much of the pitch. Her central midfield partner Mizuho Sakaguchi also deserves credit here; she provides the defensive cover that enables Sawa's offensive excursions, and when Sawa returns to the defensive fold, it's Sakaguchi who drops further back to congest the center, or drifts wide to help the full backs stifle any wide threats. As a result, opposing wingers get very little change out of Japan, and their opponents' height advantage is only really felt from set pieces.
Defense is only half the battle, of course, and when Japan are in possession, they counterattack with tremendous speed, but their need for defensive solidity means that they don't get forward in numbers too often. They rely on quick, accurate passing to try to exploit defensive errors from open play, but they're at their most threatening from dead ball situations, thanks to Aya Miyama, who can deliver low, raking free kicks with pinpoint accuracy from just about anywhere. Norio Sasaki has his players well drilled to take advantage of Miyama's quarterback-like set pieces, and even though Japan's attackers lack the height to cause panic in opposition defenses, their darting attacking runs and Miyami's unerring aim more than compensate; both of Japan's goals against France in the semifinal came by way of Miyami set pieces launched from near the halfway line.
In many ways, Sasaki's tactics are similar to tiki-taka. They were devised as a counter to physically dominant opponents, they rely on remarkably talented players to make them work, and they're proving to be damnably effective. There are differences, of course; the principal one being that you're unlikely to be distracted by drying paint watching Japan play. But are we witnessing an evolution in women's football, or merely another revolution of the tactical merry-go-round? How long will it be before all football teams train like this?
Dermot Hunt is a poker player and sports bettor who lives in North London.
Filed Under: Olympic Games, Olympics, Soccer