The Hardcourt Shuffle: That Old Butler Magic, Cuse Is in the House
Michael Hickey/Getty Images
Let's begin by delving into the realm of the imagination. Pretend it's November 1, 2012, and you and I are real-life acquaintances. Pretend we're having a conversation on a park bench near a vacant outdoor court. The wind is whistling, and it's far too cold to even consider playing, but we can't help stare longingly at the torn net hanging from the bent rim. The wind dies down for a moment, and I tell you that I've had a vision. There will be a number of buzzer-beaters this year, I say, but only one of them will be truly peculiar. You'll watch the replay over and over, but you still won't quite be able to wrap your mind around how it all happened. And tell me, I continue, as the wind begins to howl, tell me which team is involved. More than that, tell me which team wins.
We both know what you'd say, even without the benefit of a mystic vision. "Butler." Of course you'd say Butler. It's always Butler.

Back to the present. If you haven't seen the strangest ending to a college basketball game this season, watch it now. We pick up the action just after Kelly Olynyk makes two free throws to put Gonzaga up 63-62 with 4.6 seconds left:
There are so many thoughts rushing through my brain right now that I need numbers to make sense of it all. So,
1. I still have no idea if Roosevelt Jones got the shot off in time. To be clear, I have absolutely no problem with the decision the referees made. I would've done the same thing. But I don't know if it's right. All of which indicates what many college basketball fans have feared for weeks: The ghost of Sabatino Chen is going to haunt this entire season.
2. Let's talk about that inbounds pass by Dave Stockton, son of all-time NBA assists and steals leader John Stockton. On the surface, it looks pretty poor; he just throws a lob straight to Rosey Jones. But look closer and you'll notice that at the time he releases the ball, or milliseconds before, Kelly Olynyk has good body position on Jones. The physics of Stockton's pass make sense (we'll get to the philosophy in a second), and if Olynyk had just stayed, it would've been an easy thing to make the catch.
3. Except that one of two things happened. Either Olynyk broke away right as Stockton threw the pass, a miscommunication that led to the gift turnover, or — OR — Jones shoved Olynyk at the perfect moment, a classic push-off that led to the turnover. I've watched the video over and over and still can't tell. My gut says it's some combination of the two; Jones definitely had his forearm in Olynyk, but I also think the Canadian dashed away at the worst possible moment. Or, if you prefer, Stockton threw the pass too soon.
4. However, here's some evidence in favor of the push-off. In this interview, Jones drops this nugget:
"I heard the coach tell Stockton to lob it up to Olynyk, so I played behind him. And Stockton actually lobbed it too far, and it fell right in my hands."
In other words, he knew exactly what was coming. And, in all likelihood, knew exactly when a little shove would do the most damage.
5. Which brings up another point: When discussing strategy at a crucial point in the game, DO NOT share that strategy with an opposing player. Inadvertently or not.
6. Especially if the strategy is bad. With 3.5 seconds remaining, inbounding the ball with a one-point lead, the thing you definitely want to avoid is giving the ball to a guard near midcourt with room to run. So why lob the ball into that area? Gonzaga could have done almost anything else — including passing the ball to a Butler player under the far basket — and forced a desperation heave. Stockton's orders, with no timeouts, should have been as follows: Pass the ball to an open player on a cut, so that the pass can't possibly be intercepted. If that fails — and it shouldn't, since inbounding is a relatively simple task, even under intense road pressure — lob the ball toward the other hoop and make Butler go the length of the floor. The two things you cannot do are to lob into no-man's-land, or take a five-second violation. That's it. Why over-think it by designing a modified post-up near half court?
7. Moving on, I'm now convinced that Butler is virtually unbeatable in close games. Without looking it up, I can think of eight high-profile games that Butler won by fewer than three points. I mean, there are three already just this year — Marquette, Indiana, and now Gonzaga. They always find a way. As for close games they lost? I can think of one.
8. But let's get more scientific. In games decided by five points or fewer in the past four years, Butler is 26-9. In postseason elimination games (conference tournament, NIT, NCAA), Brad Stevens is 6-1. Those numbers are incredible, and it's tempting to use it as more evidence for the idea that Stevens is a basketball genius. Which he probably is. But what's really remarkable to me is how lucky they've been. This year, you had Rotnei Clarke's desperation 3 and Dave Stockton's ill-advised pass. In the 2011 tournament, you had a series of favorable tips and bounces that led to another buzzer-beater against Old Dominion, the indescribably weird ending against 1-seed Pittsburgh in the round of 32, and a collapse by Florida. In 2010, the games were just close without being borderline supernatural, but winning three games by eight points has to be considered its own kind of luck. We already knew the Bulldogs were the ultimate Cinderella, but it looks like their clock never strikes midnight.
9. One thing I really love about Brad Stevens is how totally composed he remains on the sideline in scenes of complete mayhem. In this grainy shot from the Marquette game, you can see him in the lower-left hand corner calmly walking to shake Buzz Williams's hand after Clarke's prayer falls. Watch the Gonzaga video again and focus on Stevens at around the :53 mark; he crosses his arms, watches the steal, takes two steps toward Mark Few as Jones launches the shot, and puts his head down just after it goes down as he moves in for the handshake. It's insane. He never reacts. There may be some inconclusive video evidence that he once sort of pumped his fist, but I can't be sure. So, considering the fact that he wins a lopsided percentage of close games — some of them in bizarre fashion — and never seems surprised, my question is this: What does he know??
10. The explanation is probably just that Brad Stevens is a genius. As usual, he managed to rein in a high-powered offense and dictate the tempo and style of play. As usual, his team was physical, tough, resilient, focused, relentless. As usual, Butler survived a rough patch — in this case, an 18-11 start by Gonzaga — erased the deficit, and turned the game into a war of attrition. Notice how the game finished with 58 possessions for each team, 10 fewer than Gonzaga's average. Notice how for the second time this season, the Butler bigs held a talented center (Zeller, Olynyk) well below his season average. Notice how the guards, especially Jones, attacked the basket, resulting in Butler going to the line almost twice as often as the Zags.
In the end, this game followed the formula of so many classic Butler wins over the last four years: Scout the hell out of the opponent and take away what they like to do, refuse to be out-muscled on defense, keep the game close, and then get lucky in the final minute. Even with 3.5 on the clock and a 1-point lead, Mark Few had spent the final 30 minutes of the game watching Stevens make all the important choices. Gonzaga had been dragged down from the level of beautiful offensive execution into a frustrating tug-of-war. No matter what happened on the final play, they were already beat.
The Syracuse Giant Emerges From Its Slumber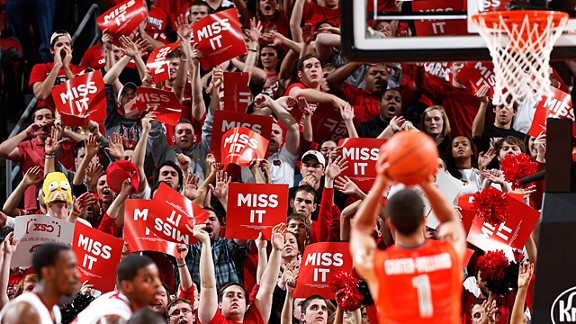 Syracuse is one of the most puzzling teams in college basketball every season, and I warned everyone not to be shocked if they pulled off a win at no. 1 Louisville. The critical factor, I thought, was that Syracuse takes away the dribble-drive with the zone defense, and Louisville sometimes struggles to shoot 3's. But as it happened, Louisville shot well enough from long distance (7-20, or 35 percent), but Syracuse somehow managed to put up 70 points on the road against the team that came in with the most efficient defense in the country … and they did it in only 63 possessions!
For context, that's an efficiency rate of 111.1 points per 100 possessions, making it the most efficient performance that any team has dropped on Louisville this season. Kentucky came close at 108, and Duke and Memphis weren't far off with 104, but this was the best. And the Orange didn't do it by avoiding turnovers; point guard Michael Carter-Williams had eight all by himself. Instead, they grabbed a high rate of offensive rebounds, got to the line, and hit almost half their 3-point attempts.
Three more thoughts:
1. This game obviously puts Syracuse in an elite class, but the same logic that said they could pull off a stunner in Louisville applies for whatever comes next. This is still the team that barely got past Detroit at home, had trouble against Providence on the road, and lost to Temple on a neutral floor.
2. Despite the great defensive numbers Louisville has put up all season, it's less impressive when you only take the four games mentioned above. Against Memphis, Duke, Kentucky, and Syracuse — the four best offenses they've faced — their collective efficiency of 106.75 — allowing 106 points every 100 possessions — is pretty weak. Specifically, it looked like Syracuse got a lot of open shots on the perimeter, and were able to create off the dribble with the kind of ease you wouldn't expect against Louisville. Brandon Triche shot the lights out, but he couldn't have done that without a lot of open looks. Gorgui Dieng is still a monster inside, but maybe the guards aren't as tenacious as advertised.
3. Syracuse sophomore point guard Michael Carter-Williams is a very exciting player. He's a string bean, but he's lightning quick and a terrific passer in the lane (see video at the bottom of this post). He also seems to despise caution, which results in more than a few turnovers. Both sides of Carter-Williams were on display against Louisville, but the the takeaway was this: he's fearless. Again and again, he took the big shot, attacked the Louisville defense, and went out of his way to try nab steals. The results were either disastrous or spectacular, but by the end it skewed toward the latter, and more than any other player, he carried Syracuse in the final eight minutes. Here's the video, culminating in the stunning finale:
Everything Else
The two marquee games lived up to (and beyond) their billing, but the rest of Saturday's games were almost as ecstatic. Since this post is heavy on lists and numbers, here are a few concluding thoughts in the same style:
1. I'll take the Florida Gators over any other team in the country. I know they had a collapse in Arizona and played poorly against Kansas State, but the way they brutalized Missouri convinced me that when they play anything but awful basketball, nobody can beat them. KenPom says they have the second-best offensive efficiency and the top defensive efficiency in the country, and you can see that when Donovan has them clicking on all cylinders. This team has exactly one weakness, and it's that they shoot a ton of 3's. Notice the wording: They're still very good at shooting threes (37.5 percent, good for 39th in the country), it's just that they shoot too many, meaning they're prone to losing games on an off night. It's happened once so far, when they went 5-19 against KSU and lost by six. Also, the sheer volume of long shots means they draw fouls at a low rate. But if they can avoid a rare stinkbomb, Florida is the team to beat in March.
2. I'm finished taking Creighton seriously as a potential Elite 8 team. The Bluejays are fun to watch, and Doug McDermott is this year's mid-major darling, but it became clear in Saturday's road loss to Wichita State that they have serious trouble staying in front of quick guards. The backcourt just isn't athletic enough to hold the fort, and my guess is that the team's impressive offensive numbers won't hold up against strong defenses from the BCS conferences. The Bluejays have second-round exit written all over them.
3. Oregon gets the nod for toughest win, pulling it out on the road at UCLA when it looked like the Ducks spent most of the game trying to keep up with the Bruin scoring attack. Oregon is now the last unbeaten team in Pac-12 conference play, and they've already won against their two toughest opponents, Arizona and UCLA. More crucially, they don't have to play either of those teams again. Yes, Oregon just became a pretty heavy Pac-12 favorite.
4. After the excellent slate of 4 p.m. games, watching Michigan State squeak past Ohio State was like eating a fistful of dirt after a five-course meal. I'm still not sure if either of these teams is any good, but I'm leaning toward no.
5. I'm going to start grouping Indiana and NC State together, because I'm notice a lot of similarities. One, both teams wear red. Two, both teams struggled against weak opponents (Northwestern, Clemson) on Sunday. Three, both have shown flashes of brilliant offense that mask an important truth: They're not actual contenders. Indiana is blessed with a very favorable early schedule in the Big Ten, but once February hits, it gets real ugly. That, in my mind, is when the weaknesses will start to reveal themselves. Chief among these is Tom Crean's baffling inability to make mid-game adjustments. I've never seen a Division I coach become so confused by a 1-3-1 defense, like when Northwestern unleashed it on Sunday. It came shockingly close to costing the Hoosiers a road win. As for State … well, the ACC is pretty awful, so they could dodge the reckoning for a while despite a shaky defense. But UNC is on the horizon, and I can already feel the inferiority complex start to swell …
Enjoy the holiday.
Filed Under: College Basketball, Florida, Indiana, Louisville, Shane Ryan, Syracuse