The Designated Player: MLS Coach Theater Rankings
Last week, I went to the launch party for FIFA 15 at a venue in New York's Chelsea. The bright and the beautiful danced around, in regrettable hats, and Clint Dempsey rapped. At the heart of it all, splendidly, splendidly indifferent, sat Sigi Schmid. His Seattle team was in town to play the Red Bulls.
Schmid was in full "mild disdain" mode, familiar to viewers who saw Ciarán Hinds play Julius Caesar in HBO's Rome.1 He always remembers to be regal, but can't hide the twitching corner-of-the-mouth displeasure with the quality of lions at the circus, or DeAndre Yedlin's tracking back. The effect is completed by the tightly knotted scarf Schmid likes to sport — it has the ceremonial look of a slipped laurel wreath.
On Saturday evening I got to see Schmid again, this time patrolling the technical box at Red Bull Arena. It reminded me of one of my favorite quirks of that stadium. My regular seat is just behind the visiting dugout, so I tend to get treated to a personal Noh theater show of managerial frustration from whoever's passing through town. Schmid was, true to his idiom, imperious — occasionally turning away in disgust at the disappointing mortals, Despite his relative restraint, he lodged himself among my top five mime performers in the league. The others, in no particular order, are:
Ben Olsen
Actually, scratch that "no particular order." There's no coach I enjoy watching more than Ben Olsen, in full agitation. He. Can. Not. Let. It. Go. He's like a Jack Russell who really needs to sleep, but has just been thrown a squirrel.
A week or so ago, I got a front-row seat to a vintage Olsen performance, as his D.C. United side was controversially reduced to 10 men by Mark Geiger, whose refereeing performances had once led Olsen to refer to his games as "the Geiger show."
Olsen was not happy and found himself following his own enraged head around the technical box for the rest of the game, in a gift for GIF animators everywhere. It didn't help that D.C. lost on virtually the last kick of the game, prompting a further gift for lip readers everywhere.
At the final whistle you could see a battle between fuming head and more sober feet, as Olsen found himself charging out of the box toward the hapless referee, before some semblance of clarity returned and his feet took his anger back to the D.C. locker room. As a bravura performance of his own angst it was the rage-filled equivalent of the mime walking in the wind.
Courtesy Minerva del Real
When those injustices happen (and the red card was pretty ridiculous), Olsen just can't help himself. "I don't typically react that way. I can't stand being that guy," he said after the game. He's smart and funny and self-aware and self-deprecating and none of that is any use when someone throws you a squirrel.
He's just signed a contract extension. Color me happy, and don't ask me what happens in the next Red Bulls–United game — I'll just be watching the sideline.
Peter Vermes
Peter Vermes looms. And during a game he looms larger.
He's a big guy with a military-issue haircut, and he always seems to be invading the personal space of someone invisible on the sideline. My favorite moment in the Peter Vermes technical box experience is when he steps to the edge of it … the very, very edge of it … like so close to the edge you think he's just itching for some long-haired assistant referee to challenge him so he can confirm his constitutional right to be there.
And then you realize why he needs to be there, as some decision or glance will go the wrong way, and he'll need the full box to turn around and kick the air in frustration. Without his incursion into Canadian airspace, he'd likely boot his assistant in the face in every game.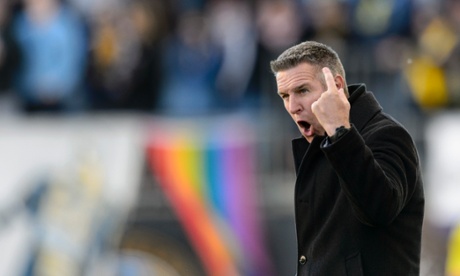 It's a subtler pleasure than watching Olsen get wracked with electricity, as Vermes starts at fully intense and stays intense, without dipping, throughout the game. It's rather like watching a Steven Seagal movie, minus the 10 minutes at the beginning when the really shitty thing happens to him, or indeed the montage that gets him back to full fitness. Instead, you just see the equivalent of the 70 minutes when Seagal's delivering puns like "I'm getting carried out on my shield — my supporters' shield," while punching someone through a window.
Off the field, he's a very nice man.
Frank Klopas
There's something of King Lear to Frank Klopas at his best. Often he'll spend the game sitting, leaning forward, flanked by a couple of assistant coaches, who may actually be daughters he's promised the kingdom to. In those circumstances, he looks like, if not the model of restraint, at least the model of someone heeding a restraining order.
But now and again, Klopas's team will give up a goal, or make an elementary mistake, and then he's on his feet, raincoat flapping in the gale:
Blow, winds, and crack your cheeks! Rage! Blow!
You cataracts and hurricanoes, spout
Till you have drench'd our steeples, drown'd the cocks!
You sulph'rous and thought-executing fires,
Vaunt-couriers to oak-cleaving thunderbolts,
Singe my white head! And thou, all-shaking thunder,
Strike flat the thick rotundity o' th' world,
Crack nature's moulds, all germains spill at once,
That makes ingrateful man!
For f​-​-​- sake! Let's put McInerney on.
He can't do worse! The accursed pup …
Jay Heaps
This one's a little more at the cabaret end of things. Heaps wears big clothes, big raincoats, big pleated suit pants. And he's still a young man, with a preternaturally young face, so there's something incongruous about him getting really mad at a decision. Speaking of "big," he sometimes reminds me of the scene at the end of Big, where Tom Hanks's character walks away from the camera, a child again, but still dressed in adult clothes that are pooling around him as he walks.
The other thing about the slightly '80s sartorial angle Heaps takes, is that when he celebrates, I can't help thinking of David Bowie in the "Dancing in the Street" video.
https://www.youtube.com/watch?v=9G4jnaznUoQ
Jay Heaps makes me smile. And he's one of the coaches who's more entertaining to watch when he's happy.
Honorable Mentions
Dom Kinnear: The Houston boss is the only coach I've seen respond to witless fan trash talk by demanding an individual be removed from the stadium. To be fair, I think it was in June, a time when his team is usually still asleep. I'd get grumpy too.
Bruce Arena: That hauteur! That moment after every great wrong where you can see him mentally putting the offender in his notebook (a five-volume affair that he will likely detonate at MLS HQ when he finally leaves).
Jason Kreis: Made for the big screen. The quality of his in-game, cerebral seething is lost on the stage. Shame he left RSL before they announced their new video board — I truly believe it was conceived with his nuanced intensity in mind.
Filed Under: Soccer, MLS, The Designated Player, Graham Parker, New York Red Bulls, D.C. United