The 2013 All-Star Game Power Rankings
Elsa/Getty Images
Well, the American League put on quite the display of run prevention in New York, posting a 3-0 win to earn its champion home-field advantage in the World Series. Because this time, like a certain bucktoothed purple Muppet, it counts.
But who were the real winners of the Midsummer Classic? For the answer to that question, we turn to Grantland's All-Star Game Power Rankings.
1. Mariano Rivera
The greatest relief pitcher in history pitched the eighth inning instead of his customary ninth, thanks to Jim Leyland's puzzling lack of faith in his own bullpen, but no matter. After Neil Diamond dragged everyone through a performance of his signature "Sweet Caroline," Rivera sauntered out to the All-Star mound to Metallica one last time. He was met by a standing ovation, not only from the fans but from his fellow players as well. It's hard to find someone with a bad word to say about Rivera, even among the most vitriolic Yankees haters, and whatever you think of the spectacle of the All-Star Game, or the Yankees, or the closer role in general, it was hard to watch Rivera tip his cap and take it all in without getting a little choked up.
For what it's worth, the 43-year-old Panamanian recorded a 1-2-3 eighth inning and took home MVP honors (which apparently come with a new Corvette and a sweet-looking glass bat, both of which are pretty cool). He could do probably do this another five years if he wanted to.
2. Tom Seaver
The greatest pitcher in Mets history had a fantastic night at Citi Field, working the crowd into a frenzy before settling somewhere in front of the rubber and throwing … well, not exactly a strike. But it's not like he bounced it up to the plater, either. It's always rough when a ceremonial first pitch goes wrong, but Seaver saved us the embarrassment of seeing a three-time Cy Young winner do it.
Seaver danced around with the carefree panache of a 68-year-old who knows he's better looking than most men half his age. When he traded his jersey for a butterfly-patterned button-down that would shame your Parrothead uncle, it was like watching Roger Sterling show up in the real world, only with 311 career wins. I want Tom Seaver to be my granddad.
3. Shoes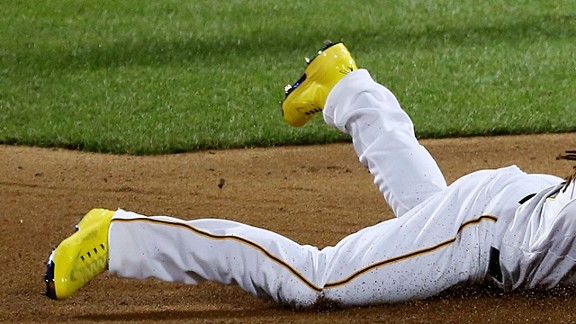 Consistently the best part of the All-Star game. Major league teams mandate that all players wear matching shoes, but such rules are not enforced in the Midsummer Classic. So while the only interesting footwear you'll ordinarily see in a game is the traditional white cleats of the Oakland A's (shockingly worn both before Memorial Day and after Labor Day), we saw various Mets and Orioles wearing traffic cone–orange cleats and Andrew McCutchen in yellow. Edwin Encarnacion, Salvador Perez, Alex Gordon, and Greg Holland opted for nifty robin's egg blue kicks. Troy Tulowitzki was resplendent in purple, while his double-play partner, Brandon Phillips, opted for shoes that were part red and, near as I could tell, part gold foil. Let's have these shoes every game.
4. Jose Fernandez
He turns 21 at the end of the month and he might have the best story in baseball. Last night, Fernandez faced down Dustin Pedroia, Miguel Cabrera, and Chris Davis and, tossing a series of 97 mph fastballs and hilarious mid-80s sliders, racked up two strikeouts and a popup, then marched off the mound like guys who spent last year in Class A are supposed to make three of the American League's best hitters look like a less evolved form of life. Plus he hopped on the orange shoes trend.
The Miami Marlins might have a motto of "We Bilked This City on Rock and Roll," but in Fernandez and The Mighty Giancarlo Stanton, they also have two of the more compelling young players in this or any sport. We do not live in a just world.
5. Cliff Lee
Gave up a run, but also gave the world the middle finger with his eyes during team introductions. So cool he doesn't have to have fun during the All-Star Game.
Cliff Lee looks very happy to be at the All-Star game. pic.twitter.com/5PZHsNWv2A

— Faux John Madden (@FauxJohnMadden) July 16, 2013
6. Pitch Invaders
A young man said he'd run out onto the field (in defiance of his mother's express wishes, by the way) if his tweet got retweeted 1,000 times or more. Kids these days, with their rap music and their social media — they'll do anything for retweets. Well, this young trespasser suffered an undignified end to his romp through Citi Field. When he stopped around second base to surrender to security, he suffered a body slam worthy of Alexander Karelin. Adding injury to insult, you might say.
.@MasoneDylan said if he got 1000 retweets, he'd run across the field at the MLB ASG tonight…well… pic.twitter.com/ltFpBzX2v5

— Bro Bible (@TheBroBibIe) July 17, 2013
Also receiving votes: Neil Diamond, double plays, Jason Grilli's wet hair, Robinson Cano's bruised leg, Prince Fielder's triple, David Wright, Jason Kipnis, Chris Sale, Bud Selig and Mariano Rivera having the most awkward hug ever.
Filed Under: MLB