That Was a Goal: The Premier League Weekend in Five Goals
John Peters/Man Utd via Getty Images
The story of the Premier League this weekend, told in five goals. Get some.
Jordan Henderson
We all know about The Kobe Assist. I'm starting to wonder if there's such a thing as the Suarez Assist. This happens when Liverpool forward Luis Suarez drops his head and tries to dribble through three or four defenders at a time. Like a homing beacon, more and more defenders come to the ball. Now Suarez, for all his qualities, is not Zidane. He's not pirouetting around players as much as he is clawing through them. Once he gets to the box, he's a piranha. But something happens when all this attention is focused on Suarez: Other players are left on their own. And as Suarez insistently tries to weave through this growing armada of defenders, the ball tends to ricochet away from him, off defenders. And a few times this year, it's bounced to another Liverpool player who has somehow benefited from Suarez's selfishness. In this instance, Jordan Henderson is the main beneficiary.

Luis Suarez
Which isn't to say Luis Suarez hasn't been an absolute joy to watch this season. Maybe "joy" isn't the right word. In fact, it's the wrong word for anyone besides ardent Liverpool supporters. But even Evertonians and members of Patrice Evra's immediate circle of friends have to admire this goal — one of the five Liverpool scored against Norwich at Anfield. This is alllllll about the dummy.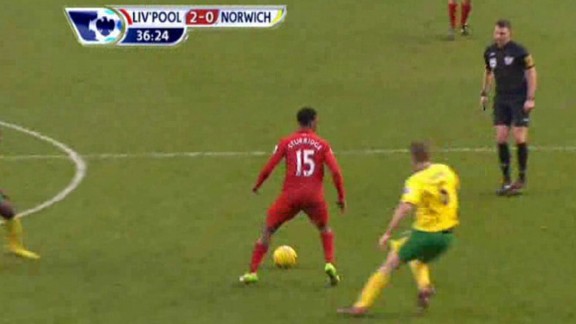 Strike partnerships like Daniel Sturridge and Suarez's are exciting because they happen so rarely these days. With the prevalence of 4-2-3-1 and 4-3-3, you rarely get two true strikers playing together up top. Despite Brendan Rodgers's preference for 4-3-3, Sturridge and Suarez seemed to spend a lot of time in the middle of the field together, playing in a vertical line, with one dropping deep, and the other playing off the back shoulder of the last Norwich defender. In these two heat maps, courtesy of ESPN Stats & Info, you can see how Suarez and Sturridge occupy the same general area.
Suarez: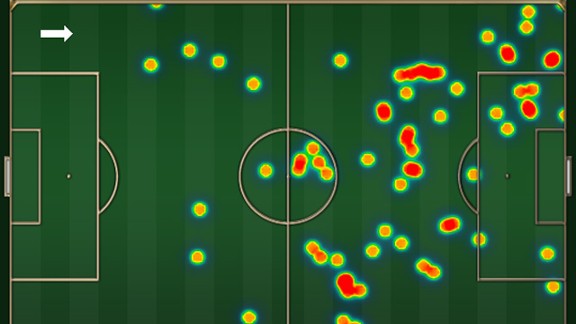 Sturridge: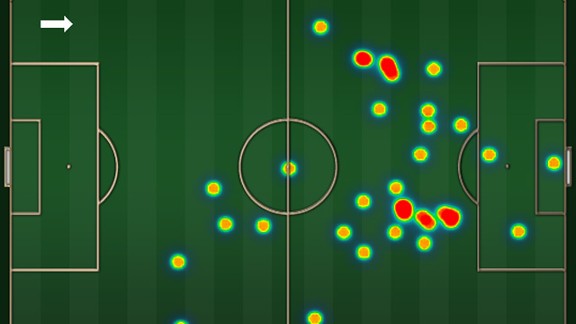 These two are quickly forming, in Sturridge's words, "an understanding."
Loic Remy
Loic Remy joined QPR after playing a game of FIFA, which somehow makes him just as craven and entertaining as the manager he's now playing for.
Clint Dempsey
First, let me clear my throat: DEUUUUUUUUUUUUUUUCE. OK, that's better. Here's the thing about Clint Dempsey: Some guys hate riding shotgun. At Fulham, Deuce was the toast of the town (or, rather, the Cottage) and enjoyed being able to freelance in the final two-thirds of the field: cutting in from the flank, playing behind the striker, or acting as an attacking midfielder. In Andre Villas-Boas's house of Spurs, Dempsey has had to stay in his double-lined lane. While the Spurs still go swashbuckling up the field, they do it with more control than they ever did under Harry Redknapp. Dempsey's arrival — along with fellow Fulham transplant Mousa Dembele and Gylfi Sigurdsson from Swansea — was supposed to make up for the loss of Tottenham's main creative playmaker, Luka Modric (who left for Real Madrid). It has to some extent, as the Spurs are enjoying a wonderful season. But the three new arrivals have, at times, gotten in one another's way, on the field and in the pecking order for playing time (though Dembele, when healthy, is a notch above pretty much everyone on Tottenham, save Gareth Bale). Because of this, Dempsey's playing time has been erratic, and he hasn't had the season he was probably hoping for. This goal against United, his second against the Red Devils this season, goes a long way toward making him the kind of folk hero at White Hart Lane that he was at Craven Cottage.
Jonathan de Guzman
It's a cliché, but teams do, to some extent, take on the personality of their manager. Last season, Swansea seemed to personify their then-manager Brendan Rodgers's cerebral, exacting style. This season, much like their new boss, Danish legend Michael Laudrup, the Swans still exhibit some dazzling technical ability, but have added bit of swagger and muscle to their repertoire. After one season in the top flight, they seem to lack any kind of self-consciousness when it comes to who they're playing. They beat Arsenal at the Emirates, 2-0, took Liverpool out of the League Cup at Anfield, and topped Chelsea, 2-0, at Stamford Bridge.
Plenty of teams will just try to get out of a match against Stoke with all their ankle ligaments intact. But Swansea, after a truly watching-old-people-eat first half of football, went for it in the second half, scoring three goals, and looking incredibly confident … arrogant almost. Just like their manager. This Jonathan de Guzman free kick sort of sums the feeling up. The Villarreal loanee, for his part, wants to stay at Swansea. He knows there's something special going on (at least until they have to sell Michu).
Robin van Persie
Robin van Persie on his first season at Manchester United (where he has scored 22 times): "If I look at all those games, I should have done better in most of them because I had more chances than just one chance and one goal."
Bonus: Paul Pogba
This one ticks a lot of boxes for me. Long distance; swerving; causes the keeper to fully extend and possibly shatter his ribs; great hair; the "get off me"/"WHAT! WHAT!" celebration that, like love, is understandable in any language; the fact that Pogba is something of a darling for people who like to play Football Manager or FIFA (like Loic Remy, apparently); the fact that that strike probably took two years of Sir Alex Ferguson's life; and finally, THE HAIR.
Filed Under: Chris Ryan, Clint Dempsey, English Premier League, Manchester United, Soccer