Tales From the Last Q-school
Edward Loar, a southpaw Texan, came to the 17th tee at the TPC Stadium Course in La Quinta, California, at -18 for the tournament. The hole, a nasty little par-3 called "Alcatraz" because it features an island green, demanded a short iron. Loar took out his 9 and took dead aim. At 35, he was fighting to keep his PGA tour card after a rookie season that saw him earn just $97,946.66 in 23 events — by golfing standards, a disappointing sum. Because he finished 245th on the money list, well outside the top 125, Loar was forced to come back to the PGA Tour Qualifying Tournament, known colloquially as "Q-school." It wasn't his first time. In fact, Loar had been grinding on a series of minor tours since graduating from Oklahoma State in 2000. He's been coming to Q-school since 2001, and he finally graduated to the PGA with a strong showing last year.
He came into the day tied for third place, safely inside the margin for error, but a few bad holes had made things interesting. Standing on the 17th tee, he didn't know that the cut line would fall at -17, and that he could play the final two holes at +1 and still earn his PGA tour card as one of Q-school's top 25 finishers. But he knew he was close.

Q-school began as an annual tournament in 1965, and came to an end — at least as an entryway to the PGA Tour — with the conclusion of Monday's final round. The simplest possible way to describe the event is to call it a six-day affair of frayed nerves and agonizingly slow play, after which the top 25 finishers, including ties, earn their PGA tour card. The importance of making the cut can't be underestimated; make the big leagues and you stand to win real money and work your way toward fame and wealth. Fail, and you'll find yourself back on the Web.com Tour (formerly the Nationwide Tour), another anonymous struggler fighting to stay above water. And that's if you're lucky; those who don't reach the secondary tour face a choice between going overseas or hacking for limited purses in the minor tours of America, where they might live out of their cars and reckon daily with that ultimate question — at what point do you give up your dreams and get a real job?
There are a few ways to reach Q-school. You can read the nitty-gritty details here, but essentially, there are three stages that come before the six-round final. If you have any kind of history with the game, you might be exempt from one or more of those early stages, and those who missed automatic qualifying for the PGA because they fell just outside the top 125 of the PGA Tour, or the top 25 of the Web.com Tour, only have to play in the finals. The last stage of Q-school begins on a Wednesday and ends on a Monday, and the players alternate rounds between the TPC Stadium Course and the nearby Jack Nicklaus Tournament Course.
Next year, the PGA Tour will begin in late October for the first time, and players will qualify for a card in a series of four tournaments called "The Finals." Unlike Q-school, though, The Finals will only be open to PGA and Web.com players, ending the era of open qualification, when a local pro could register for the pre-qualifying stages and theoretically play his way onto the PGA Tour. Monday marked the end of Q-school as we know it, and the players involved had the added pressure of realizing that if they fell below the cut, there was no shot at redemption in 2013.
John Feinstein chronicled the 2005 installment of "golf's fifth major" in Tales From Q School, and devoted part of his best seller A Good Walk Spoiled to the 1993 event. As he noted, "It is school — in the same sense that swimming the Atlantic might be called a workout." Depending on the person, it can be a great opportunity or an extended nightmare. It can be extremely unfair — just ask Joe Daley, who missed one of golf's most infamous putts in the 2000 Q-school and missed his tour card by a single stroke. This year, more than 150 golfers made the final stage in La Quinta.
---
Edward Loar later said the 9-iron he hit from the 17th tee felt good. It looked good, too, until it began fading out to the right. It landed on a little peninsula of stone extending out from the island green, and bounded high into the air. It actually managed to bounce all the way over the water and hit the rocky shore to the far right, where it bounced again. When it came down for the third time, Loar watched the awful splash from the tee box.
He hit a decent wedge from the drop zone, but he missed the bogey putt, and when he walked up to the 18th, he found himself at -16. Suddenly, he was one shot off the cut line, and he needed a birdie on the 108th hole of competition to keep his spot on the PGA Tour. It was the time for risks, and on his second shot he went right at the flag. Again, it felt good. And again, it hit the rocks just a few feet from the hole and shot out into the water. As he walked to the green, there was no dodging the finality of what he'd lost.
Unlike many others who had their hearts broken Monday, Loar agreed to chat with The Golf Channel*. "It's obviously a really hard day for everyone," he said. "I tried hard, I just- we all know how cruel this game is. Hopefully I can learn from it. I've persevered for 13 years, so hopefully this won't set me back too much."
(*All quotes in this piece come from TGC's excellent highlight show.)
Loar shot a final round 78 to undo the hard work of the five days before, but he wasn't alone in experiencing the highs and lows of Q School's built-in drama.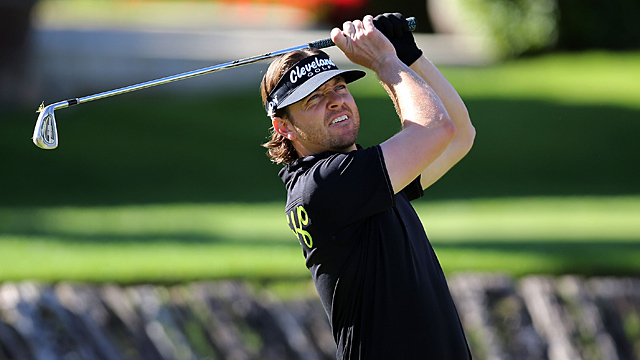 (Pictured: Steve LeBrun)
On the morning of Nov. 12, a Monday, Steve LeBrun's wife Jen went into labor with their second child. The only problem? LeBrun, 34, had been trying to make the PGA Tour since 2000, and he was set to play the first round of Q-school's second stage the next day. He was up late on Monday, and his daughter Rose Victoria was born that night. He slept in a hospital bed and slogged around the course the next day, posting a two-over 73. But he found his form over the next three days, shooting 15-under to finish seventh and make the finals in La Quinta. There, he came into Monday's round in position to win. He Skyped with his wife and daughters Sunday night, and admitted that he had a rough night. "There were a lot thoughts of what could happen, what's going to happen," he said. What did happen? He shot a 69 to finish in second place and earn his first PGA Tour card.
---
England's Oliver Fisher found himself needing a strong finishing round to earn his card. Standing at 15, it would take four birdies in four holes to do the trick. So he birdied 15, and 16, and then he birdied Alcatraz to go 16-under for the tournament. On 18, he hit a strong iron to within 20 feet, and stroked his putt toward the hole. It stopped two inches short.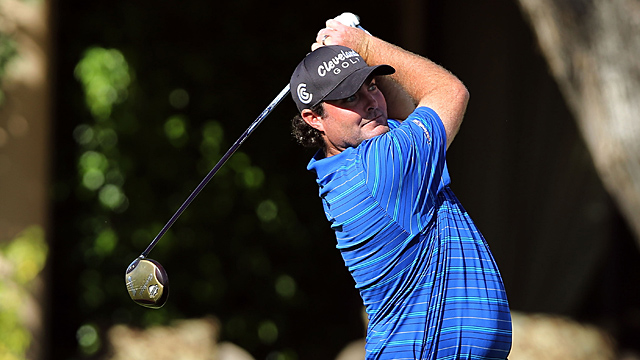 (Pictured: Steven Bowditch)
Steven Bowditch, a 29-year-old Australian, has been battling clinical depression for years. In 2006, as a rookie on the PGA Tour, he reached a point where he couldn't step on the golf course without crying. He withdrew from many tournaments, missed the cut in others, and became an alcoholic to escape from his mind. After going 12 straight days without sleep, he drank an entire bottle of scotch and was out for two days. He was in Dallas then, and when he woke up, he put on his heaviest clothes and tried to drown himself in the pool. His girlfriend found him nearly unconscious and saved his life. Since then, he's battled depression with therapy and medication, and he's become a spokesman for the disease. As he recovered, his game struggled, and he's only recently found his old form. He qualified for the Tour in 2011, and again in 2012, but now he found himself back at Q-school. Coming into Monday's round, he was near the top of the leaderboard at -23. But after playing the first six holes 4-over, he was in danger. A birdie on 17 stopped the bleeding, though, and he finished with a safe 74 to earn his card.
"I feel a lot of pride in myself," he said after the round. When asked about the support of his family and friends, his answer hinted at what he had fought to overcome. "If it wasn't for them," he said, "I don't know if I'd be here talking with you."
---
The last time Aaron Watkins played on the PGA Tour was 2009, but he made it back for a final-round 69 on Monday to qualify at -19. The reporter asked him how he'd made it. "Short game," he said. "I felt like I could get up and down from a garbage can."
---
Mark Anderson made $441,018.66 on the PGA Tour this year as a rookie, but it wasn't enough to crack the top 125, and so it was back to Q-school. He struggled to stay near the cut line, but after hitting a birdie on 15 and then making an unlikely 2 on Alcatraz, he came to the 18th needing one more birdie to reach -17. He was elated from his late charge, and maybe his enthusiasm was too much; his tee shot was a hook that found the water. "I'm feeling pretty numb," he said after his double-bogey relegated him to the Web.com Tour.
---
They call Patrick Reed "Mr. Monday" because of his proclivity for making his way into PGA Tour events during the Monday qualifying rounds, when non-exempt, non-Tour golfers can fight for a wild-card spot. This was a different kind of Monday, but with his fiancée, Justine, caddying, he shot a final-round 67 to finish at -17, right on the cut line, and earn his first PGA Tour card. After the round, he joked that it was "just another Monday," even if it wasn't.
---
Henrik Norlander of Sweden spent most of 2012 struggling to make the cuts at mini-tours. He was on two NCAA championship teams at Augusta State, in 2010 and 2011, where he was a pupil of the famous coach Josh Gregory, but now it felt like his mojo was gone. Then he got a call from Gregory, now at SMU, over the summer. "You're going to Q-school," said Gregory, which had not seemed like a foregone conclusion at the time. "I want to caddy for you." So they picked out a few tournaments, and suddenly Norlander was playing better. "He made me believe, just like he did in college." They stayed together for a few tournaments, and they were together in La Quinta on Monday when Norlander stood over a 7-foot par putt on the 18th hole. Make it, and he would have his PGA Tour card. Miss it, and and it was back to grinding. He made it.
---
Chesson Hadley was one of the few golfers on the course who was happy when he finished outside the cut line. Weeks ago, after the first stage of qualifying, he missed the cut by a stroke, ending his dream for 2012. At 25, he sat around the house and wondered what would come next. But six days later, he received a phone call from the PGA. Blayne Barber, another amateur, had just disqualifed himself in one of the displays of etiquette that pop up in golf now and again. Barber had possibly grounded his club in a bunker by brushing a leaf (his caddy didn't think so) during the tournament, and gave himself a one-stroke penalty for the infraction. But he found after qualifying that it was actually a two-stroke penalty, and he turned himself in. "I just feel peace about it," he said, sounding like a character straight from a parable. "Doing the right thing and doing what I know is right in my heart and in my conscience is more important than short-term success."
That meant Hadley got the phone call. He and his wife were screaming in their bedroom when he realized he'd have another chance. He shot a -14 at La Quinta, good enough for the Web.com Tour. "How do you write up something like that?" he asked. "I was resurrected from the dead."
Since turning himself in, Barber has won two events on the NGA Tour.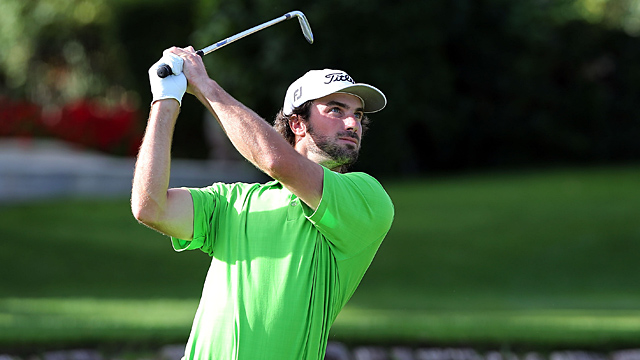 (Pictured: Donald Constable)
In Deephaven, Minnesota, Donald Constable and his friends shoveled snow off the mats at the driving range to hit balls into the snow on the range. "When springtime comes, there are a thousand balls out there," he said. Constable needed two birdies over the last three holes on Monday, and he got them.
---
Kris Blanks has been around golf a long time, and came to Q-school battling a shoulder injury that had kept him out of key tournaments the previous year. A few days before the event, he was playing baseball with his kids when a line drive hit him in the ribs, further jeopardizing his chances. But a rehab regimen and post-round massages from doctors on the course kept him in sufficient shape to win his Tour card. "I know they hate their job, putting their hands all over me," said Blanks, who just turned 40. "But I wouldn't be here without them."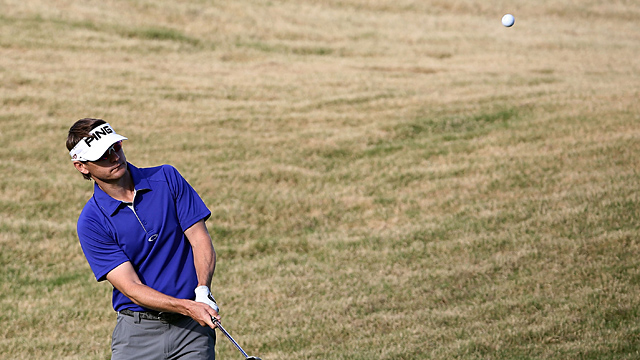 (Pictured: Heath Slocum)
Heath Slocum was one of the more familiar names at Q-school. He's won four PGA events, and three years ago he beat Tiger Woods, Steve Stricker, Ernie Els, and Padraig Harrington with a birdie on the 18th at the Barclays FedEx Cup playoff. Monday, on 18, he need a birdie to finish at -17 and guarantee his card. But there's a saying that golf courses don't accept resumes, and Slocum hooked his tee shot into the water.
---
Four years ago, Erik Compton drove himself to the hospital while he was having a heart attack. He arrived in time and underwent his second heart transplant. He suffers from viral cardiomyopathy, and today, on his third heart, he never really knows how long his health will last. "There was a sense of urgency for me," he admitted, and that urgency propelled him to a final-round 67 and -22 for the tournament.
---
Eric Meierdierks had to play the first stage of Q-school in late October, just days after his father passed away. Compared to the hell of that week, the final stage in La Quinta was a breeze. The 27-year-old said that for the first time since his father's death, he felt like he could play without the weight of the grief that had overcome him a few months ago. And he played well, earning his card with three strokes to spare. But every time he played the par-5 seventh on the Nicklaus course, he would look past the ropes to the familiar houses lining the fairway. He could still pick out the condo his family had rented for vacations when he was a kid; it looked the same. As he walked by, he glanced at the big pots around the pool where he used to play, and he remembered his father.
Filed Under: Golf, Shane Ryan