Sportstorialist: A Night at the WNBA Draft
Jesse D. Garrabrant/NBAE/Getty Images
The WNBA draft never looks like a sports event. It looks like a scene from a hotel jazz club. There is none of the beery pandemonium and emotional overkill that happens every summer when the men have their draft. The league's president, Laurie Richie, doesn't have to read the players' names over a chorus of boos. There aren't 20 people reaching for hugs and half-hugs and there's no irrational sense that, despite the financial bonanza, a bunch of guys are going to fight for all of Panem. Indeed, the presiding mood at the WNBA draft is less Hunger Games and more "Ladies and gentlemen, put your hands together for Dee Dee Bridgewater."
The basketball centerpieces and matching tablecloths notwithstanding, the women treat you to a classier, more straightforward evening. And fortunately, whoever dressed the ESPN studio where last night's draft took place doesn't appear to have dressed the draftees. The best part of the WNBA's big night is always how much better the women look than the men. There's none of the nervousness about what to do with yourself or how to be comfortable. The women never seem like they were dressed by a cousin auditioning to be the player's stylist. The clothes usually make sense on the women, and that dual air of promness and funereal funk that ruins the men's draft is not in evidence.
Brittney Griner went first overall and landed in Phoenix. First-round picks are rarely less suspenseful. But I was nervous about what she'd wear. Griner's size tends to be headline news, but I think a lot of her style comes from her on-court demeanor. What's probably just competitive focus feels like deep melancholy. It's a huge relief to see her smile, either way. She's the closest any sport's come to having its own Billie Holiday.
Griner is 6-foot-8 and plays great, flashless basketball. The bias against her is that she'll dress the same way. But Griner has grown into a style. Last night she wore an ivory tuxedo jacket with a satiny finish and a vest discreetly underneath. She kept her dreadlocks tied behind her head. Griner's white sneakers were unremarkable, and whatever she kept in her front pocket made her pants fit strangely. One convenience of being 6-8 is that many cameras can't take you all in. So it was smart of her to focus on the jacket, which fit her better than anything I've seen her wear. She stepped over the line that separates a high school dance from Ellen DeGeneres.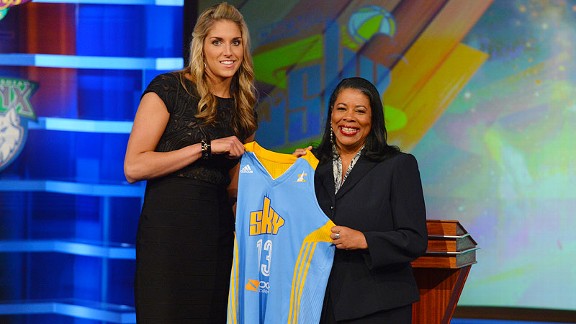 Elena Delle Donne
Last night's draft featured some B-plus cocktail attire: Tayler Hill went fourth to the Mystics in a short black, white, and butterscotch number; Kelly Faris went 10th to Connecticut in something dark with pearls and white piping. For only two of the dozen women to opt for "board meeting after-party" speaks to the diversity of this year's class. Alex Bentley went 13th to the Atlanta Dream and fastened a belt around ye olde little black dress. But her "little" had a little extra length and some texture — if she was going to dress for work, she may as well work what she wore, and she did. There was more black on Elena Delle Donne, who was picked after Griner by the Chicago Sky. The top of her short dress had strange, intricate weaving that must have made goth doilies everywhere proud.
Kelsey Bone went fifth and accepted her New York Liberty jersey in a simple black dress that seems a lot more complicated on her. Bone, who's half a person taller than Richie, also wants to do broadcast work — she told espnW's Swin Cash afterward that her wish is for someone to put her in front of Robin Roberts. She said this wearing a jungle-cat print over the black dress. I don't know what network that would fit on, but I'm scanning my cable guide for options right now.
Skylar Diggins was selected third (to the Tulsa Shock). She also wore little and black. Her dress had taupe block striping across the top and middle, and looking at the whole thing, all you could wonder about was how long it took her to find heels that matched those stripes.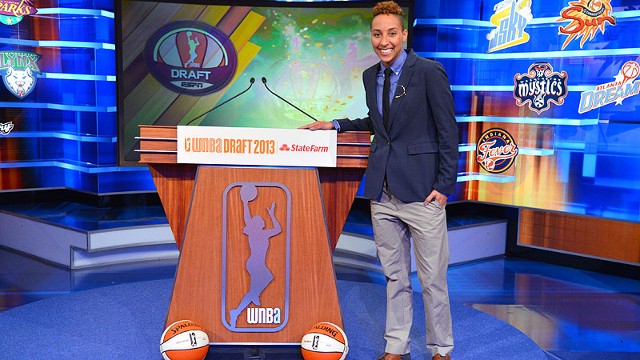 Layshia Clarendon
If any of these women needs a vice-anything or junior someone, let me recommend Lindsey Moore and Sugar Rodgers. They were dressed for the kind of corporate deference that sets up more meetings than it steers. Moore: white pants, orangish jacket, tan-and-white top; Rodgers: black slacks, blue cap sleeve shirt with a studded collar that was never meant to be worn over a white long-sleeved dress shirt. They're both headed to the Minnesota Lynx, and these clothes are ready for the deluge of politeness that awaits.
If Griner was the biggest star of this draft, the change in identity that she and a handful of other players signal is particularly interesting. Last night provided a useful contrast in comfort. While the NFL, MLB, NBA, and, to a much lesser extent, the progressive NHL, are battening down the hatches for an alleged tornado of comings-out, Layshia Clarendon and her knotty, copper Mohawk put on a pair of loose khakis, a dark-blue single-button blazer, a blue oxford shirt, and a black skinny tie, and said hello to the Indiana Fever. Toni Young, now of the New York Liberty, had on a patterned bow tie and a gray vest and matching pants. They were wearing what Russell Westbrook wishes he'd worn on his draft day.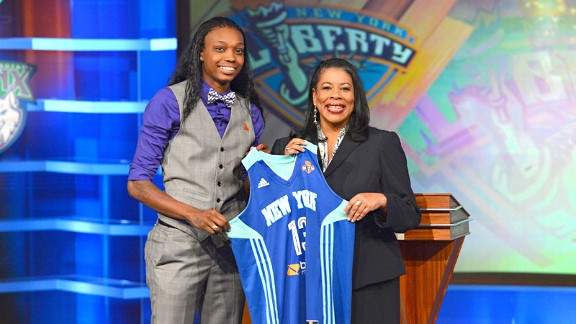 Toni Young
It doesn't feel like Griner, Clarendon, and Young are pushing boundaries. None of these three are officially gay, but the gayness isn't the issue. It's the self-expression, the freedom to be able to play in a league that lets you be you. The stakes might be higher in men's sports for this kind of loaded self-expression, but the women's 2013 draft, with its shrugged-off, harmonious collection of vests and ties and pow-pow-pow glamour, just felt like what a lot of us are already experiencing in our social lives: normalcy. The men are telling us it gets better. But over in the WNBA, it is already is.
Filed Under: Sportstorialist