So Who Else on Borussia Dortmund Is Going to Get Bought?
Pierre-Phillipe Marcou/AFP/Getty Images
Jurgen Klopp's Borussia Dortmund side has had an eventful week. On the eve of their Champions League semifinal first leg against Real Madrid, it was announced that midfielder Mario Gotze would transfer to Bundesliga rival Bayern Munich after this season. Dortmund took the news in stride, beating Madrid, 4-1; the scoreline somehow both flattered the Real's effort, and all but assured Dortmund's passage into the Champions League final, pending today's result. Then over the weekend, in Bundesliga action, Dortmund's prodigal son Nuri Sahin drilled what may be the Bundesliga goal of the season in Dortmund's 2-1 win over Fortuna Dusseldorf.
(via 101 Great Goals)

So things are interesting in the Ruhr. But not all is well. Gotze's departure continues a worrisome trend for Dortmund, who lost Sahin (to Real Madrid) and Shinji Kagawa (to Manchester United) in the past two offseasons. There's speculation that striker Robert Lewandowski, who scored all four of Dortmund's goals against Madrid, could follow Gotze to Bayern. Rumors also swirl around much of the rest of Dortmund's top talent, including Klopp, who might be pursued by Real Madrid if manager Jose Mourinho leaves at the end of the season.
Not that I want to rub it in, or see Dortmund torn apart by European football's well-funded vultures, but I thought we should take a look at two German midfielders who are currently plying their trade at the Westfalenstadion. Then, perhaps a little speculation as to whether their future is in Dortmund or if they will soon be plying their trade elsewhere.
Marco Reus
I discussed him a little bit last week in terms of his passing and touch on the ball. Last year's Bundesliga Player of the Year (while at Borussia Monchengladbach) is one of the most interesting attacking players in soccer. What I want to look at this week is his movement. And also his hair. Let's really quickly look at his hair.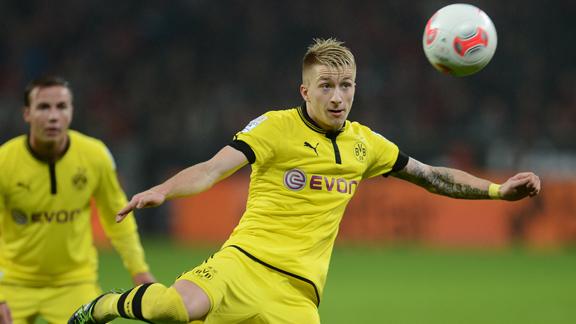 Yes, excellent. Now, OK, his movement. Twice in the first leg, Reus had shots at a penalty; while the first looked like a good no-call, the second, well:
Xabi Alonso absolutely bundles over Reus in the box. Reus is a masterfully creative runner. Alonso prides himself on avoiding contact while making challenges. As he told the Guardian's Sid Lowe, "I don't think tackling is a quality. It is a recurso, something you have to resort to." Alonso is incredibly disciplined, and Reus was able, simply by changing pace twice on what appears to be a straightforward run, to draw significant contact in the box.
Reus is an astonishing talent, for whom the sky is the limit. Interestingly, he seems the least likely of Dortmund's stars to move on. None of the handful of clubs that are poaching from Dortmund needs his specific skill set. Additionally, he just moved to Dortmund and has less leverage than others because of the time remaining on his contract. Finally, Reus played centrally for Monchengladbach, and can do so again in Gotze's absence. While his delivery will suffer, his ability to freelance and make surprising runs will only increase. Reus is a midfielder capable of leading the line, and his versatility will allow Dortmund to replace Gotze with either a wing player or a traditional no. 10. This makes Reus himself indispensable. Also, that hair.
Moving on …
Ilkay Gundogan
Brought in as a replacement from Nuremberg when Sahin left for Real Madrid, Gundogan has established himself among the best deep-lying playmakers in the world. The 22-year-old provides the critical link between Dortmund's attack-minded defenders (Mats Hummels and fullback Marcel Schmelzer) and Gotze. He also is an able tackler; in the first leg of the Madrid tie, while Gotze was assigned the task of reining in Alonso's distribution, Gundogan did great work cutting off Luka Modric's runs. Gundogan went 4-for-4 on tackles in the match without committing a foul. He also gets forward into attack and forced a remarkable save from Madrid's Diego Lopez.
Working back through the past few major international tournaments, the teams with the most intelligent deep-lying playmakers have been the ones that have made the largest impact: Andrea Pirlo's Italian side; Xavi (who manages this role from a slightly more advanced position) and Alonso with Spain; Bastian Schweinsteiger with Germany; even Mark van Bommel for Holland. This makes sense at the international level, in which training time is limited and instinctive distribution skills are needed. These players are effectively Chris Paul on an All-Star team, able to facilitate more talented teammates without possessing the level of familiarity they have with their club mates.
Born in Germany to Turkish parents, Gundogan wrestled with which nation he wanted to tie himself to internationally, before selecting Die Mannschaft in the run up to Euro 2012. This is unfair. While he's currently third choice in Joachim Low's double pivot, he is already pushing the first-choice pairing of Madrid's Sami Khedira and Schweinsteiger for playing time. Gundogan joins the likes of Thomas Muller, Mesut Ozil, Toni Kroos, Julian Draxler, Reus, Gotze, Sven Bender, Lars Bender, Andre Schurrle, and Lewis Holtby as world-class midfielders playing for Germany younger than 25. (Also, I am aware that every time I write about German soccer, I list all of their best midfielders younger than 25. But just look at that list. It's ludicrous!)
Gundogan's skill set is both so valuable, and at Dortmund, so replaceable. It would be surprising if he stayed through the summer transfer window. Real Madrid is likely going to replace Alonso in its midfield, and Gundogan seems to be one of the best options (Sociedad's Asier Illarramendi being another). Manchester United cannot rely on Paul Scholes to be their best holding midfielder again next season (right? Right?). Also, with Sven Bender, Sebastian Kehl, and Sahin potentially in the fold next season (though Bender is also reportedly targeted by United), his loss could be weathered, and a transfer fee could be reinvested in other places of need. So while Gundogan is an almost irreplaceable part of his country's future, and his form has been invaluable in getting Dortmund to a presumptive Champions League final appearance at Wembley, his future and Dortmund's are not inextricably intertwined.
Filed Under: Champions League, Soccer, Transfer Talk