Premier League Pass & Move: Not So Fast, Arsenal
John Peters/Man Utd via Getty Images
A look back at the weekend's Premier League action.
English Lion
Chris Ryan: There's Robin Van Persie, celebrating his goal with the best player on the field on Sunday. I don't know if a scrappy 1-0 win over Arsenal — one that will be more remembered for its nasty head injuries than anything else — can serve as a bluperint for future success for David Moyes. After the match, I don't even know if he needs a blueprint at all. He might just want to take out an index card, write "Rooney" on it, and pin it to a corkboard. Team talk done. See you later.
Wayne Rooney did his best Dr. Manhattan impersonation on Sunday. He was everywhere — winger, creative midfielder, striker, fullback, last line of defense — and he was everything. Here's his passing chart, via FourFourTwo:
Thirty-five passes is not going to make anyone forget Paul Scholes, and Rooney turned the ball over a team-high four times (according to WhoScored.com), but it's all the different spots on the field from which he made those passes that interests me; it certainly suggests he had a lot of freedom to play where he wanted.
There's been a lot of backseat driving going on this season with Manchester United, with plenty of people wondering whether the team should be playing more to Van Persie's strengths, or whether Adnan Januzaj should become more of a focal point, or even whether the answer to the team's creative woes was putting Shinji Kagawa in at his preferred no. 10 role while benching Rooney all together. When Rooney puts in a performance like that, though, in probably the biggest match of United's season, it's hard to even fathom leaving him out of the team.
Where Was Star Man?
Chris Ryan: I really wanted to hear the Januzaj song!
Where Was Nani?
Ryan: He was on the train.
Nani makes new friends on the train down to London! #MUFC pic.twitter.com/5JSKFgRQwV

— Sir Alex Stand (@SirAlexStand) November 11, 2013
Why Did Andre Marriner Give That Penalty?
Ryan O'Hanlon: Some theories as to why Andre Marriner gave Chelsea a dubious penalty kick in injury time: He knows Roman Abramovich owns a yacht that's equipped with German missiles; he knows that a week after Chelsea got worked by Newcastle, Abramovich probably had those German missiles pointed somewhere; he is one of the few remaining actual mariners, and not an accredited soccer referee; he has a glass eye and tries to do his best but really just struggles when people fall down in front of him; he does not have a glass eye and wants to keep it that way by not angering Jose Mourinho; he is a referee, and referees may be biased toward home teams at stadiums where fans are close to the field; he is part of a vast, cosmic network of post-Illuminati guardians/influencers who maintain the universe's equilibrium; he actually thought it was a foul.
I'd side with the second-to-last theory — because it wasn't a foul, and how else do you explain a team coached by Mourinho and funded by billions of dollars being deservedly down a goal at home in the dying seconds of a game against West Bromwich Albion? And all that a week after losing by multiple goals to Newcastle. West Brom and Newcastle are both decent and occasionally feisty teams with some really fun players, but in the EPL they're decidedly mediocre, which Chelsea aren't or shouldn't be or I don't even know any more.
The penalty call seemed inevitable — of course it happened — but only because good teams aren't supposed to lose to not-good teams, especially at home, and especially when they haven't lost a match at home in 66 games under their current manager. The real story, the one less attributable to human error/self-preservation, was that Chelsea needed a ref to bail them out just so they could tie West Brom. A point wouldn't paper over the issues, while three might've. Except, with the rest of the league accelerating into chaos, Chelsea actually gained a point on Arsenal (the table leaders) and Manchester City (the predictive-table leaders). So, Marriner's guiding whistle or not, everything's still kind of OK at Stamford Bridge.
After the match, Mourinho said, "I won't change my [high] opinion because he has one bad game." He was talking about the ref.
There Is No "I" in Manager
Ryan: I actually like Brendan Rodgers and I love the way his football teams play when everything is clicking, but I don't think I've ever seen him do an interview before or after a match where he doesn't mention, in some slick way, the transformative impact he's had on Liveprool. Sorry, that would be Liverpool Football Club, because in case you thought he was talking about Liverpool Hurling Club, he says Liverpool Football Club. Every time. Liverpool Football Club. Luis Suarez could score five goals, strip naked, and light himself on fire while holding a bunch of dragon eggs and Rodgers would say, "Aye, I had Luis playing as an inside-out, nine and a half, inverted mother of dragons. Just like we drew it up." It's this kind of stuff that makes the David Brent stuff hard to ignore.
Luis Suarez Is the Mother of Dragons Though
Tactics, Manuel. Tactics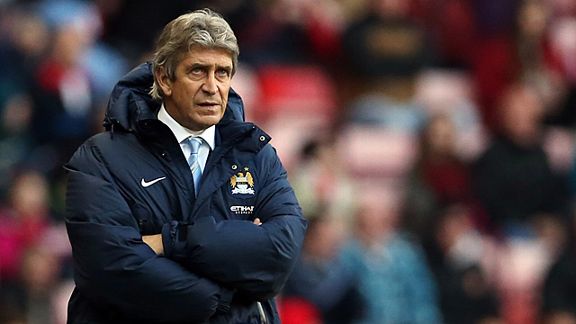 Brett Koremenos: Manuel Pellegrini's substitutions were a mixed bag during yesterday's loss to Sunderland. Entering the second half down a goal, the Chilean manager lifted defensive midfielder Javi Garcia for winger Jesus Navas in an attempt to give City some width. That move worked perfectly, as Pellegrini's side nearly tripled their six first-half attempts on goal in the next 45 minutes. Navas was a terror, going down Sunderland's right wing, completing 97 percent of his passes, squeezing off three shots, and delivering 15 crosses into the box from either open play or corners.
With City losing the match, 1-0, the latter number in Navas's stat line calls into question the logic behind Pellegrini's final two substitutions. In the 71st minute, he introduced striker Edin Dzeko and first-choice right back Pablo Zabaleta for Alvaro Negredo and Micah Richards. Assuming Negredo's fitness wasn't an issue (it was his third start in a week), the like-for-like swap of strikers was probably the wrong move. A better option might have been putting on Dzeko for Samir Nasri, moving left back Aleksandar Kolarov up the pitch and tucking Richards inside. With Sunderland packed into the middle and Navas running unchecked down the right, flinging balls into the box seemingly at will, pairing Negrado with Dzeko up top would have given two imposing targets in front of goal. Though a back three would leave City exposed to counterattacks down the flanks, Sunderland was hardly threatening in the second half.
Obviously there's no guarantee such a move would have changed the result, but fielding more attacking players typically puts clubs in a better position to score goals. That's especially true when it comes to two tall strikers who can latch onto crosses. With away results becoming more and more of a problem for City and submarining their title hopes, Pellegrini has to make sure he's doing everything he can to make sure his side starts coming away with those crucial points
Andre Wisdom Abandons His Car
Ryan: Liverpool defender Andre Wisdom has been loaned out to Derby, and over the weekend he had a bit of car trouble …
That's Wisdom's whip. In a bog. This is the most British thing I've ever read:
He left the hotel and on his way to the ground he popped into a shop to get a drink … Because Andre wasn't sure of the way to Pride Park from the shop, he entered the postcode in the Porsche's satnav and it took him all the way down a muddy track. … The poor lad phoned the club to explain what had happened and managed to get himself to the ground in time to play. … Andre cleaned himself up and I'm not sure if his teammates know about this yet — he might have to prepare himself for a bit of mickey taking.
Relegation Blues
Koremenos: Coming into this week, not much has seemed certain during this unpredictable season except for one thing: Sunderland and Crystal Palace were destined to drop to the Championship. But after this past round of matches, now even that doesn't seem like a lock. In a game they could have easily won 3-0, Palace earned a point against Everton while Sunderland pulled off a monster upset in the Stadium of Light against City. Though avoiding relegation remains a long shot, there is now at least a glimmer of hope.
Palace, in particular, still have a lot of work to do with just four points, but the way they defended Saturday under interim manager Keith Millen was quite a turnaround given the club conceded 21 goals, second-worst in the league, under former boss Ian Holloway. For a team as bereft of talent as Palace, ditching the attack-minded approach they had under Holloway for a greater emphasis on defensive organization could give the club a much better chance of grinding out results as the season goes on, even if it makes them less entertaining to watch.
Sunderland, meanwhile, now sit just four points behind 15th place Norwich. The Black Cats have taken six points from their last two home fixtures, and their performance against City supplied plenty of reasons to hope. In the first 45 minutes, Sunderland looked as fluid in possession as they have all season. In the latter half, the team refused to yield an equalizing goal, thanks to some resolute defending. It stood in stark contrast to a side that has been underwhelming and overmatched on those fronts most of this season. If new manager Gus Poyet can continue to turn the Stadium of Light into a dark place for opponents to visit, it will provide a massive boost to Sunderland's chances of survival this season.
Filed Under: Arsenal, Brett Koremenos, Chelsea, Chris Ryan, English Premier League, Manchester City, Manchester United, Premier League