Picking the Perfect Bracket: Midwest Region (a.k.a. the Group of Death)
Nate Shron/Getty Images
Over the next two days, we'll be going region by region, helping you pick your bracket all the way from the First Four to the Final Four. Today, the Midwest Region.
THE GROUP OF DEATH
"Who are your four teams?"
My younger brother asked me that Final Four question about an hour before the selection show Sunday. I thought about it for a second — hell, I'd been thinking about it all year — and my answer was Louisville, Michigan State, Saint Louis, and either Ohio State or Duke. Pending the release of the bracket, that is.
Well, the bracket has been released, and four of those five teams are in the Midwest Region. Which is insane and unfair but, by the screwy approach of the selection committee, logical. Here, in brief, is how it happened:

1. There is no S-curve. An S-curve would use the true seeds of all 68 teams to make sure that the top 1-seed was matched with the lowest 2-seed, etc. Instead, the committee tries to group things geographically, and then makes sure no region is too stacked. The S-curve would have put Louisville in a bracket with Ohio State, and Duke with Indiana. At least on Duke's end, the S-curve would've been a highly preferable outcome. Instead of just going with a straight curve, the committee adds up the relative value of the true seeds after catering to geography and tries to balance the regions.
2. Unfortunately, the rankings were bogus anyway, so that made the whole thing worse and led to the stacking of the Midwest. Look at those overall seedings again. Tell me how Saint Louis — which won both regular-season and tournament titles in a tough mid-major conference (A-10) while finishing 27-6 overall — is 15th, while New Mexico — which won both regular-season and tournament titles in a slightly less tough mid-major conference (Mountain West) while finishing 29-5 overall — is 9th. Oh, and did I mention Saint Louis beat New Mexico 60-46 this season? But the committee must have used other metrics, like REP or wins against the top 100, that don't do a great job representing a team's true strength. SLU is better, but the Billikens get a 4-seed in the hardest region, and New Mexico gets a 3-seed in the easiest. It's a damn miscarriage of justice! In the same way, Michigan State is ranked too low, below New Mexico and Florida. These types of mistakes produce the Region of Death.
On to the picks, and a bit of beautiful graphic art:
[Click to Enlarge]
THE FIRST FOUR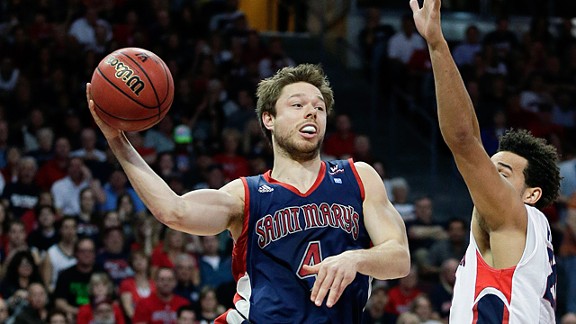 (11) Middle Tennessee State University vs. (11) Saint Mary's
Analysis: The last time we had a mid-major make the tournament with an at-large bid that pissed everyone off, VCU made the Final Four. I'm not saying Middle Tennessee is this year's Cinderella, but just look at those metrics. And look at that 17-game win streak, just before a loss to FIU in the Sun Belt semis. I'm extremely unimpressed by Saint Mary's résumé in a weak West Coast Conference, and I think the Gaels are vulnerable to a good defensive team.
Winner: Middle Tennessee State
(16) North Carolina A&T vs. (16) Liberty
Analysis: I should definitely research these teams. I really should. It's a thing I should do, as a college basketball writer.
Winner: North Carolina A&T. That's close to where I live!
ROUND OF 64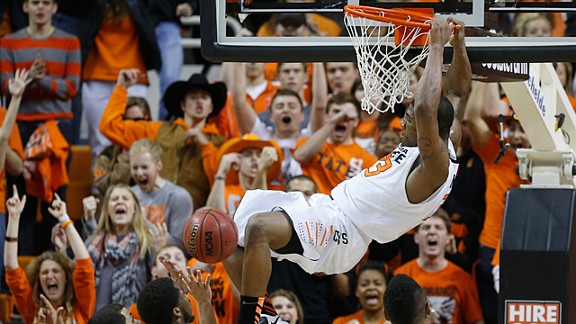 (1) Louisville vs. (16) North Carolina A&T
Overview: OK, FINE, a little research. One player on North Carolina A&T is named Jean Louisme. I call him Jean "Woe-is-me," because dude is such a whiner. (Note: I have no idea if he's a whiner.)
Winner: Louisville.
(8) Colorado State vs. (9) Missouri
Analysis: Colorado State is the best rebounding team in the country, when you account for how well the Rams hit the boards on both ends. That's a huge strength, and not to be taken lightly. The Colorado State defense, which is pressure-free and focuses on forcing bad shots and packing it in rather than getting many steals or blocks, should play moderately well against a faster Missouri team prone to taking bad shots. Here's an interesting note, though: Mizzou has lost six times since January 30, by a combined 18 points. Nobody blows this team out. And Colorado State has a bad habit of giving up lots of points to opposing guards who can score (46 for Kendall Williams goes in the yikes department), and Missouri has more than a few who meet the description.
Winner: Missouri, in a close one. If Frank Haith doesn't blow it. Which he easily could. Crap.
(5) Oklahoma State vs. (12) Oregon
Analysis: The Ducks are a tough 12-seed just because they're seeded way too low. (Look at their résumé vs. UCLA, and tell me how one is a 12, and one is a 6.) So you might think you're getting a good upset bang for your buck. But it's also important to remember that they're not very good. There's a sort of Ryan-Kelly-at-Duke phenomenon happening where the Ducks are way better when guard Dominic Artis is healthy (17-2), but in the Pac-12 title game, Artis still only played 13 minutes. It's not like he's a savior. And Oklahoma State's defense is better than anything Oregon has seen all season. The only other top 15 defense it's faced? Cincinnati, which resulted in a double-digit loss. I know it's a stereotype, but I don't think a lot of West Coast teams will be able to stand up to elite defenses. With Marcus Smart running the offense, the Cowboys should win easily.
Winner: Oklahoma State
(4) Saint Louis vs. (13) New Mexico State
Analysis: Saint Louis got a raw deal being placed in the same bracket with Louisville, but that doesn't mean the Billikens can't still go deep. To me, this is the best mid-major in the country, and probably the hottest; they've won 14 of 15 games, and the only loss was in overtime on the road to Xavier. The offense is solid, but the defense is spectacular. New Mexico State's main attraction is Sim Bhullar, a freshman center who stands — wait for it — 7 feet, 5 inches tall. The New York Times was ahead of the curve during his senior year of high school, stating that he was "poised to become the world's first prominent men's basketball player of Indian descent." He can absolutely change the tenor of a game, and it's no surprise that New Mexico State's opponents get to the line at the third-lowest rate in the country; nobody wants to go inside! But SLU has shown it can win against all styles, and Bhullar's size won't be enough.
Winner: Saint Louis. In a game that looks like this. (Warning: Actual fight content.)
(6) Memphis vs. (11) Middle Tennessee State
Analysis: The hard thing with Memphis is knowing how to evaluate the 24-1 record over the past last 25 games. The streak makes the Tigers, technically, the hottest team in the tournament. But they've played just four other tourney teams all year, losing handily to VCU, Minnesota, and Louisville back in November. (They beat Harvard, 60-50.) Then, just in case we thought they might have improved, they threw in a Bracket Busters loss to Xavier in February. You have to wonder — are the 24 wins meaningless? In my mind, the answer is yes. Ken Pomeroy has Middle Tennessee State above Memphis in his rankings, and the fact that the Blue Raiders are defensive specialists makes me think they can knock off Memphis. The Tigers' four-guard strategy should be especially vulnerable to Middle Tennessee State's tremendous 3-point defense.
Winner: Middle Tennessee State
(3) Michigan State vs. (14) Valparaiso
Analysis: Come on! It's Izzo! The Great Izzo!
Winner: Michigan State
(7) Creighton vs. (10) Cincinnati
Analysis: A classic defense vs. offense battle. If teams like Northern Iowa, Indiana State, and Drake can hold Creighton under 65 points, a rough-and-tumble Big East team with a top 15 defense should have no trouble. Creighton is sixth in the country in offensive efficiency, but it's the slow, stodgy, mid-majory kind of offensive efficiency that breaks down when true athletes with extreme discipline are brought into the mix. The only chance the Bluejays have is if the Bearcats score in the low to mid 50s, which they've done against teams like Louisville, Georgetown, Notre Dame, and Syracuse, but which has also happened against lesser defensive teams like Providence and St. John's. But Creighton is a middling defensive team, and facing Cincinnati's pressure will be a whole new ballgame for the Bluejays. When in doubt, go with defense over offense.
Winner: Cincinnati
(2) Duke vs. (15) Albany
Analysis: Please. You think Duke, as a 2-seed, could ever lose to some no-name 15-seed from the northeast? THEN YOU, SIR …
Winner: Duke
ROUND OF 32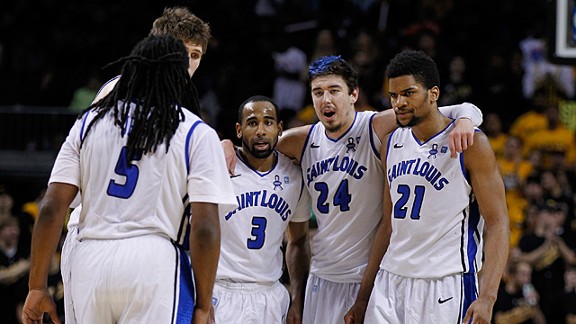 (1) Louisville vs. (8) Missouri
Analysis: Missouri can run and gun all it wants; Peyton Siva and Russ Smith will make the Tigers perimeter defenders look stone-footed on the blow-by. And if Missouri manages to reach 60 points, I'll be surprised.
Winner: Louisville
(4) Saint Louis vs. (5) Oklahoma State
Analysis: Fascinating game. The strength of SLU comes partly from depth and maturity, while the Cowboys will need an exceptionally great performance from Le'Bryan Nash or Marcus Smart, both underclassmen, to have a chance. Both are capable, though, as is junior Markel Brown. The question comes down to whether Oklahoma State can impose its faster pace on Saint Louis, a team content to play grinding affairs and win by slim margins. Among the Cowboys' Big 12 opponents, SLU most resembles Kansas State, which beat Oklahoma State two out of three times this season. Considering that the Billikens haven't been held under 60 points since early February, you have to think they're tough enough to hang with the Cowboys and pull away at the end, as they've done so many times in the A-10.
Winner: Saint Louis
(3) Michigan State vs. (11) Middle Tennessee State
Analysis: The fun stops here for Middle Tennessee. Drawing Memphis is more than any 11-seed could hope for — a little haven in the midst of the Region of Death — but reality comes crashing in with the appearance of Michigan State. The Spartans are far too physical and skilled and even quick to let Middle Tennessee hang around for long.
Winner: Michigan State
(2) Duke vs. (10) Cincinnati
Analysis: The formula to beating Duke is simple: First, have a big guy who can guard Mason Plumlee one-on-one, as Maryland had with Alex Len in the ACC quarterfinals. Second, have one good perimeter defender who can shut down Seth Curry and make sure he doesn't pull a UNC on you, as we saw Miami's Trey McKinney Jones do twice this season. Third, have a couple of guards who can carve up the weak Blue Devil perimeter defense and score a lot of points, á la Joe Harris with UVa and Dez Wells with Maryland. Cincinnati has the scoring guards in Sean Kilpatrick, JaQuon Parker, and Cashmere Wright, and they certainly have the perimeter defenders. The question is, can 6-foot-10 Cheikh Mbodj do the job on Plumlee by himself? If he can, or if Plumlee just turns in a quintessential Plumblebum performance, this is a winnable game for Cincinnati. My gut tells me Duke will be able to maneuver and shoot, though, and that the Bearcats' offensive woes — look at all those low scores! — will hurt them in the end.
Winner: Duke
SWEET 16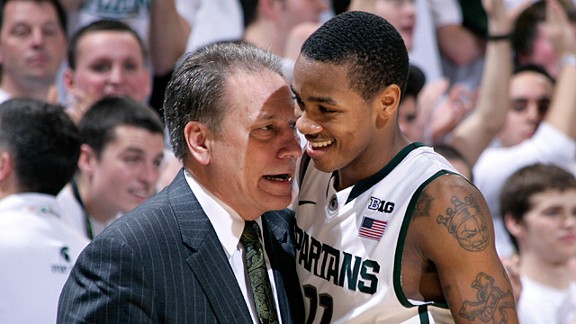 (1) Louisville vs. (4) Saint Louis
Analysis: This is the Sweet 16 game I'm most looking forward to, and it should be a 40-minute battle. I have very little analysis to offer, but my gut instinct for this game tells me that Gorgui Dieng will pose huge problems for a Saint Louis team whose only really tall player — 6-foot-11 Rob Loe — plays soft. I'm tempted to say that Louisville's modified press could force a few turnovers, but if SLU can handle VCU's havoc, it can handle Louisville. Still, even if the Billikens break the press, the defense they'll face in the half-court set will be brutal. I'm going with the oldest principle one more time — when in doubt, pick the strongest defense. Plus, if both offenses are struggling, you have to think the ridiculous speed of Smith and Siva can make the difference. (Jordair Jett is the only Billiken who comes close to matching that level of quickness.) I'm picking Louisville, and my only hesitation is the one we've known all along — Louisville can miss a lot of 3's.
Winner: Louisville
(2) Duke vs. (3) Michigan State
Analysis: Remember what I just said about the keys to beating Duke? Well, Adreian Payne and Derrick Nix can beat up Mason Plumlee on both ends of the floor (ditto for Ryan Kelly). Gary Harris can shoot them to death. Keith Appling will be able to smoke whoever guards him. As for Seth Curry's shooting? Look what Branden Dawson and Harris did to Tim Hardaway Jr. in East Lansing. In fact, look at that whole game, and even the narrow Wolverines home win in the rematch. The Spartans play rough, and they can bully teams who don't love to mix it up. That's exactly what can happen to Duke; this is a disastrous matchup for the Blue Devils, and no matter how I try to convince myself, I only see it going one way.
Winner: Michigan State
ELITE EIGHT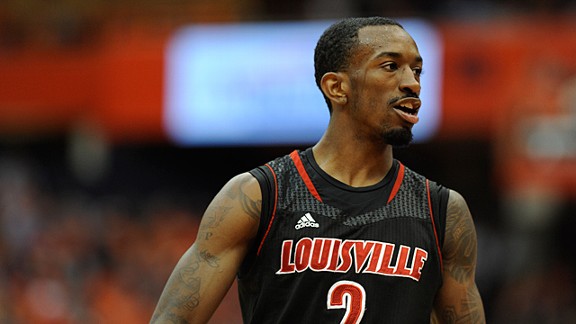 (1) Louisville vs. (3) Michigan State
Analysis: Pitino vs. Izzo! In a way, it feels like this bracket can't break down any other way. This would be a rematch of last year's Sweet 16, which Louisville won by virtue of a defensive masterpiece against the hapless Spartans. So what's changed this year? Well, Draymond Green is no longer with the Spartans, making them even more vulnerable to great defenses. Louisville is down a couple of shooters, but the defense is better than ever. And the key to Michigan State is that their advancement to this stage depends on exploiting critical mismatches with Duke and a cupcake 6–11 opponent. What makes Harris and Appling so dangerous against Duke is irrelevant against Louisville, and Dieng can stop Nix and Payne the same way he stopped Green last year. In the end, this Spartans team falls just short of being elite. As for the Cardinals, I liked them as a title team even before Saturday's win against Syracuse, but the comeback in the second half at MSG showed that even a terrible half against a good team can't stop them. Nobody's keeping Louisville out of the Final Four in 2013.
Midwest Region Winner: Louisville
Filed Under: College Basketball, March Madness, Shane Ryan