Picking the Perfect Bracket: East Region
Cal Sport Media via AP Images
On Tuesday and Wednesday, we're going region by region, helping you pick your bracket all the way from the First Four to the Final Four. Yesterday we blazed through the West and Midwest Regions, and today, we're tackling the East.
THE BRACKET OF OPPORTUNITY
The immediate thing I notice about the East is that it looks like the weakest bracket in the field. At the same time, it might be the toughest to pick. Look at the 1-6 seeds:
1. Indiana
2. Miami
3. Marquette
4. Syracuse
5. UNLV
6. Butler
If I time-traveled back from 2½ weeks in the future and said that any one of those teams had made the Final Four, would you be surprised? Among that group, UNLV would be my only mild shock, but if Anthony Bennett gets out, it's not out of the question. This is the kind of bracket you absolutely love if you're an 8- or 9-seed like NC State and Temple. Yes, beating Indiana is going to be hell in the Round of 32, but beating any 1-seed would be difficult. But if you manage to get past the Hoosiers, things start to look wide open.
Picks and Modern Art, at your service: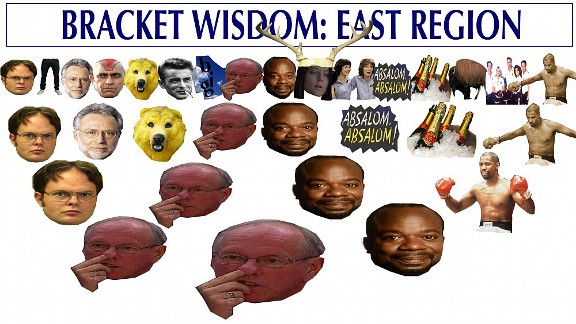 [Click to Enlarge]
FIRST FOUR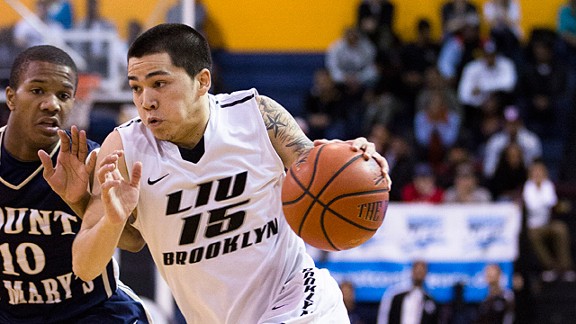 (16) LIU-Brooklyn vs. (16) James Madison
Analysis: Hipsters vs. Cows. Natural enemies. Holy war. LIU-Brooklyn is so hipster that its nickname is the same as a Beatles song. James Madison is so cow that a cow named Miss Jessamy once started at point guard.
Winner: LIU-Brooklyn. Cow tipping is so retro. So in.
ROUND OF 64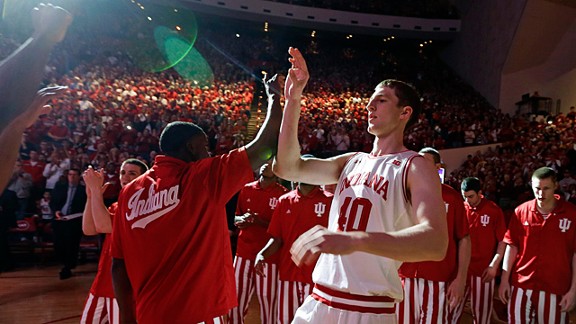 (1) Indiana vs. (16) LIU-Brooklyn
Analysis: I'll stick to Tuesday's strategy of looking up exactly one player from the LIU-Brooklyn roster. And that one player is guard Jason Brickman, who's dishonoring his family name by shooting a ridiculous 41.6 percent from 3 (53-115).
Brickman's father, after Jason went 4-for-5 from 3 against Columbia, could be heard shouting from the stands, "You're not a Brickman! You are not my son!"
Winner: Indiana
(8) NC State vs. (9) Temple
Analysis: In early January, I compiled a list of all teams who finished in the top 10 in Ken Pomeroy's adjusted efficiency rankings on offense, but were below no. 110 on defense. (I'll say it again — if you haven't subscribed to Pomeroy's site and you love college basketball, it's a good idea.) Here's that list, with tournament results:
2012: Missouri (Round of 64), Creighton (Round of 32)
2011: Colorado (Sweet 16)
2010: Notre Dame (Round of 64)
2009: Arizona (Sweet 16)
2008: Oregon (Round of 64)
2007: None
2006: Gonzaga (Sweet 16), Notre Dame (second round, NIT)
2005: Gonzaga (Round of 32)
2004: Arizona (Round of 64)
2003: Boston College (second round, NIT), Dayton (Round of 64), Notre Dame (Sweet 16)
Those teams made the Sweet 16 four times, lost the first game or missed the tournament seven times, and won a single NCAA game twice. This year, NC State finished with the 10th-best offense and the 105th-best defense. Right inside the cutoff, but the principle applies. Why pick the Wolfpack? Well, you pick them because Temple's numbers are worse; 35th and 124th, respectively. Both teams have great wins on the résumé, but both are nonstarters past the first round. This is what I'm talking about with the East Region — very few picks are easy.
Winner: NC State, I guess. But remember those numbers in a moment …
(5) UNLV vs. (12) California
Analysis: I've discovered that I have an anti–West Coast bias. I think it was formed for the right reasons, namely that the Pac-12 has been down for a long time, the Mountain West imploded in the tournament last year after a season of hype, and the best team from the West Coast Conference (Gonzaga) has never made the Elite Eight in Mark Few's 14 seasons. But it's still a bias. So when I see a game like this, I get cynical. UNLV's adjusted defense is 13th in the country, but I have to wonder how accurate that "adjustment" can be in the Mountain West. When you see that the Runnin' Rebels gave up 79 points to North Carolina and 83 to Oregon, you start to guess that maybe things would've been a bit uglier had they played in a good BCS league. As for Cal, the Bears were on a hot streak coming into the end of the season, winning seven games in a row against tournament teams like UCLA, Arizona, Oregon, and Colorado. Then they lost to Stanford, and fell out of the conference tournament in an overtime loss to Utah. How do you read that? For this game, I'm taking a gamble on Cal guards Justin Cobbs and Allen Crabbe, both juniors, who lead the team in scoring, and hoping that David Kravish and Richard Solomon can contain Bennett inside. And I'm also gambling that UNLV's defensive numbers are skewed by a weakness in the Mountain West.
Winner: California
(4) Syracuse vs. (13) Montana
Analysis: Syracuse is the wild card in every NCAA tournament it enters. This could be an upset; Montana shoots a lot of 3's, and shoots them well, which might play against the Cuse zone. Also, Syracuse has a history of losing to teams from obscure states in the first round, with a loss to Rhode Island in 1988 and the Vermont loss in 2005. It could also be a blowout, since the 2-3 zone tends to frighten and confuse teams that haven't seen it before. And because Syracuse has better players. Let's go with that, and see what fresh hell Jim Boeheim has in store for his fans.
Winner: Syracuse
(6) Butler vs. (11) Bucknell
Analysis: Another bias I have is pro–Brad Stevens. He's been so good, and so lucky, in his short career that he's taken on Belichickian proportions in my mind. I don't believe he can lose. Butler isn't even that great this year, relative to his past teams, but I have real trouble picking against him. Really, tell me how he won that Gonzaga game. What about Pittsburgh in the 2011 tournament? How does he have a record of 45-24 in games that either went to overtime or were decided by five points or fewer? I know Bucknell has Mike Muscala, the truly excellent 6-foot-11 senior, but Butler seems like the type of physical, brutish team that could contain him — just like they did to Cody Zeller. And in the end, I just can't pick against the Stevens mojo.
Winner: Butler
(3) Marquette vs. (14) Davidson
Analysis: Here's my big upset pick of the first round. Davidson is on a 17-game winning streak, has two great 3-point shooters in Nik Cochran and Chris Czerapowicz, and a force underneath in 6-foot-10 senior Jake Cohen (also, killer ears on the man). The Wildcats are also loaded with upperclassmen, a trait they share with Marquette. My theory here is that although the Golden Eagles are the stronger team, the low individual scoring totals and the slow pace of play make them susceptible to a great shooting night. And if Davidson can oblige, Marquette is poorly suited to mount a comeback, with a dearth of 3-point shooters and the 318th lowest percentage in the country. I know Buzz Williams and his troops could grind Davidson to death, but this one's close enough — and my picks to date have been boring enough — that I'm willing to go out on a limb. Sometimes you just have to LIVE.
Winner: Davidson
(7) Illinois vs. (10) Colorado
Analysis: Since February, Colorado has lost to Utah, Arizona State, and Oregon State, among others. I know the Illini finished 8-10 in the Big Ten, but in a game like this, I'm absolutely giving them the benefit of the doubt. I am slightly worried about Colorado's ability to keep opponents off the line, but I'll live with it; Brandon Paul should find some seams in the perimeter defense. And I can't pick mediocre Pac-12 over mediocre Big Ten; it's not in me.
Winner: Illinois
(2) Miami vs. (15) Pacific
Analysis: I have to say, for a team named after an ocean, I really expected Pacific to have a nautical nickname. But nope, it's Tigers. They were sick of the sea, I suppose.
Winner: Miami
ROUND OF 32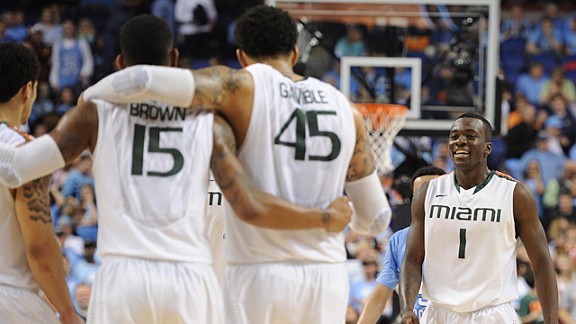 (1) Indiana vs. (8) NC State
Analysis: Remember everything I said above about NC State? This is a nightmare matchup, against a team that likes to run just as much but actually plays defense along the way. One of Mark Gottfried's favorite phrases when he invites the national TV cameras into the locker room for his pregame speeches is "They gotta guard us, too, pal." Well, pal, Indiana will. And if Richard Howell doesn't pick up four fouls on Cody Zeller within the first seven minutes, I'll be shocked. State's finished.
Winner: Indiana
(4) Syracuse vs. (12) California
Analysis: Cobbs and Crabbe are great guards for Cal, but Brandon Triche and Michael Carter-Williams are no slouches, either. I could regale you with statistics on this one, but the fact of the matter is that Cal shoots 3's at a really, really low percentage. That's not a good trait to have against the Syracuse zone defense, and Cal's height underneath will be matched by the phalanx of C.J. Fair, Rakeem Christmas, Jerami Grant, and Baye Keita. Scoring is going to be a huge issue for the Bears, and this is a matchup dream come true for Cuse.
Winner: Syracuse
(6) Butler vs. (14) Davidson
Analysis: If Davidson can pull off the upset of Marquette, this is a perfect opportunity to steal a game from an inconsistent Butler team and make its first Sweet 16 since Stephen Curry roamed the hardc— BRAD STEVEN IS THE CROWN SAVIOR OF COLLEGE— whoa, what's going on … my fingers were out of control for a sec— ROOSEVELT JONES IS THE TOUGHEST MAN IN THE WORLD AND ANDREW SMITH SHOULD HAVE WON THE NATIONAL PLAYER OF THE YE— no, I don't believe tha— YES I DO, THE BUTLER BULLDOGS ARE AMERICA'S TEAM AND WE MUST ALL UNDERSTAND THAT THEY REPRESENT EVERYTHING THAT IS GOOD AND PATRIOTIC IN THIS COUNTRY AND SHALL LEAD US TO THE PROMISED LAND IF WE CAN ONLY LOOK IN THE PIERCING BLUE EYES OF BRAD STEVENS AND LET HIM SILENTLY TEACH US HIS TRUTH. HE IS THE DEITY, AND ROTNEI CLARKE IS HIS ARCHANGEL.
WINNER: BUTLER
(2) Miami vs. (7) Illinois
Analysis: I'll admit that I began to worry about the Canes when they lost to Wake Forest and Georgia Tech near the end of the season, but I believe they've put it behind them. The strong showing at Duke, despite getting White Ravened to a cruel and unusual degree, along with the ability to withstand North Carolina's runs in the ACC championship game in front of a partisan Greensboro crowd, raised them in my estimation. I think — think — we're now seeing the same excellent team that ran through the ACC for most of January and February. Any team playing Illinois has to worry about Brandon Paul, but Trey McKinney Jones is the top-notch defender Miami needs to bottle him up. With point guard Shane Larkin's otherworldly quickness, Durand Scott's scoring ability, and Kenny Kadji's 10 years of college experience (only slightly exaggerated; he's 24), the Canes should advance easily.
Winner: Miami
SWEET 16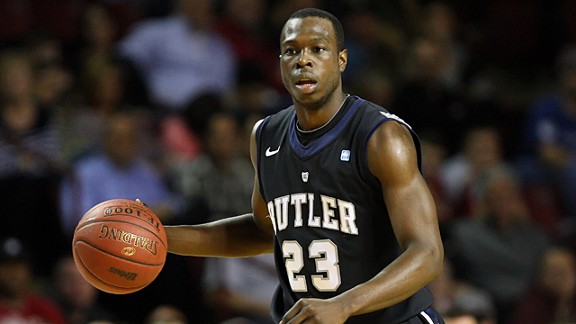 (1) Indiana vs. (4) Syracuse
Analysis: The thing is, the Hoosiers should be perfectly suited for a zone defense; even a good one. They shoot 41.1 percent from 3-point range, and they get a lot of offensive boards, which is always a huge weak point for Syracuse. The only thing you can say for the zone is that maybe it will take away Victor Oladipo's penetration and keep Zeller from getting easy looks inside. But let's revert for a moment to Mark Gottfried's pet quote: "They gotta guard us, too, pal." Indiana's defensive weakness exists on the perimeter, and that's where Michael Carter-Williams can go to work for Syracuse with his ability to penetrate and pass. Plus, the Orange rebound a fair share of their own misses. And there's length everywhere, to the point that Christian Watford will be forced to guard someone just as big and most likely quicker. That same length has also held opponents to a very low 29.8 percent rate from beyond the arc, so maybe it won't be as easy as we think for Indiana to swing the ball around, go inside-out with Zeller, and produce open 3's. Finally, let us consider Tom Crean. Asking him to game-plan for the best zone defense in the country poses serious dangers. Will he over-think everything and hamstring his team by going away from their strengths? Even Indiana fans are wondering when his odd substitutions and inconsistent strategy will finally wipe the disturbing smile away. It could be here. I've been down on Indiana most of the season, and I've been mostly wrong and a little bit right. Despite the flashes of greatness, I've never thought of the Hoosiers as a great team, and I believe the season ends here.
Winner: Syracuse
(2) Miami vs. (6) Butler
Analysis: I don't want to pick Butler, but I will. I will, and I sort of loathe myself for it, because I know in my heart that Butler could lose to Bucknell on Thursday. But it's been that kind of year, and Miami can be ground down. Stevens won't bother pressuring Larkin, but Jones is one of the rare quick, strong defenders who can hold him in check. Then Stevens will pack everyone down to prevent Kadji and Julian Gamble from controlling the inside, sic someone like Rotnei Clarke on Durand Scott and pray for the best, hide Dunham on McKinney Jones, and slow the game down to a snail's pace in a way Miami saw exactly once in an ACC game — at home, in a 54-50 win over Virginia. That's the kind of game the Canes can expect, and when things get close late, we know what happens; Brad Stevens wins. Brad Stevens always wins. He's in our minds.
Winner: Butler
ELITE EIGHT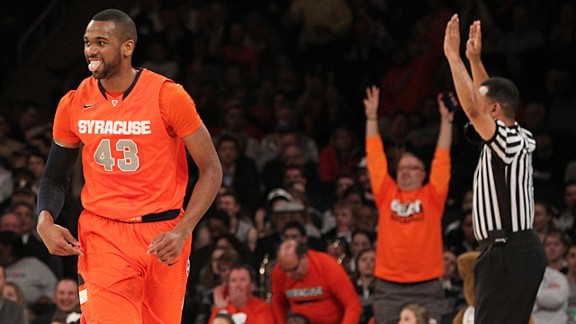 (4) Syracuse vs. (6) Butler
Analysis: BRAD STEVENS BRINGS PEACE TO MY SOUL AND FEEDS THE CHILDREN OF THE UNIVERSE AND WITH HIS MYSTIC SIDEKICK, ROOSEVELT JONES, HE CAN HERALD THE BEGINNING OF A NEW AGE OF LOVE AND UNITY — Nooo! No, Brad Stevens! No, I won't be held under your spell a moment longer! Syracuse has more talent at almost every position, and your team can't score against the zone, and even playing slow won't give you a chance to win at the end. Athletes win basketball games! Syracuse has been through the Big East ringer! They will dominate you inside! They will meet your toughness in kind! Only potential champions make the Final Four! Your reign of terror is over NOW.
Region Winner: Syracuse
Filed Under: College Basketball, March Madness, Shane Ryan