On the Road With the U.S. Men's National Team
Nicholas Kamm/Getty Images
You might know Rob Stone as one of the reporters and play-by-play announcers for ESPN's soccer coverage, or from his appearances on The B.S. Report. Now get to know Rob as a gourmand, world traveler, and raconteur. On the road, overseas, with the U.S. Men's National Team, as it prepared for an international friendly match with Belgium, Rob filed this travelogue from Brussels.
I arrived in Brussels on Sunday, ahead of Tuesday's U.S. Men's National Soccer Team match against Belgium. As is usually the case when I travel overseas, the culinary options I was presented with were a quick reminder that I wasn't in America.
On my last leg, I was handed this breakfast plate: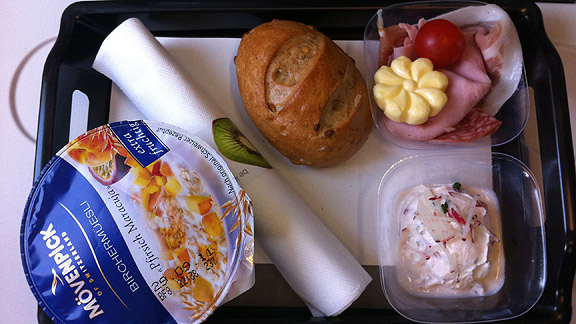 (Anyone want to guess what the white mound is, and what the odds are I ate it?)
When I deplaned, one of the first images I saw was this: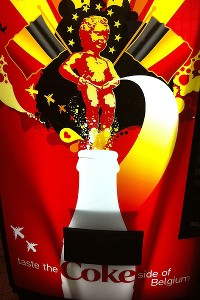 (Why, yes, the image of a child urinating into a bottle does look refreshing.)
Here are some other thing I learned: Eating Nutella is just a fancy way of putting chocolate on anything you choose. Coffee products are not dispensed in Super Gulp sizes. The cabs are sleek Mercedes-Benz's, and the drivers look (and smell) like they run Fortune 500 companies on the down low. Even the airline employees are different.
Take, for example, the gate attendant I dealt with in Frankfurt, Germany, where I had a shot to catch an earlier connection. Like Pavlov's dog, I've come to expect a halfhearted "Can I help you?" from an airline employee, delivered while he or she looks down at something far more important than me. This is generally followed by four minutes of pounding on a keyboard and an astronomical change fee, which I am convinced they make up on their own just to drive us away, so they can be surly to the next customer.
It took about 18 seconds for this friendly German lady to find a seat for me. In short, the rest of the world is accommodating and efficient. Just like new U.S. coach Jurgen Klinsmann.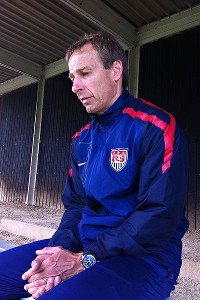 Klinsmann used his first games to bring in new faces, try new approaches, and rekindle the fire that had been missing from the program. He preaches an attacking style, and backs it up. His reign (which is two games old, at this point) has been full of warmth, smiles, puppies, rainbows, warm cookies just out of the oven, and optimism. I get it, and I'm onboard. But the thing is, the team hasn't won yet. There are reasons for that, and a new wrinkle arriving for the Belgium match. But first I have to get to game day.
The day started off strong enough. Ten pieces of chocolate were scattered in different parts of my room.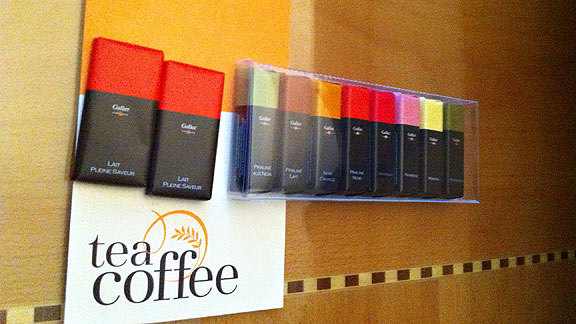 It was like a road warrior Easter egg hunt. There was no matching the cocoa high as we went outside. Spending a Sunday in downtown Brussels is a lot like being in an eerie, empty movie lot. My colleague and I walked for hours waiting to find a hidden plaza, or burst of historic scenery, or even a shop that was open. At first, we were failing miserably.
When life finally found us, we were rendered too dumbfounded to react properly. A parade of academia-robed beer guzzlers, led by a quartet of barbershop-looking/campy-music-playing men, literally ran into us on the street.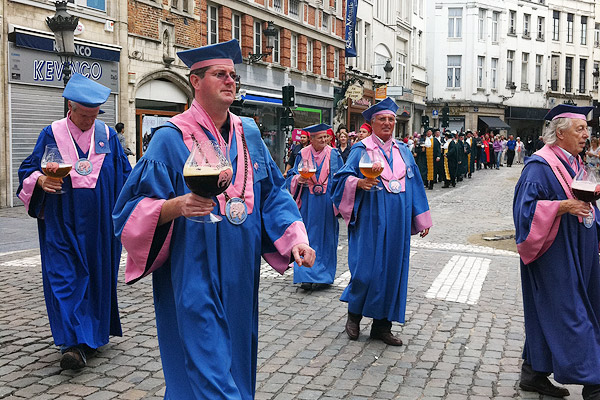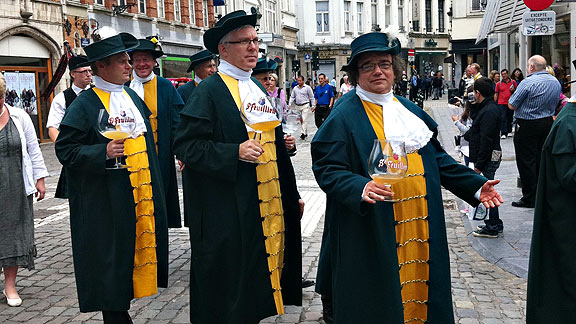 That was it. A nap was needed. A second wind was mandatory, for the night would be played into the strength of the country.
"Crab cakes and football. That's what Maryland does!" — Wedding Crashers
Here it's "Mussels and beer. That's what Belgium does!"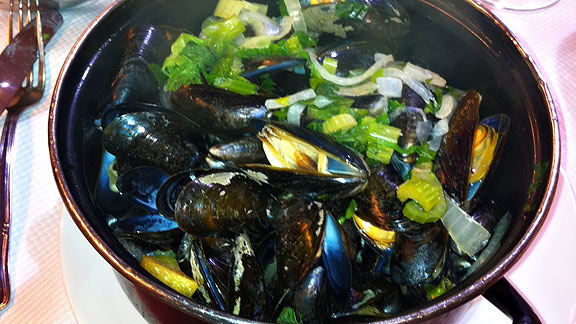 Has anyone outside of Belgium ever been filled up after a meal of mussels? If I was back in my college prime, I would have shrewdly said to myself, "Hey, Rob, you know you're probably going to be downing some serious beers later tonight, and you are already sleep-deprived. You sure a stomach full of shellfish is the best thing to support you right now?" The older Rob likes to ignore the younger version. So off we went to Delirium Café and its purported collection of more than 2,000 beers.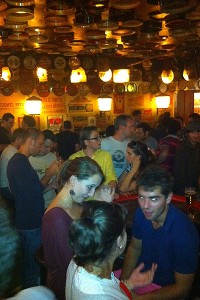 I searched and searched for a Coors Light or a PBR (not really) and had to settle on a collection of beers made by monks, and some of Europe's finest brewers.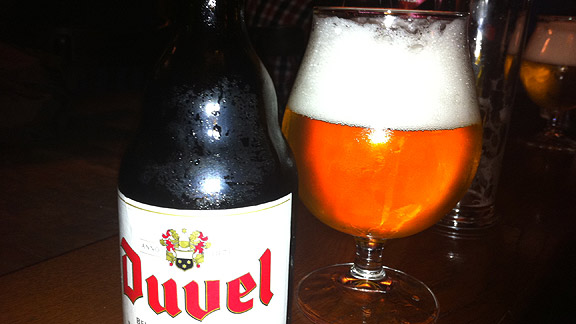 And now … the soccer …
---
The team lost
Friday to a Costa Rican side that was not at full strength
. The USMNT showed intervals of wonderful flowing, attacking soccer, and Klinsmann was pleased to see the progress of his newly implemented strategies and philosophies. But he made it clear to us: He is not a good loser.
Klinsmann's been putting the team through two-a-days so he can better evaluate their makeup. The drawback — one he is well aware of — is that the legs will get heavy at some point on match day. He's OK with that for now.
Landon Donovan, the all-time leading U.S. goal scorer, stayed back home for this game, denying fans their first look at how Donovan and Clint Dempsey play under Klinsmann's eye.
Dempsey is rare talent for U.S. Soccer. He possesses a killer instinct in the box and he can make a game-changing play. There will be some changes on the back line, but Klinsmann will mostly have his focus on the attack. He wants shots (even if they sail over the bar), he is preaching "Go with your first thought," and taking defenders on, and on … and on again. It's only game 3, but Klinsmann knows the honeymoon's going to end at some point — and he needs some results soon.
Follow Rob Stone on Twitter at @robstoneESPN.

---
Follow Grantland on Twitter or check out Grantland's Facebook page.
Read more of The Triangle, Grantland's sports blog.
Contact us at triangle@grantland.com
Filed Under: Clint Dempsey, Jurgen Klinsmann, USMNT