Olympic Basketball Contender or Pretender: Lithuania
In this year's Olympic basketball competition, there are several teams that are a threat to medal, and maybe even contend with Team USA. As the Games ramp up, we'll be providing looks at the strengths, weaknesses, and medal chances of these possible contenders.
Like Russia, Lithuania qualified for the Olympics by way of the 2012 FIBA World Olympic Qualifying Tournament. After losing a group game to Nigeria, who also qualified for the Olympics, Lithuania walked through its three remaining games and earned a trip to London. These Games are a chance to bounce back after a disappointing fifth-place finish in EuroBasket 2011.

Offensive Style: Dribble Handoff Into Flare Screen/Ball Screen

Lithuania runs a structured offense with a number of sets that each contain several options. One of my favorite sets is one that uses a few different techniques to get either a 3-point shot or a pick-and-roll look, which are very effective for Lithuania.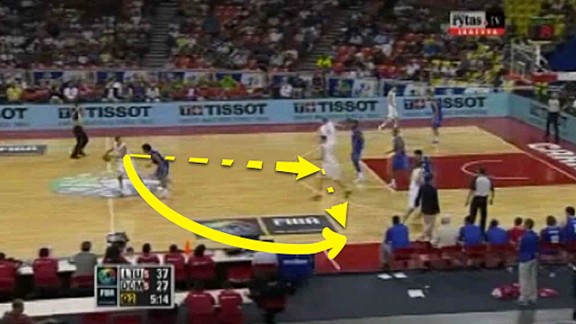 The play starts with the primary ball-handler bringing the basketball up and passing to a teammate around the elbow. Once the pass is made, the passer follows the ball and gets a dribble handoff from the player he just passed it to.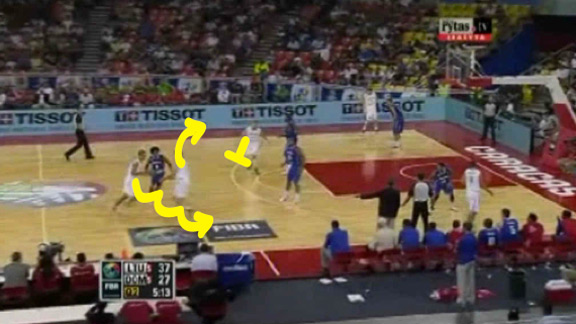 After the handoff, the Lithuanian player who hands off the ball uses a flare screen set by a big man who is positioned at the top of the key.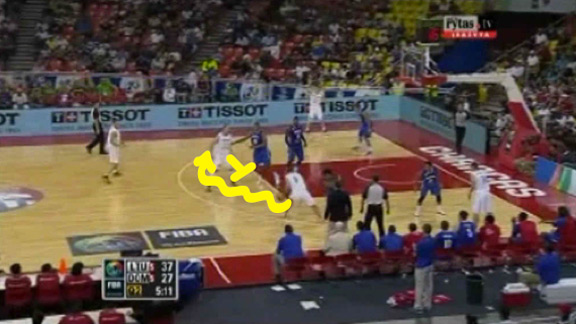 The first option here is to hit the man coming off of the flare screen for either the shot or another dribble handoff with the player in the corner. If that isn't open (or if the ball handler chooses not to make the pass), the big man who set the flare screen at the top of the key comes over and sets a ball screen on the wing.
The reason this set works is because the defense has so much to worry about. That first dribble handoff is just used to initiate the offense, but it still has to be accounted for. If someone such as Linas Kleiza is working off of the flare screen, that's a concern as well. And even if the defense stays solid and takes both of those options away, it still has to stop a pick and roll that starts at the free throw line.
Key Player: Linas Kleiza
On a roster with a lot of good players, Linas Kleiza is the most important. After dealing with an injury last season, Kleiza is returning to his old form — a very good offensive player who can score both on the block and behind the 3-point line. In spot-up situations in the Olympic Qualifying Tournament, Kleiza posted a PPP of 1.214 and shot 43.5 percent (including an eFG of 63 percent). On the block, Kleiza was even more effective, posting a tournament-best PPP of 1.455 on 72.7 percent shooting. The inside/outside versatility is what makes Kleiza such a vital piece for Lithuania.
Kleiza's shooting touch and size make it difficult for defenses to be matched up against him. If they go big to stop him in the post, Kleiza will float around the perimeter and knock down open jumpers. If they put a quick guard on him, that's when Kleiza will get on the block and play with his back to the basket.
Contender or Pretender?
Pretender. Lithuania is a quality team, and it's fun to see a basketball-crazed nation do well in a big international tournament. And while I think they can make the medal podium, it's hard to see them beating Team USA. Andre Iguodala has shown that he can stop Kleiza, and that forces Lithuania to rely on its offensive sets. Good as they are, I don't think it's going to be enough to outscore Team USA.
Filed Under: Total Breakdown