Stanford Shows Oregon Its Own Brand of Old-School Football
Steve Dykes/Getty Images
It can't be overstated just how impressive Stanford's 17-15 overtime victory over Oregon was. Stanford almost entirely shut down Oregon and its record-setting offense, the same offense that shredded the Cardinal 53-30 last season. Last year, Oregon's victory kept Stanford out of the national championship conversation. This year, the Cardinal might have returned the favor.
Last week, I described how Oregon's flashy offensive attack is, at its core, truly about old-school, fundamental football. Stanford's defense — Stanford's entire program — is unequivocally about the same. On offense, the Cardinal are a power football team, with most of their passing game based on play-action. On defense, they use a "one-gapping," attacking 3-4 system — the same system brought to Stanford by current San Francisco defensive coordinator Vic Fangio just a few years ago.

Fangio is a disciple of current Green Bay Packers defensive coordinator Dom Capers, and the system the Cardinal runs is really an adaptation of what the Steelers, Packers, and other "one-gap" 3-4 teams do. (To oversimplify, "one gap" means each defensive player is responsible for a gap between offensive players, while a "two-gap" system — which is more common for 3-4 defenses — requires defensive linemen to attack blockers instead of gaps and control gaps to either side while the linebackers are free to roam.)
In this scheme, Stanford's defense has been great all year, but Oregon's speed and system present a unique challenge. If you beat Oregon at all, you beat them up front, and Stanford's defensive linemen and linebackers are the strength of its defense. But head coach David Shaw and defensive coordinator Derek Mason also had some wrinkles up their sleeves, specifically old-school principles that defenses have used for decades to stop option teams. Oregon is not a true "triple option" team, but their fast-break style of offense forces defenses, just like those option teams do, to account for every offensive player. This made Stanford's impressive performance remind me of some old quotes from Iowa's great (former) defensive coordinator Norm Parker when his team faced a true triple-option team, Georgia Tech, in the 2010 Orange Bowl. In that game, which Iowa won 24-14, Parker's defense held the Yellow Jackets to 155 yards of offense — just under 300 yards less than their season average — and one touchdown.
Parker explained that it's not about inventing some new defensive scheme, but about being schematically sound: "You only have 11 guys out there. When they are balanced, you have to play five and a half guys on one side and five and a half guys on the other side." If the offense is unbalanced, with additional blockers or receivers to one side or the other, the defense must "match" them and not allow the Ducks to get extra numbers or leverage. "You have to change up how you are covering it," Parker explained. Being sound is the most important thing. "What they are looking for is for you to make a mistake."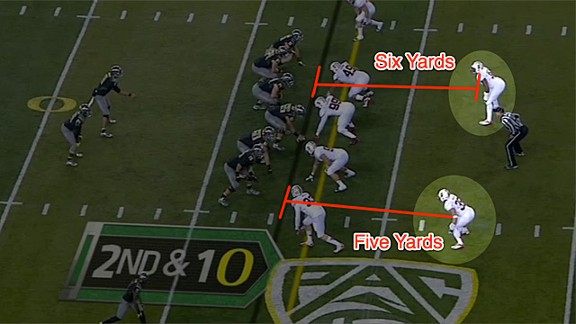 The first thing Stanford did to adjust to Oregon's multifaceted attack was a simple change: They backed up their linebackers. Normally, their inside linebackers play at a depth of about four yards, and against Southern Cal, they often stepped right up to the line to feign blitzes and confuse blocking schemes. Against Oregon, Stanford's linebackers played five, six, and sometimes even seven yards off the ball. This allowed them a better chance to read Oregon's attack. This is an old anti-option tactic, and it's one Stanford used very successfully.
The Cardinal also did an excellent job of moving their three defensive linemen and linebackers around. Despite being a so-called "3-4" team, Stanford played most of the game in what was essentially a four-man front, albeit with a stand-up hybrid linebacker/defensive end. Ultimately, Stanford didn't blitz or do anything overly aggressive. Instead, they relied on Parker's most fundamental edict about stopping an option team: "The secret to the whole thing is that you have to get off blocks and run to the ball."
That's not complex analysis, but to me that is why Stanford played great defense. Time and time again, I saw players like A.J. Tarpley, Ben Gardner, Trent Murphy, and Chase Thomas take on a blocker, discard him like an empty soda bottle, and stuff an Oregon runner for no gain or a loss. Blocks that had sprung long touchdowns for weeks led nowhere.
Oregon was not entirely blameless — Kelly likely should have stuck with straightforward inside runs longer rather than throwing 37 passes, and Kenjon Barner could not seem to find the creases in the way that LaMichael James always seemed to against Stanford. But this was a game Stanford earned. Stanford arrived as a program some time ago, but it remains remarkable that Shaw, Mason, and the rest of that coaching staff have truly built Stanford — Stanford! — into one of the toughest, most fundamentally sound and physically dominant teams in the country. Oregon may have their own spin on old-school football, but, at least this past weekend, Stanford showed them how it's done.
Filed Under: Chris Brown, Oregon, Stanford, Total Breakdown